Poland in July: tips for making the most of your summer in Poland
Our Partner of the Month
Order online French 
macarons made in Poland. A box of delicious sweets is a perfect gift idea for your family and friends (or for yourself!). Click here to select the best flavors and order courier delivery.  

The cover photo features Lake Wigry National Park in Northern Poland
Weather in Poland in July
July is a month characterized by hot weather and warm nights in Poland. The average monthly temperature in July in Poland is 19°C / 66°F, and the average monthly rainfall level is 89 mm. July is the warmest month in Poland, also in July, the highest rainfall is recorded. There is a Polish proverb about July: "W lipcowym skwarze w Polsce jak na Saharze" (In the heat of July in Poland it is like the Sahara).
The name of the month in Polish (lipiec) comes from linden trees blooming at that time (lipa in Polish).
Read more about the weather in Poland in summer and the colorful changes in nature you can't miss.
Things you can't miss in Poland in July
The season for juicy fruits in Poland
July is the high season for fruits in Poland! Sour cherries, sweet cherries, bilberries, gooseberries, raspberries, currants, brambles. Find out more in our delicious photo guide to the best Polish fruits to eat during summer.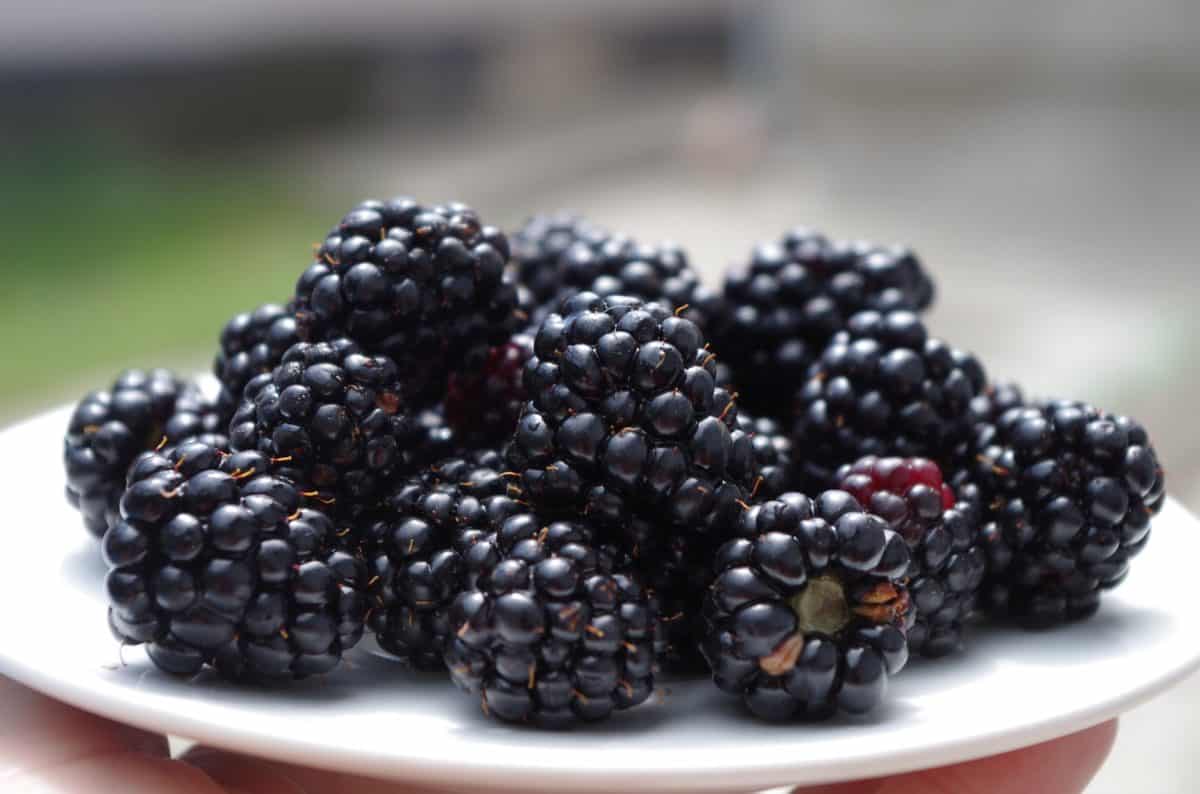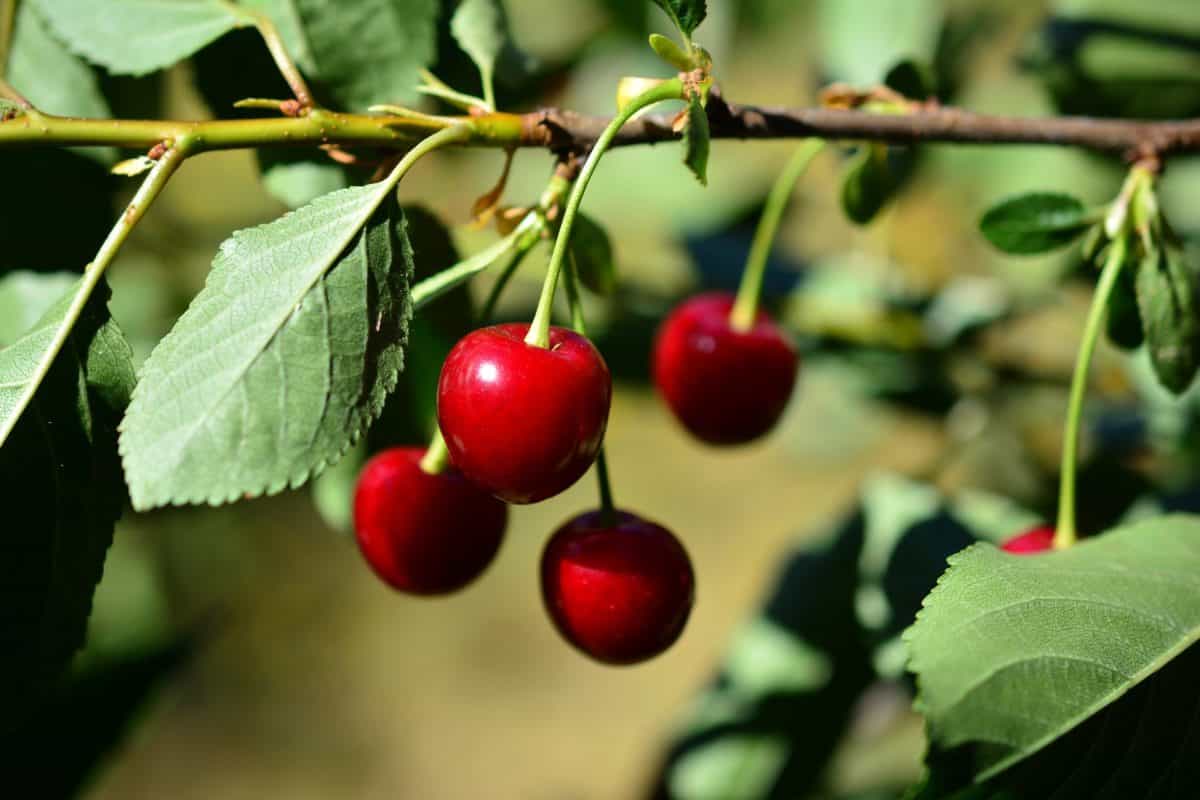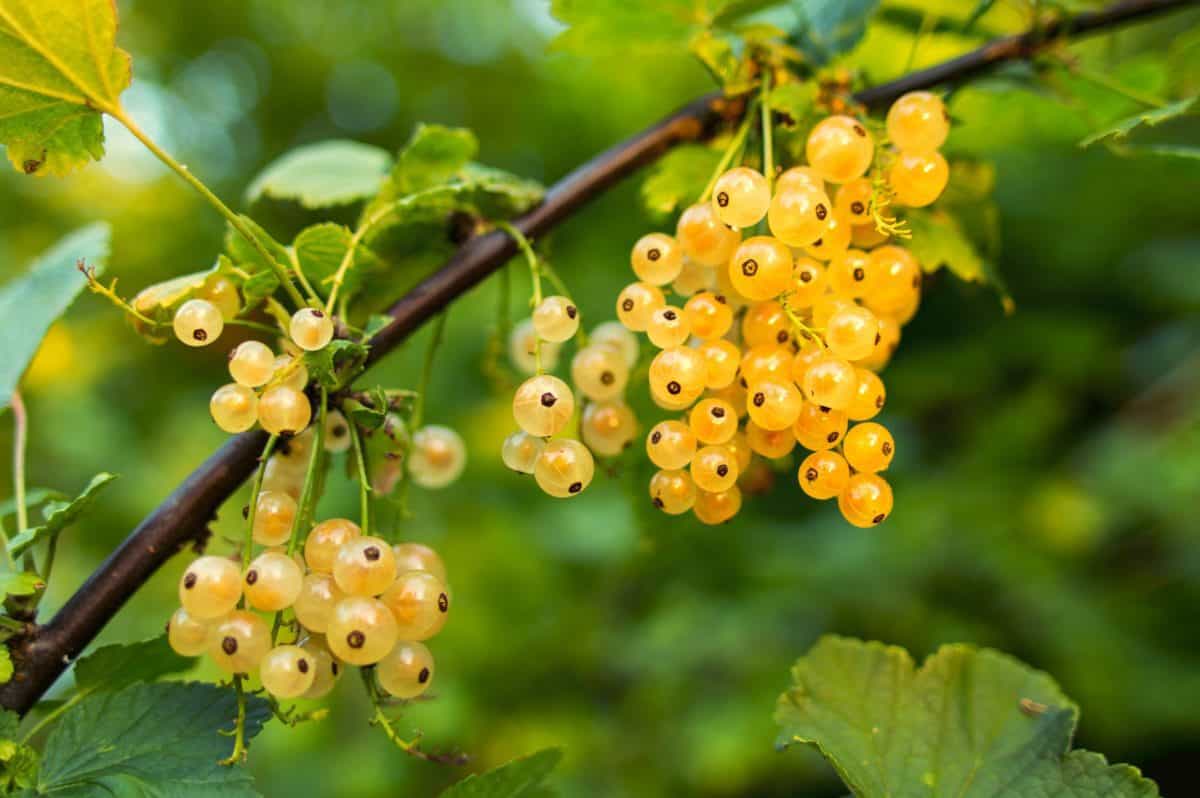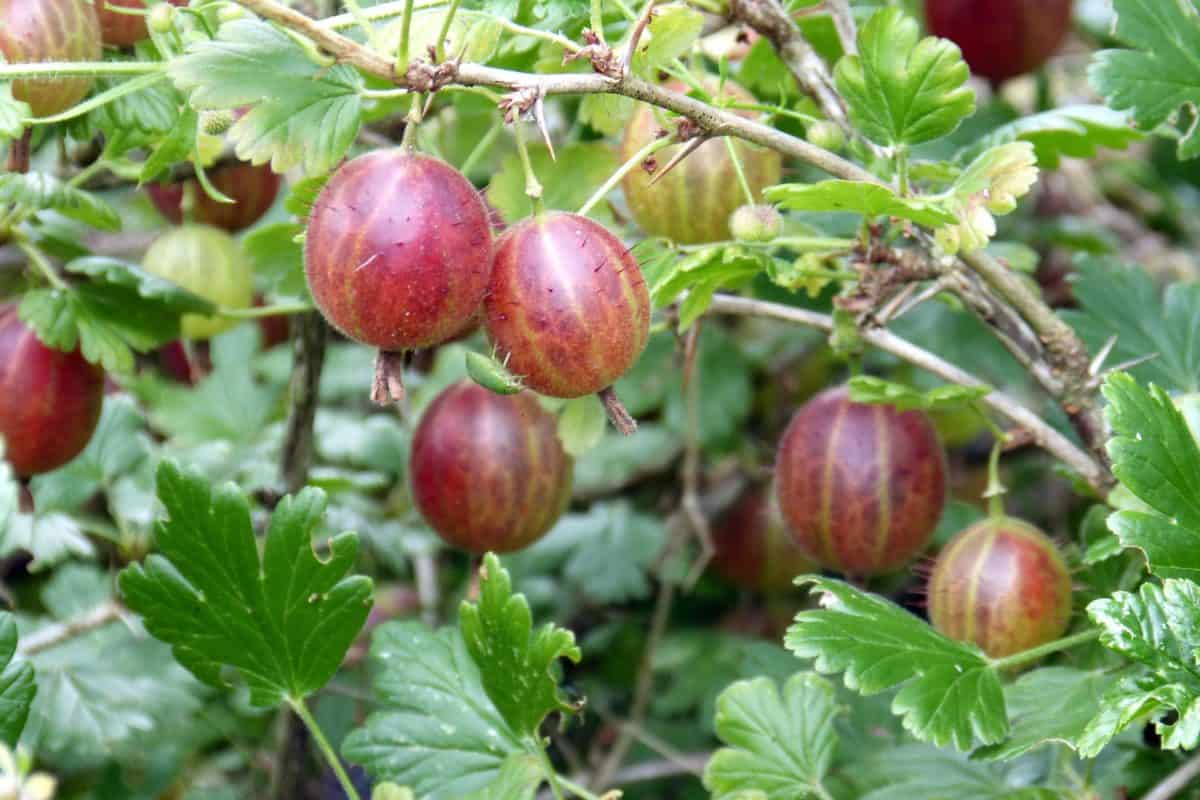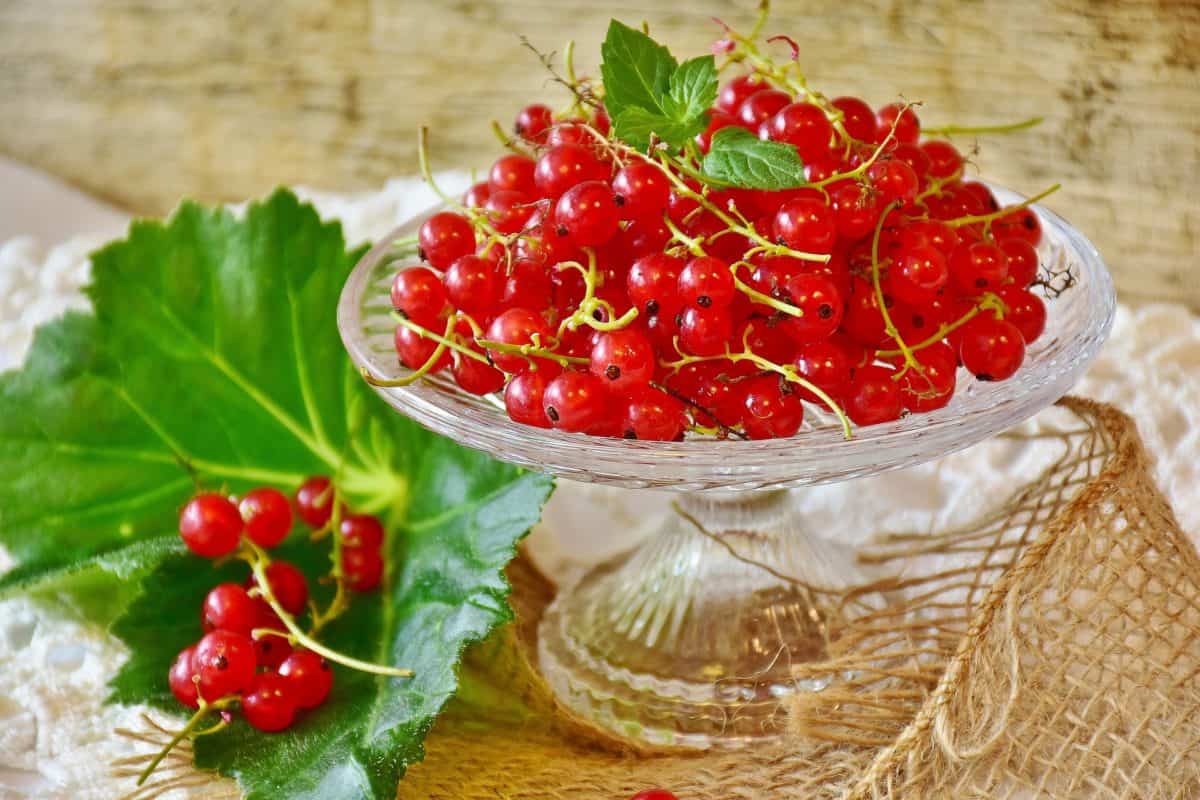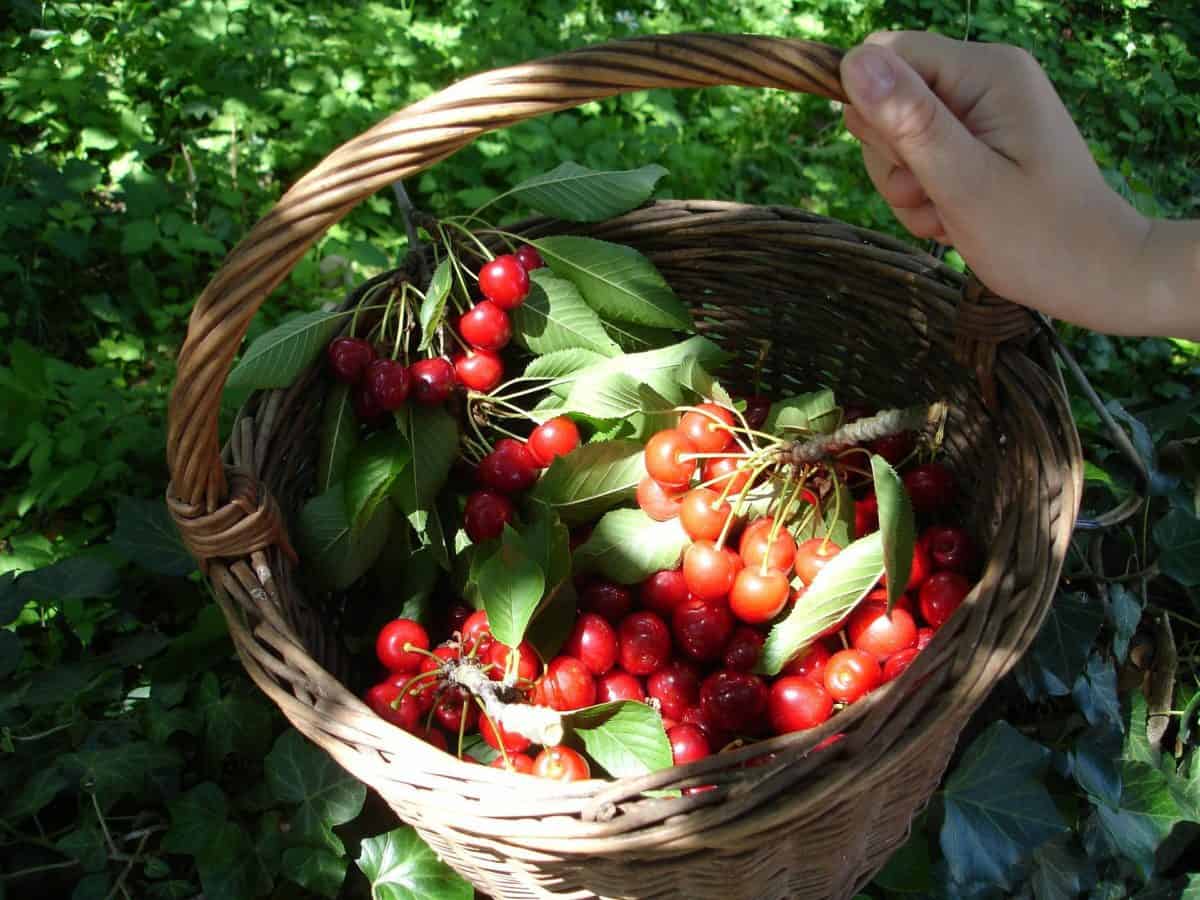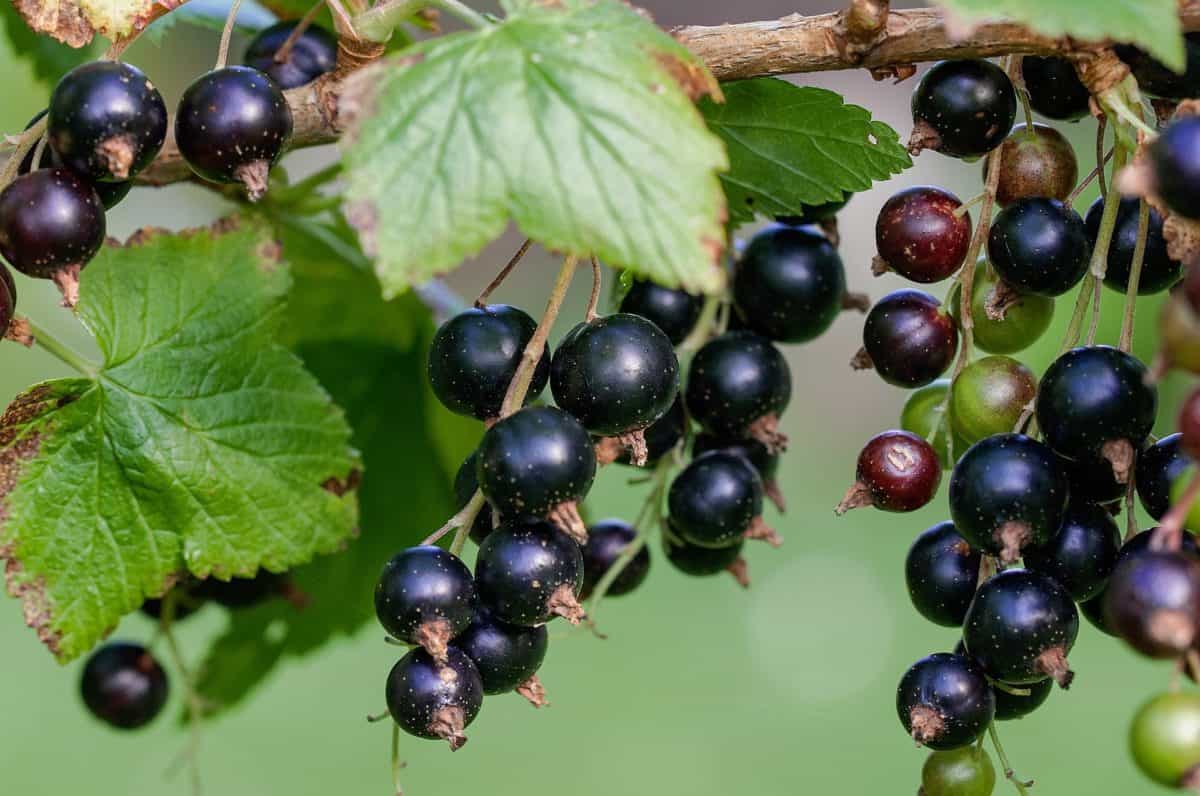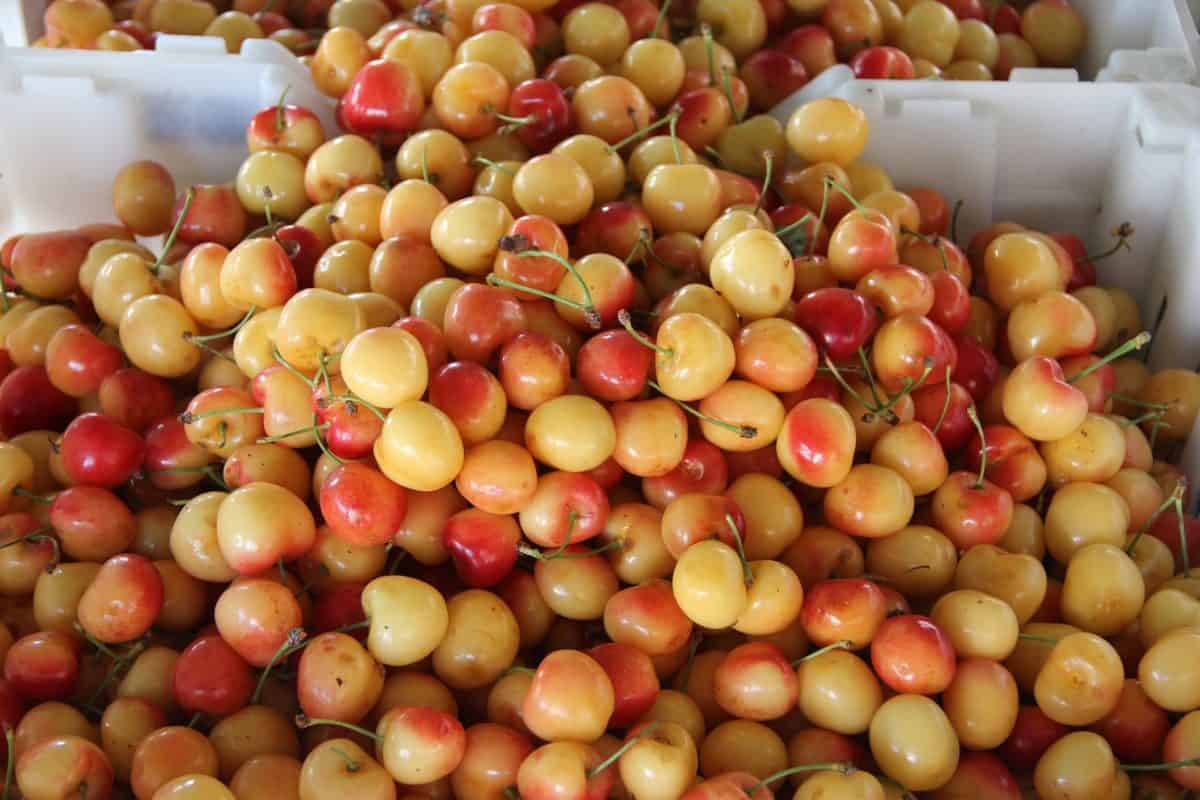 Enjoy the seasonal Polish vegetables
July in Poland is a paradise for people who appreciate healthy local food. Enjoy in July the seasonal Polish summer foods, including broad bean (bób) – an iconic vegetable in Poland and chanterelle mushroom (kurki) – the golden queen of summer forest mushrooms in Poland. Find out more in our post: Summertime vegetables you must try while they are in season in Poland.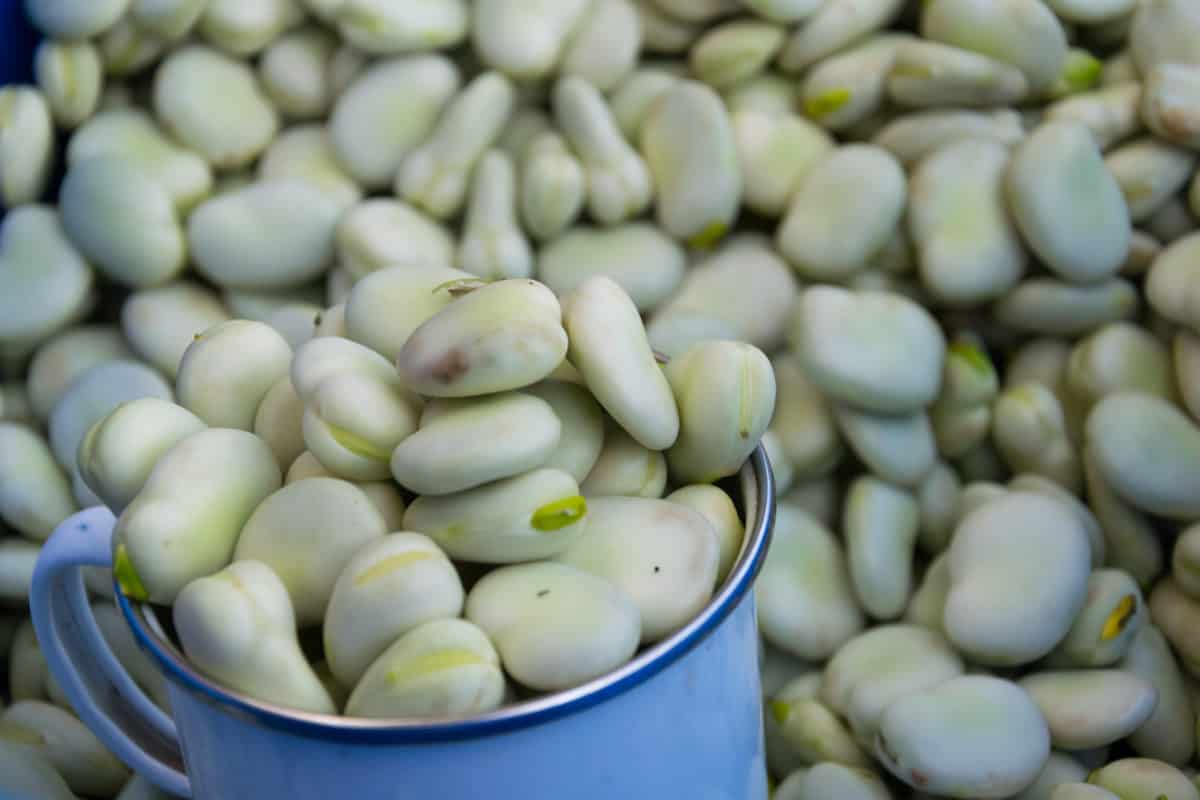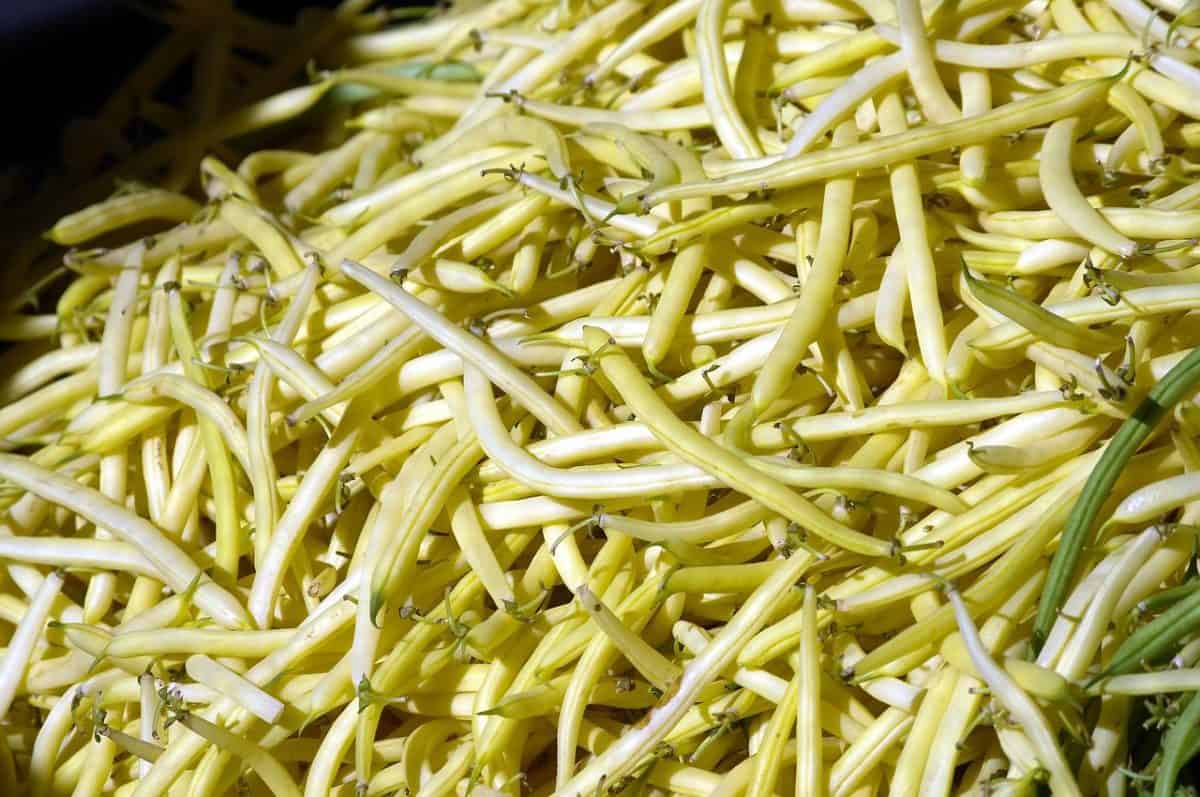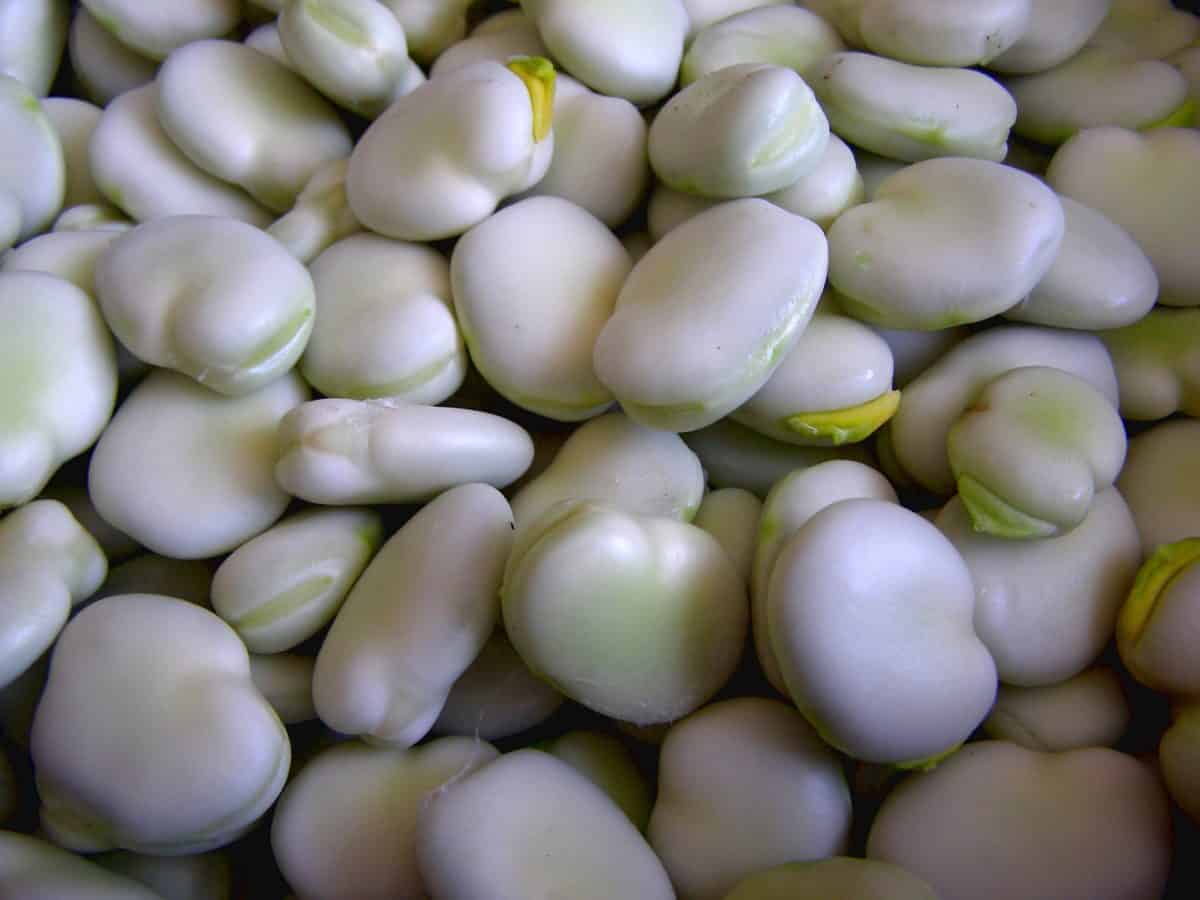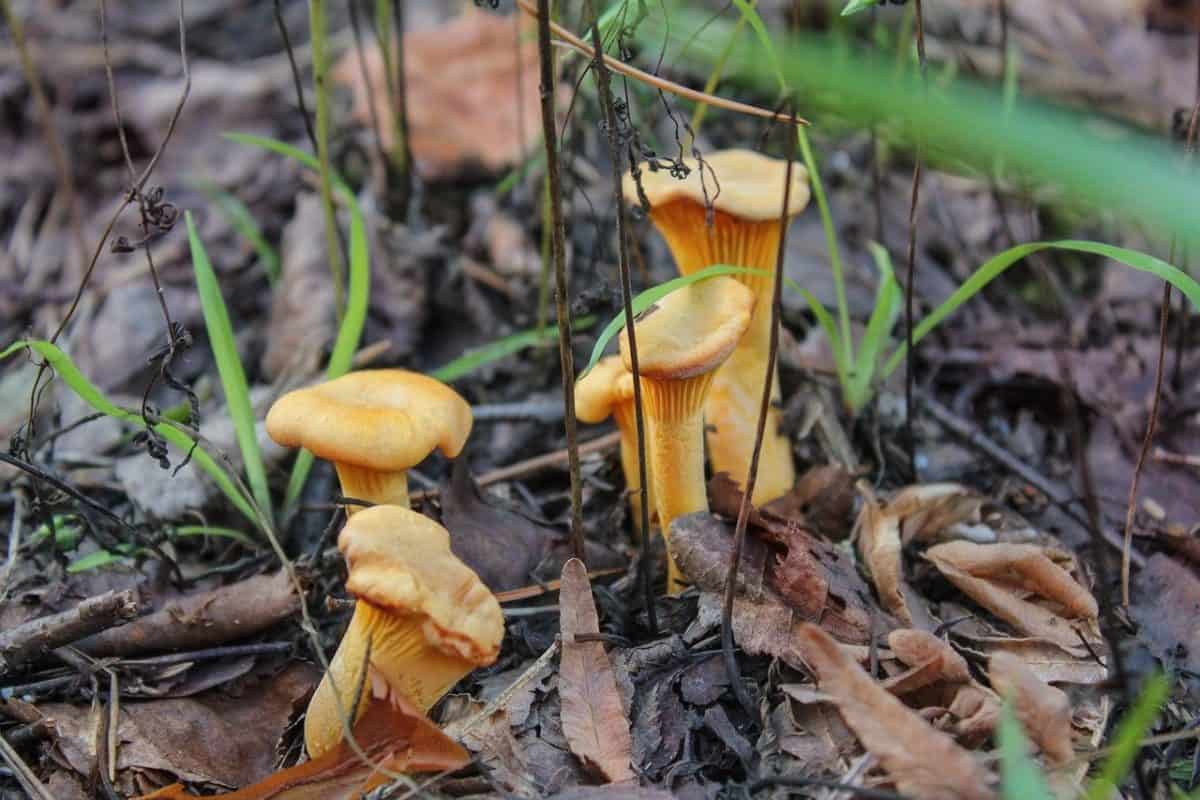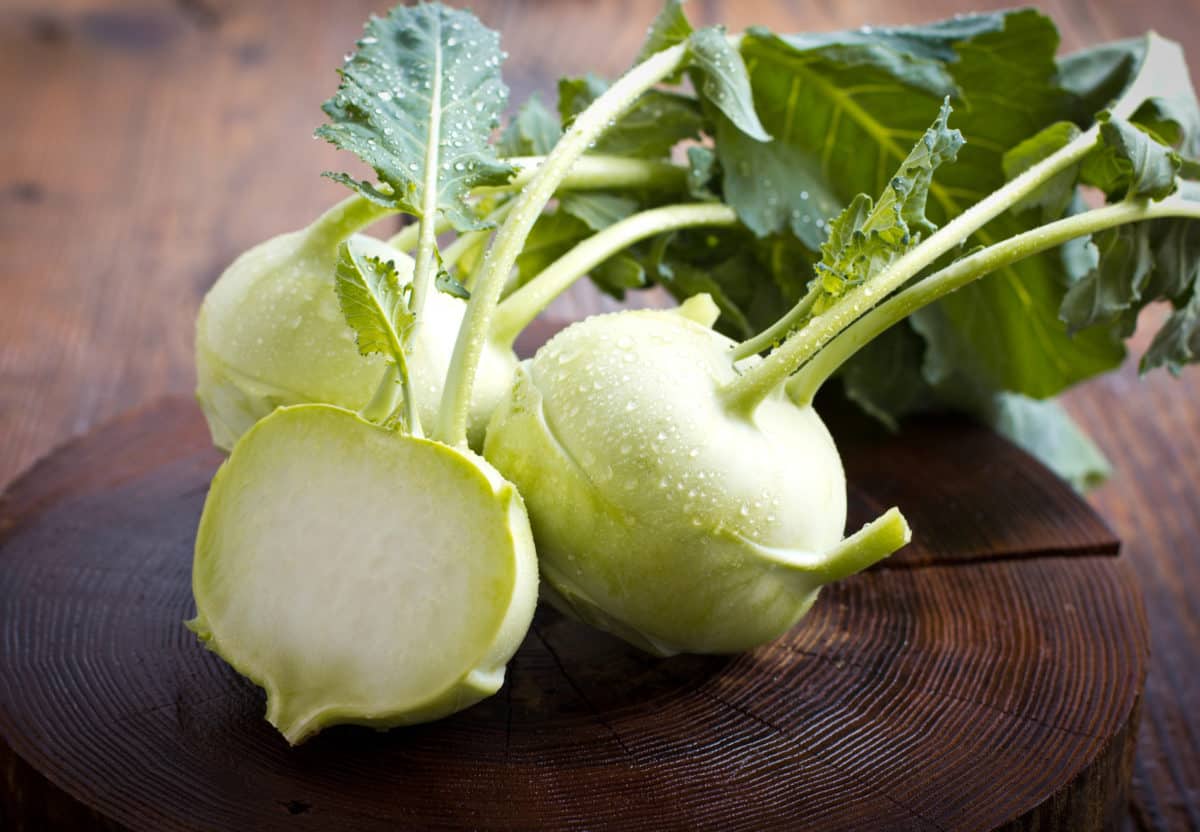 Try the flavorful soup served only in summer
Delicious Polish soup of the summer season – chłodnik. It's a cold (chłodnik meaning 'chilled') beet soup served with hard-boiled eggs. Polish answer to gazpacho;) It's easy to prepare when you keep some cooled botwinka soup (you can freeze it and use it later). Mix in a bowl or a pot: cooled botwinka soup, grated raw cucumbers, grated radishes, chopped dill and/or chives and yogurt, kefir or sour cream. Season with salt and pepper. Smacznego!:) Click here to read how to prepare botwinka soup.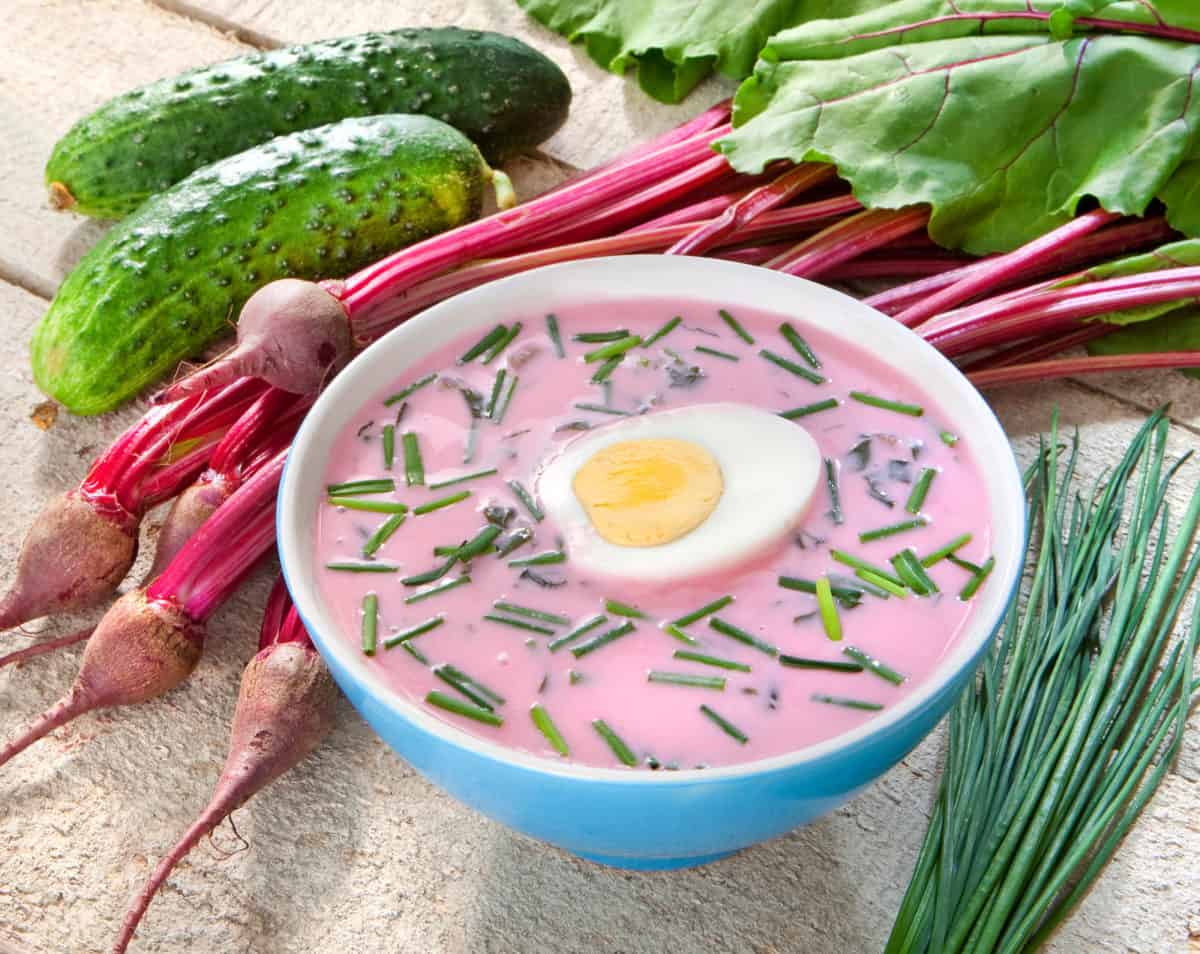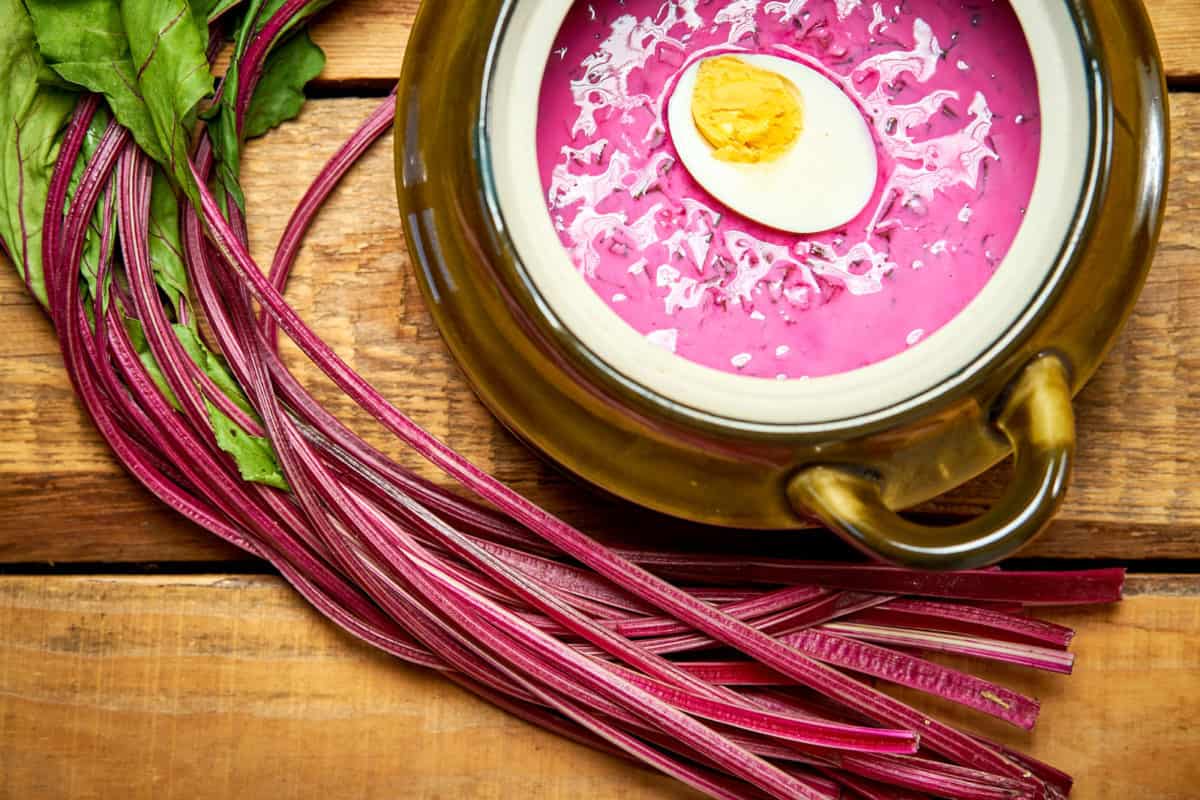 Linden – the queen of summer trees in Poland
The name of the month in Polish (lipiec) comes from linden trees blooming at that time (lipa in Polish). In Poland, many park avenues were planted with lindens. There is a reason for this – these trees provide shade on hot days and are famous for their relaxing properties.
It is also worth buying linden products for the winter – linden tea (herbata lipowa) gives many health benefits and linden honey (miód lipowy) – no need to advertise!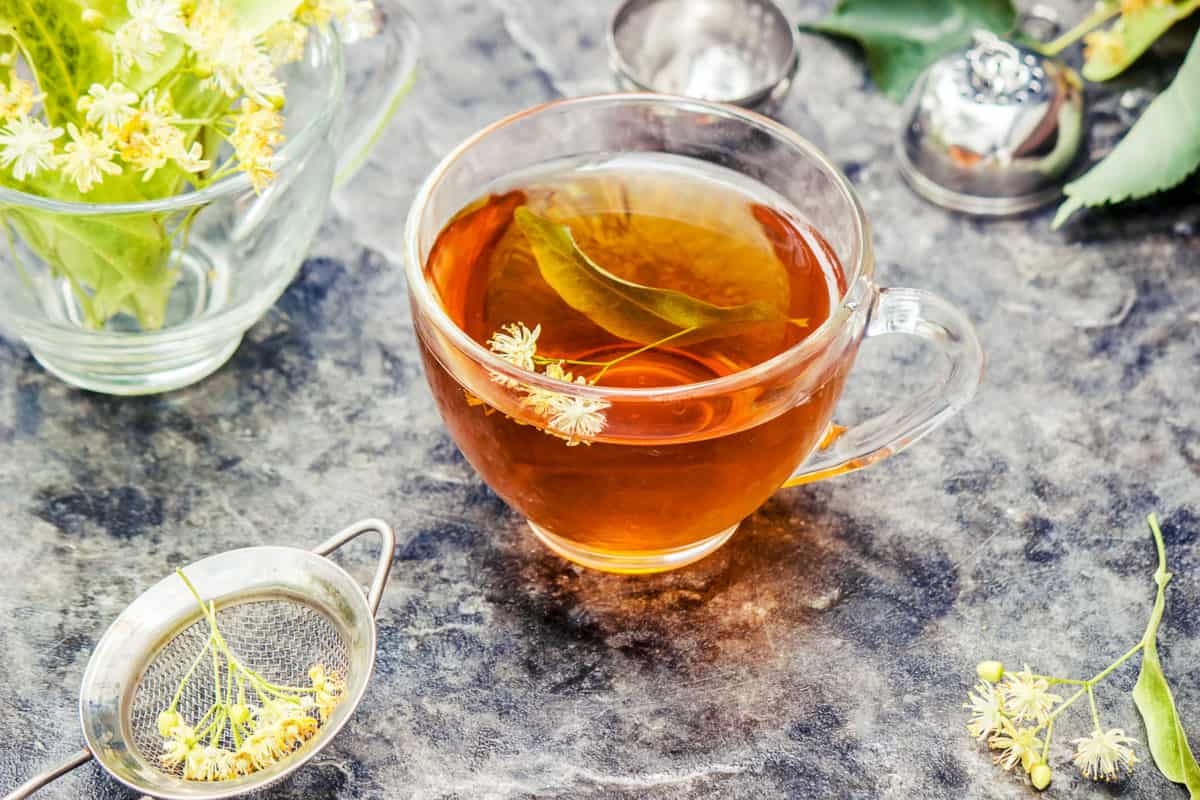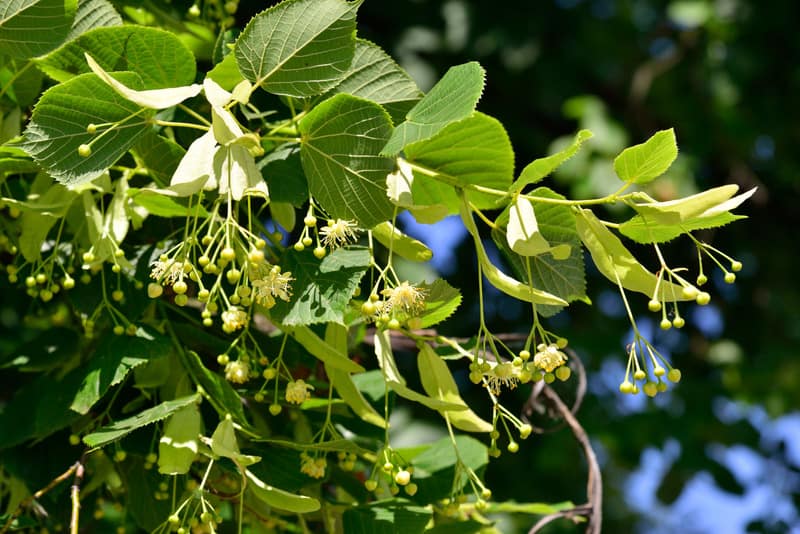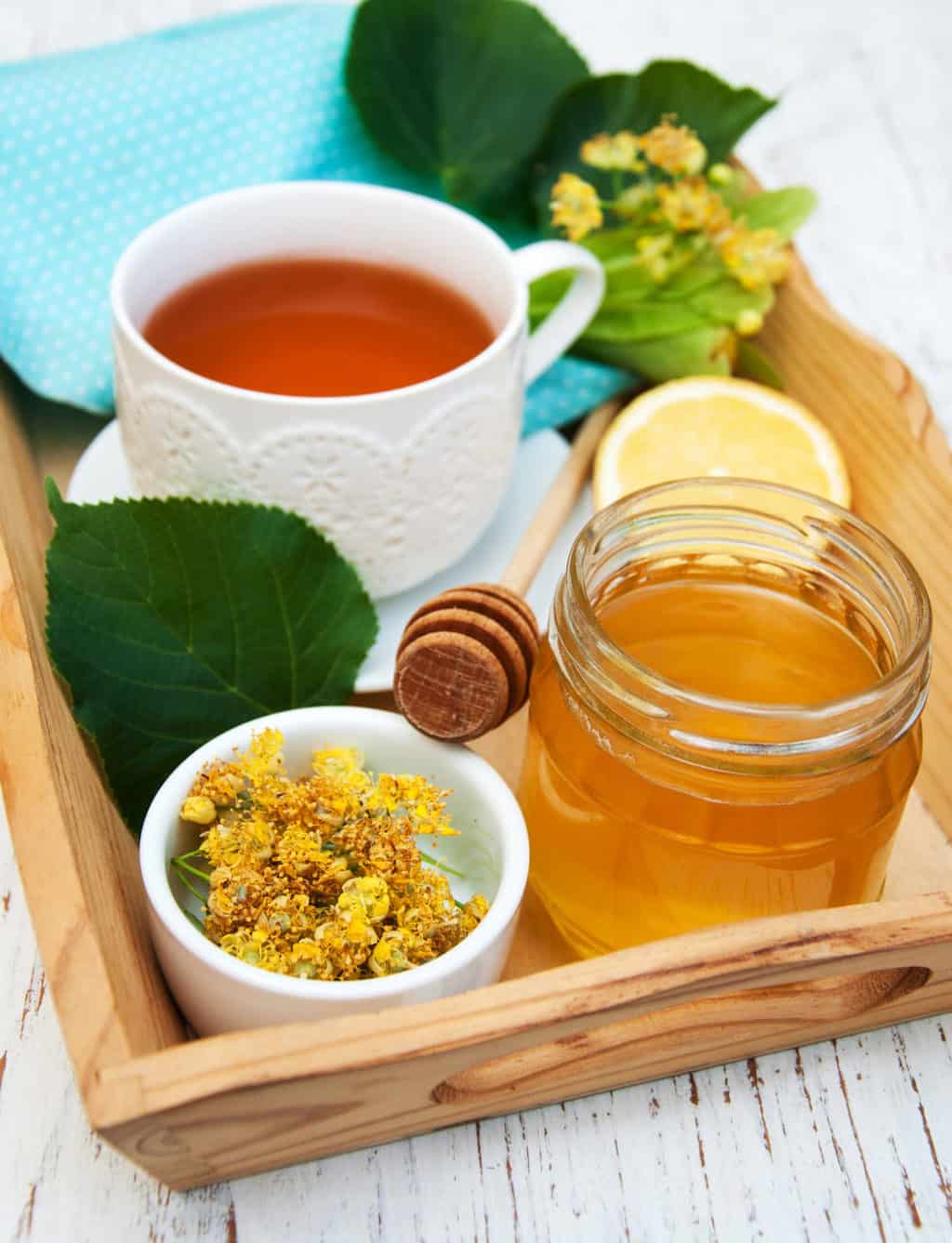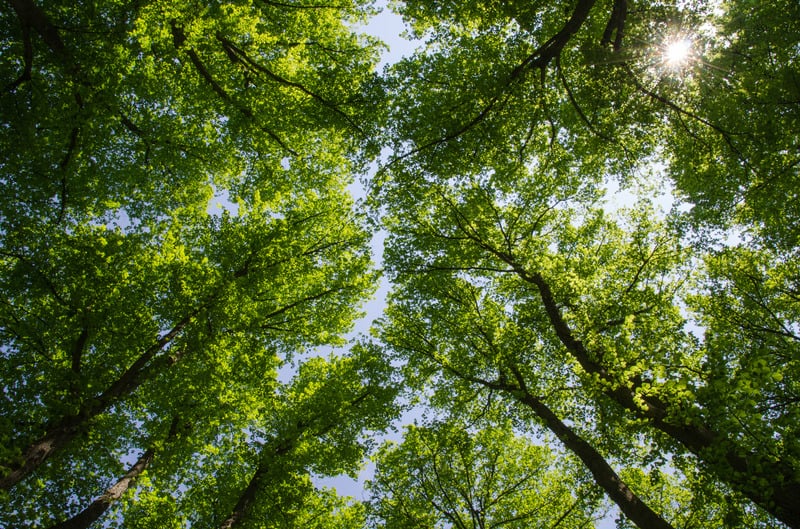 Gladioli in a vase – colorful home decoration 
Among the many beautiful summer flowers in Poland, it is worth paying attention to and enjoying gladiolus (in Poland, the flower is called gladiola or mieczyk –  the sword lily – gladius in Latin means the sword). They are unique and available for sale in Polish flower shops and stalls for only a short period in summer (the upside is that they stay fresh for up to two weeks in a vase). They can also be found in traditional Polish home gardens.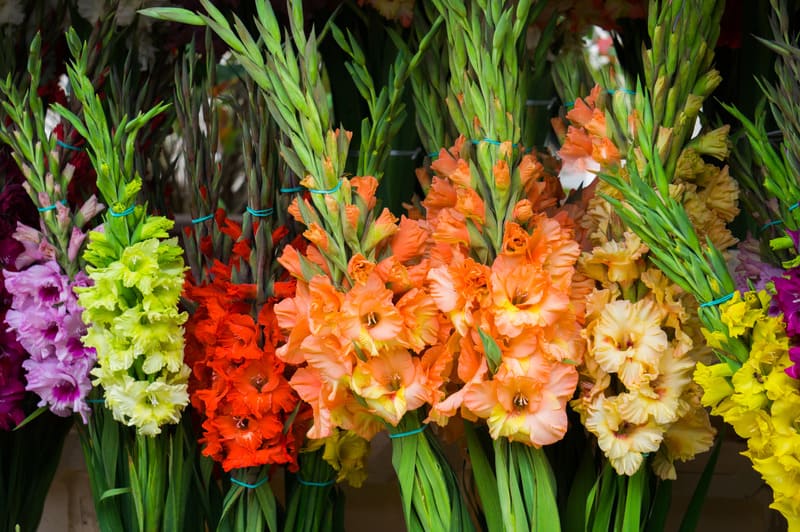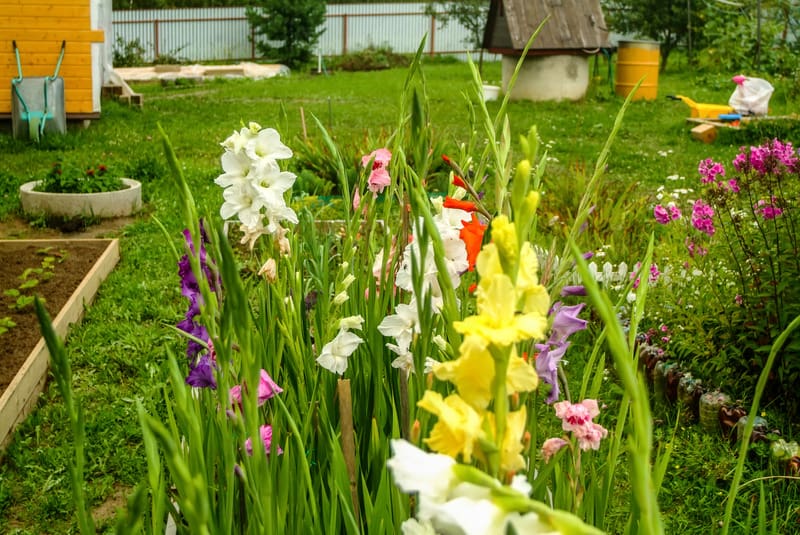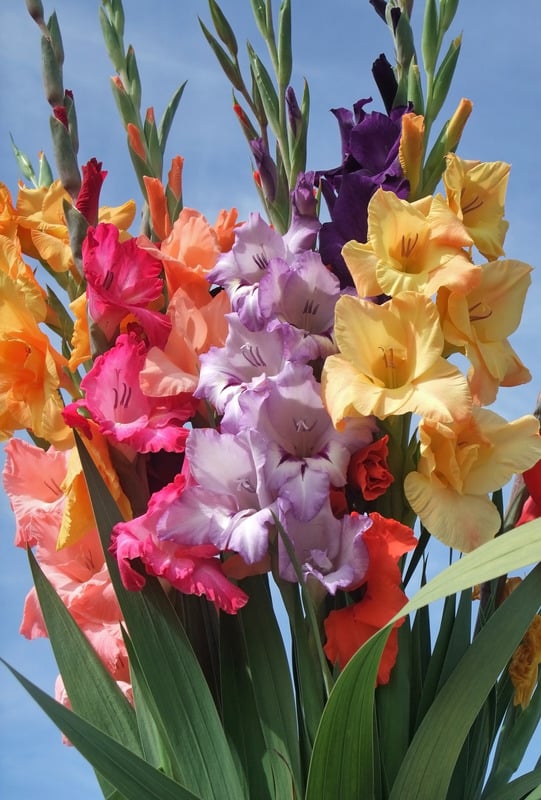 The biggest and most interesting ropes courses in Poland
Poland is home to a number of high ropes courses that are suitable for families, each offering its own unique challenges and experiences.
High ropes centers are not only for seasoned thrill-seekers or those looking to conquer a fear of heights. They are fun and a great shared adventure for a family or friends' day out.
High ropes courses are a series of challenging obstacles situated in trees that you cross one by one – you move across obstacles, platforms, bridges constructed in trees. You are attached to a rope and you use a belay to keep you safe.
To learn more about rope parks in Poland, please read our post that covers:
The biggest rope park in Poland
Rope park with the most courses in Poland
3 rope parks in the town of Zakopane – the heart of the Polish Tatra Mountains
Rope park in the city of Kraków
Ropes park in the city of Gdańsk
2 rope parks in the town of Malbork – famous for one of the biggest castles in the world
Rope park in the city of Poznań
Rope parks in the city of Warsaw
Water parks in Poland
July is the warmest month in Poland. Also in July, the highest rainfall in Poland is recorded. Water parks are the perfect way to escape the heat or hide from the rain! 
Our post Water parks in Poland: indoor and outdoor aquaparks in Poland features 17 aquaparks – most of them offer outdoor pools as well, which is worth taking advantage of it now – the best weather for outdoor swimming in Poland is usually only in July and August.
Tropikana Water Park in Gołębiewski Hotel in Mikołajki, Masuria – the region of lakes
Location: Park Wodny Tropikana, Hotel Gołębiewski, ul. Mrągowska 34, 11-730 Mikołajki (location on Google map).
A family aquapark with indoor and outdoor swimming pools, located in the hotel in the heart of the Masurian Lake District, in northern Poland.
The aquapark is open also to people who are not hotel guests.
In the summer, outdoor pools and summer attractions are available: a sports pool, a recreational pool with water jets, a paddling pool for children, a sandpit, a sun terrace with deckchairs, and 2 beach volleyball courts.
The indoor part includes a sports swimming pool (length 25m, width 12m, depth from 1.6m to 2.5m), recreational swimming pool (length 20m, width 10m, depth 1.6m), summer/winter swimming pool with hydro massage, river swimming pool, paddling pool for children.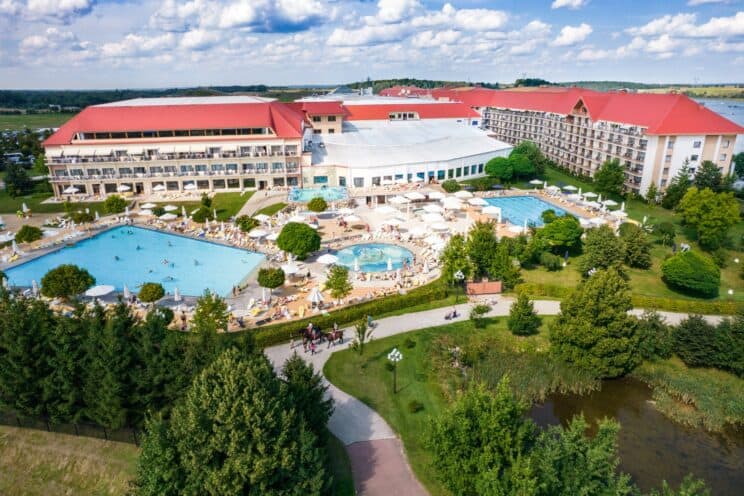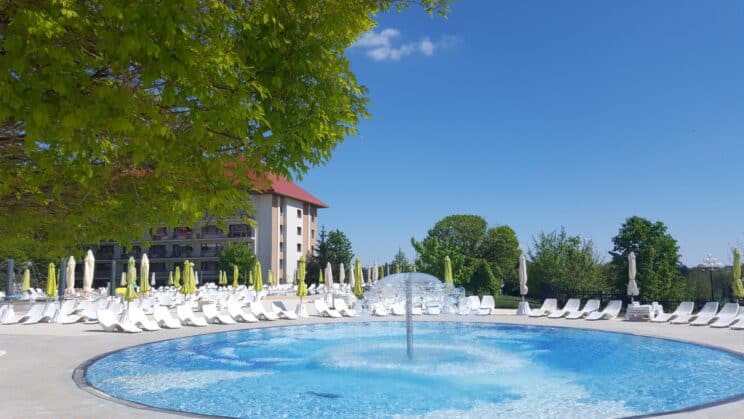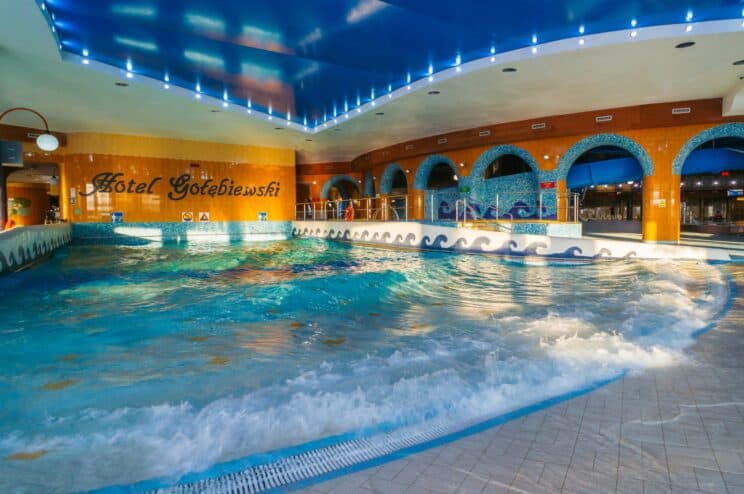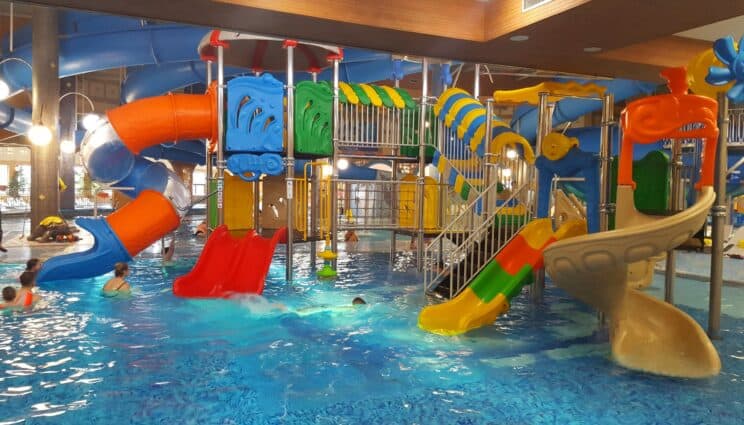 Photo source: Hotel Gołębiewski
"Park of Poland – Suntago" – indoor & outdoor water park in central Poland, 60 km from Warsaw
Location: Park of Poland – Suntago, Nowy Świat 1 Street, 96-300 Wręcza (location on Google map). 60 km southwest of Warsaw.

The largest indoor water park in Europe, including 18 pools with a total surface of 3500 square meters (a tropical pool, a thermal pool, a giant wave pool). 

Attractions for kids include 30 slides with a total length of 3,5 km, a paddling pool, a heated water playground, the adventure river, playgrounds.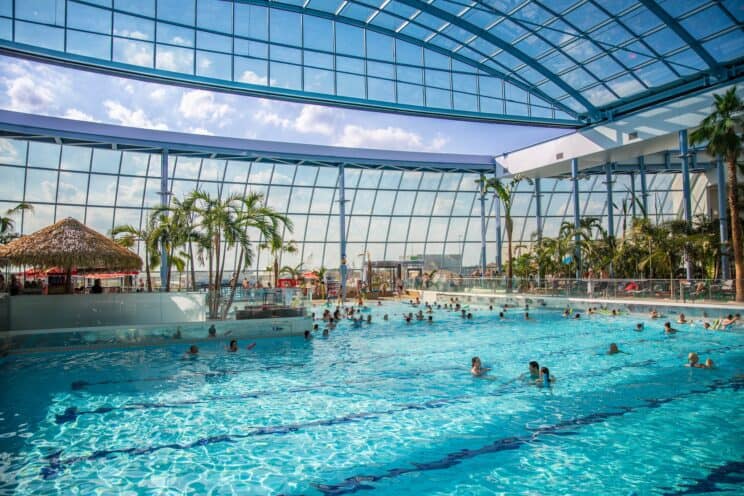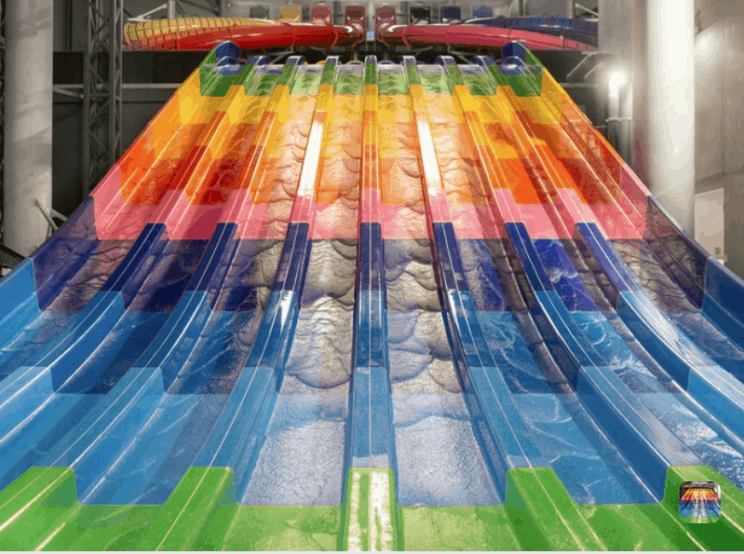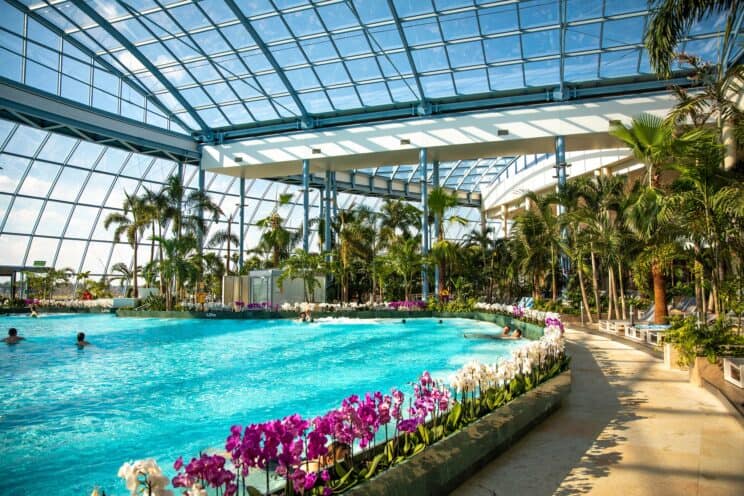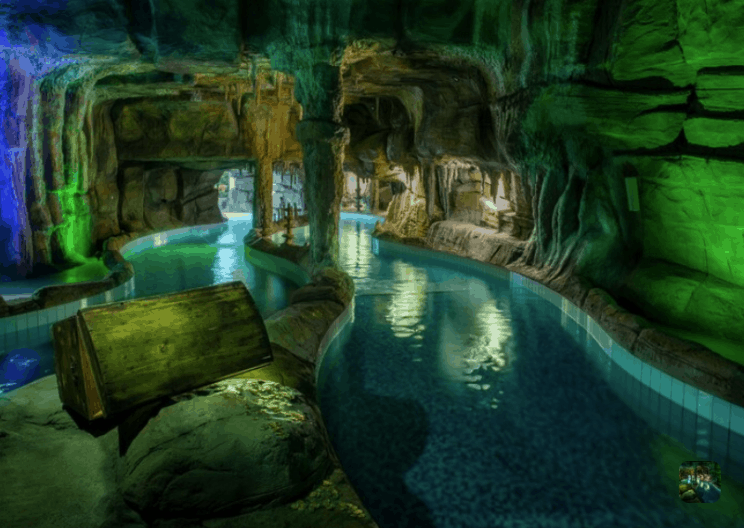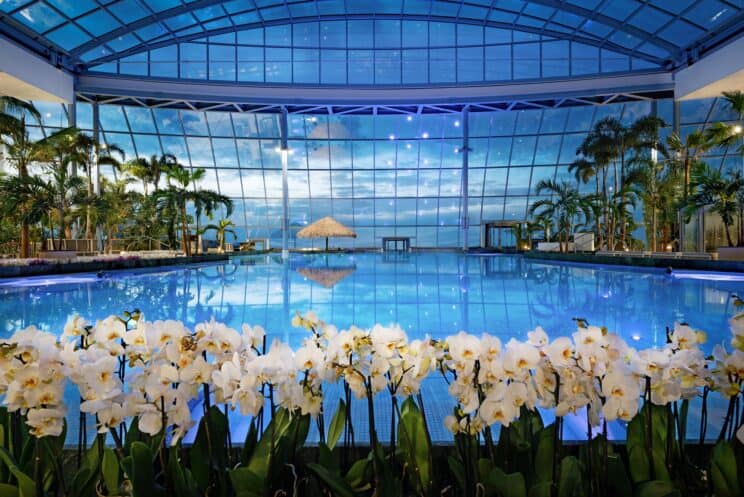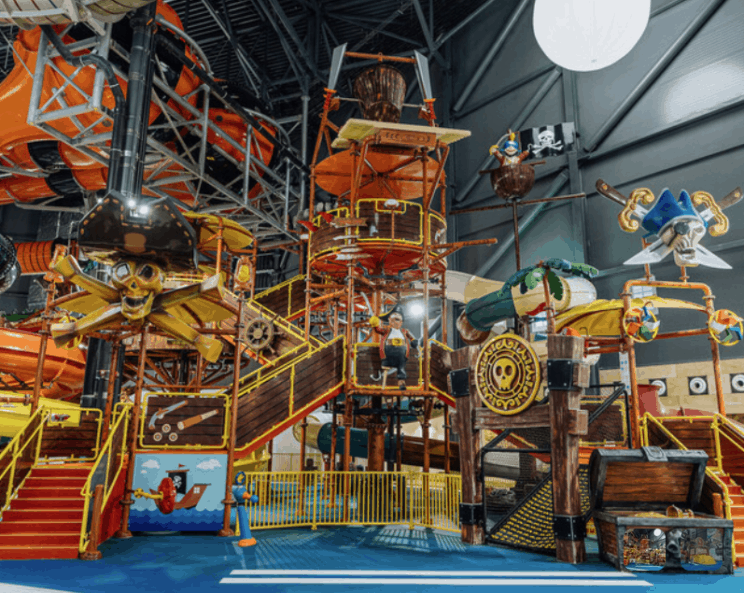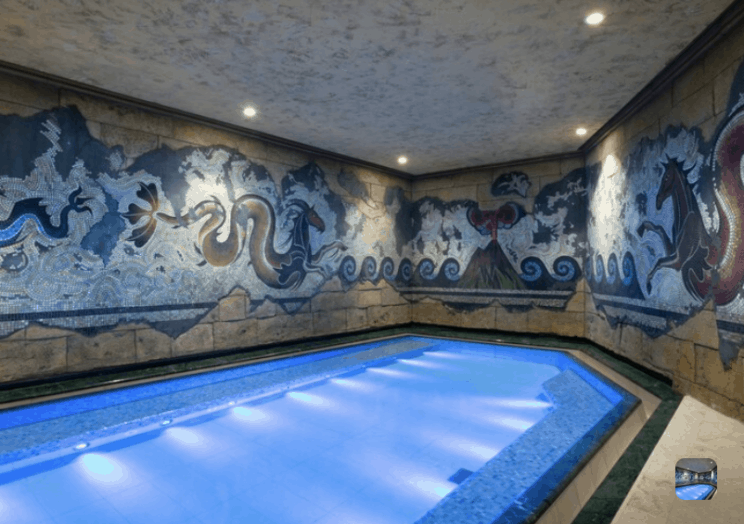 Photo source: Park of Poland
Beach towns and Baltic seaside resorts in Poland
Polish Baltic coast & seaside resorts in Poland are the perfect destinations for those looking for wide sandy beaches. Our post Beach towns and Baltic seaside resorts in Poland covers selected seaside resorts in Poland.
The western part of the Polish Baltic coast: the town of Świnoujście 
Świnoujście is located on the northwestern edge of Poland, right on the border with Germany. The town comprises 44 islands, three of which are inhabited.
The beach in Świnoujście is 10 kilometers long (4 km on Uznam Island and 6 km on Wolin Island). In summer, the waters of the Baltic Sea near Świnoujście are the warmest on the Polish coast.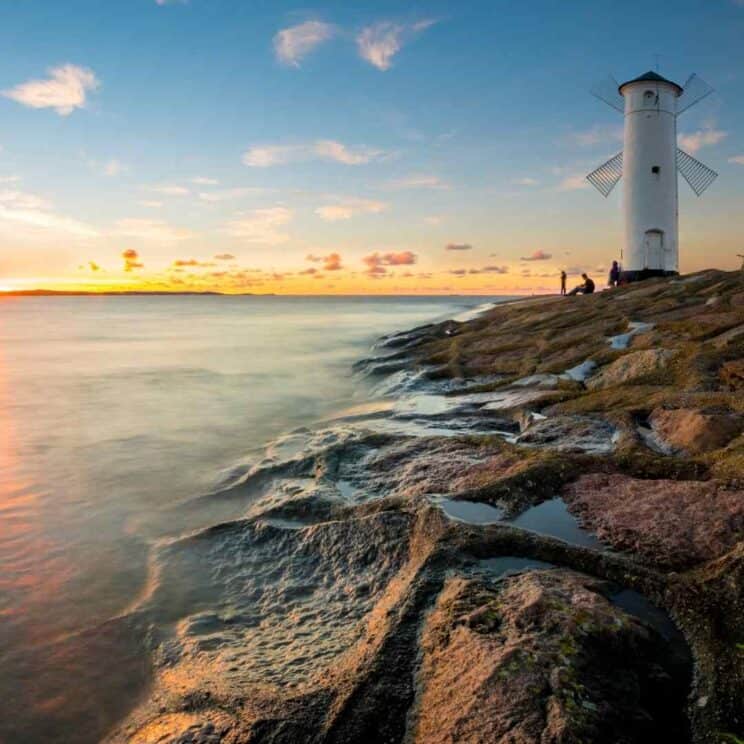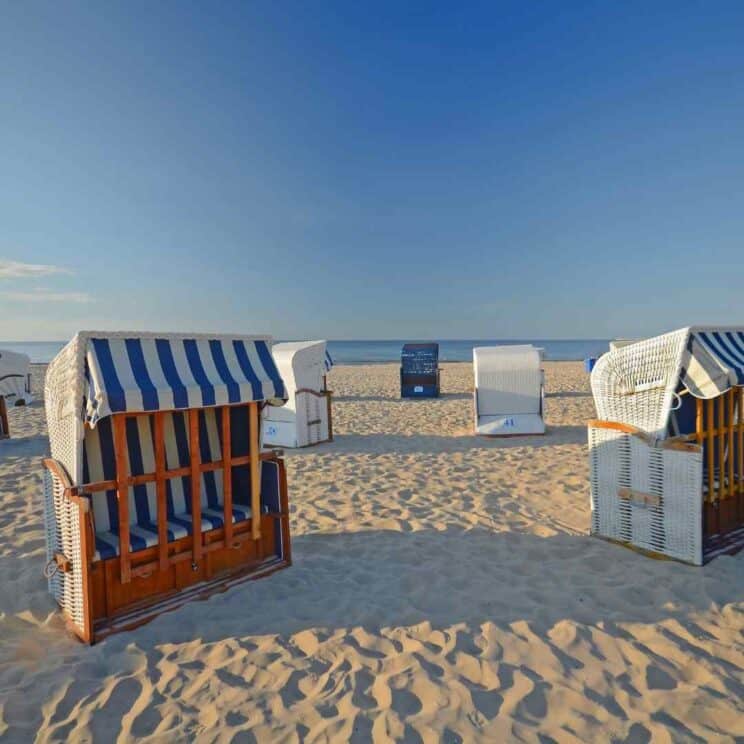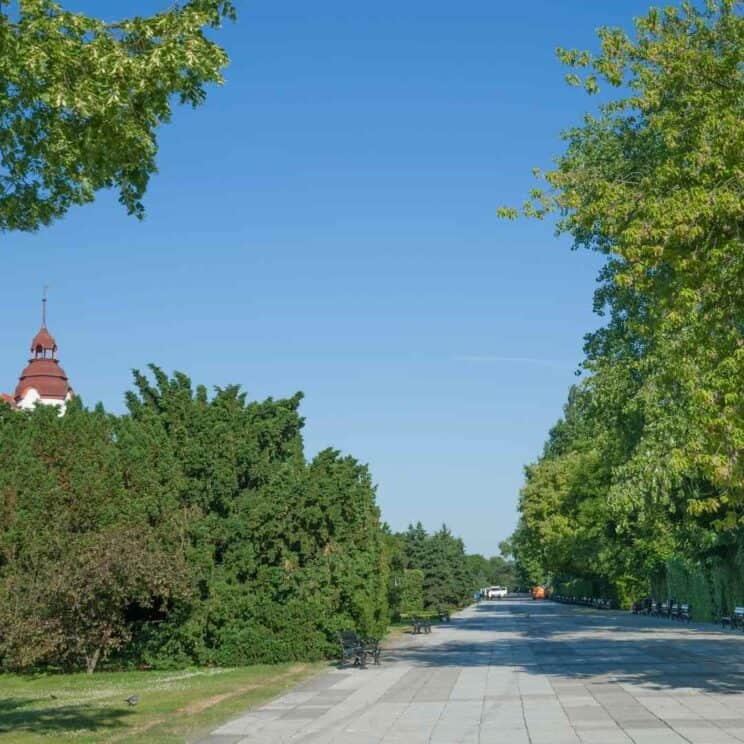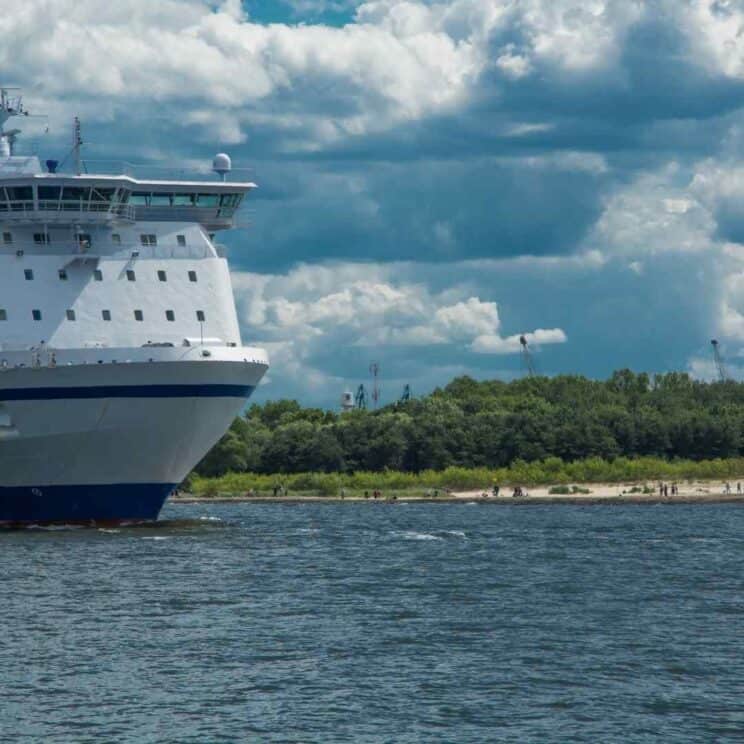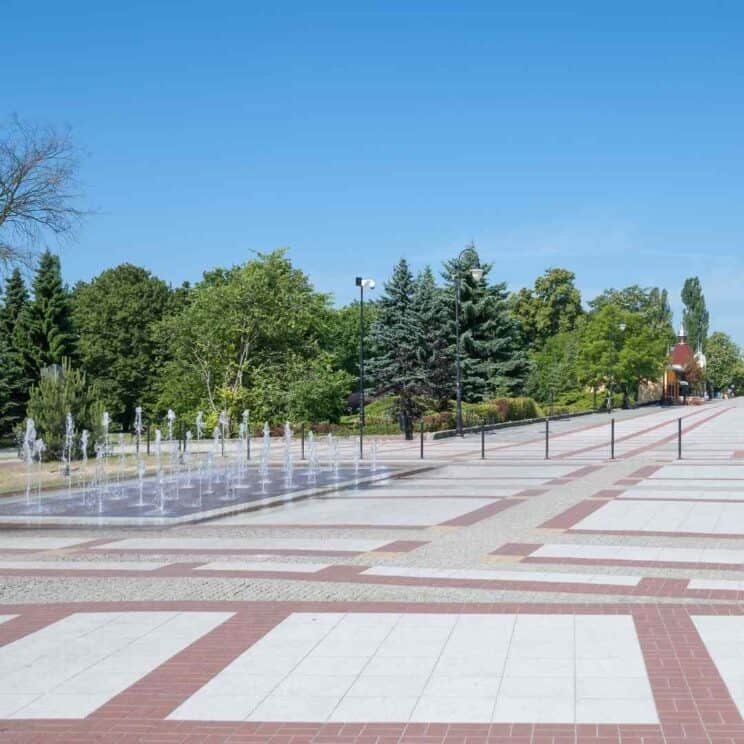 The Słowiński National Park – mobile sand dunes, lakes, wetlands, and forests by the sea
Słowiński National Park (Słowiński Park Narodowy) is located in the Pomeranian Province, in the central part of the Polish Sea coast, 100 km from the city of Gdańsk. The most popular tourist destinations within the Park include Rowy, Łeba, Smołdzino. 
The biggest attraction of the Park, unique in Europe, is the desert dune landscape. The mobile dunes are huge – they can reach a height of over 30 meters. The dunes, constantly moving, change the landscape, covering trees and paths with sand.
The Słowiński National Park is one of 11 UNESCO biosphere reserves in Poland.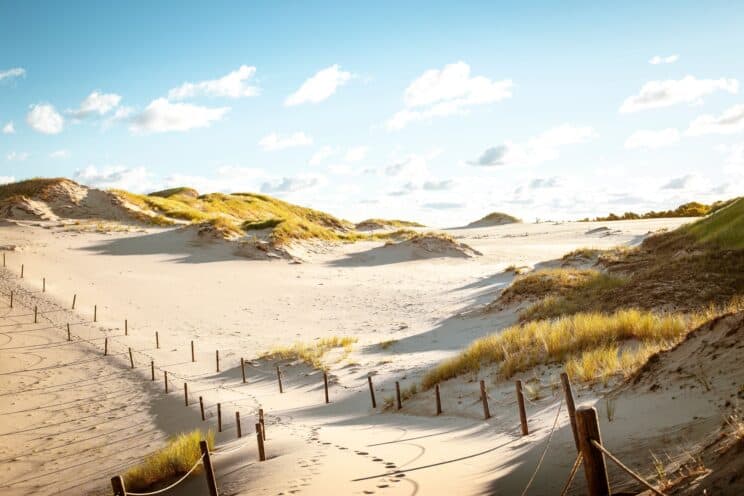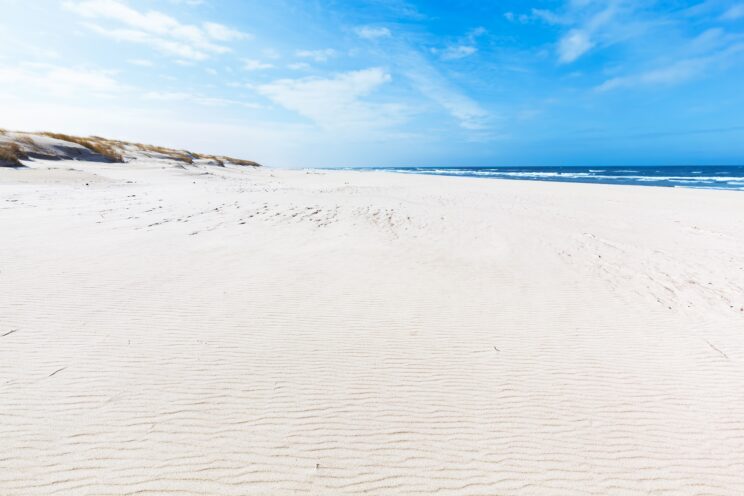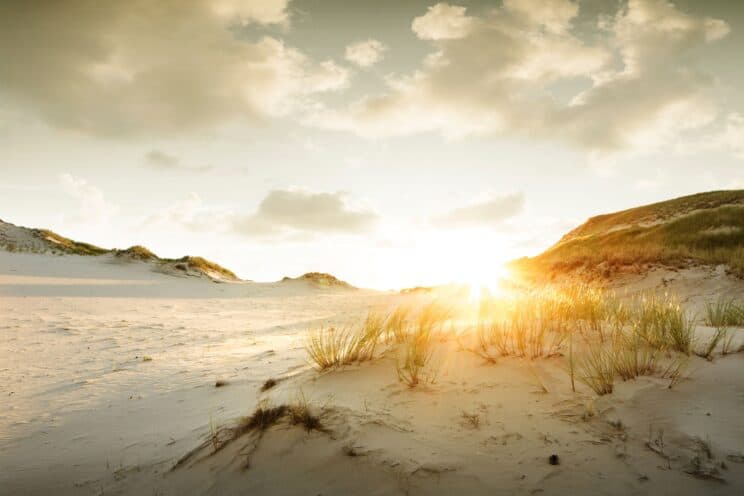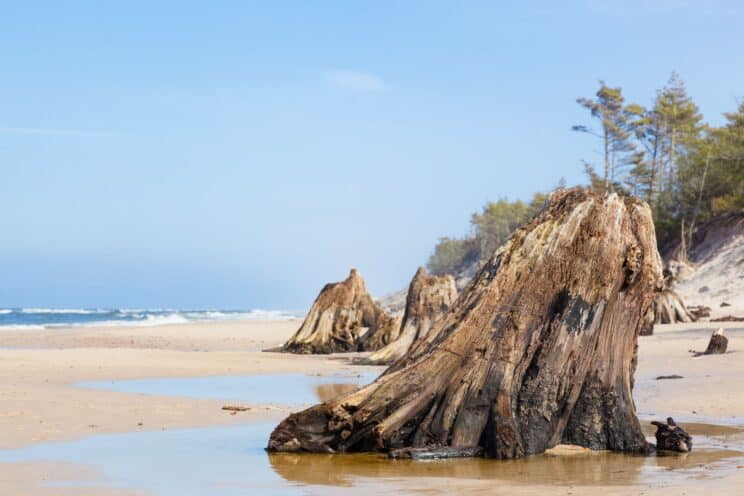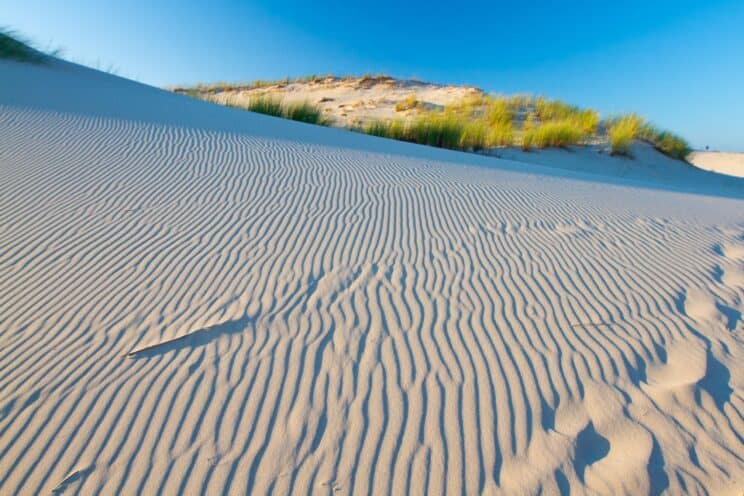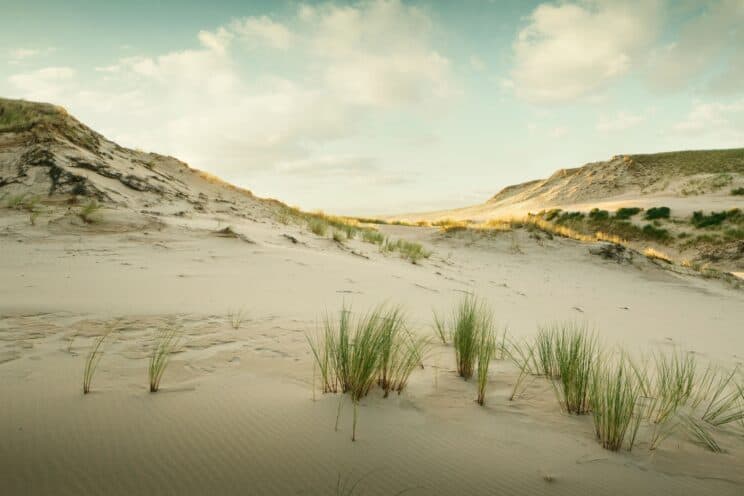 Beautiful lakes in Poland
Poland is rich in lakes, most of which are located in the northern part of the country. The lakes are a beautiful part of the Polish landscape – picturesque postcards of the Polish countryside with a lake in the background. There is plenty to choose from – for a weekend getaway or a longer stay. Our post Beautiful lakes in Poland to admire, swim, sail, camp, kayak, bike along covers selected lakes in Poland, from the Mazury region to the Tatras mountains in southern Poland.
Wigry Lake (Jezioro Wigry) – one of the cleanest lakes in Poland, also called a crystal-clear lake
Wigry Lake is the biggest lake within the Wigry National Park, located in north-eastern Poland (Augustów Forest), only 50 km from the border with Lithuania.
Wigry Lake is available for tourism, with beaches and a bike trail around the lake. The lake is also perfect for sailing and kayaking. The waters are a so-called "quiet zone", which means that motorboats are not allowed on the water.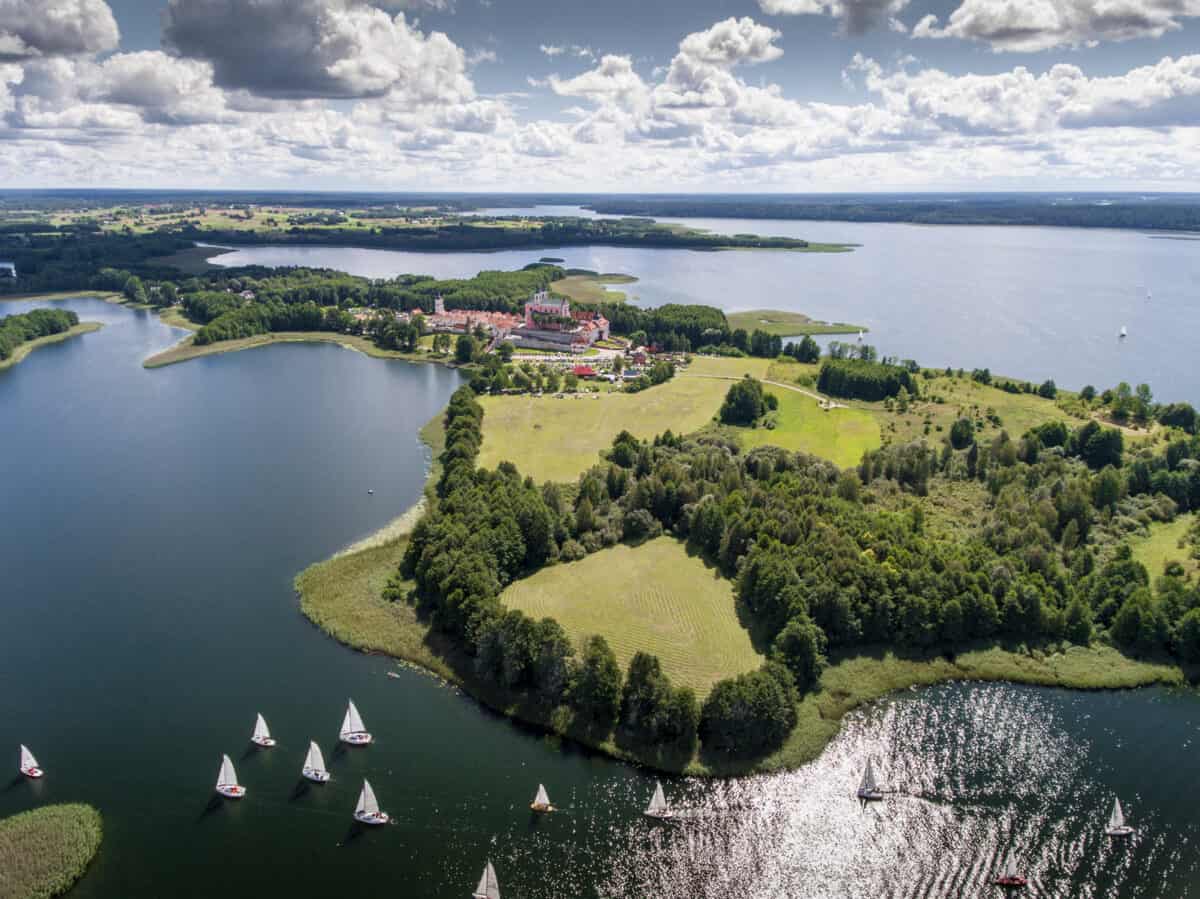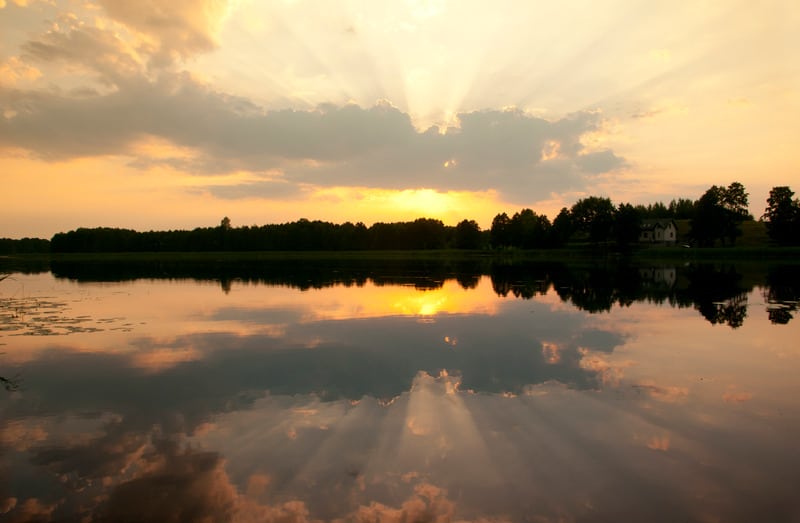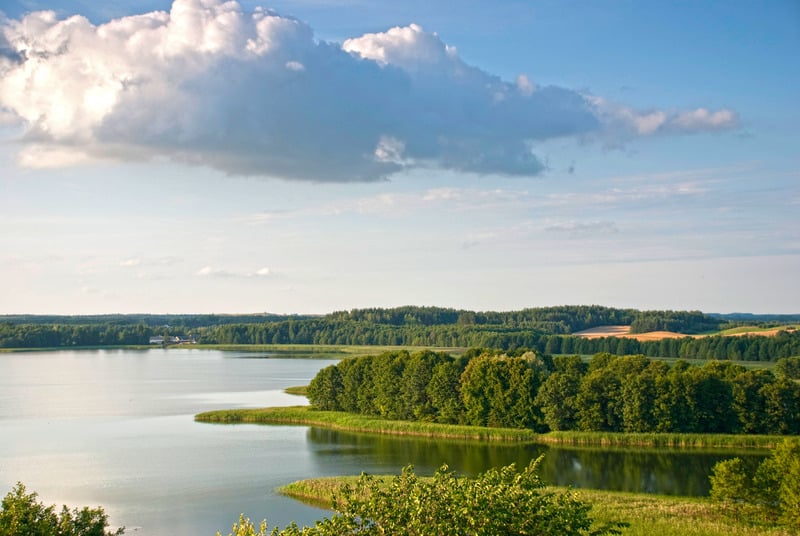 Czorsztyńskie Lake (Jezioro Czorsztyńskie) – two castles on the shores of the lake
Czorsztyńskie Lake – located in southern Poland between Pieniny Mountains and Gorce Mountains – is an artificial water reservoir on the Dunajec River, created by building a water dam in Niedzica town.
From its surface (lake cruises are available – with a boat or a gondola) you can enjoy beautiful views. There is also a free, guarded beach (Plaża Pieniny) and a bike trail around the lake.
The highlights of the area – on the shores of the lake there are two castles: Czorsztyn Castle (magnificent ruins of the castle from the fourteenth century) and Niedzica Castle (Zamek Dunajec). Both castles are open to tourists, and small cruise marinas have been built next to them.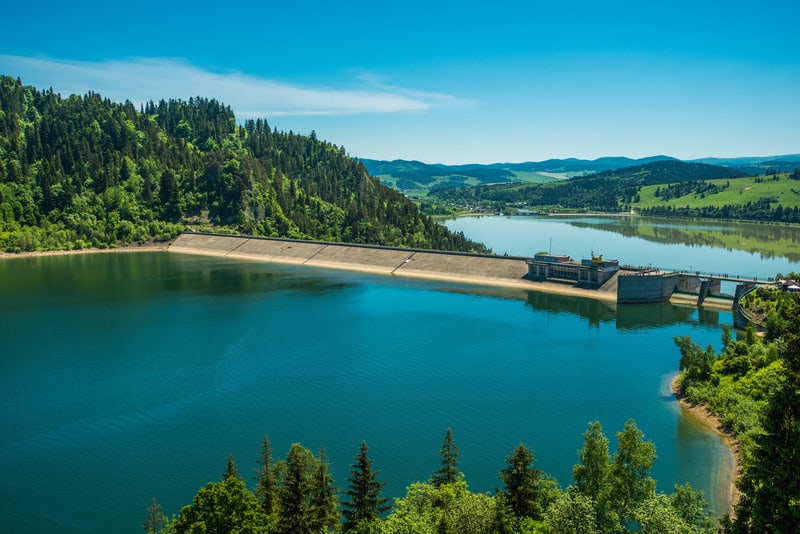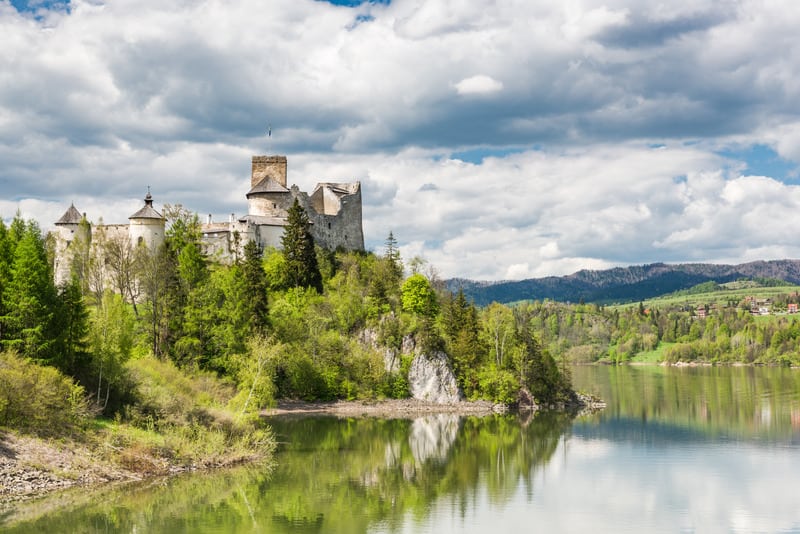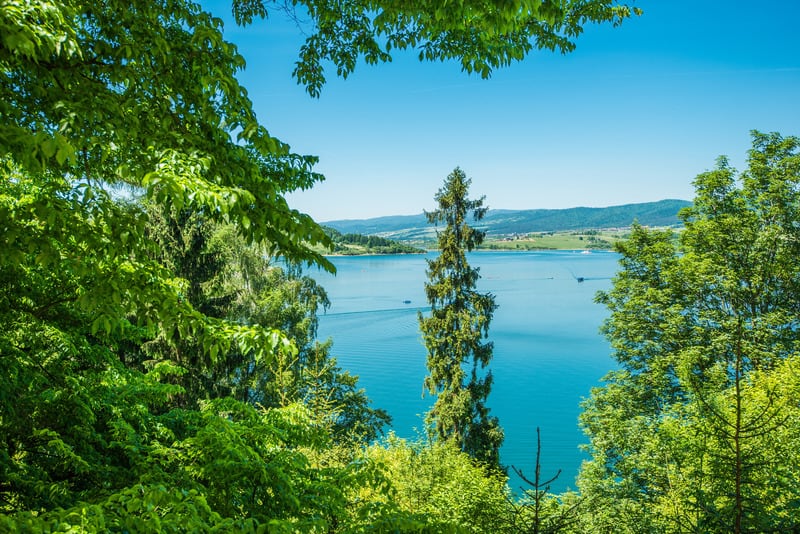 Fruits and vegetables picking in Poland
You will find some options for fruit and vegetable picking in Poland on this website (myzbieramy.pl), you can search by region. Please note that you need to contact a selected orchard/garden/farm to book a slot in most cases.
The most popular fruits include strawberries, honeyberries, sweet cherries, sour cherries, raspberries, and finally apples. Some farms offer vegetable picking too.
Most options usually appear in the second half of June (high season for strawberries) and July.
Ideas for outdoor activities and things to do outside in Poland
July is the warmest month in Poland, it's time to enjoy the outdoors! Meet your friends outside, take your workout outside, explore the best photo spots, take a hike, ride a bike, or just go for a walk.
Below you will find our posts recommending outdoor destinations in Poland where you can get your fill of fresh air:
Sunday trade ban in Poland in July 2023
In July 2023, there is no shopping Sunday in Poland. The next shopping Sunday is on August 27. Click here to read our post about shopping Sundays in Poland. Read our post with the list of online stores in Poland delivering groceries to your home.
Subscribe to our monthly newsletters in English to explore Poland and learn about Poland! Once a month you will receive a Newsletter: 'Explore Poland with Kids'. You will find there family-friendly destinations in Poland – beautiful places in Poland worth visiting with children – from city break destinations to hiking in the mountains (lots of practical tips!); things you can't miss in Poland in a given month; dates to remember, holidays, observances in Poland in a given month so you can mark your calendars accordingly.
Click on the photos below to read other posts: