Best family-friendly hotels in Poland: a breakaway that allows you precious time with the family – but also a bit of adult time too
A zoo with kangaroos and camels? Kids entertainers available 365 days a year? Big sandbox and mud kitchen inside the hotel building? Beach or ski slope within walking distance from the hotel?
Such attractions can be found in selected hotels in Poland. Hotels in Poland are competing to attract families. The child-friendly facilities like cots, high chairs, playgrounds, and child menus are nothing special anymore, it's already a standard in Polish hotels.
We have asked our readers for their insights and in the guide below you will discover the best family hotels in Poland as recommended by Kids in the City community. These hotels have all the basics covered and a whole lot more!
Dear Parents, if you think there is a hotel in Poland worth mentioning in this guide and that should be added to our list of family-friendly hotels, please email magda@kidsinthecity.pl.
Disclaimer: We do not earn any commissions from the hotels listed below.
Zalesie Mazury Active Spa – hotel by the lake, kids entertainers 365 days a year
The hotel is located by the lake, in a spruce and pine forest, in the Masuria (Mazury) region – called the Polish land of lakes. The hotel provides kids club entertainers 7 days a week, 365 days a year!
Amenities and activities for children
Indoor kids club, including z dedicated baby club for kids aged 4 months – 3 years old, mini club for kids aged 3-10 years old, zone with balls – slide, pools with balls and a labyrinth, play station zone, active zone (including a mini sports hall to play basketball, football, volleyball, handball, etc, and a climbing wall with an auto-belay)
Indoor playing room with sand and mud kitchen – indoor year-round sandpit
Indoor swimming pool, including a paddling pool (depth 0.5 m, water temperature 32 ° C) with a fountain and small slides
Mini zoo (Shetland ponies, a donkey, goats, hens, and rabbits), pony rides, feeding the animals
3 outdoor playgrounds (located in different places – each age group has its own separate playground)
Seasonal summer inflatable playground equipped with two jumping castles and a 9-meter slide
Private guarded beach by the lake with mini slides, water slide 60 m
Basketball and beach volleyball courts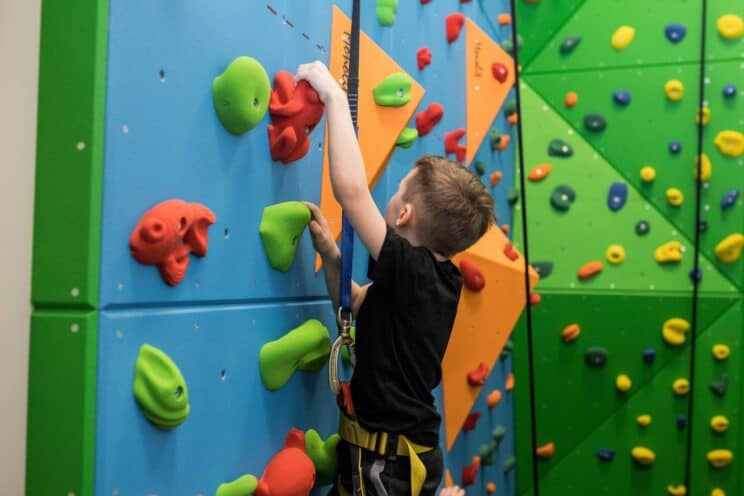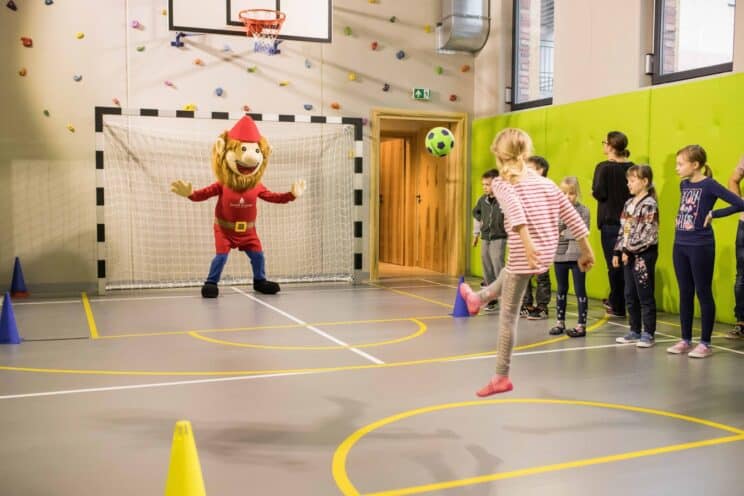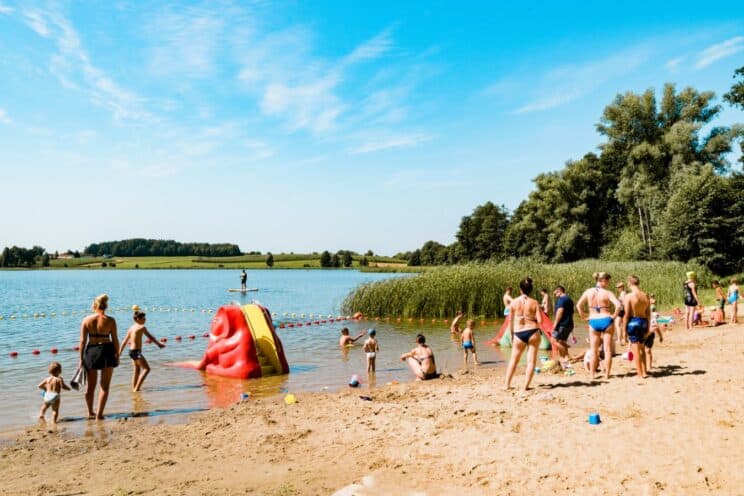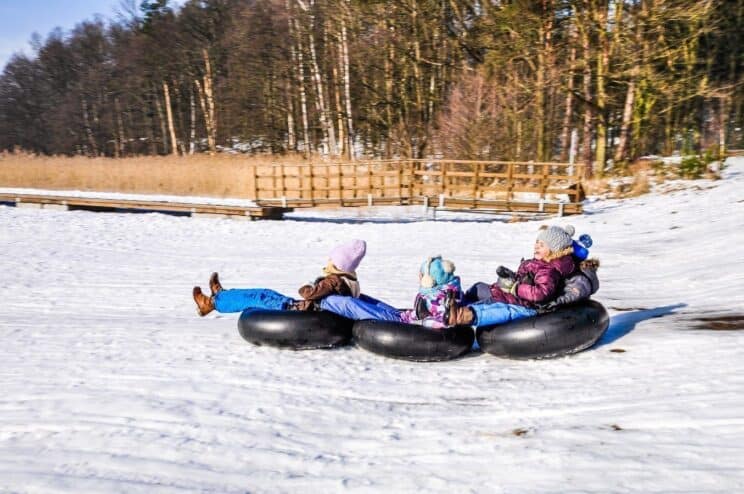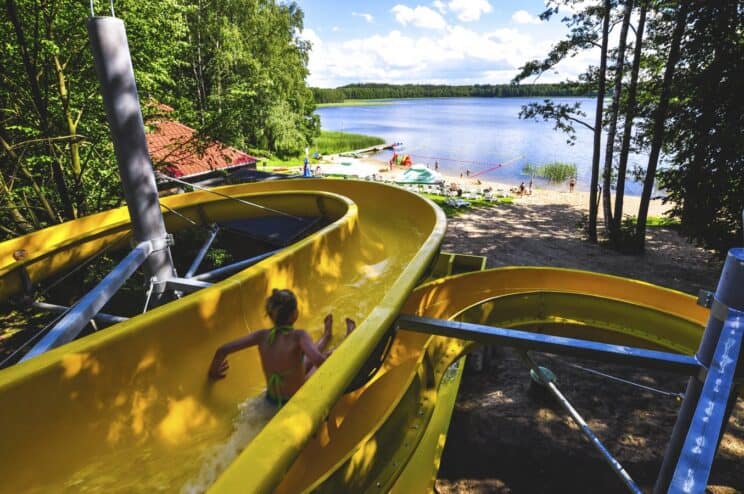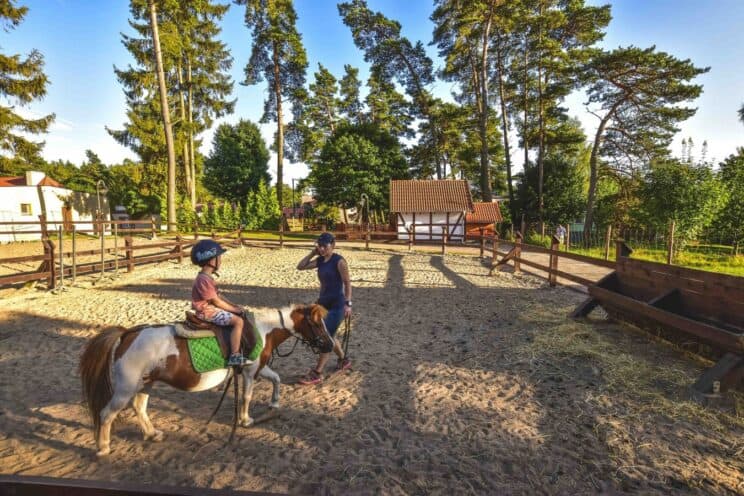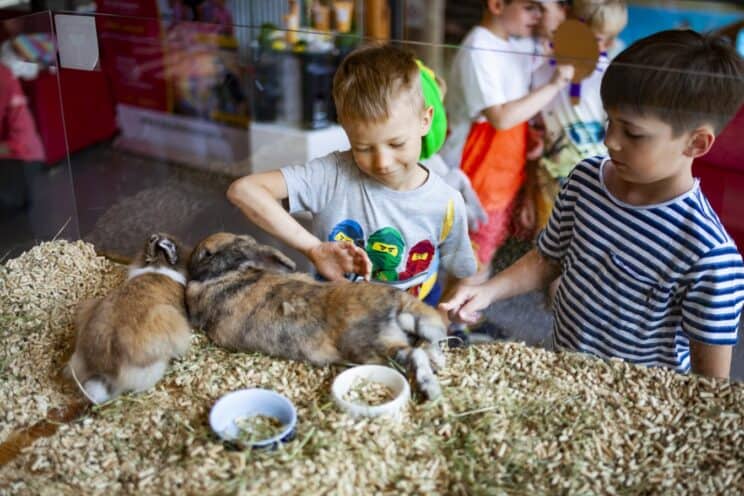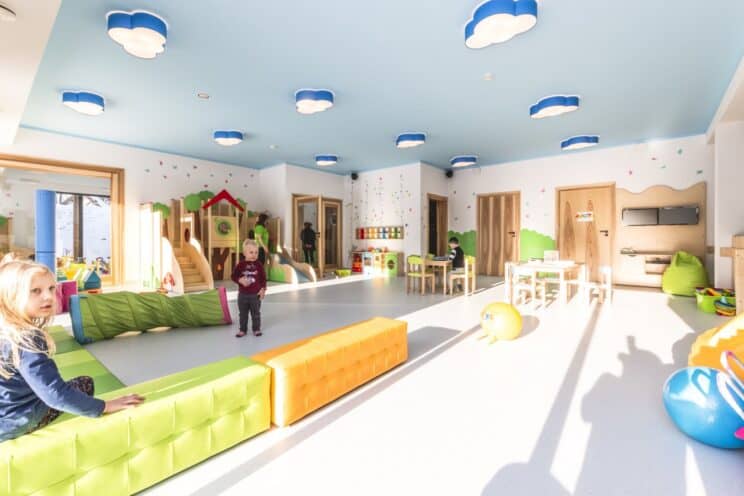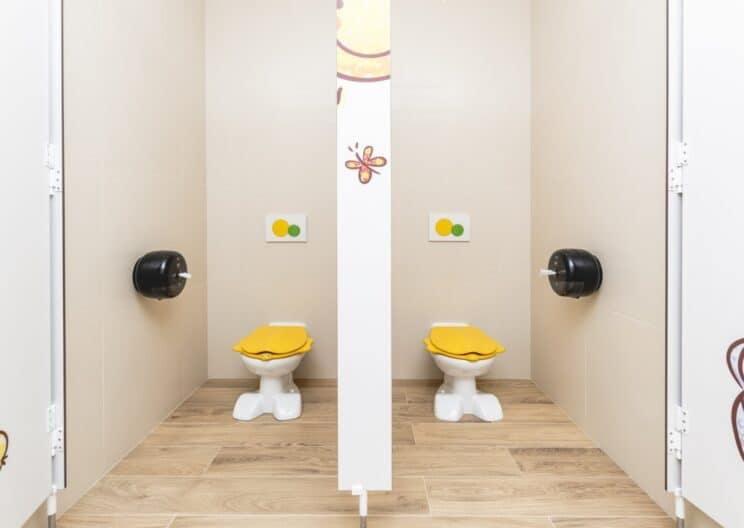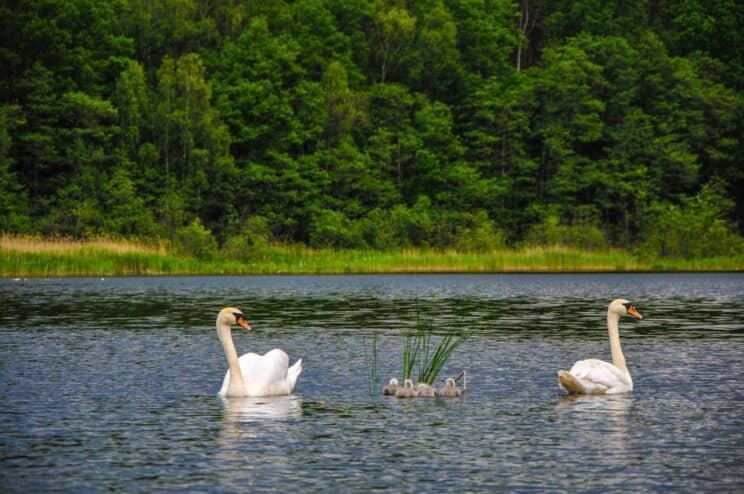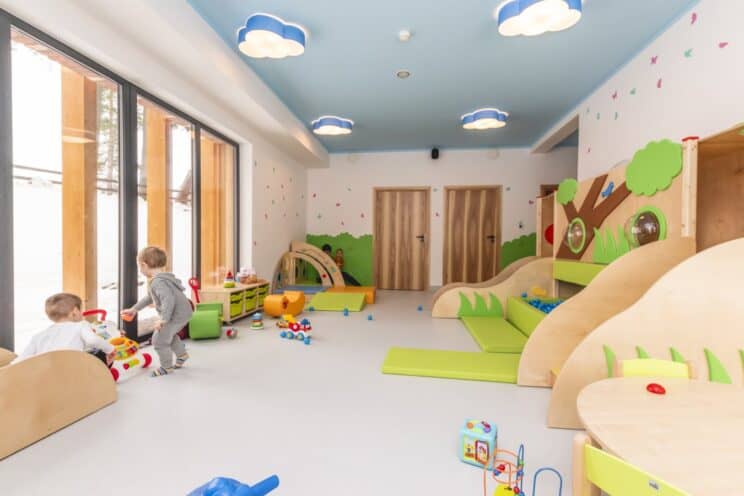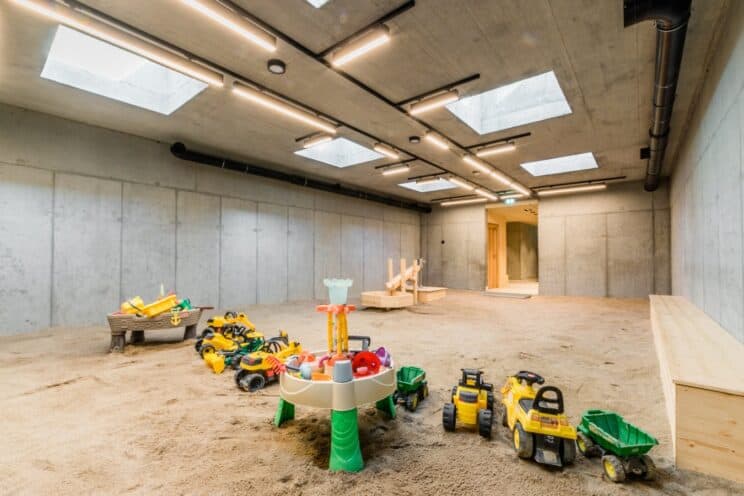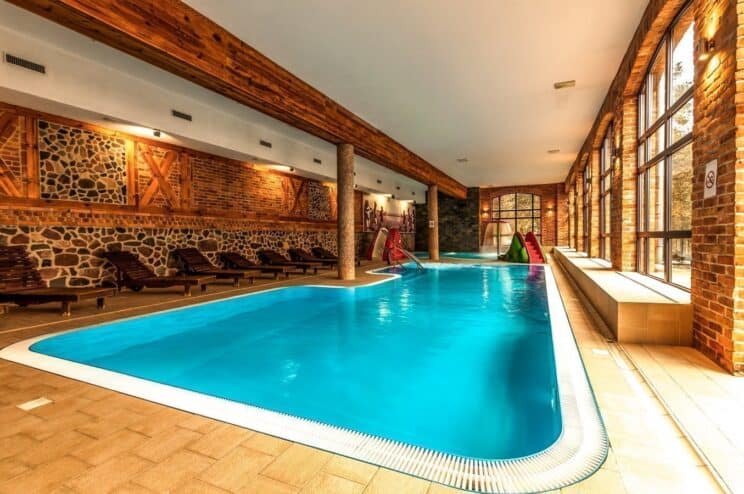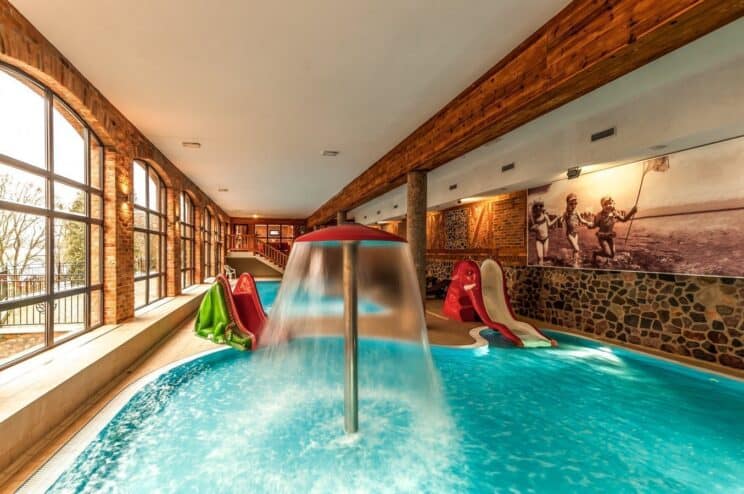 Photo source: Zalesie Mazury Active Spa
Hotel Bania – hotel in the mountains and thermal pools
The hotel is located in the south of Poland, in the mountains. What distinguishes Hotel Bania? The hotel is situated next to the ski slopes and large thermal pools. In summer, children can enjoy the large playground with numerous attractions. The hotel also has an interesting offer for families who like cycling.
Amenities and activities for children
Indoor kids club, including arts & crafts zone, multimedia zone, and a playing zone for little kids
Outdoor playground of 10000 m², including attractions for little kids, summer tubing, zip line, go-karts, bump cars, rope park
Kids movies sessions
Inflatable slides into hot water pools
Outdoor football/basketball court
Beach volleyball court
Bikes: storage room for bicycles, rental (including electric bikes), transport to the starting point and pick-up at the meeting point, bike tours with a guide (including bike tours dedicated to children)
Ski slopes of various difficulty levels and skiing lessons for the youngest (including a hill dedicated to children, where they can independently use the T-bar lift and conveyor belt to learn to ski, go sledding)
The hotel is connected to the Terma Bania swimming pools (https://www.termabania.pl), which are divided into zones, each of them has both indoor and outdoor pools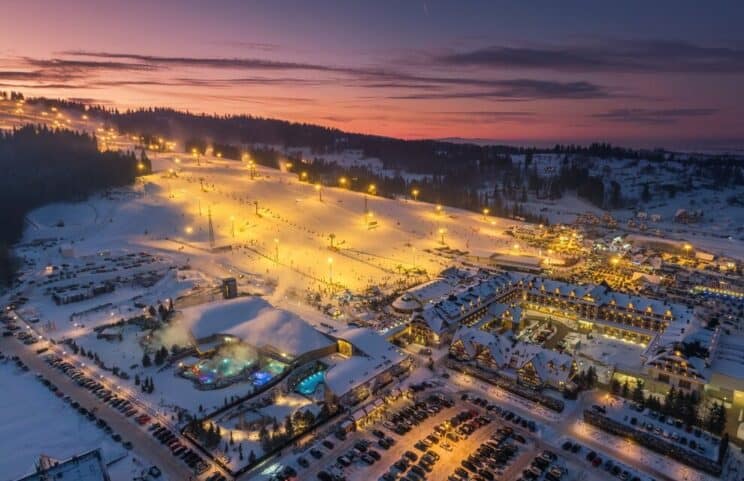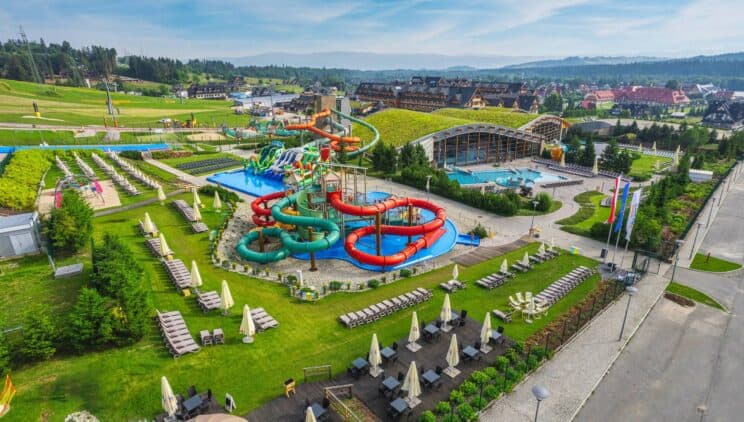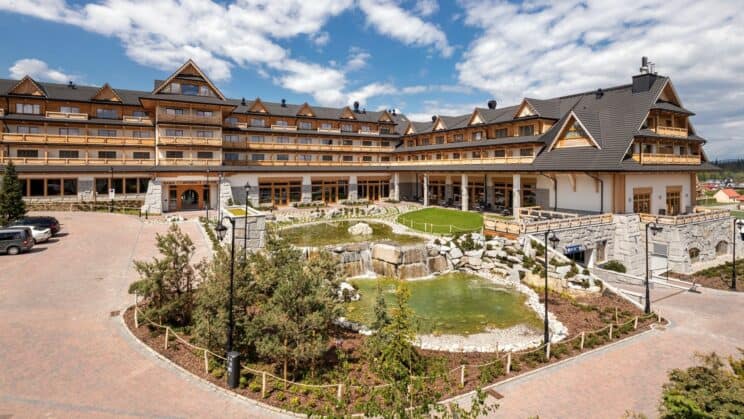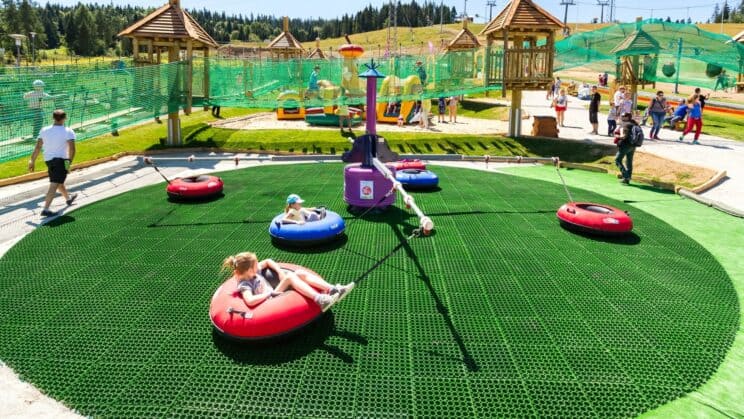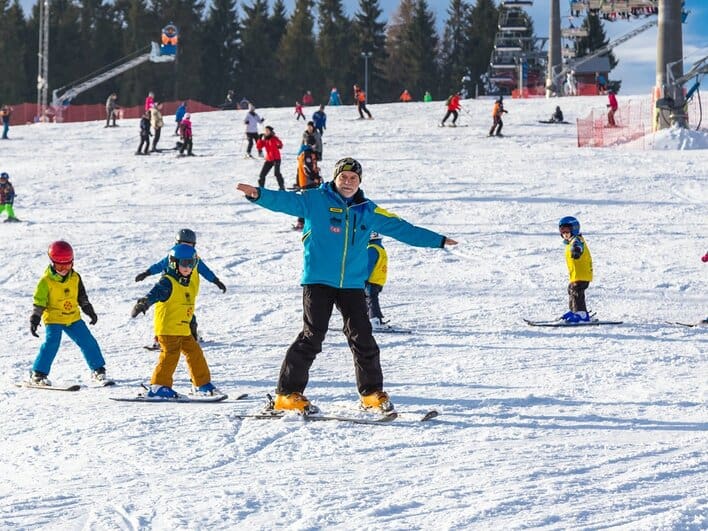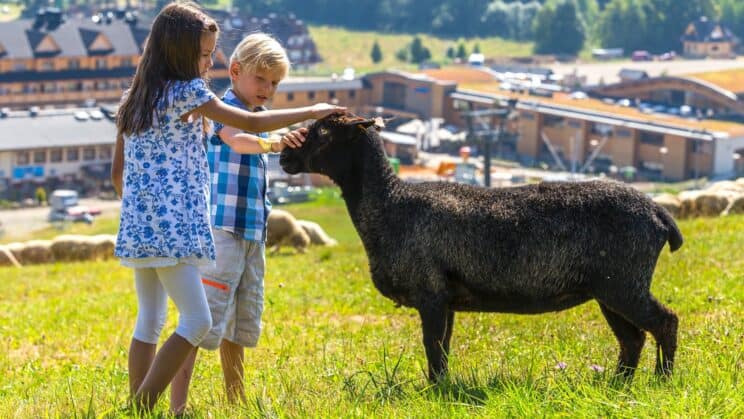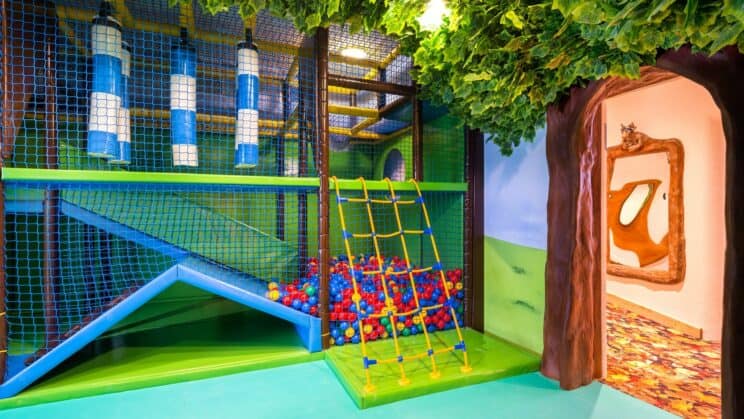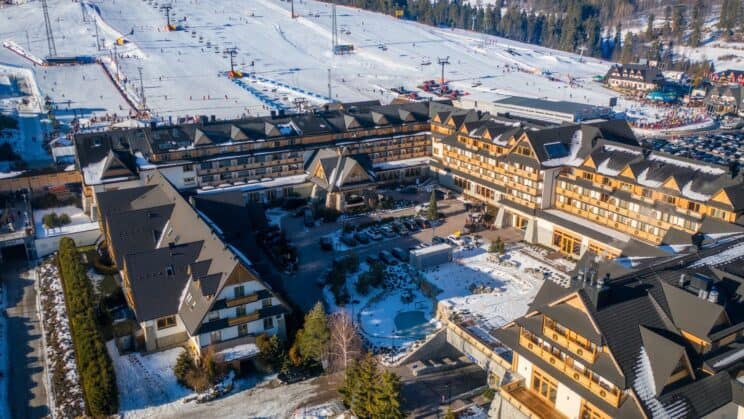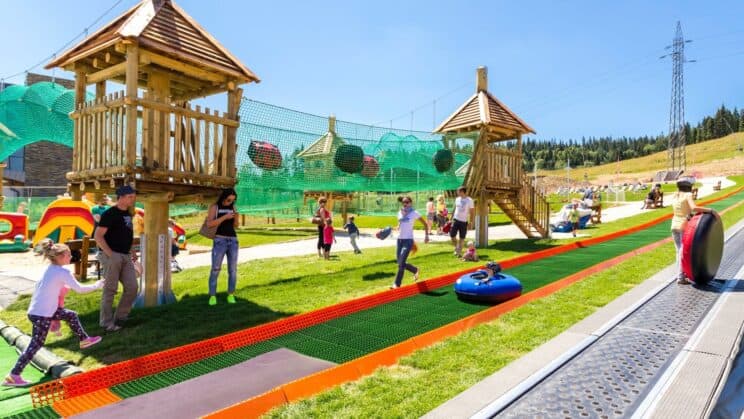 Photo source: Hotel Bania
Dolina Charlotty – hotel near the sea with the real zoo
The hotel is located in northern Poland, 13 km from the sea. Dolina Charlotty – in English "Charlotte Valley" covers 120 hectares, including a lake and a forest. What makes this place special? The hotel has a real zoo, including kangaroos, lemurs, camels, monkeys!
Amenities and activities for children
Indoor swimming pool, including a paddling pool
Two indoor kids' clubs
Computer games room
Bowling and pool
Zoo with 49 species of Polish and exotic animals
Water Zoo Safari – a boat trip that takes participants on a journey "around the world" – ten islands inhabited, among others, by kangaroos, zebras, lemurs, capuchins, ostriches, emus, and storks
A seal center with seal feeding and playing shows (for medical purposes). 5 Baltic seals in 3 pools. The sealarium has been designed so that you can also observe seals while swimming, underwater
Pony rides and horseback riding
Outdoor playground
Beach volleyball court, kayaks, and pedal boats
The hotel has a theater with 10,000 seats. Parties and concerts are held there, including the concert of Carlos Santana, Bob Dylan, Deep Purple, Mike & The Mechanics, Korn, Bryan Ferry, Billy Idol, Marillion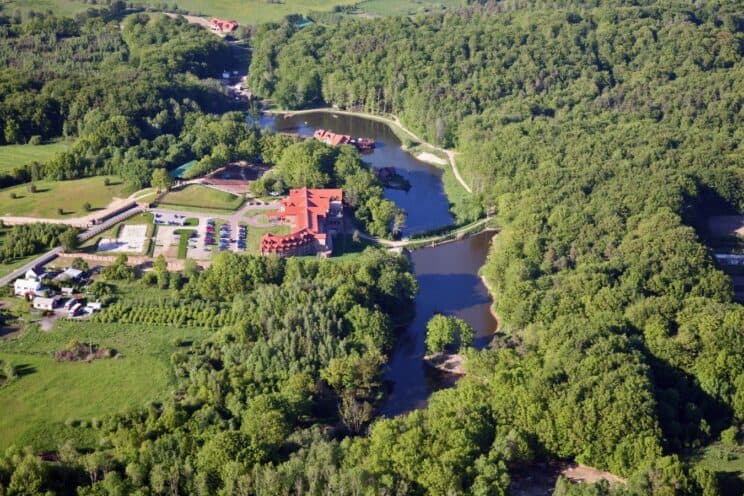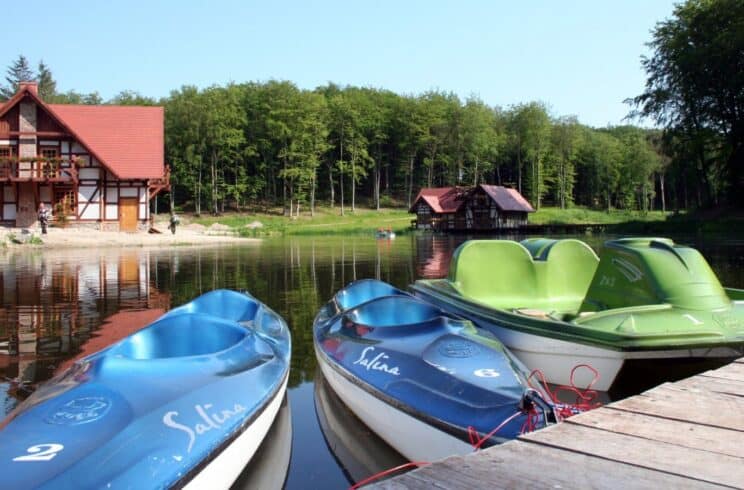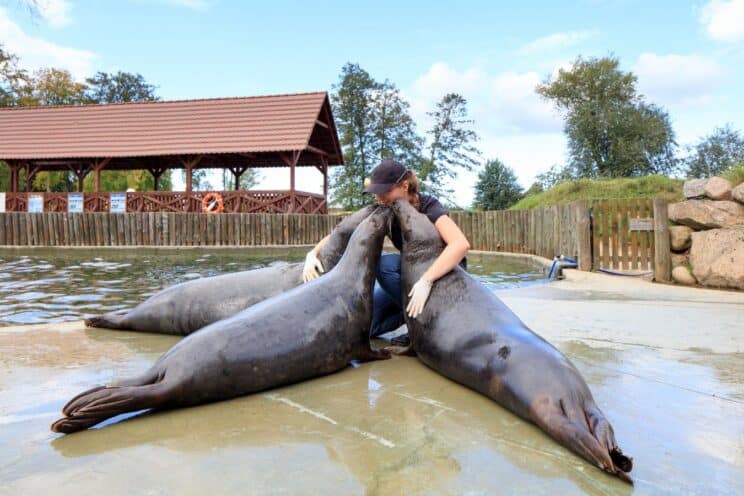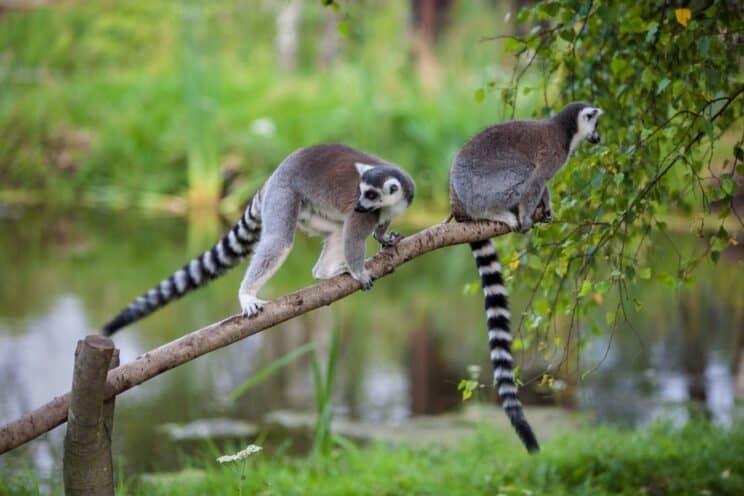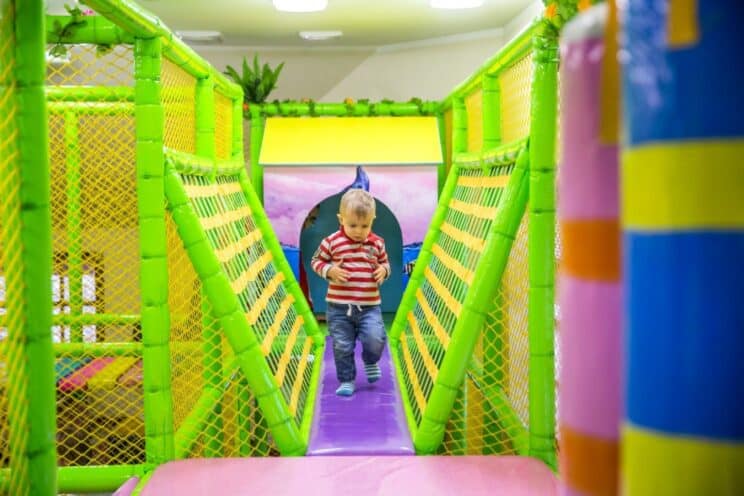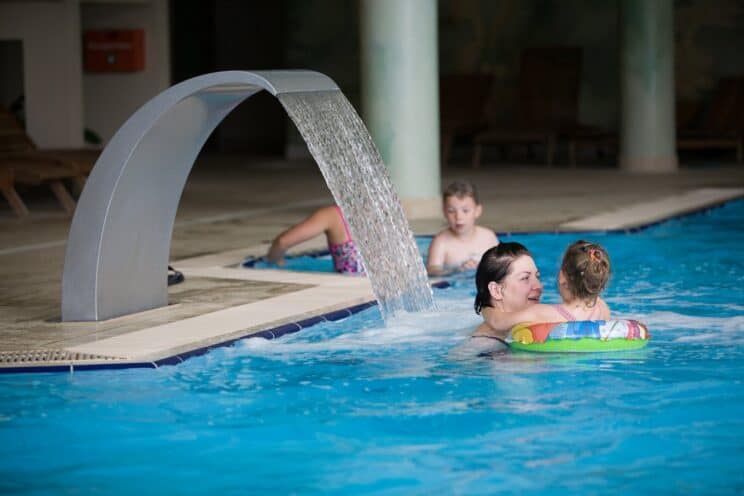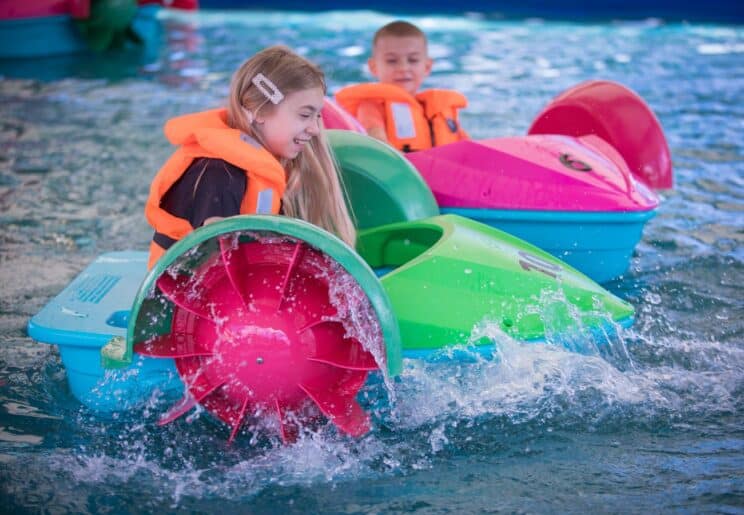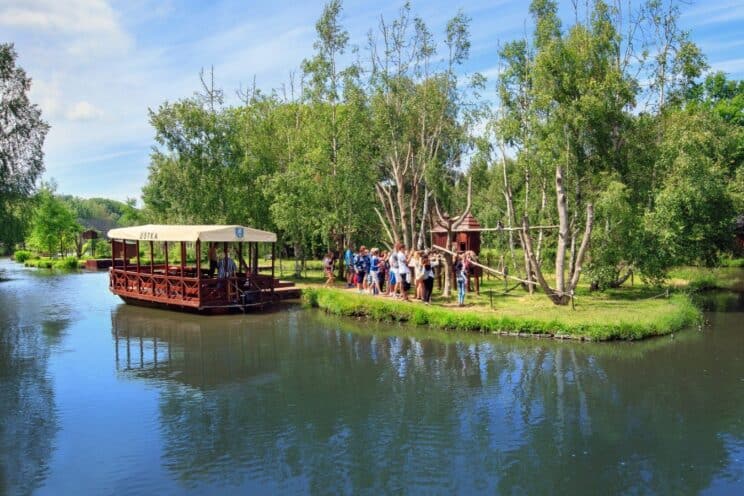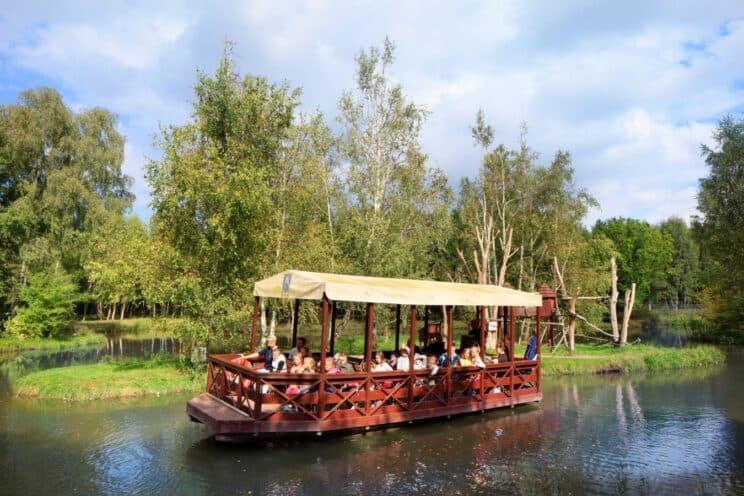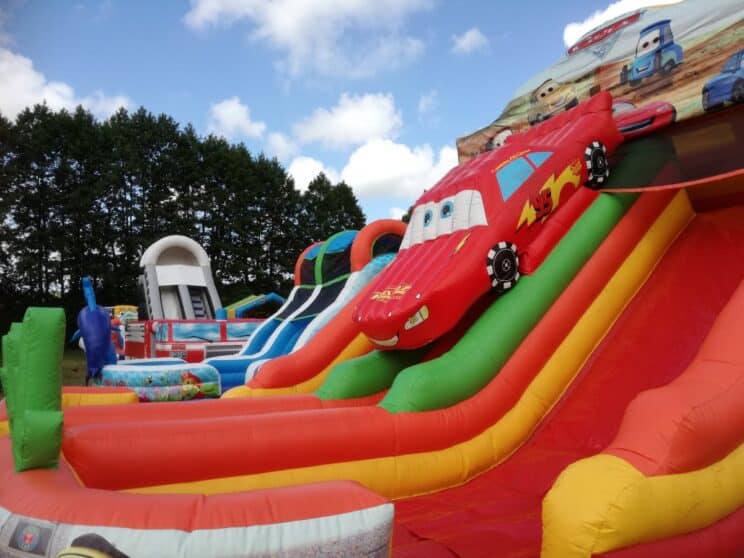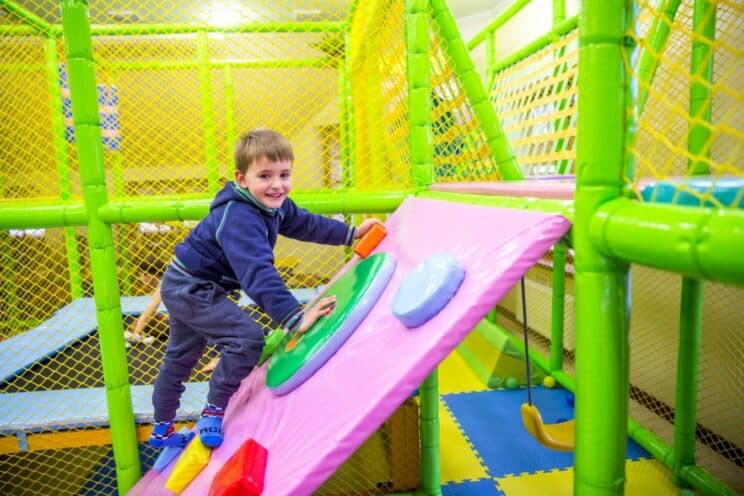 Photo source: Dolina Charlotty Resort & Spa
Hotel Arłamów – attractions for every season in the mountains
The hotel is located on top of a hill in the mountains (Bieszczady Mountains) of south-eastern Poland. The hotel offers many attractions, especially for families who enjoy sports activities. In winter – a ski slope and ice rink, in summer – cycling trips and hiking in the mountains, all year round – horse riding, an outdoor heated swimming pool, tennis.
Amenities and activities for children
Heated outdoor swimming pool open all year round
Indoor swimming pool, including a paddling pool
SPA treatments dedicated to children
The ski slope is located 100 m from the hotel. It is illuminated, snowed and has plenty of facilities for children (belt lift, ski school, equipment rental – skis, snowboard, sledges)
Ice skating rink
Horse riding school (15 horses live in the stable)
Indoor playing rooms – Kids Club with entertainers, arts & crafts room, games room
Indoor mini golf
Indoor climbing wall
Two full-size indoor tennis courts
Four squash courts
An indoor sports hall with an auditorium
Outdoor playground
Two full-size football pitches
Golf course
Rope park
In the vicinity of the hotel, there are 3 bicycle routes of various difficulty levels. A total of 80 kilometers of bicycle routes are specially prepared, marked trails around the Hotel leading through the surrounding landscape parks. Bicycles, including e-bikes, can be rented at the hotel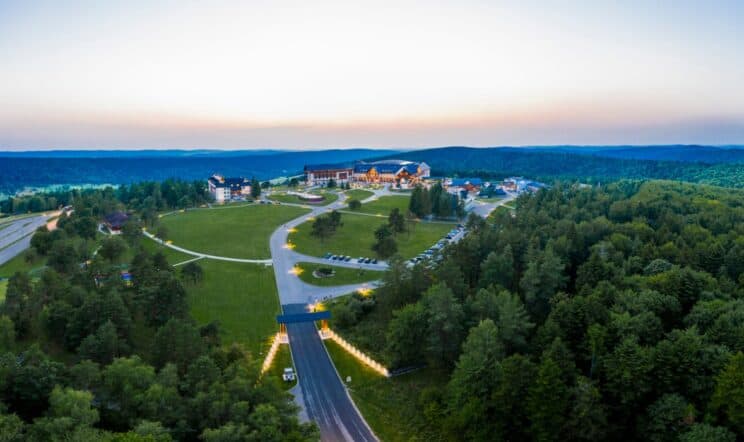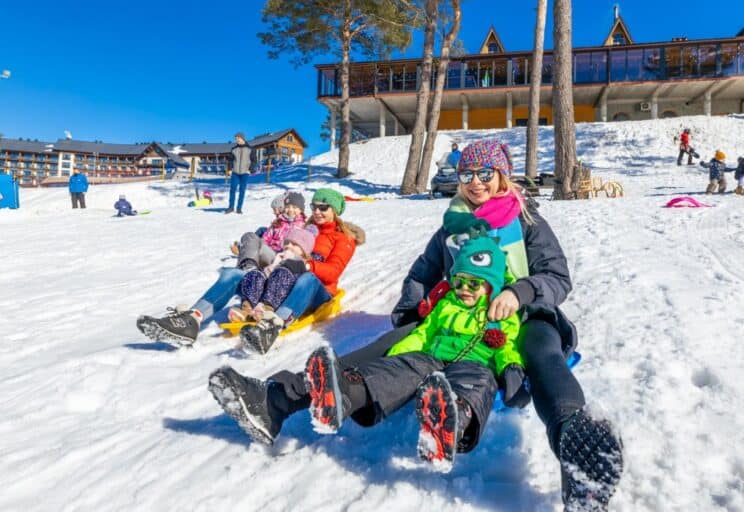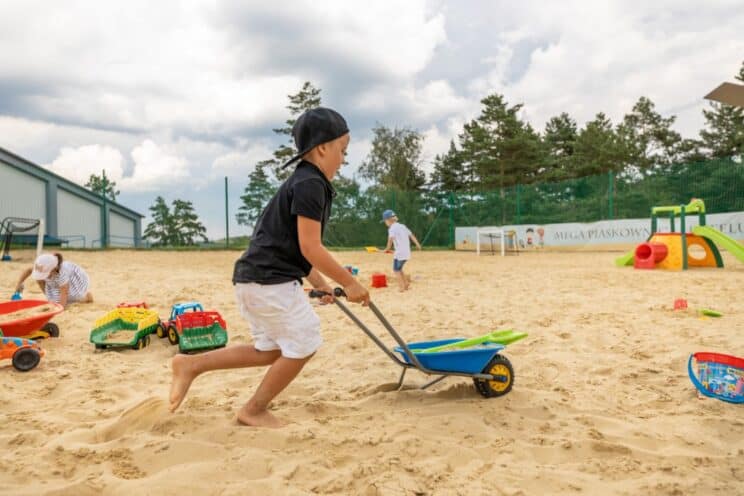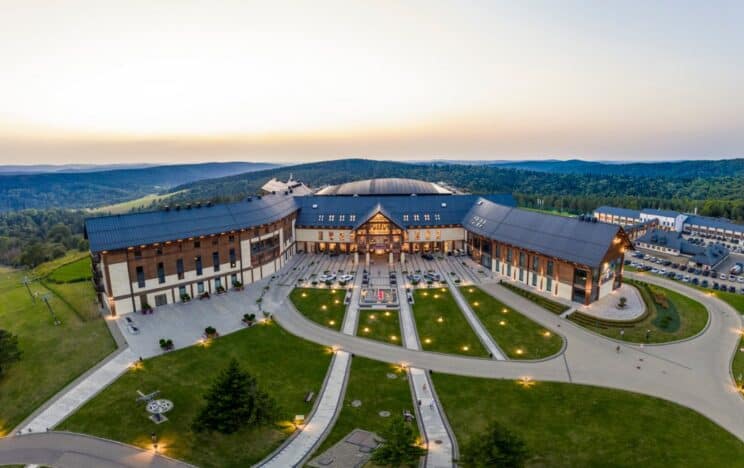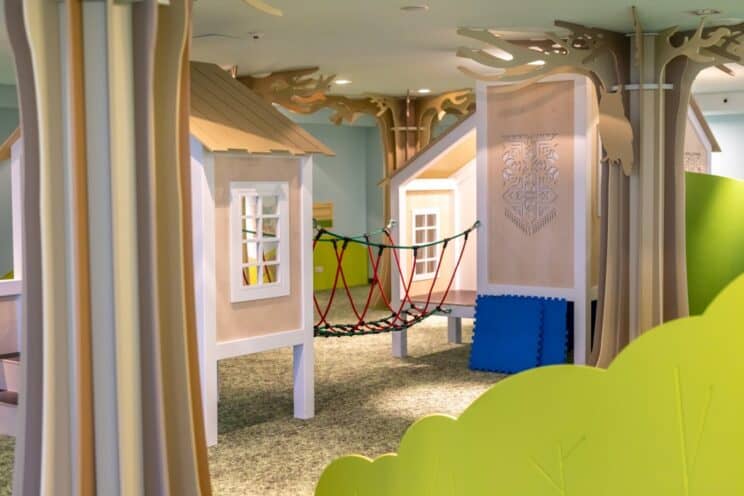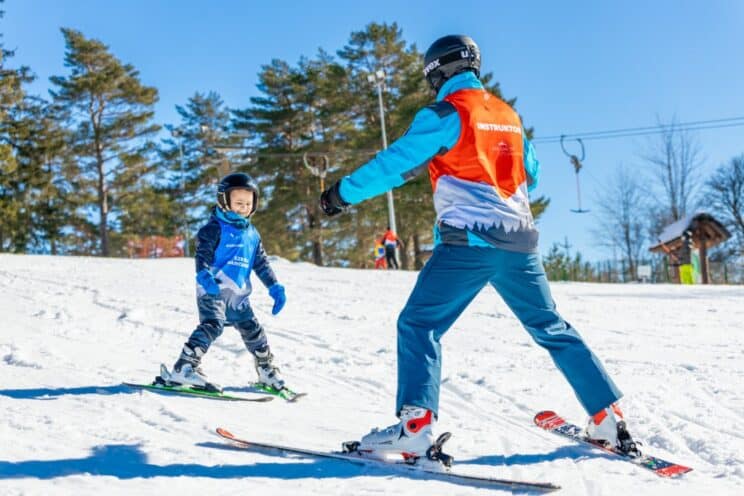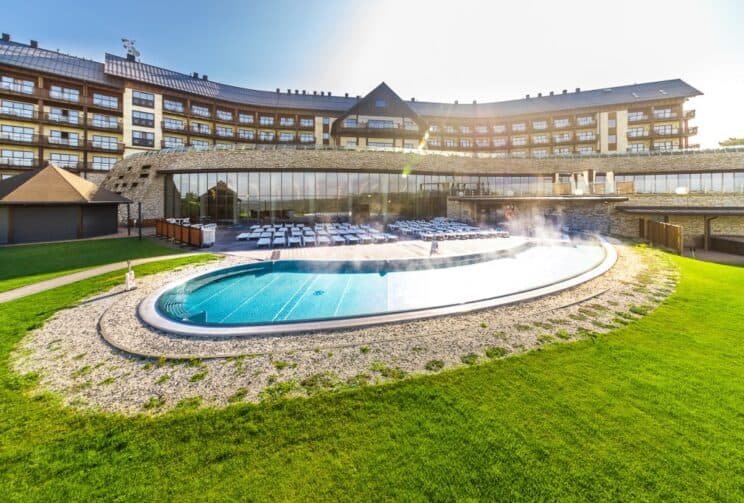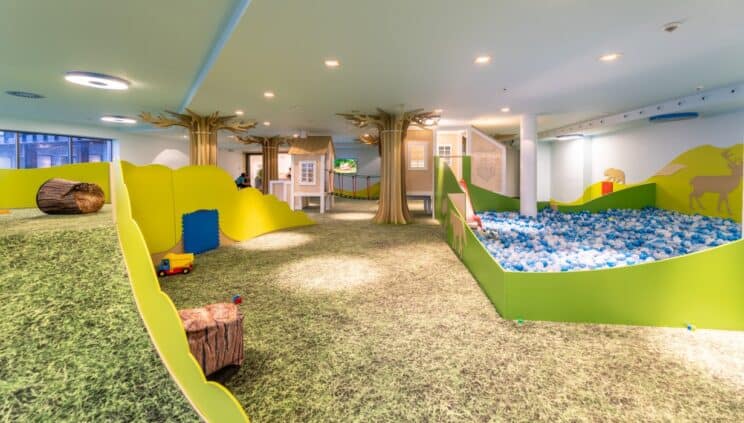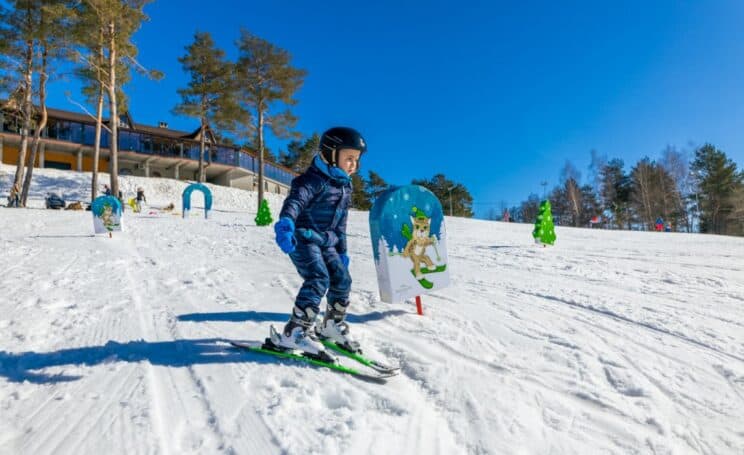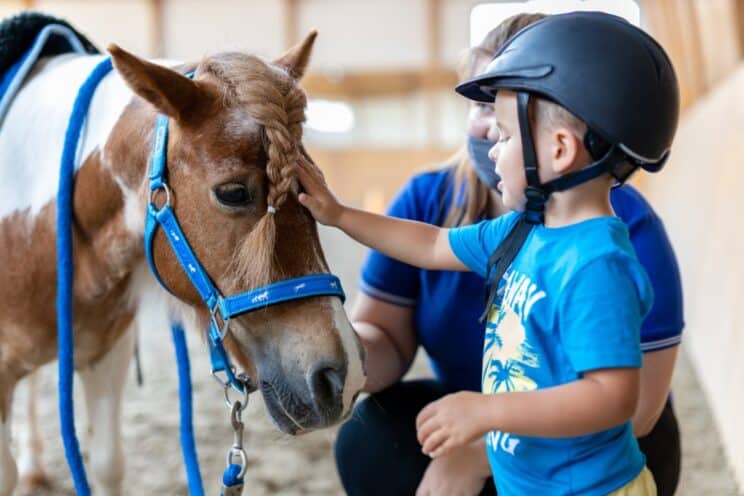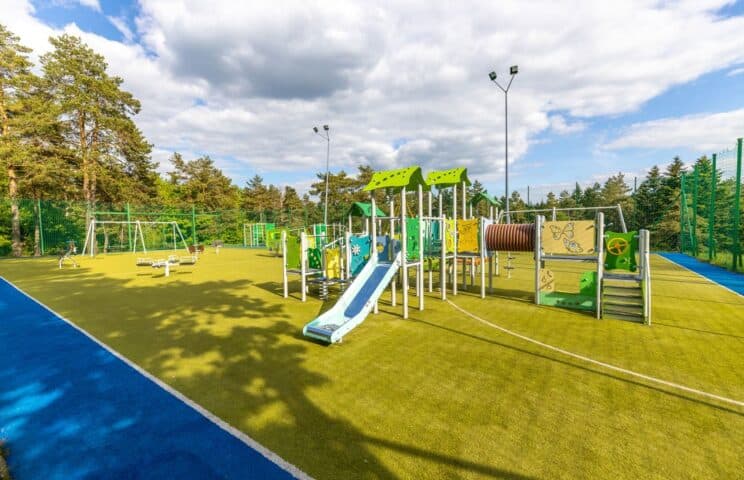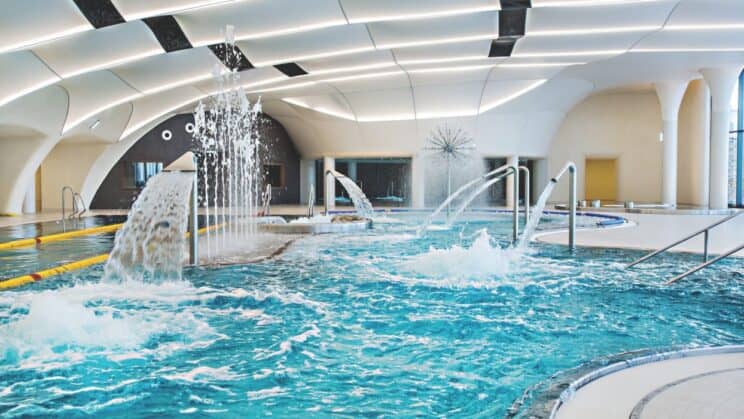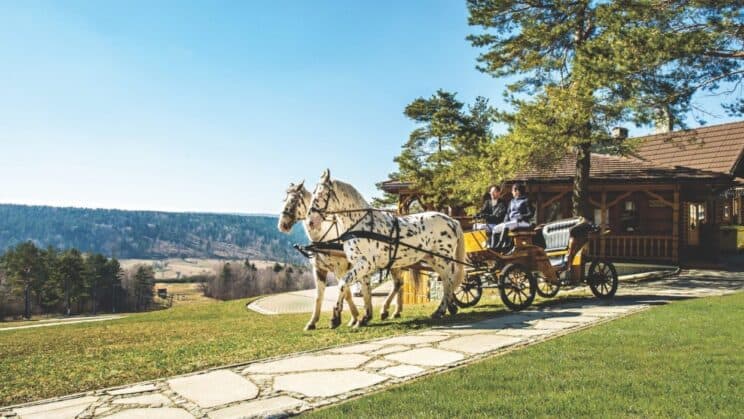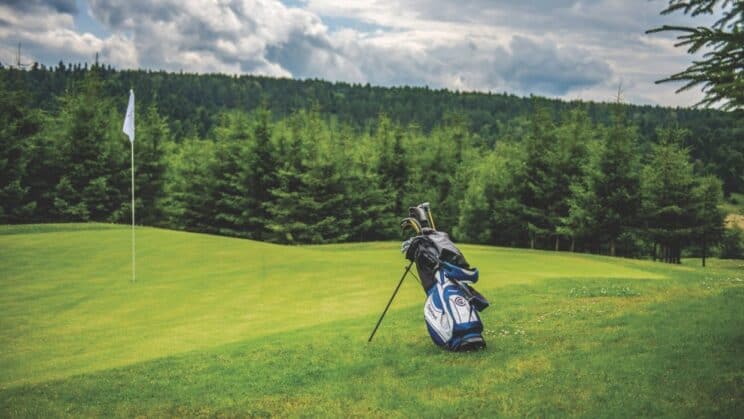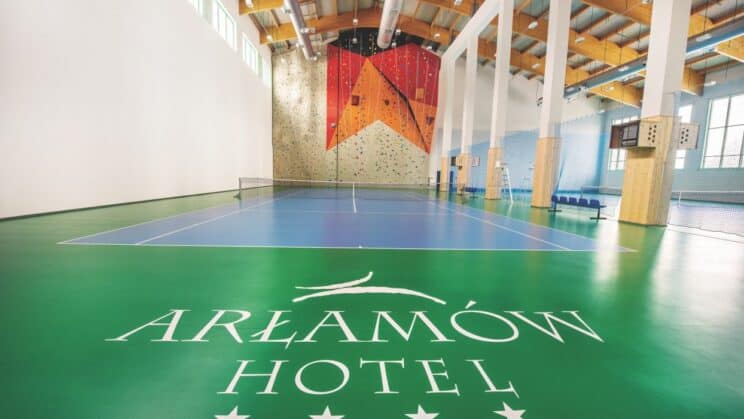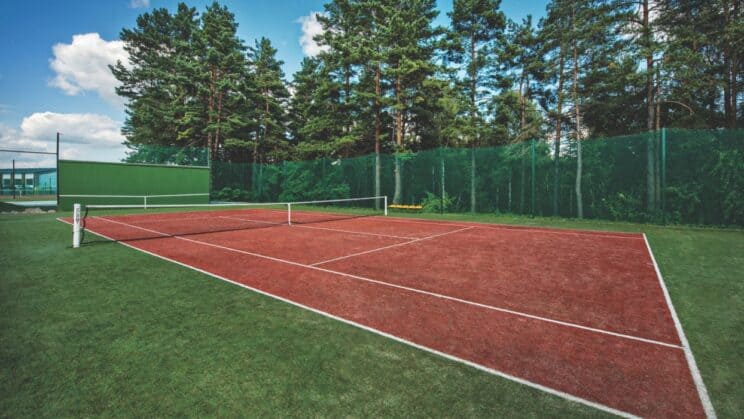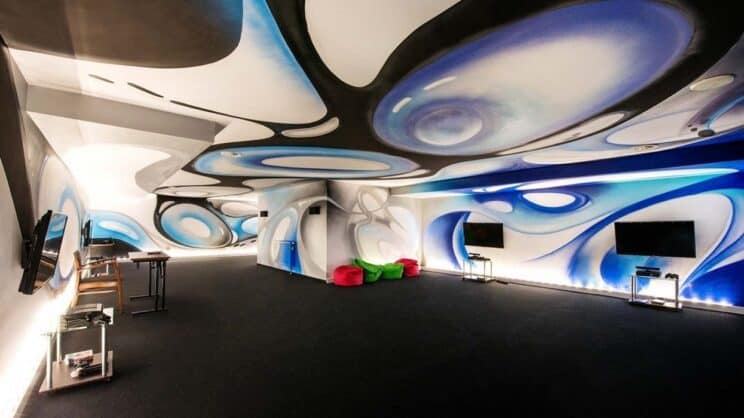 Photo source: Hotel Arłamów
Hotel Warszawianka – hotel by the lake, near Warsaw, with an aquapark
Hotel Warszawianka is located picturesquely by the Zegrze Water Reservoir, 40 km from Warsaw. Aquapark attractions for any weather, and a walk by the lake in nice weather.
Amenities and activities for children
The Aquapark of the Warszawianka Hotel includes a sports swimming pool (20 meters long and 5 meters wide, water t

emperature 28°C), hot tubes (water temperature 35°C), a recreational swimming pool in the shape of an island, a wild river, waterfall, geysers with a water temperature of 31°C, paddling pool for children with a slide and a water umbrella, 90-meter slide (intended for guests over 7 years of age)

Kiddi Room – an indoor playing area dedicated to children up to 150 cm tall
Kiddos – an indoor playing area dedicated to children aged 4-12 (website in English). Only children are allowed in the KIDDOS zone. While staying at KIDDOS, children are under the care of entertainers. There are 9 fun zones with workshops, activities, games for children (theater zone, active zone, little lady zone, mini shop, culinary zone, bricks zone, multimedia zone, arts & crafts zone)
4 bowling lanes
Squash court
In the summer season, there is a beach bar (open to people who are not hotel guests) where you can rent water sports equipment (e.g. SUP, scooters, etc.)
Outdoor playground
Outdoor tennis courts
Courts for volleyball, basketball, handball, football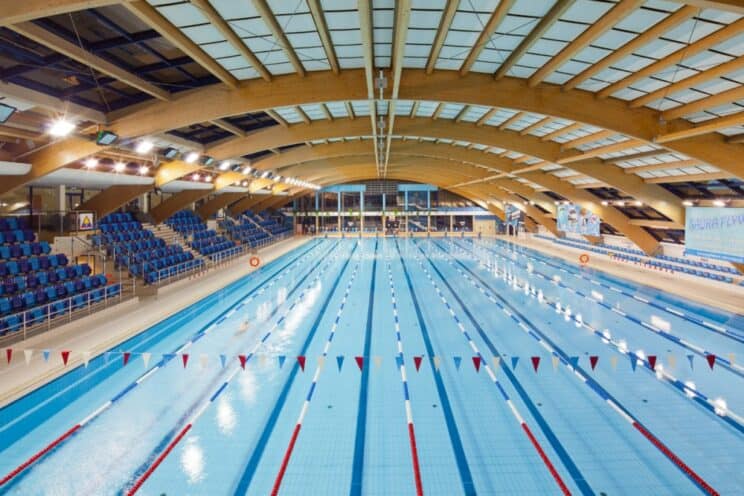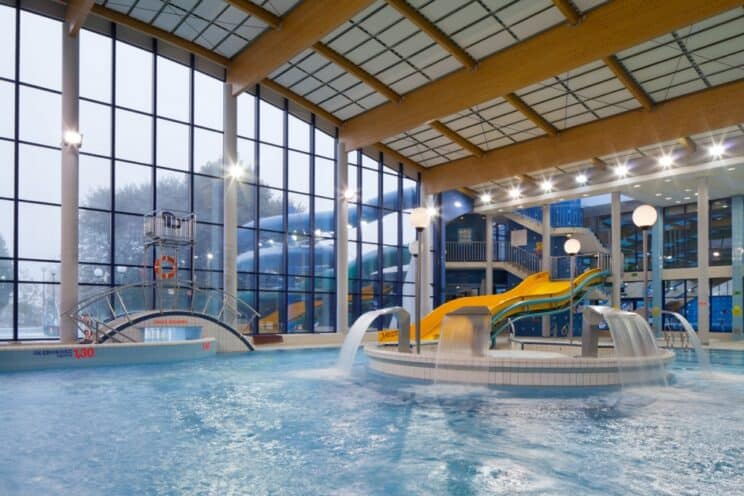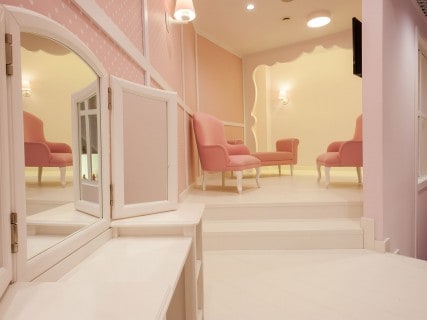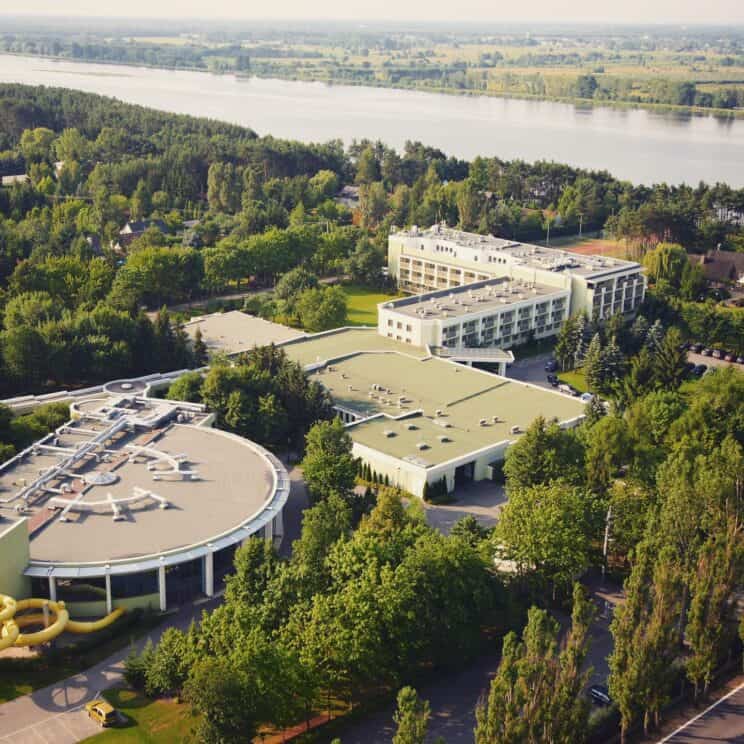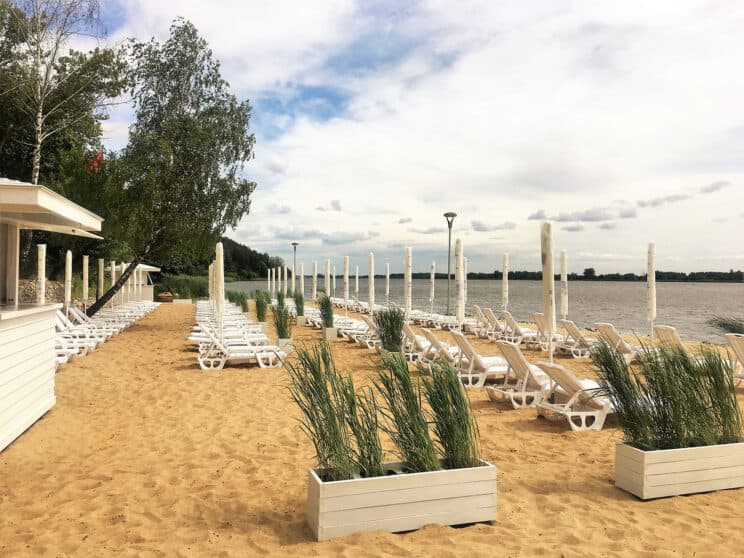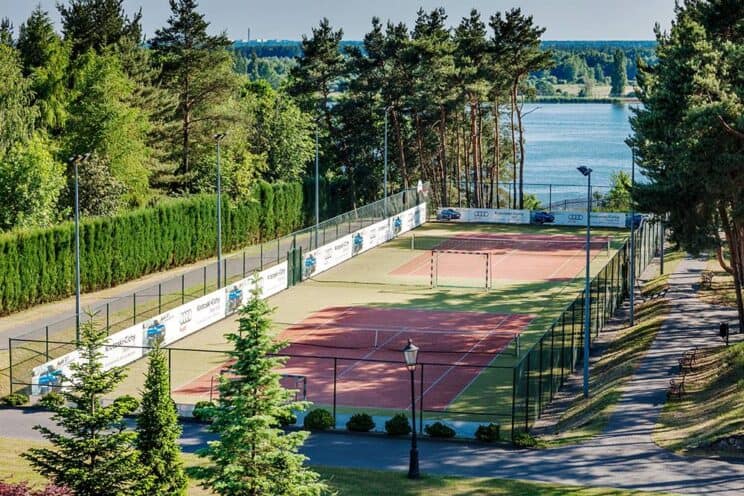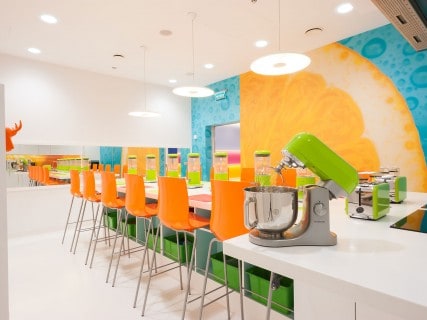 Photo source: Hotel Warszawianka
Hotel Orle – hotel by the sea, within walking distance of the beach
Hotel located by the sea (Gdańsk Bay – Zatoka Gdańska) 150 m from the beach. Easy access by car (close to the highway). While staying in the hotel, it is worth visiting the city of Gdańsk (only 18 km).
Indoor swimming pool, including a paddling pool
2 indoor playrooms
Games room (table football, air hockey, table tennis, Xbox console, darts)
Outdoor playground
Beach volleyball court
Football/basketball court
The hotel is located 18 km from the city of Gdańsk. Click here to read our tips on visiting Gdańsk with children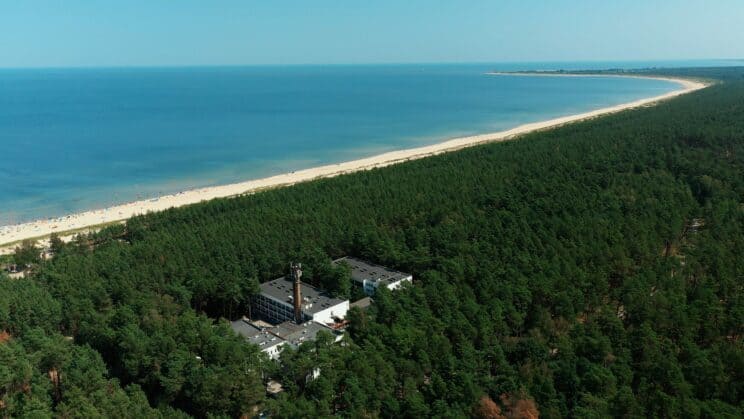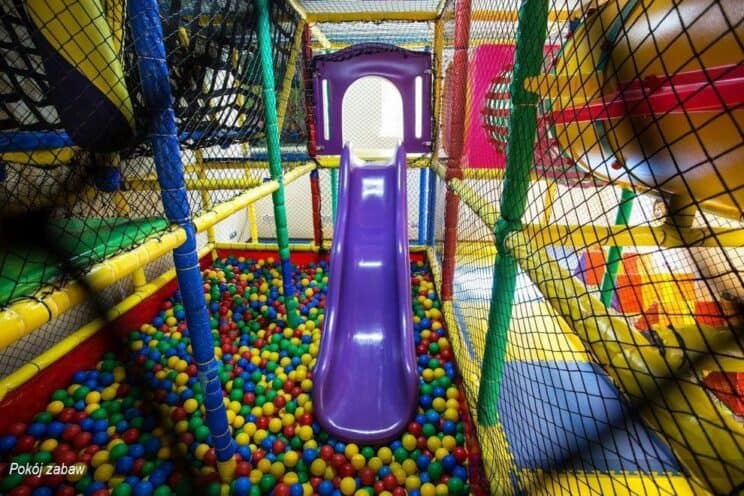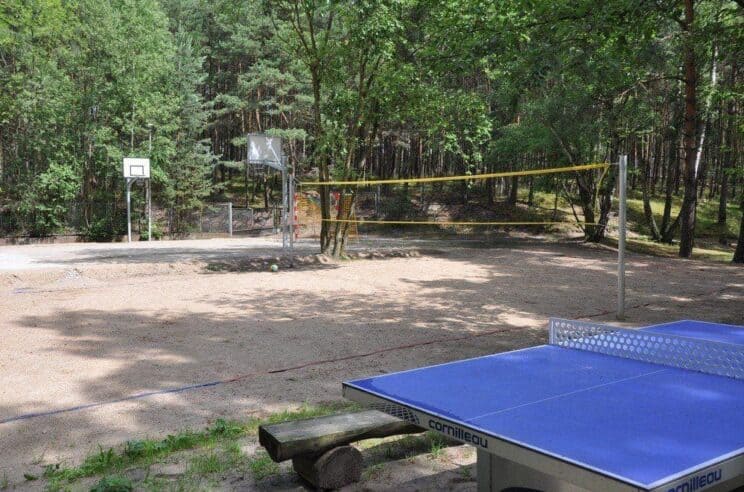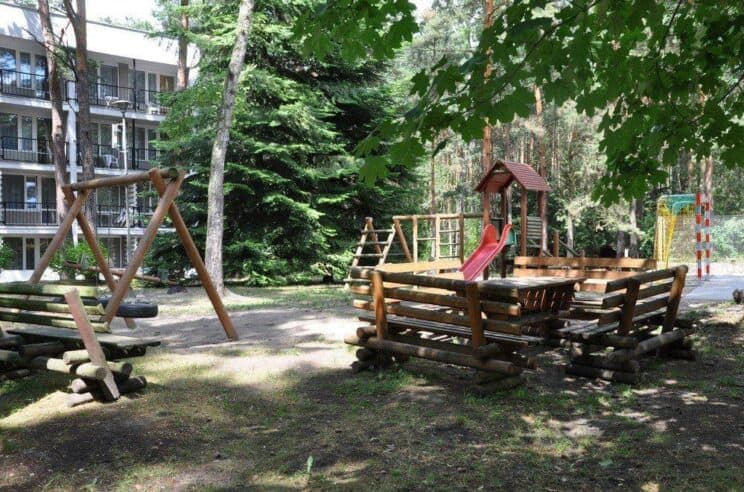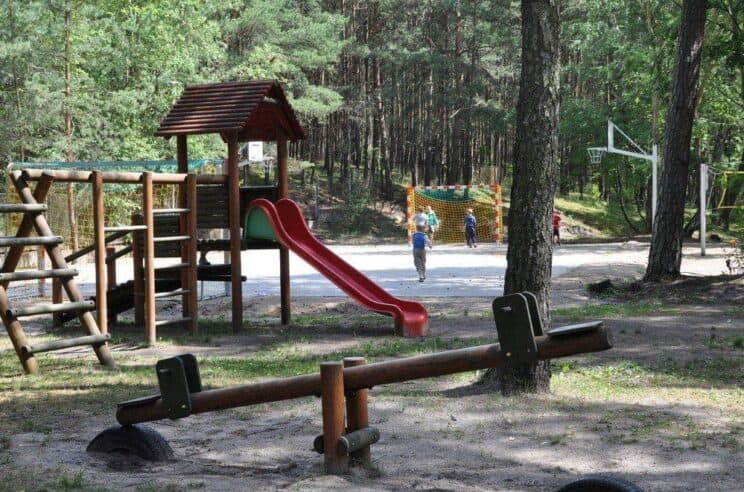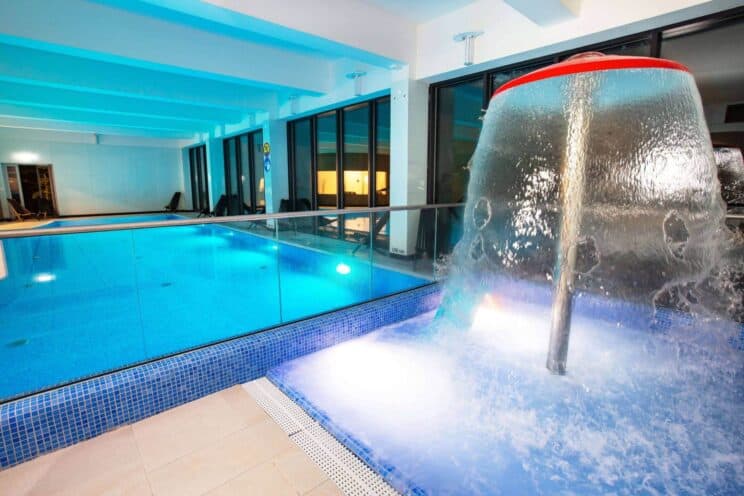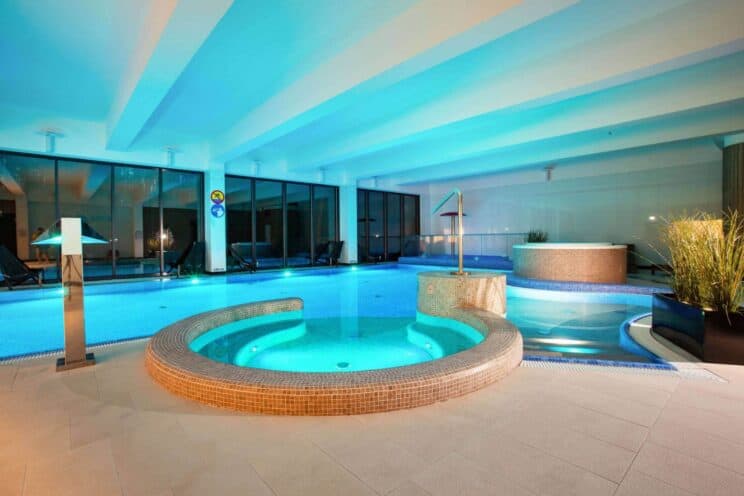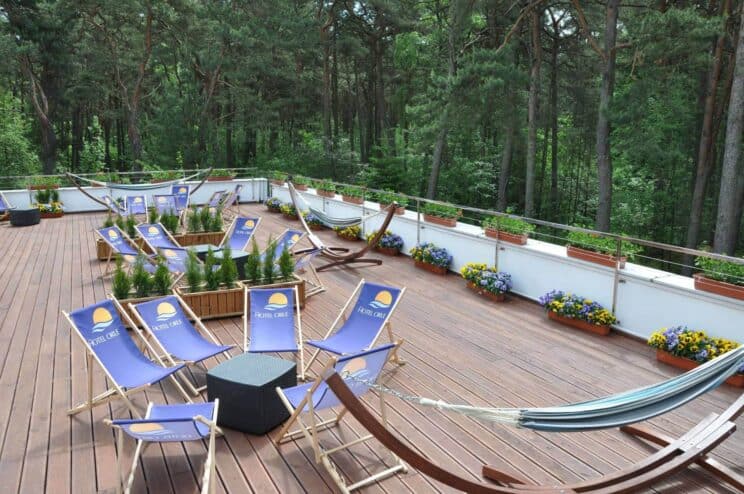 Photo source: Hotel Orle
Subscribe to our monthly newsletters in English to learn about Poland for families! Once a month you will receive a Newsletter: 'Explore Poland with Kids'. You will find there family-friendly destinations in Poland – beautiful places in Poland worth visiting with children – from city break destinations to hiking in the mountains – lots of practical tips!; things you can't miss in Poland in a given month; dates to remember, holidays, observances in Poland in a given month so you can mark your calendars accordingly: