The 9 things to do in Poznań – discover the city where centuries-old tradition meets a modern vibe
The city of Poznań is a perfect weekend city break in Poland with your family. Poznań is full of monuments, but at the same time, it's very modern, innovative, and… green city. Try delicious Poznań pastry (rogal), visit 2 zoos, take a photo with the fighting billy goats, learn about the origins of Polish history.
Why Poznań is worth visiting
The city of Poznań (pronunciation: poz-nan) is the 5th largest city in Poland by population (after Warsaw, Kraków, Łódź, and Wrocław), and the capital of Wielkopolskie Województwo (province). The Warta river flows beautifully through the city (the second longest river lying entirely in Poland, after the Vistula). One of the oldest Polish cities, it was the cultural and political center when Poland was created in the 10th century. Gniezno (a city located 50 km east of Poznań) was the first capital city of Poland. Poznan is full of monuments, at the same time it's a very modern, innovative, and… green city (30% of green areas). 
How to get to Poznań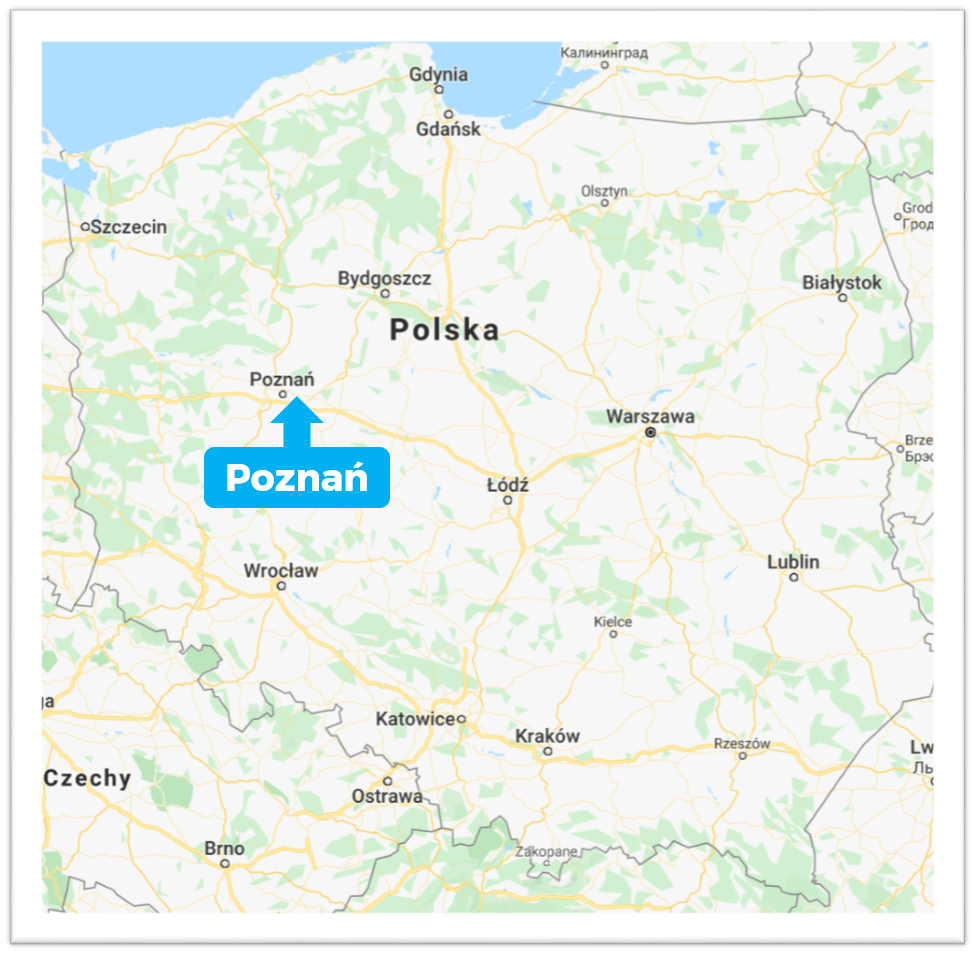 By train
The main railway station in Poznań is called in Polish Poznań Główny. It's located in the center of Poznań (Dworcowa 2 Street), about 2 km from the Old Town. The most popular domestic connections include Warsaw (the shortest travel time: 2 hrs 53 mins), Krakow (4 hrs 57 mins), Wrocław (2 hrs 21 mins), Gdańsk (2 hrs 57 mins), Gdynia (3 hrs 24 mins), Łódź Kaliska (3 hrs 56 mins), Łódź Widzew (3 hrs 11 mins), Katowice (3 hrs 52 mins), Lublin (6 hrs 30 mins).
By car
Poznań is well connected with other cities in Poland. Approximate (depending on traffic) travel time from: Warsaw 3 hrs, Krakow 5 hrs, Wrocław 2 hrs 20 mins, Gdańsk 3 hrs 45 mins, Gdynia 4 hrs, Łódź 2 hrs 10 mins, Katowice 4 hrs 10 mins, Lublin 5 hrs.
By plane
Poznań has its own international airport (Poznań-Ławica Airport) located about 8 km from the Old Town. How to get from Poznań airport to the city center? A municipal bus no. 159 will take you to the city center – the last stop is called Poznań Główny – it's the main railway station. You can buy tickets from the machine (cash or card) next to the stop (bus no. 159's timetable and list of stops). The ticket is being validated upon purchase. You can also take a taxi waiting outside the terminal, it takes about 20 minutes to the city center.
Attractions in Poznań that both adults and kids will enjoy
Poznań Old Market Square
Poznań Market Square is a vibrant center of the city, full of historical sites and monuments but also packed with restaurants and cafes. It's the third biggest market square in Poland after Kraków and Wrocław. 60% of all the buildings were destroyed during the Second World War but were meticulously reconstructed after 1945 to their original state. The Square if full of picturesque 16th-century merchant houses, and if you happen to visit the Old Town at noon, look up at the Renaissance Town Hall (Ratusz) tower – 2 white figures of goats (koziołki) will appear, butting heads twelve times, you will also hear a trumpeter playing a bugle call. It's a nice tradition, however, please note that for smaller children it can be difficult to notice the goats since they are relatively small.
The fighting billy goats are the symbol of Poznań. The legend says they were two goats who escaped the kitchen helper who planned to roast them for the city feast in the middle of the 16th century. The goats luckily managed to escape to the Town Hall tower. A nice souvenir from Poznań would be a photo with two goats – at Plac Kolegiacki / Kolegiacki Square (the location on the map), just 250 m from the Market Square you will find a monument of the goats – it's allowed to seat on the goats and take a photo.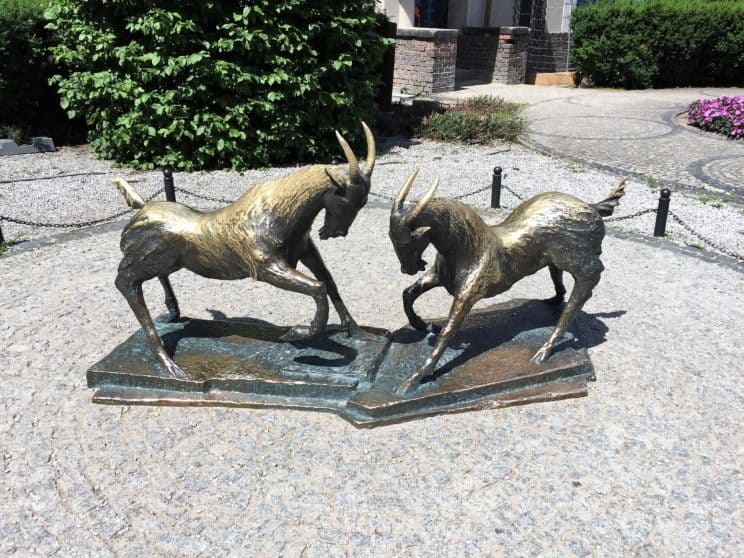 Rogal Pastry Museum / Saint Martin Croissant Museum / Rogalowe Muzeum Poznania
Stary Rynek 41/2, entrance from Klasztorna 23 Street (Old Town area)
Rogal Pastry Museum (Poznań Croissant Museum) is located in the Old Town. It's called a museum but it's rather a show presenting how to bake a Rogal Świętomarciński – delicious pastry called in English St. Martin's Croissant (Rogal has a similar shape to a French croissant, however, you prepare Rogal with an addition of yeast). The filling is the most important part of it and includes white poppy seeds, almonds or other nuts, vanilla, raisins, ground dates or figs. It's lots of fun for kids who can participate in the process of baking. Rogal Świętomarciński is included in the list of regional heritage products protected by the European Union. To produce the rogal you need a special certificate granted by The Poznań Pastry Chefs and Bakers Guild.
The shows in English are available every Saturday and Sunday at 1.45 pm; in the summer season (July, August, September) every day at 1.45 pm.  It is recommended to email the Museum in advance to book a spot. The Museum website in English (info about location, opening hours, tickets etc.).
New Zoo / Nowe Zoo
Krańcowa 81 Street (about 5 km from the Old Town)
The New Zoo (founded in 1974) is like a huge forest, located in a hilly forest area with six large ponds. There is a free trackless train which makes it easy to explore the Zoo with children and strollers (the train has 5 stops). You will also find there a paid ropes park and a playground. During weekends and holidays there are long lines to the ticket office. To skip the line, you can buy your tickets online and show them on your smartphone at the entrance – no need to have them printed, no need to wait in line. Children under 3 years old have free entrance. Click here to read the basic info in English (opening hours, ticket prices, parking lot prices), and here to buy tickets online. The New Zoo is open every day, including all bank holidays.
Old Zoo / Stare Zoo
Zwierzyniecka 19

Street (about 2 km from the Old Town)
The Old Zoo is smaller than the New Zoo which can be nice especially with smaller children – it's more like a city park with animals. The main advantage of the Old Zoo is that it's free – so no need to worry about long lines, no need to plan your visit ahead. You will also find there a paid ropes park and a playground. The Old Zoo is also open every day, including all bank holidays.
Maltanka Miniature Railway / Kolejka Parkowa Maltanka
Maltanka Miniature Railway is a historic train that goes from Malta Lake / Jezioro Malta (Maltanka Stop – you can buy tickets here) to the New Zoo (Zwierzyniec Stop – you can buy tickets here), about 3,8 km. It operates April – September (at weekends every half an hour and on weekdays every hour). If you travel with children, it's the best way and the most fun to get to the New Zoo with Maltanka. Maltanka's website, information about new season schedule and timetable from March.
Ostrów Tumski Island (Cathedral Island) and Porta Posnania Museum
Gdańska 2 Street (about 1,5 km from the Old Town)
Ostrów Tumski is the only island in Poznań, it's where Poznań (and Poland) originated. Why is it worth visiting? Despite being in the city center, it's quiet here. You will have fun walking on the small bridges, and the whole family can learn something in an interesting way – there are 2 relatively small museums worth visiting with children. Porta Posnania Museum (Brama Poznania) – audio guides in English available for kids (it's a kind of a game for children during which they get to know the history of the island in a playful way). The Museum website in English. Archeological Museum Genius Loci – a small museum built in 2012 where you can explore Ostrów Tumski from the 10th century, including original wooden and stone structures. The Museum website in English. If you have some energy left, visit the Archcathedral Basilica of St. Peter and St. Paul – one of the oldest churches in Poland.
The area of Ostrów Tumski is a perfect place to have a peaceful lunch (compared with usually crowded Market Square area) – go to the direction of Śródka Street to find restaurants serving Polish and international food.
Water Park Termy Maltańskie
Termalna 1 Street (about 3 km from the Old Town)
If it's raining or if it's too cold or too hot to stay outside, you can visit one of the biggest water parks in Poland, located close to the Malta Lake / Jezioro Malta. It's probably the first thing your kids will remember from their visit to Poznań;)
Location: Termy Maltańskie, Termalna 1 Street, 61-028 Poznań, about 3 km from the Old Town (location on Google map). 
The Termy Maltańskie Water Park has 18 sports and recreational swimming pools (outdoor and indoor) with a total water surface area of 5,000 m². Two outdoor geothermal pools have water extracted from a depth of 1,306 meters.
Other attractions include an outdoor beach, 11 pool slides, 2 playgrounds, a paddling pool
300 meters from the water park is the Novotel hotel (website in English).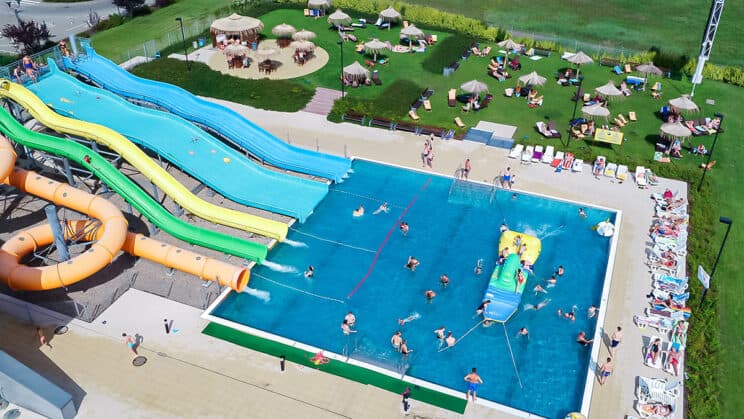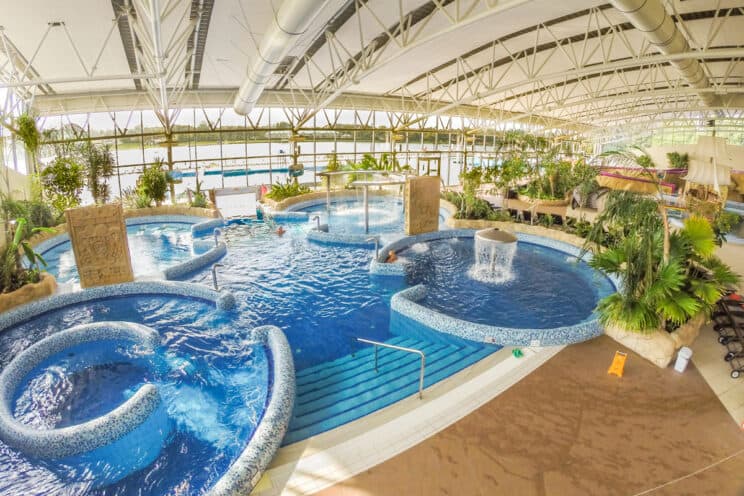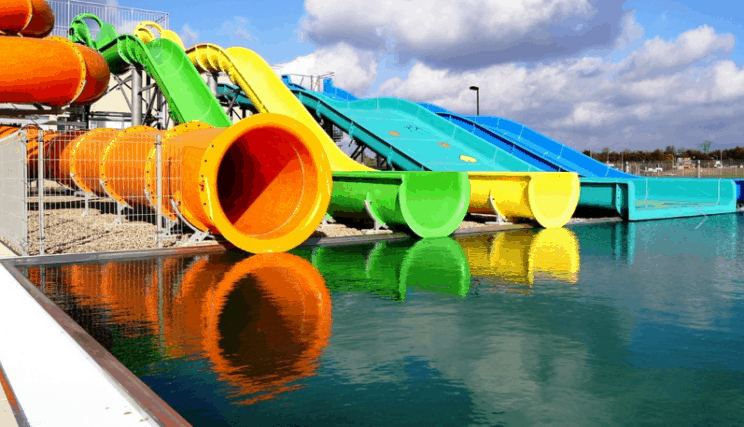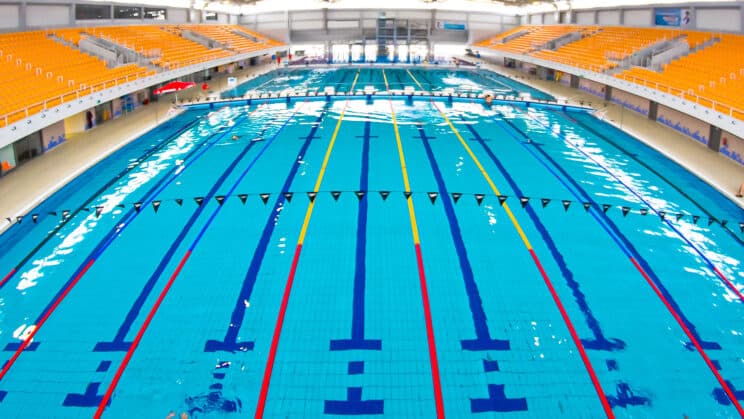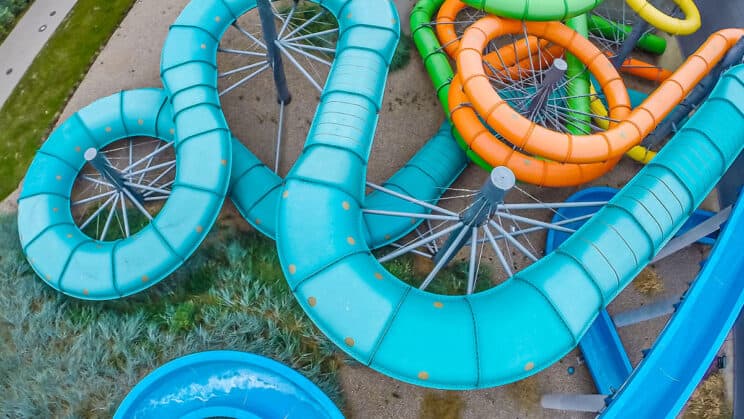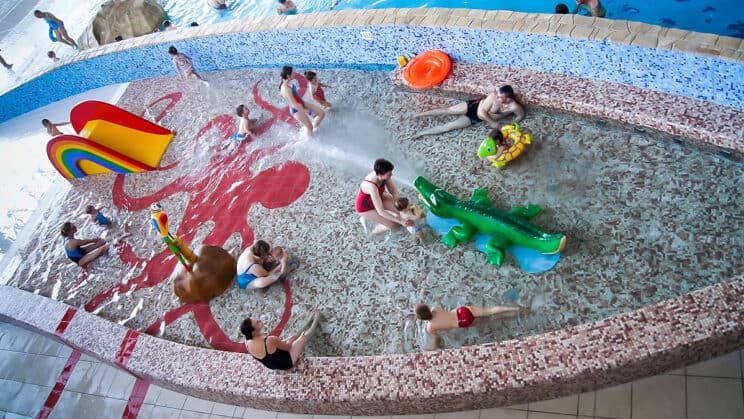 Photo source: Termy Maltańskie
Malta Lake / Jezioro Maltańskie
About 2 km from the Old Town
An artificial, 2,2 km long lake. Malta rowing club organizes a number of rowing world events. Next to Malta, you will find an amusement park – a ski slope during winter time, and during summer time: a mountain coaster, a summer toboggan run, mini golf, a playground, etc. Click here to visit the website in Polish.
Ropes Park in the city of Poznań [Western Poland]
Location: Pyrland Park Linowy, ul. ul. Baraniaka / Chartowo, 61-313 Poznań (location on Google map). The park is located near Lake Malta.
There are 5 routes of varying difficulty in the park and zip lines. Children's route for children from 3 to 11 years old.

Green route – the easiest of the rope courses (

13 obstacles at a height of 4 m, admission from 6 years of age). Yellow route – 422 m long, 8 m above the ground, duration: 1 – 1.5 hours, admission from 12 years of age. Black route – a real challenge,  recommended for athletic people, 17 obstacles, duration 1 – 1.5 hours, admission from 16 years of age.

A special zip line course – perfect for people who like zip lines and adrenaline.

18 sections in the treetops with a total length of almost 600 m.

 

Highest point: 17 m above the ground!

Speed up to 40 km/h. Duration:

1 – 1.5 hours.

Entrance from the age of 16 (or

from the age of 12 but only together with an adult).

Zip lines.

High zip line – long descent 2 x 70 m on the rope, a

dmission from the age of 12. Low zip line – 3 diagonal descents on the rope, admission from the age of 6.

Contact: +48660048901, biuro@pyrlandpark.pl.
Photo source: Pyrland Park Linowy
Museum of Arkady Fiedler / Muzeum-Pracownia Literacka Arkadego Fiedlera 
Słowackiego 1 Street, 62-041 Puszczykowo (16 km from Poznań)
Arkady Fiedler was a Polish traveler, journalist and an author of 32 books translated into 23 languages (eg. 'Squadron 303', 'Orinoco', 'White Jaguar'). The Museum is located in Puszczykowo (a small town located  16 km from Poznań Old Town) and is run by the writer family. The Museum collection includes many exhibits collected by Fiedler during his travels (to Mexico, Brazil, Madagascar, Africa, Canada, United States and other). Outside the Museum, there is a "Garden of Tolerance" where you will find exotic monuments, eg. of Aztec gods. The main attraction for kids – replica (1 : 1 scale) of a legendary "Santa Maria" ship of Christopher Columbus. The Museum website in Polish.
Subscribe to our monthly newsletters in English to explore Poland and to learn about Poland: