Discover Toruń – a great weekend getaway in Poland: top things to do in Toruń to have fun and learn something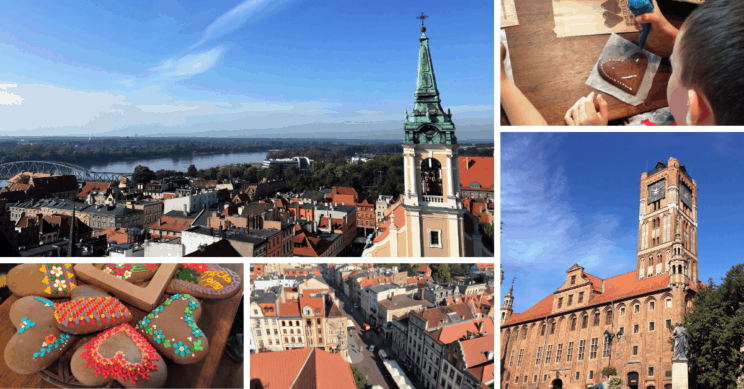 The city of Toruń is a perfect weekend city break in Poland with your family. Toruń is a medieval city picturesquely located on the banks of the Vistula River, known in Poland for two things: the astronomer Nicolaus Copernicus and… gingerbread cookies.
Why Toruń is worth visiting
The city of Toruń (pronunciation: ˈtɔ.ruɲ) is one of the oldest cities in Poland (established in the 13th century by the Teutonic Knights), and unlike many other cities in Poland, it avoided substantial destruction during the Second World War. Most of the important architectural monuments are originals, not reconstructions. Toruń is a city full of Gothic art and architecture (in Poland, only Kraków is "more Gothic"). The medieval part of Toruń is listed as one of UNESCO World Heritage Sites.
What I love about Toruń is that every major tourist attraction is within walking distance (even for children!). Leave your car in a garage, don't worry about public transport – just walk around Toruń discovering unexpected monument of a dragon, dark medieval temples, fountains, the leaning tower… At the end of your tour, when you reach the medieval defensive walls, leave the Old Town area and enjoy the Vistula river. The street and walking promenade along the Vistula is called the Philadelphia Boulevard (Bulwar Filadelfijski) – Philadelphia is a partner city of Toruń.
If you want to explore Poland, if you enjoy cities with a historic vibe, and if you like spiced ginger cookies… Toruń is your perfect weekend destination.
Medieval Town of Toruń – UNESCO World Heritage Site
This is how UNESCO appraises Toruń: The Medieval Town of Toruń is remarkably authentic in terms of its location and setting, forms and designs, and materials and substances. It is an original, unchanged example of medieval town planning based on a regular grid of quarters, streets, and building blocks, designed in keeping with 13th-century regulations and extant in a recognizable form (more in English about Toruń on UNESCO's website).
How to get to Toruń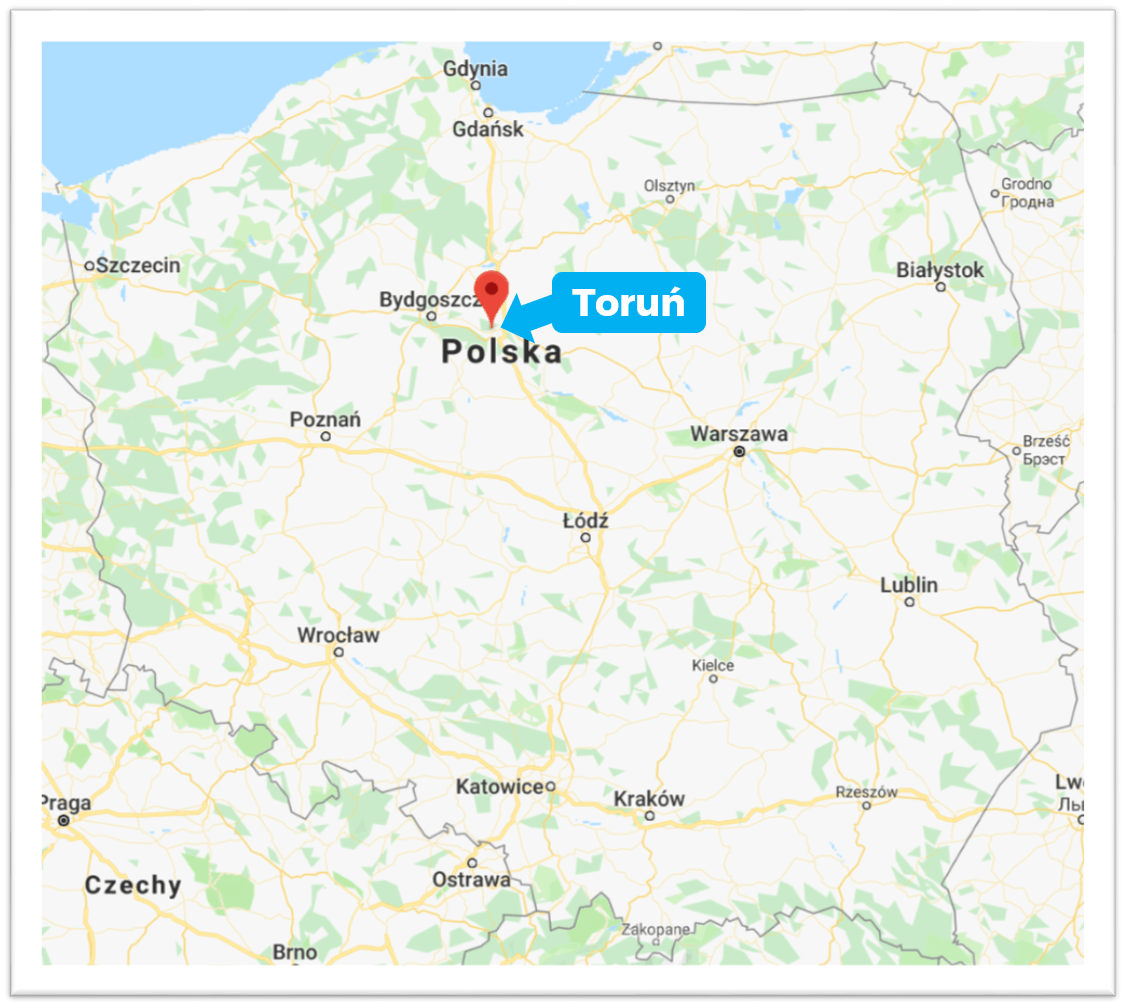 By train
The main railway station in Toruń is called in Polish Toruń Główny. It's located on the left side of the Vistula river (the Old Town and all the tourist attractions are located on the right side), about 2 km from the Old Town. You can get to the city center by one of many buses or by taxi. The most popular direct connections include Warsaw (the shortest travel time: 2 hrs 43 mins), Wrocław (4 hrs 44 mins), Krakow (5 hrs), Poznań (1 hr 39 mins), Gdańsk (2 hrs 20 mins), Gdynia (2 hrs 46 mins), Łódź Kaliska (2 hrs 52 mins), Łódź Widzew (2 hrs 20 mins), Katowice (5 hrs 32 mins), Lublin (6 hrs 04 mins). The other, smaller railway station is called Toruń Miasto and covers fewer direct connections (but it's located on the right side of the Vistula and closer to the Old Town, about 1 km). Some of the direct connections include Poznań (1 hr 46 mins) and Wrocław (4 hrs 51 mins).
By car
Toruń is well connected with other cities in Poland. Approximate (depending on traffic) travel time from: Warsaw 2 hrs 40 mins, Wrocław 3 hrs 50 mins, Krakow 4 hrs 50 mins, Poznań 2 hrs 20 mins, Gdańsk 1 hr 40 mins, Gdynia 1 hr 55 mins, Łódź 2 hrs, Katowice 4 hrs, Lublin 4 hrs 40 mins.
By plane
The nearest international airport is in Bydgoszcz, a city located about 50 km from Toruń. At the moment there is no direct transport from Bydgoszcz Airport to Toruń (except for a shuttle bus dedicated to the passengers of Lufthansa's route Bydgoszcz – Frankfurt).
Attractions in Toruń that both adults and kids will enjoy
Make your own gingerbread!
In Toruń, you will find two museums of gingerbread that offer gingerbread baking workshops. You can learn about rituals connected with baking gingerbread, mix ingredients, smell the spices, prepare the dough, decorate it. Both museums offer tours and workshops in English. It's recommended to book the tour in advance and buy tickets online since both places are very popular among tourists.
Both museums are located in the area of Old Town:
The Living Museum of Gingerbread (Żywe Muzeum Piernika), Rabiańska 9 Street, website in English
The Museum of Toruń Gingerbread (Muzeum Toruńskiego Piernika), Strumykowa 4 Street, website in English
The Living Museum of Gingerbread (Żywe Muzeum Piernika) 
Toruń is a "gingerbread city". You will find a store with gingerbread cookies (produced in a factory established in 1760, the factory is called… "Kopernik") on every corner of the Old Town. The history of gingerbread in Toruń goes back to medieval times. The ingredients were simple and organic;) Flower, honey, and spices – ginger, cloves, cinnamon, cardamom, and nutmeg. Sounds like a super healthy snack! Now the list of ingredients is longer, however, it's still quite good compared to other packaged sweets.
The Museum is called "living" because it's not only about visiting and admiring historic exhibits. Visitors are involved in the process of baking their own gingerbread. The Museum tour includes three parts:
Learning about rituals connected with baking gingerbread (In a funny way, visitors – especially kids – are involved in the story. Visitors can mix ingredients, smell the spices etc.)
Preparing the dough and then baking it (Each visitor gets a piece of raw dough, rolling pin, traditional wooden molds and prepares his/her own gingerbread that is taken to stove.)
Visiting the exhibition of historic baking equipment and decorating gingerbread with icing
Our tips:
It's recommended to buy tickets online – you will skip the line and book your tour for a particular time. No need to print your tickets, it's enough to show them on your smartphone.
Especially with small children, I would recommend arriving at the Museum just a few minutes before your scheduled tour. You will be admitted to the Museum at a precise time, and the waiting area is small.
The show is also available in English (1 pm and 4 pm). To arrange a show in German you need to call or email the Museum.
The visit is scheduled for 75 minutes. However, if you opt for decorating gingerbread with icing at the end of the tour, be ready to spend there 2 hours:)
In the Museum, there is a gift shop with gingerbread baked at the Museum. The selection of gingerbread cookies differs from what is available in most of the gingerbread stores in the Old Town.
You can pay with a card (tickets, gift shop etc.).
Planetarium
Nicolaus Copernicus – Polish astronomer who proposed that the Sun is the center of the solar system – is a scientific icon as well as icon and symbol of Toruń. Rather than visiting the Copernicus Museum, I would recommend to going to the Planetarium. The Planetarium in Toruń offers two small exhibitions (Geodium and MARS#17 Base) and shows for children and adults.
Our tips:
The Planetarium recommends visits with children 4+ (it's dark during the show, special sound effects etc.). Also, you are not allowed to take strollers to the screening room (it's on the second floor). Additionally, when you leave the screening room after the show you go directly outside the building. So if you leave the stroller downstairs you need to re-enter the Planetarium building from the other side. The building is small so maybe it's not a big deal. Unless it's wintertime and you left your children's clothes in the stroller downstairs and you go outside when the show ends. There is no cloakroom.
You can pay with cash only.
Each show takes about 40 minutes.
Selected shows are available with headphones (which you will get upstairs in the screening room) with audio in the following languages:
"My Friend Niko" ("Mój kumpel Niko"), audience: families with children – English
"Macrocosmos" ("Makrokosmos"), audience: teenagers and adults – English
"Meteoplanet", audience: teenagers and adults – English, German, Russian
"In the Search for Life" ("W poszukiwaniu życia"), audience: teenagers and adults – English
Only during summertime: "Summer under the Stars" ("Lato pod gwiazdami"), audience: 12+ and adults – English
"The Earth – a planet of Copernicus" ("Ziemia – planeta Kopernika"), audience: teenagers and adults – Spanish, German
"Beyond Horizon" ("Poza horyzontem"), audience: teenagers and adults – English, Russian
If you want to book a ticket in advance for a show in a language other than Polish, please send an email to office@planetarium.torun.pl
Center for Modernity "Mill of Knowledge" (Centrum Nowoczesności "Młyn Wiedzy")
Władysława Łokietka 5 Street, 3,5 km from the Old Town; website available only in Polish: www.mlynwiedzy.org.pl
"Mill of Knowledge" is the only top attraction in Toruń that is not located in the city center (still, it's only 3,5 km from the Old Town). The Center is based in a renovated 7-floor 19th-century mill. "Mill of Knowledge" is an interactive science and technology museum. It's very similar to Warsaw Copernicus Science Center, only smaller. The modern interactive exhibitions featuring science are dedicated to families with children and adults. Both kids and adults will love it and have lots of fun! Be ready to spend at least 2-3 hours there.
Our tips:
The Center is open Tuesday – Friday 9 am – 3 pm, Saturday – Sunday 11 am – 5 pm.
You can buy tickets online (at least one day before your planned visit).
You can pay with a card.
Most of the exhibit's information and instructions are available in English.
There is no cafeteria in the building. Eating and drinking are allowed only in designated areas.
There are water experiments – bring some extra clothes for children;)
The Leaning Tower (Krzywa Wieża)
Pod Krzywą Wieżą 1 Street, the Old Town area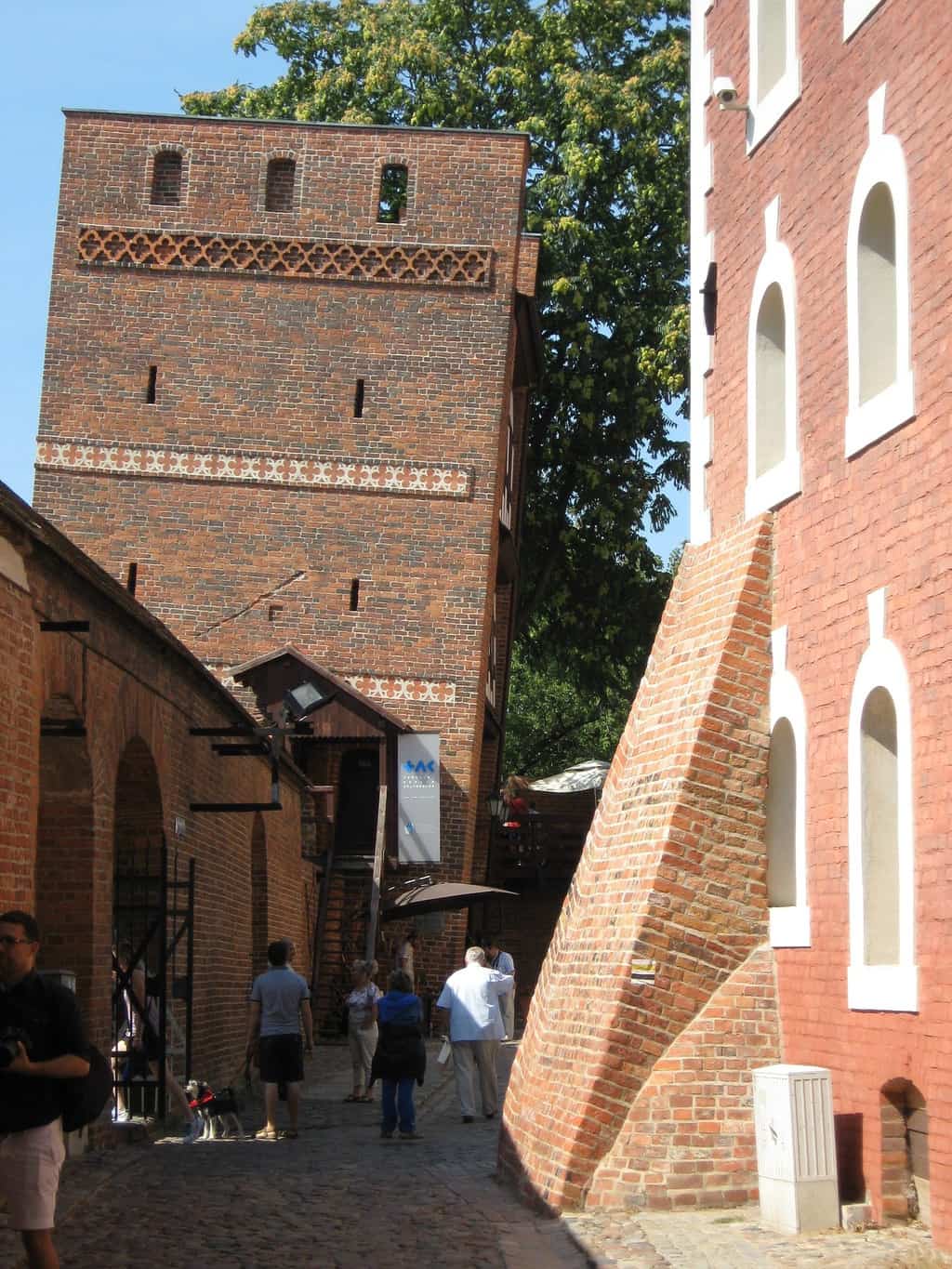 Yes, not only Italy has its own leaning tower;) The Leaning Tower of Toruń is a medieval defensive tower known for its unintended tilt (most probably due to sandy subsoil). It is fun for children (and adults;) to try to stand by the tower and not fall forward.
The Bell Tower of SS. Johns' Cathedral
Żeglarska 16 Street, the Old Town area
The Cathedral is the oldest Gothic church in Toruń (Copernicus was baptized here in 1473, you can visit a chapel with his baptismal font). It's worth visiting the Cathedral tower not only because of a fantastic view. Kids and adults will love the magnificent Tuba Dei bell (God's Trumpet) on the top – the largest medieval bell in Poland. The tower is 52 m high (over 200 steps). On the top, you will feel as if you've traveled back in time! You can visit the tower from April 1 until October 31, working days 9 am – 5.15 pm, Sundays and holidays 2 pm – 5.15 pm. Regular tickets 10 PLN, reduced tickets 7 PLN.
Town Hall Tower
The center of the Old Town
The tower is the oldest (1274) part of the Old Town Hall and the oldest tower of this type in Central Europe. It's lower than the Cathedral tower (40 m) but the view is also amazing. Lots of great photo opportunities!:) You can visit the tower every day: January – March and November – December 10 am – 4 pm, April and October 10 am – 6 pm, May – September 10 am – 8 pm. Regular tickets 15 PLN, reduced tickets 10 PLN. You can pay with a card.
Teutonic Knights' Castle Ruins
Przedzamcze 3 Street, the Old Town area
There is not much left of the castle, however, kids will love the underground chambers, fortifications or archery shooting. Although much of the castle is in ruins, the stones that remain are the medieval ones, and you can walk among them. It's worth a short visit (about 30 minutes), especially with children. You can visit the castle ruins every day 10 am – 5.45 pm. Regular tickets 9 PLN, reduced tickets 6 PLN, family tickets 20 PLN (2 adults and up to 3 children). Cash only.
The Zoo-Botanical Garden
Bydgoska 7 Street, 1 km from the Old Town
The Zoo is a nice destination if you want to take a break from sightseeing. It's not big but it can be its advantage if you are with kids. Toruń Zoo-botanical Garden is open every day, including weekends and holidays, with the exception of November 1. Opening hours and ticket info: website in English (www.zoo.torun.pl/en). You can pay with a card.
Cosmopolis Fountain Park
Fosa Staromiejska 1A Street, the Old Town area
Water, lights, and music shows (e.g. Love Story and Gladiator movies soundtracks). The show schedule changes depending on the season (in 2017, September 1 – October 31 the night shows with music are between 7 pm and 11 pm, the fountains start operating at 10 am).
Subscribe to our monthly newsletters in English to explore Poland and to learn about Poland: