Easter in Poland: tones of food, egg tapping game, Polish Water Fight Day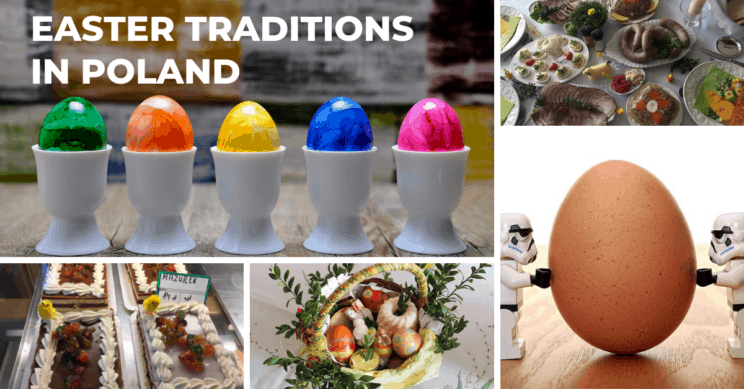 Polish Easter traditions: Painted eggs (pisanki )
Adults at home and children at schools decorate hard-boiled eggs in shells: with paints, markers, crayons. During Easter season, you can find in Polish stores and even small delis paints and stickers dedicated to Easter egg decoration. For example, you can buy color tablets that dissolve in water (each tablet in a glass of water, you put eggs into the water for a few minutes).
More advanced techniques include wax decorating, and the old school way Polish grandmas did it: coloring eggs in boiling water with onion skins and vinegar.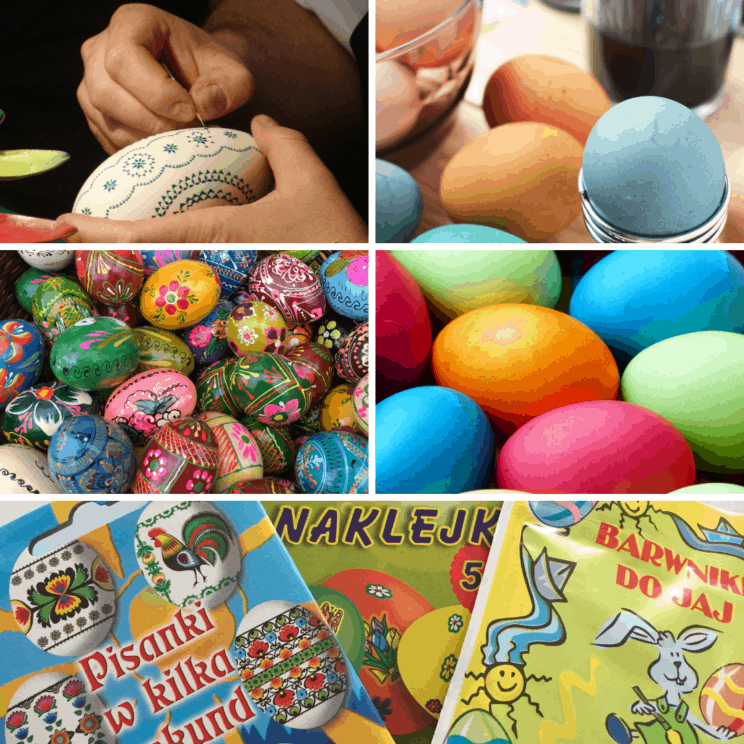 What to do if you don't have any egg paints or dyeing kits? Fortunately, there are some (organic and old-fashion) ways of dyeing eggs with the food you already have in your pantry.
Yellow onion skins for orange
Turmeric (kurkuma in Polish) for yellow
Red cabbage for light blue
Blueberries for blue
Spinach for light green
Chopped beets for pink
Boil water in a pot with 2 spoons of white vinegar.
Add your dye ingredient and simmer for 30 minutes.
Cool, strain, and add eggs for at least 30 minutes.
To make the eggs shine, dry them with a paper towel soaked in oil/butter.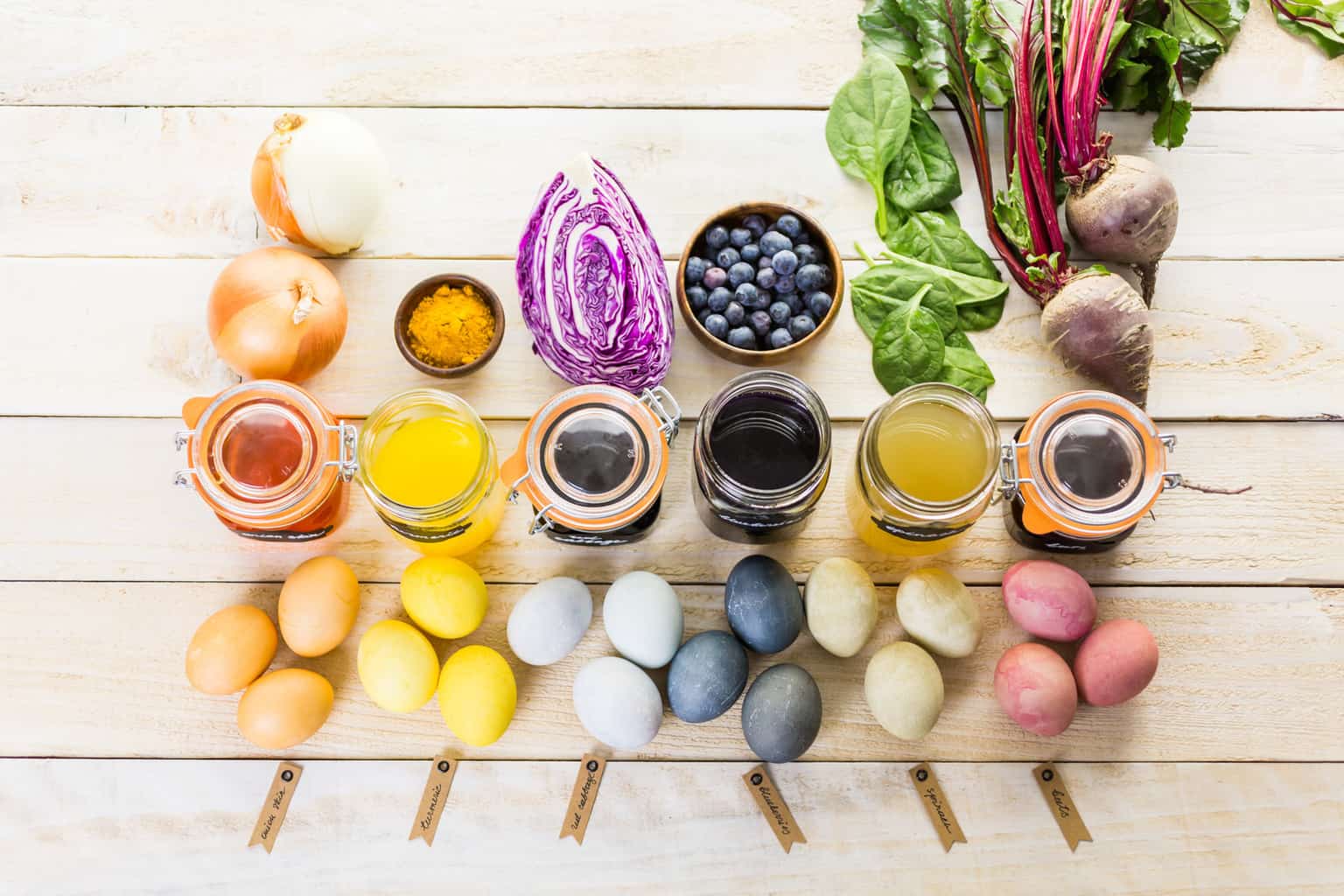 Polish Easter traditions: Easter basket with food samples (święconka)
Święconka is a small basket decorated with lace napkins and boxwood twigs. What you will find inside? It depends on the region of Poland and family, but basically: eggs (pisanki), ham or sausage, bread, salt, cake, horseradish, Easter lamb (baranek in Polish) made of sugar or butter. People bring baskets to be blessed to the church on Saturday for a short ceremony. The basket content is kept home until Easter morning breakfast the next day.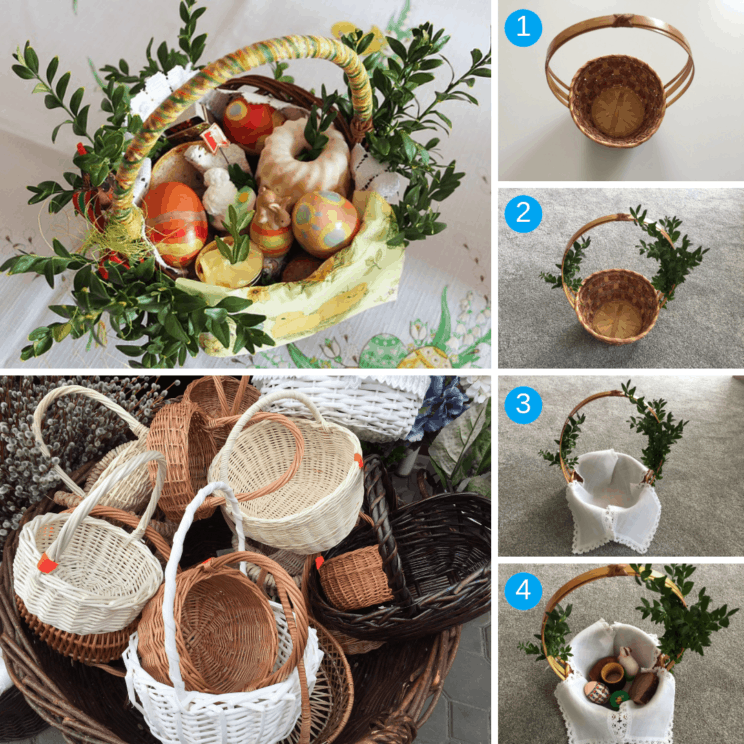 Polish Easter traditions: Easter breakfast on Sunday (śniadanie wielkanocne) and Polish Easter foods
The key event of Easter traditional celebrations in Poland. Families gather in the morning to have a festive breakfast (lots of food!!!). It starts with sharing food samples from the święconka basket (similar to sharing Christmas wafer – opłatek) and exchanging wishes (like Wesołego Alleluja – Happy Easter / Hallelujah). Some Polish families will serve żurek soup (also known as white barszcz) with hard-boiled eggs, bread, horseradish, and sausage. Other traditional Polish Easter dishes include hunter's stew (bigos), sausage with horseradish or beetroot horseradish sauce (ćwikła), white sausage (biała kiełbasa) – sausage seasoned with salt, garlic and marjoram, cooked vegetable salad with mayonnaise dressing (sałatka jarzynowa), mazurek cake, babka cake.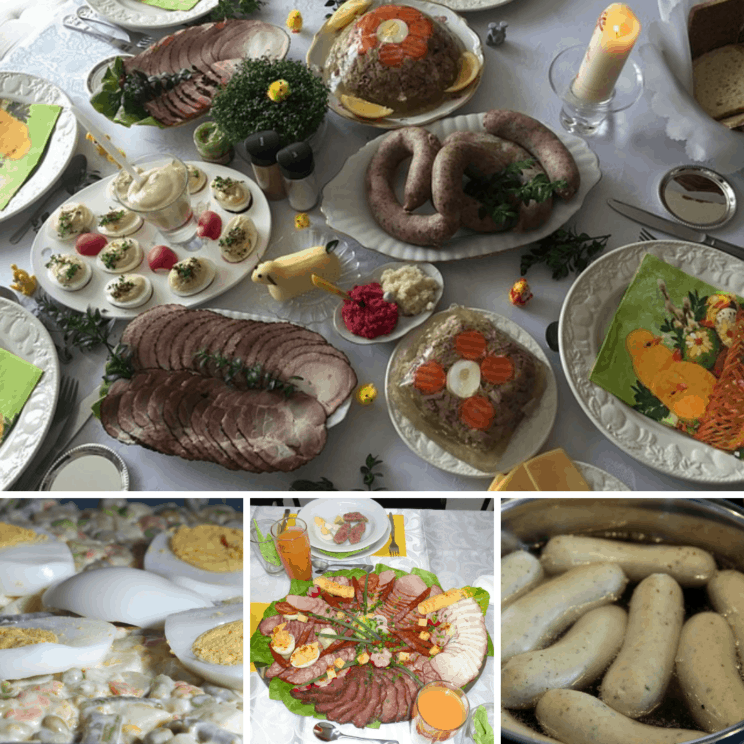 Polish Easter traditions: Egg tapping
Also known as egg fighting. There are lots of colored eggs on the Polish table during Easter (remember – hard-boiled ones!), and the first important step of the game is to select the best egg – everyone in the family has his/her secret criteria like shape or size. You play against each other, tapping the opponent's egg. If your egg is winning (unbroken), you play against another participant. And the winner? The one who is left with an unbroken egg. Essential rule: don't tap the side of the eggs, only the tip (tip to tip or tip to end). Part of the game – participants have to eat all the broken eggs when the game is over, which is not necessarily cool considering that in general, you eat lots of eggs in Poland during Easter;)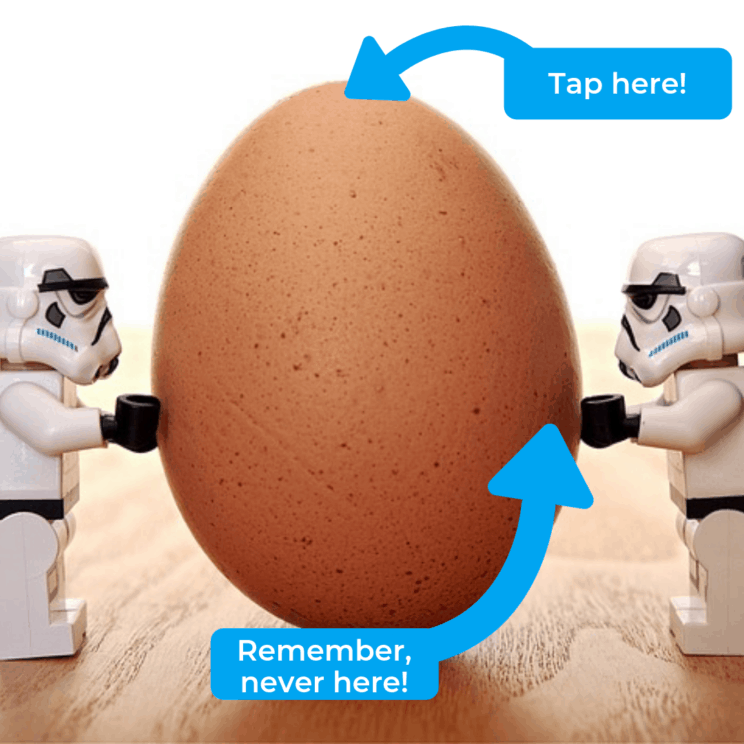 Polish Easter traditions: Searching for Easter Bunny
Children search for Easter Bunny / gifts (relatively modest presents compared to Christmas, sometimes just chocolate bunny or chocolate eggs) all over the home. In some families in Poland, children are supposed to create a nest where Easter Bunny would leave presents.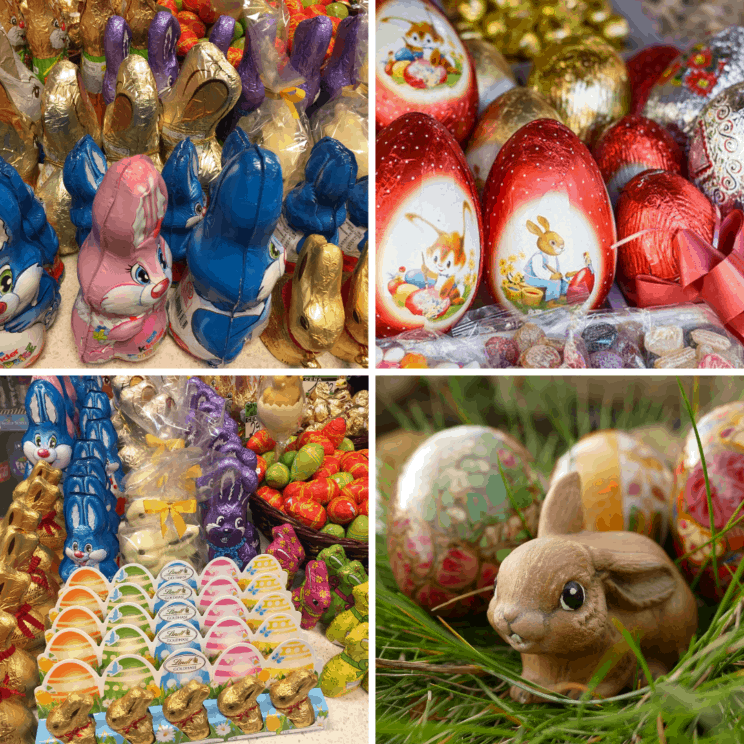 Polish Easter traditions: Wet Monday (lany poniedziałek, śmigus dyngus)
It starts innocently in the morning. In some families, parents wake up their children pouring some water (or… perfume), additionally, and it's another crazy Easter tradition, they beat kids' legs with willow branches. Then kids play all day with water toys (water guns, plastic eggs filled with water, Polish stores are full of them before Easter time). And finally, there is Polish Water Fight Day: people use BUCKETS of water to soak one another. It's safe to stay home on Wet Monday to avoid water fights and watch them only on Polish news channels.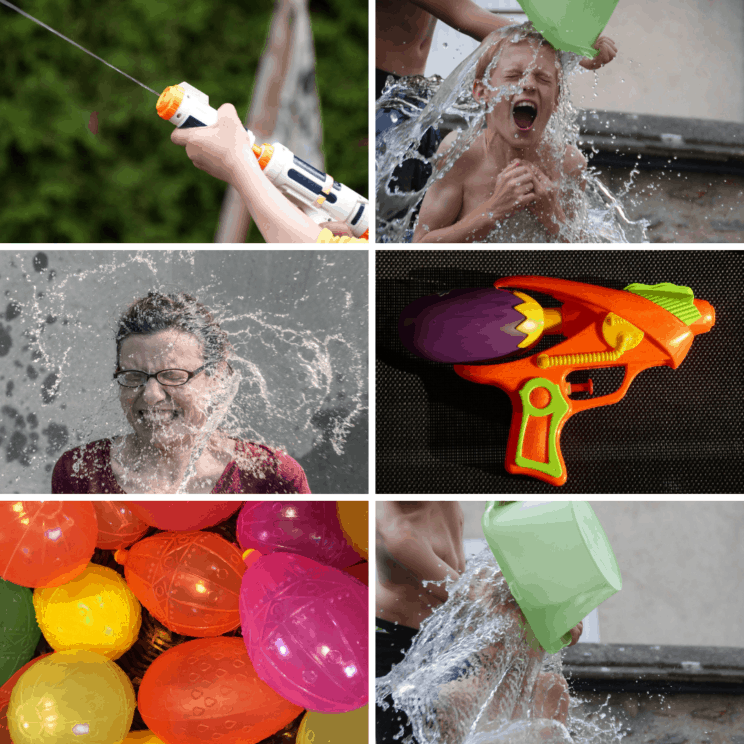 Polish Easter traditions: Cress (rzeżucha – is it even possible to pronounce it?!)
You may notice in Polish stores before Easter small bags with cress seeds. It's fast-growing (kids will love to observe growing – you can notice it even the next day!), edible, very healthy herb. It's a tradition in Poland to grow cress for Easter – not only to eat it but also for decorative purposes. You can grow cress indoor in a shallow container, plastic food tray or just a plate. Line it with a wet kitchen towel, sprinkle seeds, and water a bit every day. Cut leaves with scissors.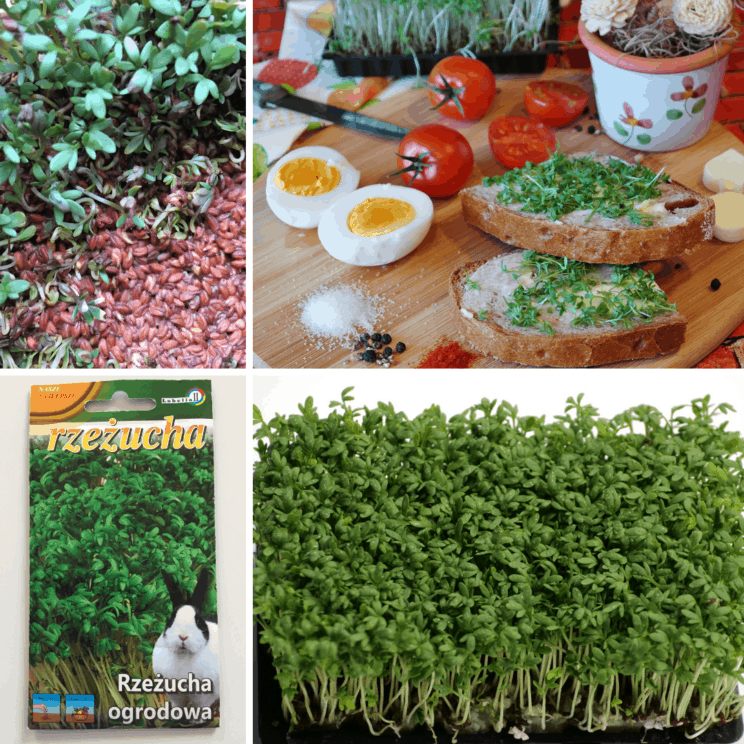 Polish Easter traditions: Polish Easter cakes
The most popular Polish Easter cake is mazurek (unlike other cakes Polish people eat during Easter time, mazurek is served only during Easter and you won't find it another time of the year). It's a flat cake, similar to tart, topped with fruit jam, almonds, dried fruit, caramel or chocolate. It's usually beautifully decorated.
If you have a sweet tooth, you will love Easter time in Poland. Apart from mazurek, you can try babka (similar to Italian panettone, yeast cake with a hole in the middle, usually with raisins, candied orange zest, and icing), cheesecake (sernik) or makowiec (poppy seed cake).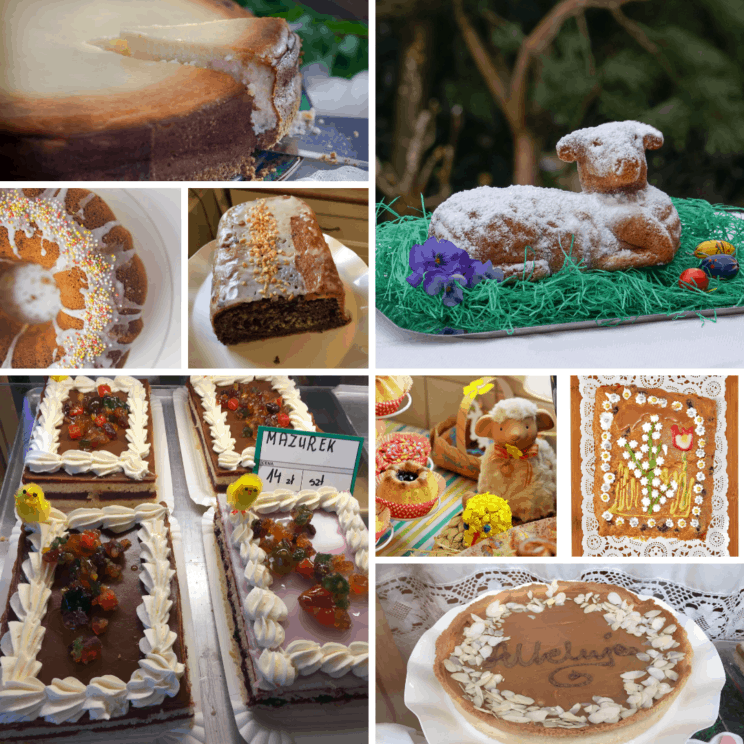 Easter holidays dates in Poland in 2020
Unlike Christmas, Easter holidays don't have fixed dates and can fall any time between March 22 and April 25.
Palm Sunday (Niedziela Palmowa)
It starts the Easter celebrations. There are processions around the church to commemorate the day Jesus entered Jerusalem. People bring "palms" (palmy wielkanocne) made of paper flowers, dried flowers, and twigs.  In 2020, due to coronavirus situation, the processions are cancelled.
Good Friday (Wielki Piątek)
Good Friday commemorates passion and crucifixion of Jesus. In major cities in Poland, there are processions on the streets – people carrying a huge cross and contemplating passion of Jesus. In Poland, for many people, it's a day of fasting – no meat, no parties, no alcohol. In 2020, due to coronavirus situation, the processions are cancelled.
Holy Saturday (Wielka Sobota)
People bring to churches baskets (called in Polish święconka) filled with food to get a special blessing. Baskets usually include eggs as a symbol of rebirth (pisanki – boiled eggs painted in various colors and patterns), bread, salt, sausage, sometimes other food – chocolate, cake, horseradish etc. Food from święconka basket is shared the next morning during festive Easter breakfast. In 2020, due to coronavirus situation, the blessing of food in churches in canceled.
Easter Day (Wielkanoc) 
Bank holiday in Poland. Easter Sunday commemorates the resurrection of Jesus. Many people in Poland start the day with 6 am morning mass (Rezurekcja). In 2020, due to coronavirus situation, the processions are cancelled.  The key event of a day – a family breakfast that starts with eating Święconka, then żurek soup (also known as white barszcz), bigos, sausage with horseradish, mazurek cake. Public institutions, stores, malls, shopping centers closed, only some smaller local convenience stores can be open and stores at gas stations.
Easter Monday (Poniedziałek Wielkanocny), "Wet Monday" (Lany Poniedziałek)
Bank holiday in Poland. Śmigus dyngus – an old tradition in Poland in which people use buckets (kids usually play with water guns) to soak each other with water. It's safe to stay home on Wet Monday and avoid street water fights;) Another Easter Monday tradition is to beat legs with willow branch or Palms (the ones used for Palm Sunday). Public institutions, stores, malls, shopping centers closed, only some smaller local convenience stores can be open and stores at gas stations.
Click on the photos below to read other posts: