Maria Oskroba of Pierogi and More cooking school in Warsaw shares her granny Helena's best pierogi hacks and gives 10 reasons why (almost) everyone loves Polish dumplings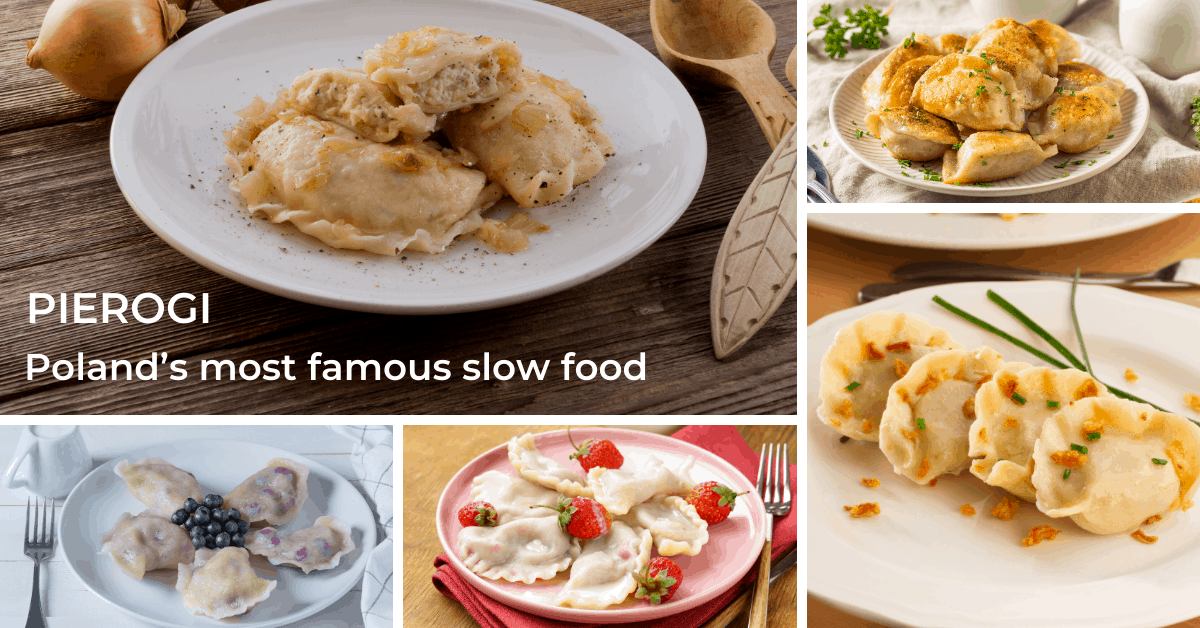 The word PIEROGI (pronounced: pyeh-RROH-ghee) derives from an old proto-Slavic word "pir" meaning a feast or merry gathering. No wonder pierogi is a highlight of a traditional Sunday family dinner in Poland.
Contrary to a common belief, dumplings were not invented by the Poles, nor should the credit go to the Italians. Chinese dim sum, the world's first dumplings appeared about 2500 years ago. Soon this simple recipe made its way to tables in every corner of the world. Tortellini, ravioli, chinkali, gyoza, verenki or empanadas are all distant relatives of Polish pierogi.
Pierogi came to Poland around the 13th century through Ruthenia («Ruś» in Polish), a region around Kyiv that belonged to Poland for several centuries. «Ruskie pierogi», a popular vegetarian variant made of mashed potatoes and cottage cheese, does not translate into "Russian pierogi", it means «Ruthenian«. This linguistic misconception is shared by a vast majority of Poles and foreigners. Funnily enough, Ukrainians call them "Polish pierogi".
Those of you, who are not fluent in Polish, might be surprised that the word pierogi is already a plural noun. One dumpling is translated into 1 pieróg (2 pierogi).
Dumplings filled with meat, ruskie pierogi, dried mushrooms, and tons of other filling options: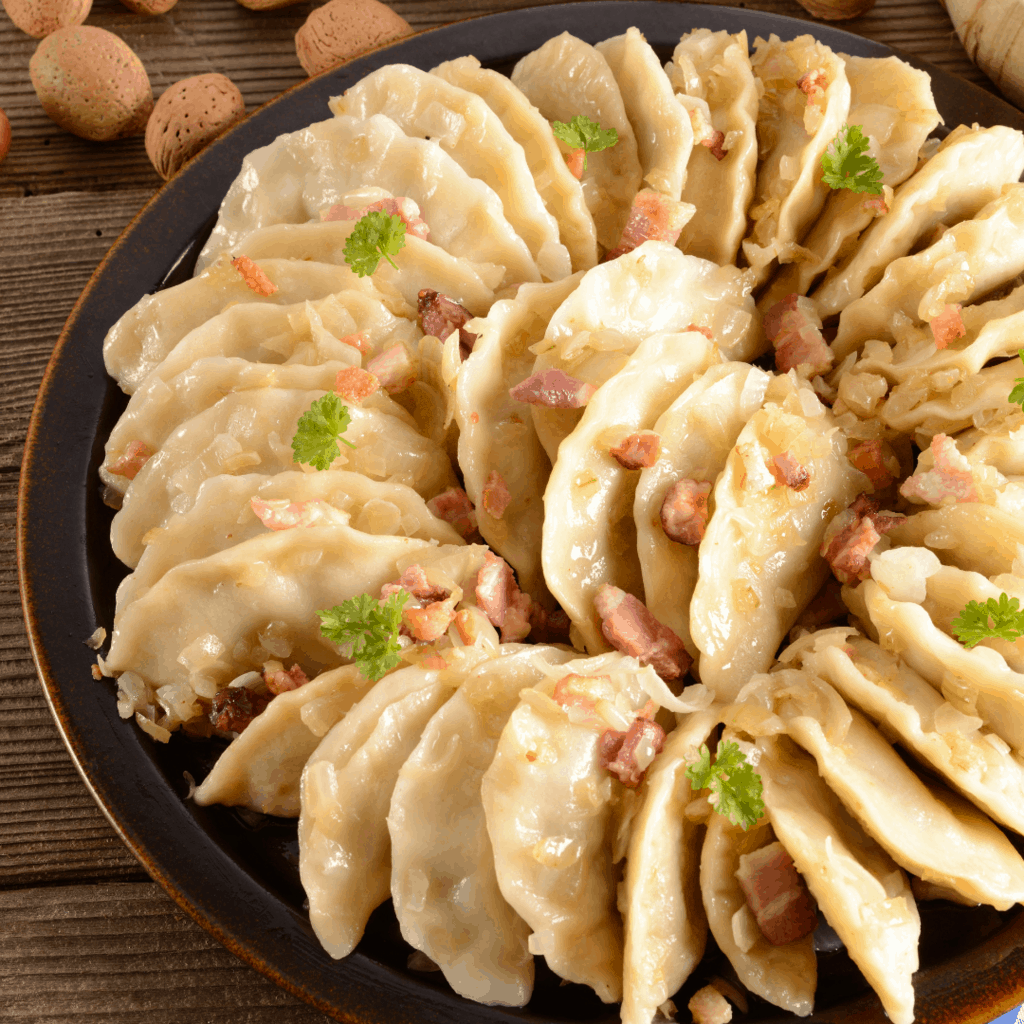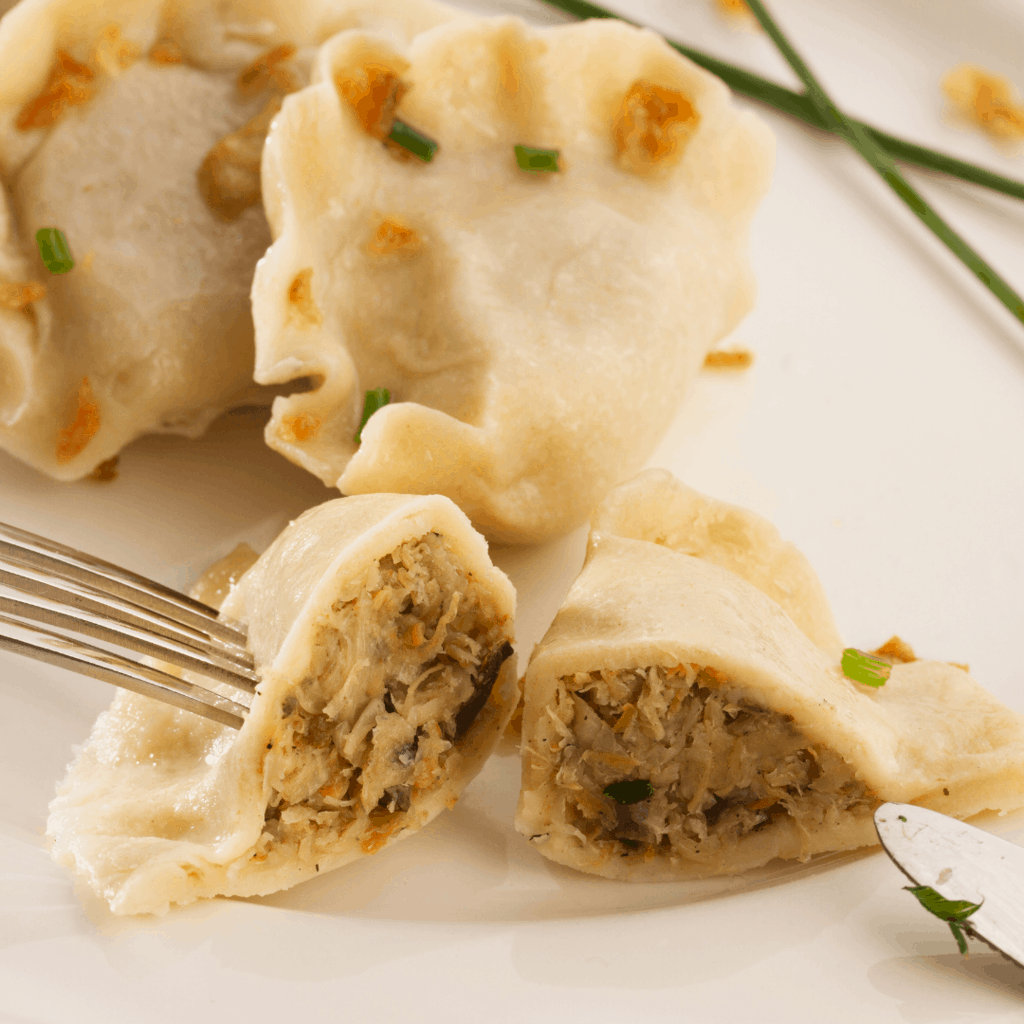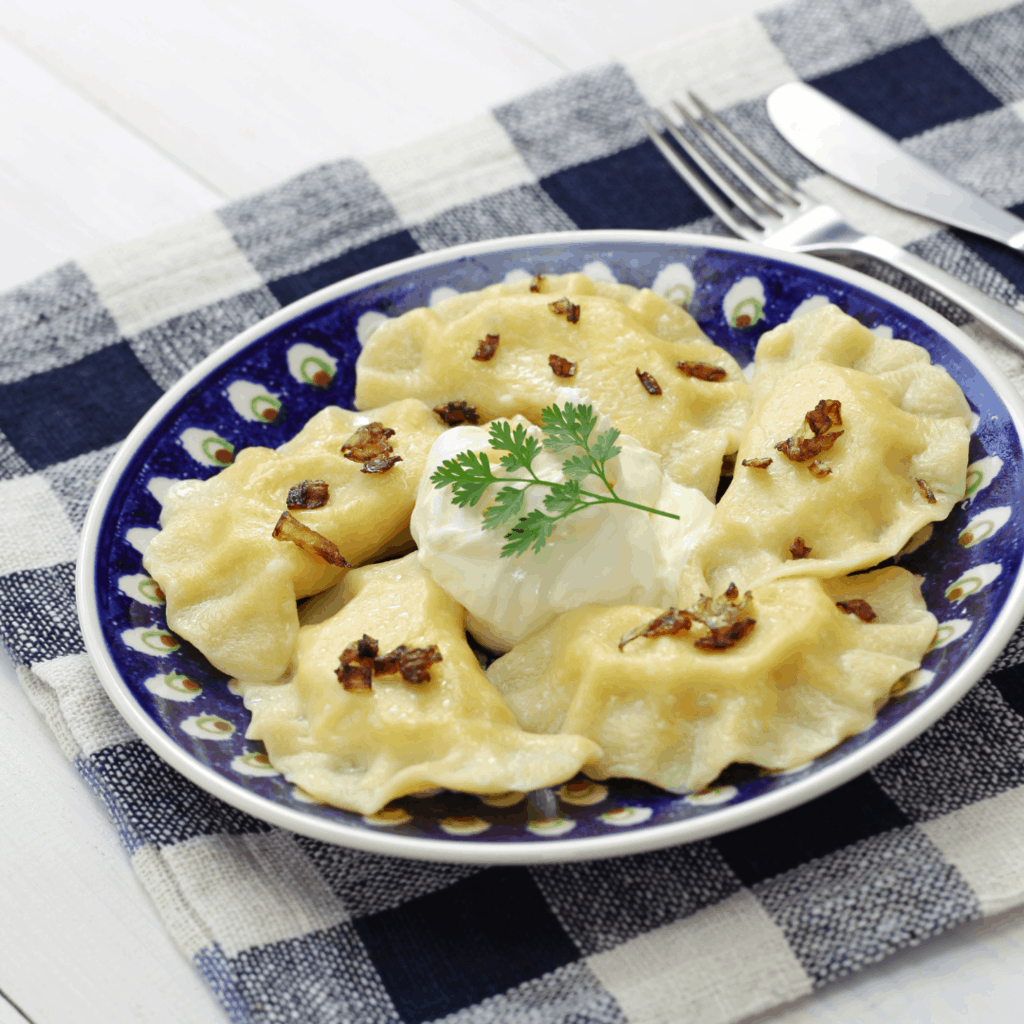 Why does (almost) everyone love pierogi?
It is the most famous comfort food in Poland – traditional style food with high sentimental value and easy to like. To be frank, the word «comfort» does not refer to the cooking process itself! Making pierogi is rather time-consuming and requires some patience. But the effect is definitely worth the effort.
Dumplings are relatively cheap, at least their veggie version. Without a doubt, dumplings enjoy immense popularity thanks to their low food cost.
Pierogi have hundreds of varieties, the list of possible filling types is absolutely endless. Just open your fridge and you will surely find something that qualifies for pierogi stuffing, because…
This is the ultimate leftover dish (like pizza, pasta, ravioli, samosa, quiche lorraine and other poor people's food).
Two in one. You can prepare dinner for meat lovers and vegetarians at one go!
In Poland, it can be served as a starter, side dish, main course, snack, in a soup or even as a dessert!
Can be cooked and then fried, deep-fried, baked or even grilled to obtain a crispy crust.
Dumplings are not boring – they can be colorful! The dough can easily be tinted with natural or artificial food colorings (have you ever tried adding beetroot juice to the dough?).
It is the number one Christmas Eve dinner dish in Poland. Expect sauerkraut and dried wild mushrooms or poppy seed filling. The little «uszka» in the traditional beetroot soup are nothing else but… little ear-shaped dumplings.
Centuries after the invention of this simple food concept, extravagant filling and fancy toppings turn pierogi into a gourmet delicacy. Slow food rediscovered!
Sweet dumplings with fruit filling: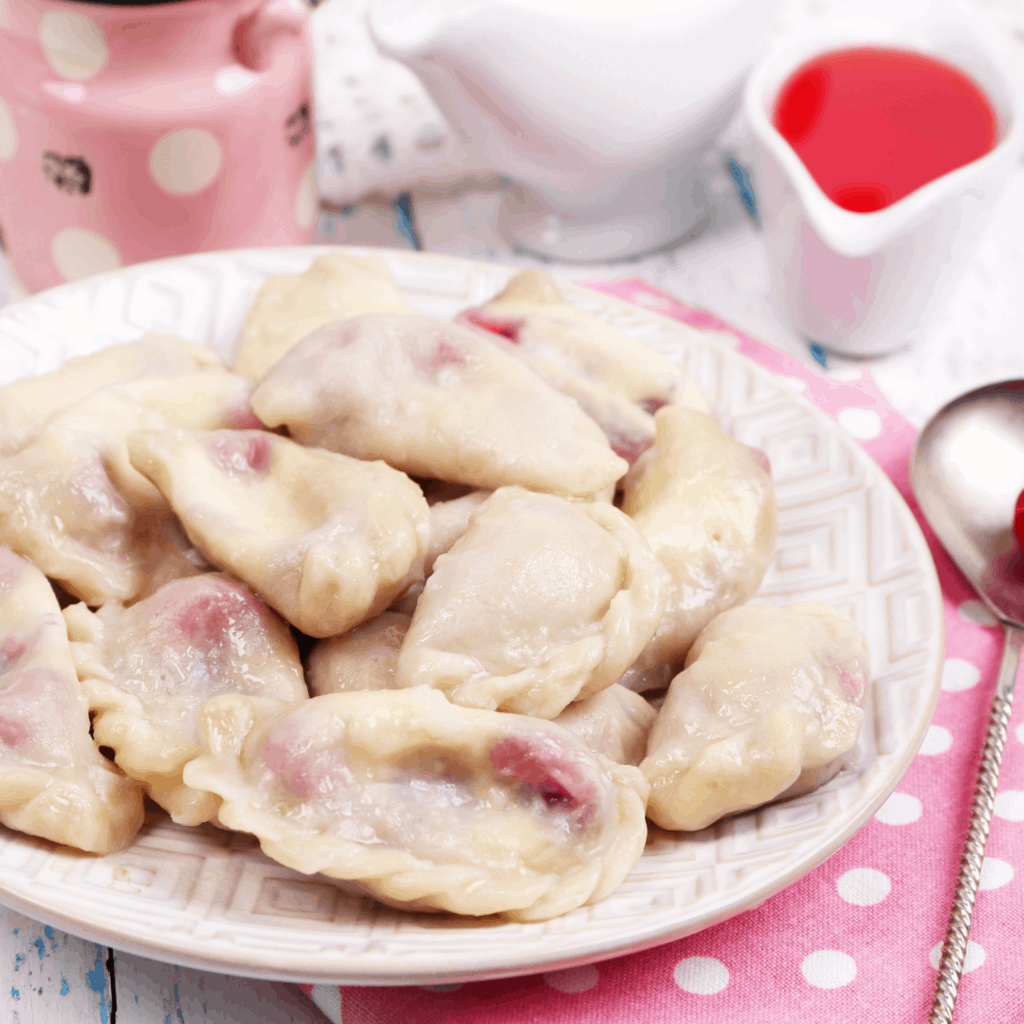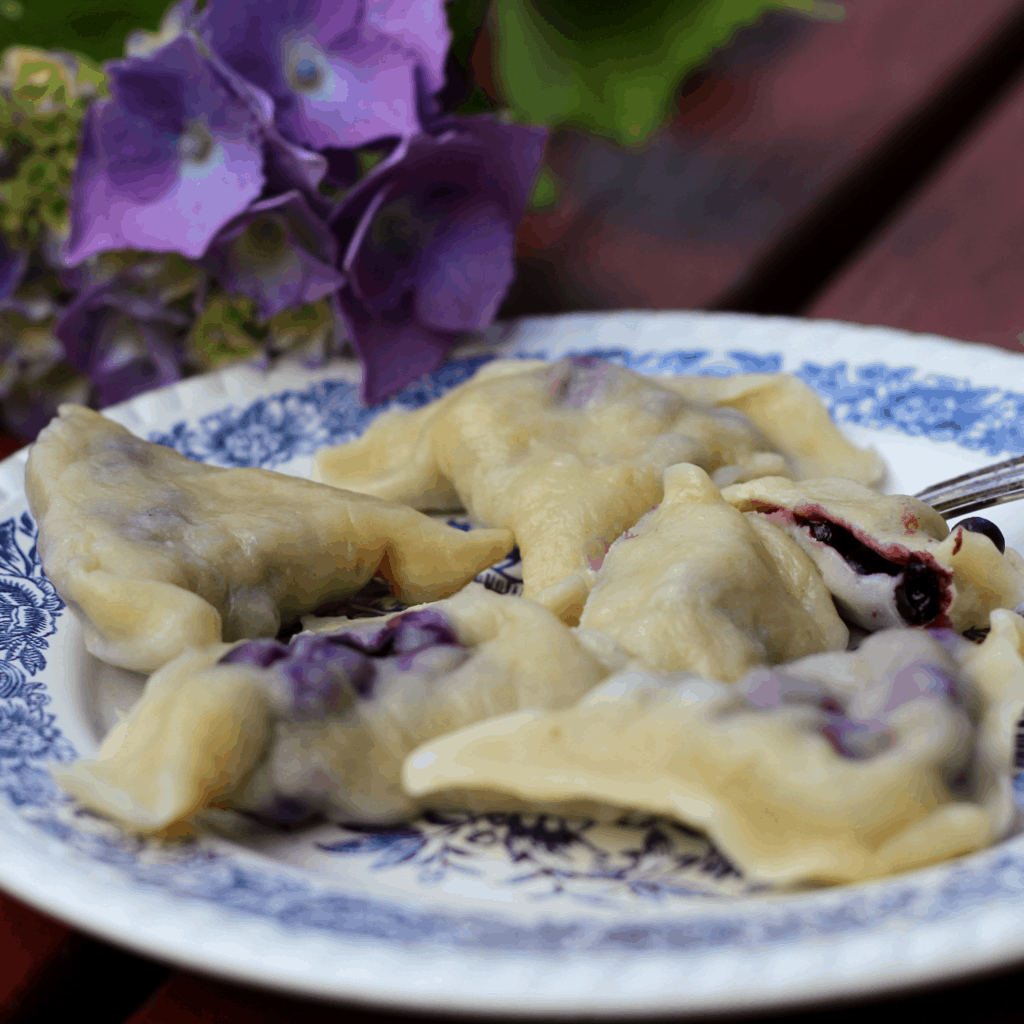 My granny Helena was a pierogi master! Here are some of her best pierogi hacks:
The filling ingredients must be completely cold, otherwise, the dough falls apart.
The time factor is important – once you start you have to hurry up. The dough gets too dry to use.
Use some water to wet pierogi rims. If the dough is too dry, the edges don't stick.
Water for cooking should only be slightly simmering (not rolling boil).
Cool your pierogi down completely on an oiled platter and sprinkle some oil before piling them up in a food container for later.
It makes absolutely no sense to make one portion of pierogi! But there is good news: they freeze very well.
You may experiment with whole grain flour. The dough can also be made gluten-free, although no fancy designs/shapes are possible with gluten-free flour.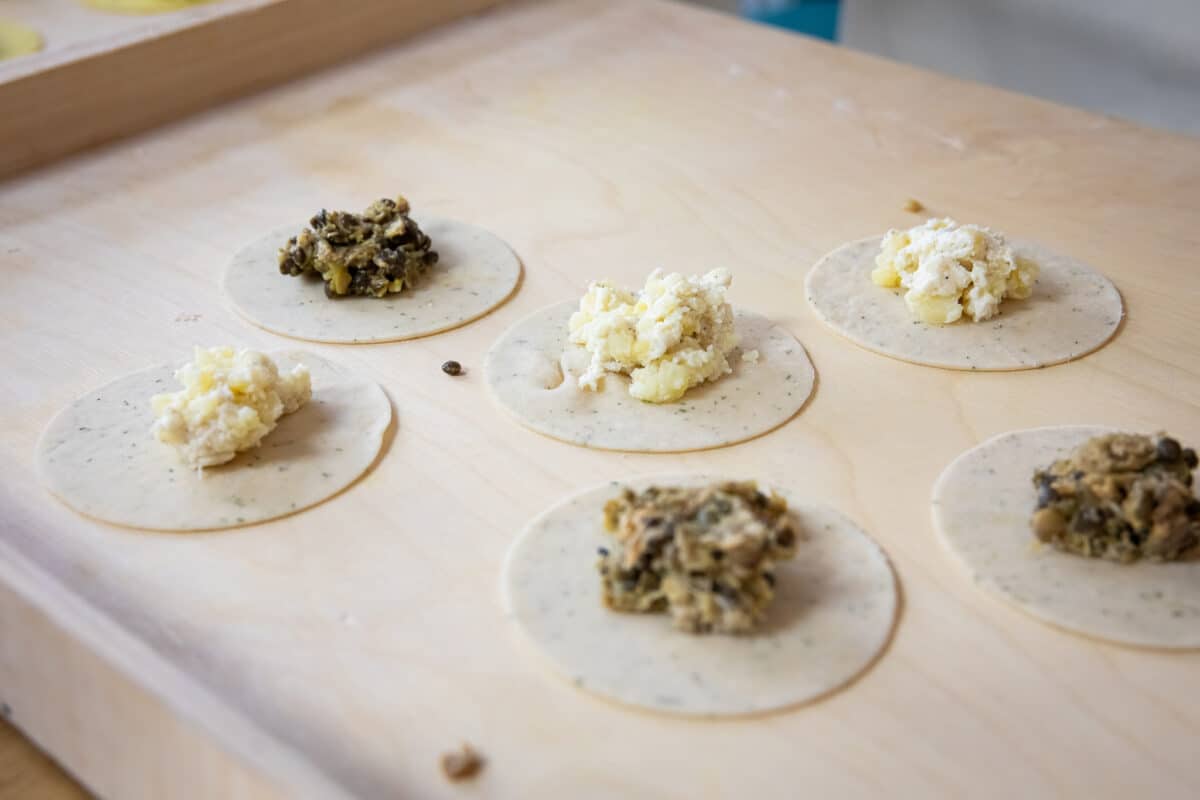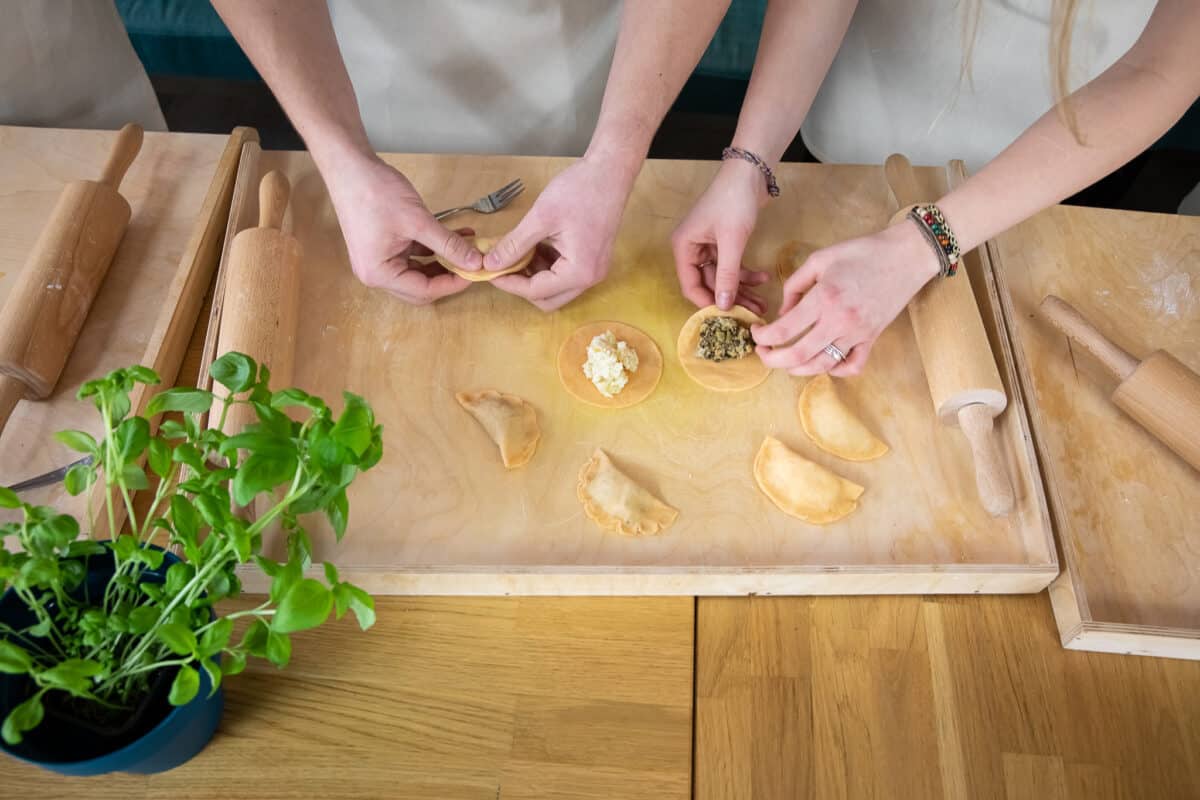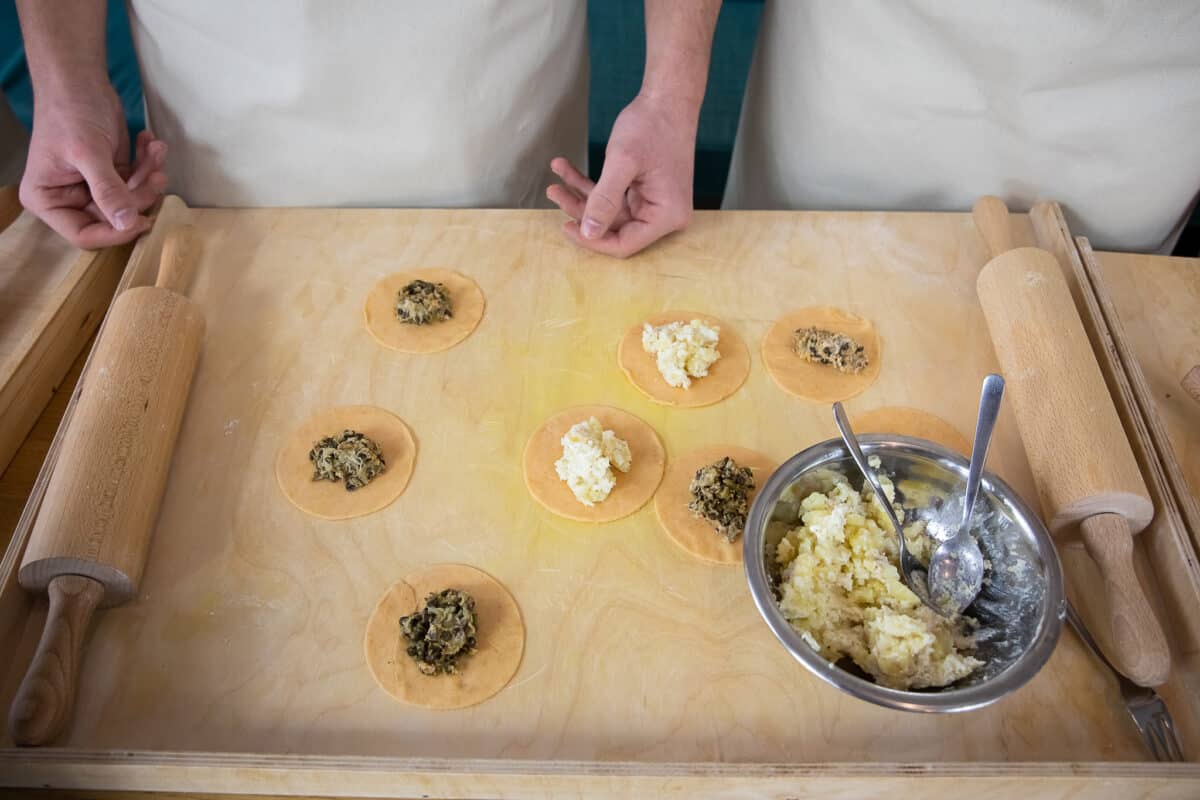 About the Author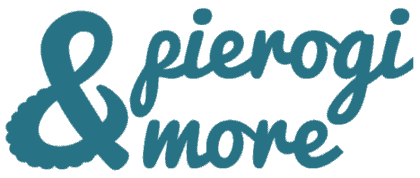 Maria Oskroba is an experienced cook and traditional Polish food aficionado. She quit a corporate career to host people at a small restaurant and later at a cookery class.
If you want to learn to make Polish pierogi, you can book a class at Pierogi & More Cooking Class. The best culinary workshop in Warsaw according to Tripadvisors offers online and offline 2 hour courses for families, friends, schools, and employees. If you have questions or are looking to book a workshop please check details at www.pierogiandmore.pl or contact them at pierogiandmore@gmail.com.
Subscribe to our monthly newsletters in English to learn about Poland! Once a month you will receive a Newsletter: 'Explore Poland with Kids'. You will find there family-friendly destinations in Poland – beautiful places in Poland worth visiting with children – from city break destinations to hiking in the mountains (lots of practical tips!); things you can't miss in Poland in a given month; dates to remember, holidays, observances in Poland in a given month so you can mark your calendars accordingly: