Warsaw with kids: December 8-10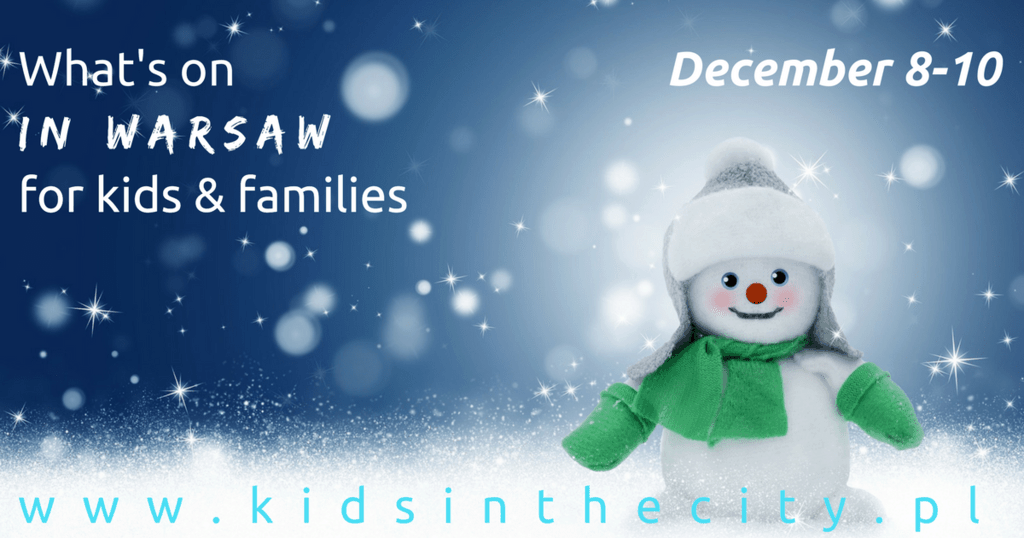 ---
If you like this post, subscribe to Kids in the City weekly Newsletter – each Thursday you will receive an email with the list of family-friendly events in Warsaw for the upcoming weekend:
---
Friday, December 8
Live concert enhanced with visualizations on the planetarium dome – this Friday jazz concert
Location: 
Planetarium in Copernicus Science Center
, Wybrzeże Kościuszkowskie 20 Street (
Powiśle
).
7 pm
(45 min), audience age 15+ (
click here to read more in English
).
Friday –

Sunday, December 8-10
Christmas Market in the Old Town
Location: Warsaw Old Town, next to the Castle Square and Sigismund's Column. Open every day (Monday – Thursday and Sunday  11 am – 8 pm, Friday – Saturday 11 am – 9.30 pm), free entrance. The Christmas Market runs until January 7, 2018. Facebook event in Polish and English.
"The Royal Garden of Lights"
Location: Wilanów Palace Garden, Stanisława Kostki Potockiego 10/16 Street, 4 pm – 9 pm. Monday – Friday, regular tickets 10 PLN, reduced tickets 5 PLN. Saturday – Sunday, regular tickets 20 PLN, reduced tickets 10 PLN. Free admission for children under 7 (every day). It can be crowded during weekends, buy tickets online to skip the line. Click here to read Kids in the City tips on visiting the Wilanów Palace with children. Mappings (illumination, picture, and sound) on the Palace facade on Saturdays and Sundays (15 minutes) at 5.30 pm, 6.30 pm, 7.30 pm, and 8.30 pm.
Saturday, December 9
St. Nicholas' Day (Mikołajki) sports event – Football (soccer) Championship of the Cultural Institutions in Poland
Location:
Wilanów
Sports Center, Wiertnicza 26 A Street, free entrance,
9 am – 5 pm.
Attractions for children include Junior Football Championship, contests, workshops, shows.
Facebook event in Polish
.
The Nutcracker – puppet and actor theater
Location: Wilanów Cultural Center branch in ALTO
Wilanów
shopping center,
Al. Rzeczypospolitej 14
,
3 pm
, free entrance – tickets to pick up in advance at ALTO Wilanów Cultural Center.
Facebook event in Polish
.
Launch of Christmas Lights, Illuminations, and Decorations in Warsaw
At about
4 pm
, "just after dark". Location: 20 km of streets.
Castle Square
(Plac Zamkowy) – the highest
Christmas tree
in Poland (27 meters).
"The Royal Route"
– Castle Square, Krakowskie Przedmieście, Nowy Świat, Trzech Krzyży Square, Aleje Ujazdowskie to Belweder.
The Old and New Town
– Old Town Market Place, Świętojańska, Piwna, Zapiecek Streets, Nowomiejska Street, the Barbican, Podwale, Freta Street and Mariensztat. Lights on other streets in Warsaw: 
Mokotowska
Street,
Bankowy
Square,
Marszałkowska
Street (from Królewska Street to Konstytucji Square),
Grzybowski
Square,
Emilii Plater
Street,
Świętokrzyska
Street (from ONZ Roundabout to Marszałkowska Street),
Jerozolimskie
Avenue (from Warszawa Centralna Station to Waszyngtona Roundabout and Poniatowskiego Bridge). Saska Kępa and Praga –
Francuska
,
Targowa
and
Ząbkowska
Street,
Solidarności
Avenue (from Bankowy Square to Wileński Square, including
Śląsko-Dąbrowski Bridge
).
On December 9, there will be live music and many Santas and elves to meet
. The lights will be on until
February 2, 2018
. Please note that it can get
very crowded
in the Old Town
on Saturday
.
Christmas Tree Lighting in Ochota
Location: Plac / Square Narutowicza. Free entrance,
5 pm.
The event includes live music and outdoor
Christmas market
.
Facebook event in Polish
.
Saturday

–

Sunday, December 9-10
"Warsaw, sweets, Christmas cards, and ginger treats" – outdoor event for children in the Old Town
Location:
Krakowskie Przedmieście
Street, next to Nicolaus Copernicus statue. Free entrance,
12 pm – 7 pm.
Workshops –
decorating Christmas gingerbread cookies
. Sending
Christmas cards
presenting Warsaw in a Christmas image (cards and stamps will be available for free, there will be also available a special seal – your postcards can be sent right away) and creating your own postcards.
Facebook event in Polish and English
.
SLOW Weekend – Christmas Fair
Location: Mińska 65 Street (
Praga
). Free entrance,
11 am – 7 pm.
350 Polish brands, slow food court, kids zone.
Facebook event in Polish
.
Sunday, December 10
---
If you like this post, subscribe to Kids in the City weekly Newsletter – each Thursday you will receive an email with the list of family-friendly events in Warsaw for the upcoming weekend: