Sunday trade ban in Poland and shopping Sundays in Poland in 2019 and 2020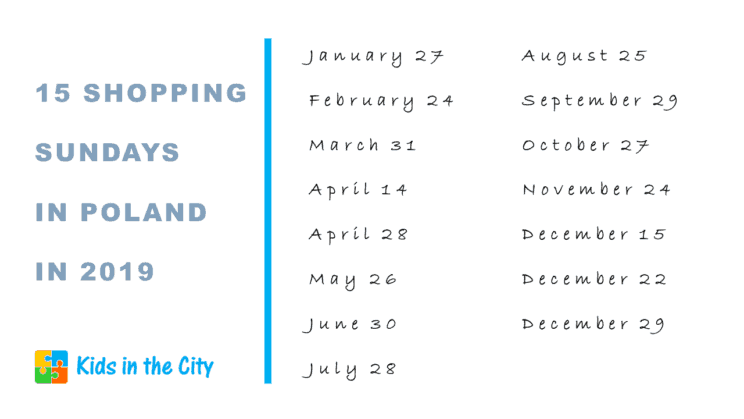 There are new regulations in Poland – stores can be open only on selected Sundays. In 2019 in Poland, 15 out of 52 Sundays are shopping days: January 27, February 24, March 31, April 14, April 28, May 26, June 30, July 28, August 25, September 29, October 27, November 24, December 15, December 22, December 29. Basically, in 2019, trade is allowed on the last Sunday of every month and additionally on one Sunday preceding Easter (April 14, 2019) as well as on the two Sundays preceding Christmas (December 15 and 22, 2019).
Trade ban does NOT include cinemas, restaurants, cafés, small local stores where the owner can work, stores at gas stations, flower shops, pharmacies. Shopping malls can be open but most of the stores inside will be closed (only cinemas, restaurants, pharmacies in shopping malls can be open). You can always do basic shopping at the gas stations (24/7).
In 2020, there will be only 7 shopping Sundays in Poland: January 26, April 5, April 26, June 28, August 30, December 13, and December 20.
Read more about public holidays and dates to remember in Poland in September, October & November 2019 (time change, 2 public holidays, 3 shopping Sundays, observances) and about the weather, changes in nature, seasonal fruits and vegetables in Poland in autumn.
Please note that stores in Poland are closed during bank holidays (with the exception of some small local stores and gas station stores). In 2019, there are the following public/bank holidays in Poland:
Tuesday, January 1, 2019 – New Year
Sunday, January 6, 2019 – Epiphany and trading ban Sunday
Sunday, April 21, 2019 – Easter and trading ban Sunday
Monday, April 22, 2019 – Easter Monday
Wednesday, May 1, 2019 – Labor Day
Friday, May 3, 2019 – Constitution Day
Sunday, June 9, 2019 – Pentecost and trading ban Sunday
Thursday, June 20, 2019 – Corpus Christi
Thursday, August 15, 2019 – Army Day and the Assumption of Mary
Friday, November 1, 2019 – All Saints Day
Monday, November 11, 2019 – Independence Day
Wednesday, December 25, 2019 – Christmas
Thursday, December 26, 2019 – Christmas
In 2020, there are the following public/bank holidays in Poland:
Wednesday, January 1, 2020 – New Year
Monday, January 6, 2020 – Epiphany
Sunday, April 12, 2020 – Easter
Monday, April 13, 2020 – Easter Monday
Friday, May 1, 2020 – Labor Day
Sunday, May 3, 2020 – Constitution Day
Sunday, May 31, 2020 – Pentecost
Thursday, June 11, 2020 – Corpus Christi
Saturday, August 15, 2020 – Army Day and the Assumption of Mary
Sunday, November 1, 2020 – All Saints Day
Wednesday, November 11, 2020 – Independence Day
Friday, December 25, 2020 – Christmas
Saturday, December 26, 2020 – Christmas
Subscribe to our monthly newsletters in English to explore Poland and to learn about Poland: