We hope you and your family are keeping well. So much in Poland and in the world has changed with the coronavirus situation! Now we are stay-at-home parents and… so much more.
Kids in the City's weekly newsletter has new content, bringing you every week some inspiration on things to do with kids at home, tips on parenting during coronavirus, and weekly updates on the situation in Poland and in Warsaw.
Subscribe to our newsletters to receive each Thursday an email in English dedicated to stay-at-home parents and families: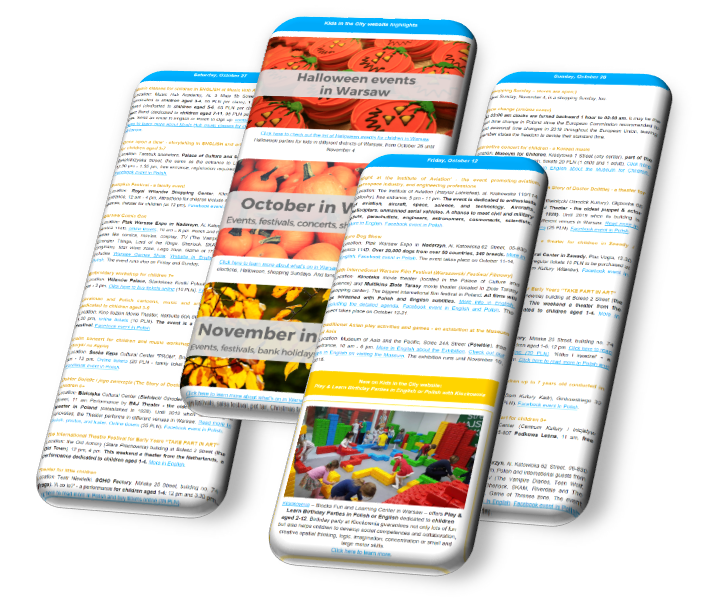 This is what you can expect in our newsletters when we are ready to leave homes:
The list of events includes the following information (all in English) for each event: location (street and Warsaw district), time, is it free or how much are the tickets and where to buy them, an event target audience / the kids' age, short description, and links to read more. The list covers events for the upcoming Friday, Saturday, and Sunday so for example if you plan to go out with your family on Saturday afternoon, just open Kids in the City Newsletter, go to Saturday section and learn what are your options.
A hand-picked selection includes activities in Warsaw dedicated specifically to children (eg. workshops, concerts, picnics, weekend classes, theaters for kids) as well as some ideas and things to do in Warsaw for parents like festivals (eg. food, film, art, design, music), exhibitions (new exhibitions in Warsaw galleries and museums), fairs (eg. fashion, travel expo, pet supplies, winter sports fair).
And a bonus!;) Once a month you will receive a monthly Newsletter: 'Explore Poland with Kids'. You will find there featured family-friendly destinations in Poland, handpicked events in selected Polish cities (that may inspire you for a family city break in Poland), dates to remember and things to do in Poland in a given month. The monthly Newsletter aims to show you beautiful places in Poland worth visiting with children, encourage the families to explore Poland, and introduce some tips and facts about Polish nature, culture, and traditions that hopefully will help you to navigate your family life in Poland:)
"
I think Magda and the team at 'What's on in Warsaw' are absolutely fantastic. There is no other service like this for parents in Warsaw and I regularly spot events I'd easily miss even reading newspapers and web portals in Polish. Tell other parents about this fantastic service!
"
Patrick Ney, father of 2 children
"
We often look for things to do during the weekends and therefore I absolutely love Kids in the City newsletter. It is well written and with all the information required for parents with kids. We have used it to go to many fun weekend events with our children. Our favorite are the arty ones.
"
Kavita from Warsaw, mom of 4-year-old Anika and 1-year-old Maira
"
I haven't seen such a nice newsletter for a long time – the events are described in detail. I use it regularly. And as a mom I appreciate it even more because I don't waste time looking for ideas on what to do during the weekends.
"
Kornelia, mom from Warsaw
As a parent your free time is precious, and Kids in the City wants to help you make the most of it. Get ideas and inspiration for family time (and lots of fun) in Warsaw in an easy way with Kids in the City Newsletters!