Keep your kids busy with guilt-free screen time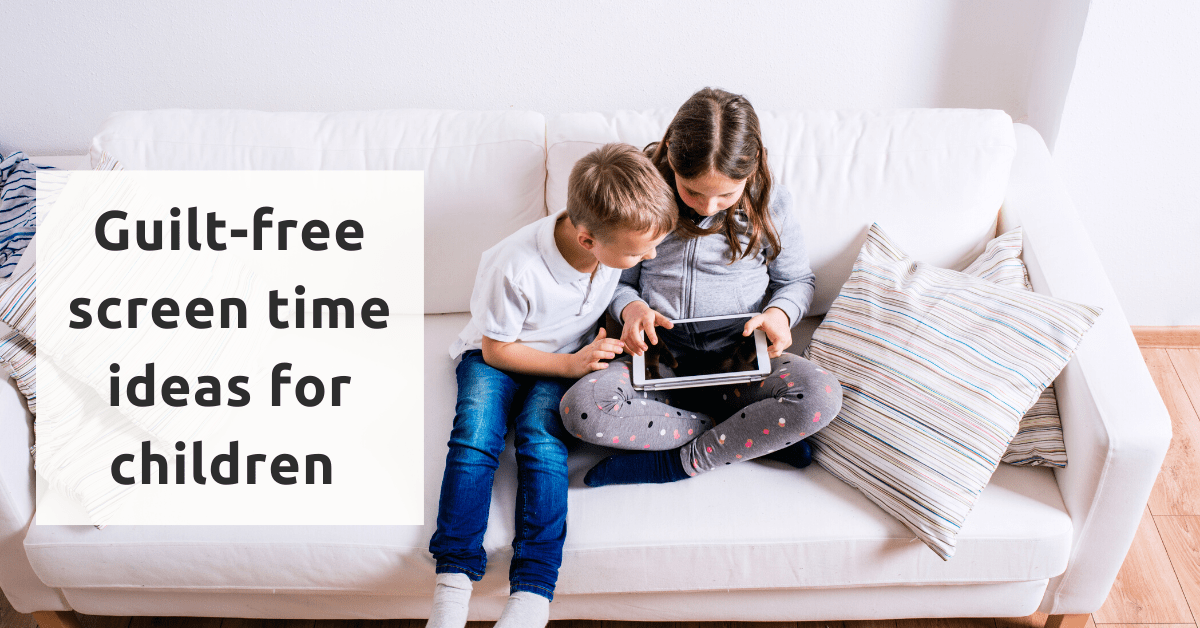 With schools and many workplaces closed, parents are looking for ways to entertain their kids at home. Obviously, with kids at home all day, the best option is to find things our kids can do by themselves (giving the parents a chance to work or rest). In most cases, increased screen time is inevitable and let us not feel guilty about it – our goal at the moment is to survive not to be superhero;)
It seems that recently we've been flooded with hundreds of links with online resources for children. Below you will find just a few selected, hand-picked free resources in English (with educational value to reduce our guilt;)
Educational screen time ideas for smaller kids
Storyline Online
Storyline Online streams free videos in English featuring celebrated actors reading children's books alongside creatively produced illustrations. Each book includes a PDF activity guide for parents. The digital library offers 57 books you can browse by title, author, reader or run time. The book description includes the suggested grade level. You can stream the videos from their website or a free app.
National Geographic Kids – videos
On the National Geographic Kids' website, you will find the video section with short educational videos in English divided into a few categories: animals (eg. "Awesome Animal Vets", "Amazing Animals", "Incredible Insects", "Really Weird Animals"), exploration (eg. "Around the World", "Adventures in Exploration"), science (eg. "Kids vs. Plastic", "How Things Work", "Spaced Out"), and fun facts (eg. "Weirdest, Bestest, Truest", "Wackiest Places Around The World", "Brain Games").
BBC Earth KIDS – YouTube videos
BBC Earth Kids is dedicated to children so it's safe to play the video even to small ones (well, be careful with the "Deadly 60" playlist featuring tiger sharks, spiders or poison frog…;). You will find there videos in English about animals, earth sketches (how to draw a squirrel, etc.), fun facts about our planet and natural history.
New Horizon – Meditation & Sleep Stories
Bedtime sleep stories and guided meditations for adults and children available on YouTube or app (without ads). Stories and meditations to help children to relax.
SciShow Kids
SciShow Kids YouTube channel includes videos about science explained by Jessi and her robot. The playlists include Kids Experiments, Explore Our Planet, All About Us Humans, Science in the Kitchen, Awesome Animals, Let's Go to Space.
Netflix series
"Ask the StoryBots" is animated children's (suitable for all ages) series (3 seasons) about little creatures (StoryBots) who go on adventures to help answer kids' questions like "Where Do Planets Come From?", "Why Do People Look Different?", "Where Does Chocolate Come From?", etc.
CrashCourse Kids
Crash Course Kids is a YouTube educational channel from the creators of the CrashCourse channel (see below). Their playlists include "Engineering: The Engineering Process", "Earth Science: Earth's Spheres and Natural Resources", "Life Science: Ecosystems and Flow of Energy", "Physical Science: Introduction to Gravity", "Physical Science: Properties of Matter", "Space Science: The Sun and Its Influence on Earth".
Educational screen time ideas for bigger kids
CrashCourse
CrashCourse
 is an educational YouTube channel with
high-quality videos
on biology, literature, ecology, chemistry, film history, physics, philosophy (
high school and college level
).
What Do We Do All Day?
"What Do We Do All Day?"
YouTube channel (for children who can read) includes 
fun science projects, math art ideas, puzzles, strategy games from around the world
. You will find there the following playlists: Games & Puzzlers, Math Art, Simple Art & Crafts, Family Activities, Science for Kids, Literacy Tips.
Netflix documentary
"Our Planet" is a nature documentary series (8 episodes and bonuses) made for Netflix. The series is narrated by David Attenborough who also created the famous BBC documentary series "Planet Earth". Videos feature rarely-seen animals and address humans' impact on the environment. Suitable for children 7+.
TED-Ed videos
TED-Ed is TED's youth and education initiative. Their signature content is TED-Ed Animations: short, animated video lessons about ideas that spark the curiosity of learners. The videos are paired with questions and resources for students and teachers. You will find there series like periodic videos, superhero science, inventions that shape history, questions no one (yet) knows the answers to, awesome nature, things they don't teach at school, etc. In response to the COVID-19 pandemic, they've launched additionally TED-Ed@Home – video-based lessons emailed on a daily basis for free. Age levels include Elementary / Primary, Middle School / Lower Secondary, High School / Upper Secondary, College / University.
BBC Earth – YouTube videos
BBC Earth is the official channel of well-known Sir David Attenborough series such as Planet Earth, Frozen Planet and Blue Planet. It is also where you can find fantastic nature and wildlife documentaries such as Life of Mammals and classics like Planet Dinosaur.