Palace of Culture and Science
Pałac Kultury i Nauki
Love it or hate it, the Palace of Culture and Science is a symbol of Warsaw. For many Polish people, it's also a symbol of Soviet domination (there are even occasional calls for the Palace to be demolished) or a representation of ugly architecture that destroyed Warsaw urban system. The Palace was built in the area where many of the houses survived the Warsaw Uprising in 1944 and were good enough for reconstruction. Additionally, sections of 6 streets were torn down (including Chmielna Street which nowadays is divided into 2 parts: 1 in Śródmieście district between Nowy Świat and Marszałkowska, and the other in Wola district).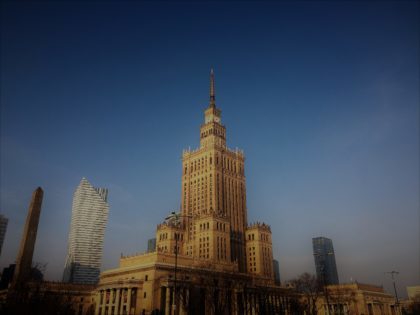 There is no doubt that the Palace of Culture and Science and surrounding huge Plac Defilad (Parade Square where during communism time there were held marches of support for the authorities) need a coherent concept of development so that it keeps pace with changes in other parts of Warsaw.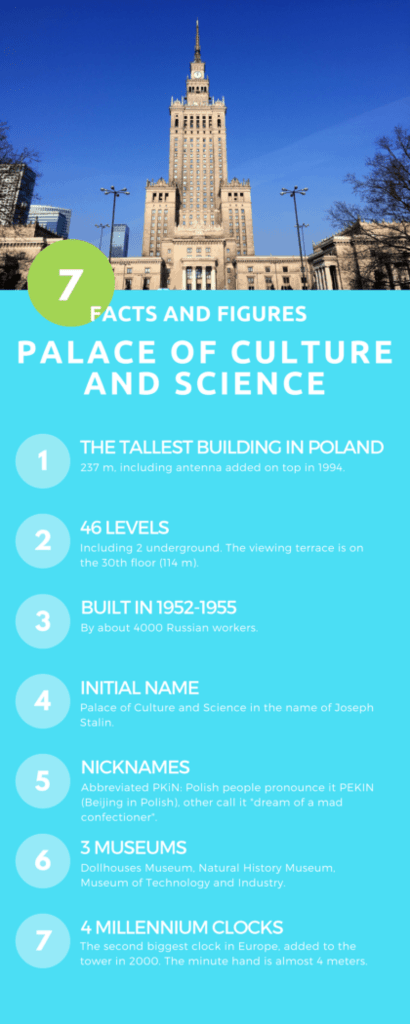 If you would like to explore the Palace with children, start with the viewing platform on the 30th floor. Other attractions include the Dollhouses Museum, dinosaurs in the Natural History Museum or Museum of Technology and Industry.
From Marszałkowska Street
You will find there: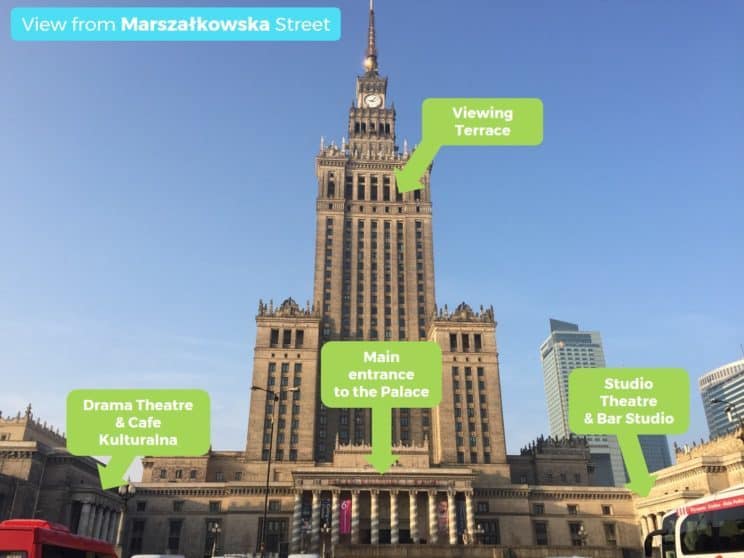 From Emilii Plater Street (Złote Tarasy shopping center and Dworzec Centralny railway station side)
You will find there:
Concert Hall (Sala Kongresowa) – one of the biggest concert venues in Warsaw. Unfortunately, it's closed since 2014 when the reconstruction works have started. It will be reopened not sooner than in 2018
"Mirage" Disco Club
Tourist Information

Opening hours: January – April: 8 am – 6 pm, May – September: 8 am – 7 pm, October – December: 8 am – 6 pm
Holidays: April 15: 9 am – 2 pm, April 16-17: closed, May 1-3: 9 am – 5 pm, June 4: 9 am – 6 pm, June 15: 9 am – 5 pm

Entrance to the Dollhouse Museum (Muzeum Domków dla Lalek) which is located in the inner courtyard of the Palace. It's a cute and small museum that hosts over 100 dollhouses. Please click here to learn more and read our tips on the Dollhouse Museum
From Świętokrzyska Street
You will find there: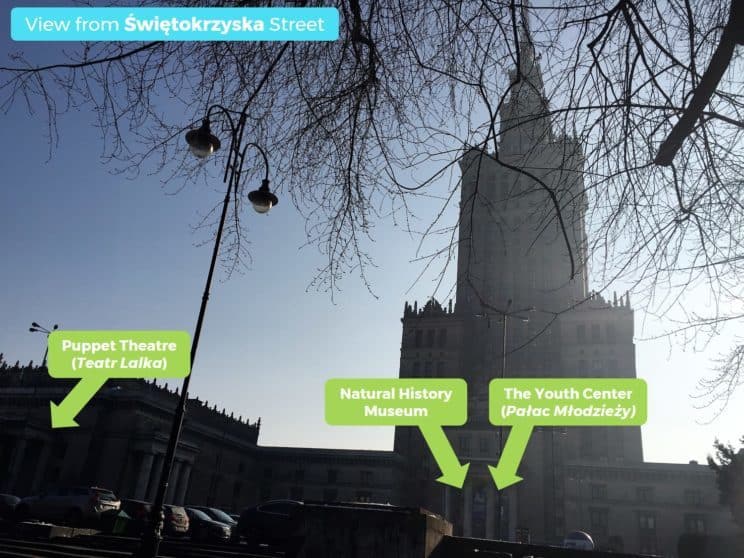 From Aleje Jerozolimskie Street
You will find there:
Parking Lot
There is a huge parking lot surrounding the Palace of Culture and Science. The Parking is available 24 hours a day including weekends and public holidays. There are 4 entrances where you collect a ticket: 2 entrances from Emilii Plater Street and 2 from Marszałkowska Street. When you are ready to leave, before returning to your car, pay the parking fee in one of 10 pay stations (CASH only!). There are 7 exits (2 toward Marszałkowska Street and 5 toward Emilii Plater Street)

The parking lot fees: first hour 5 PLN, second hour 4 PLN, each next hour 3 PLN