Things to do in Warsaw in winter – activities that will bring smile on your face
12-meter ice hill at the National Stadium – a great alternative to sledding
Location: PGE National Stadium, Al. Ks. J. Poniatowskiego 1 Street (Praga). Info about the opening hours. Info about tickets. Website in English. The ice hill is a part of winter sports zones at the National Stadium called in Polish Zimowy Narodowy (ice rinks, ice hill, curling). Children under 6 years old can slide only with an adult. The winter zone is open until March 8, 2020.
Photo source: Zimowy Narodowy
Yes, skiing in Warsaw is possible!
Location: Górka Szczęśliwicka, Park Szczęśliwicki, Drawska 22 Street (Ochota). Website and Facebook page in Polish. Opening of skiing and snowboarding season – December 6, 2019. This season Górka offers new facilities after renovation! 152 m a.s.l.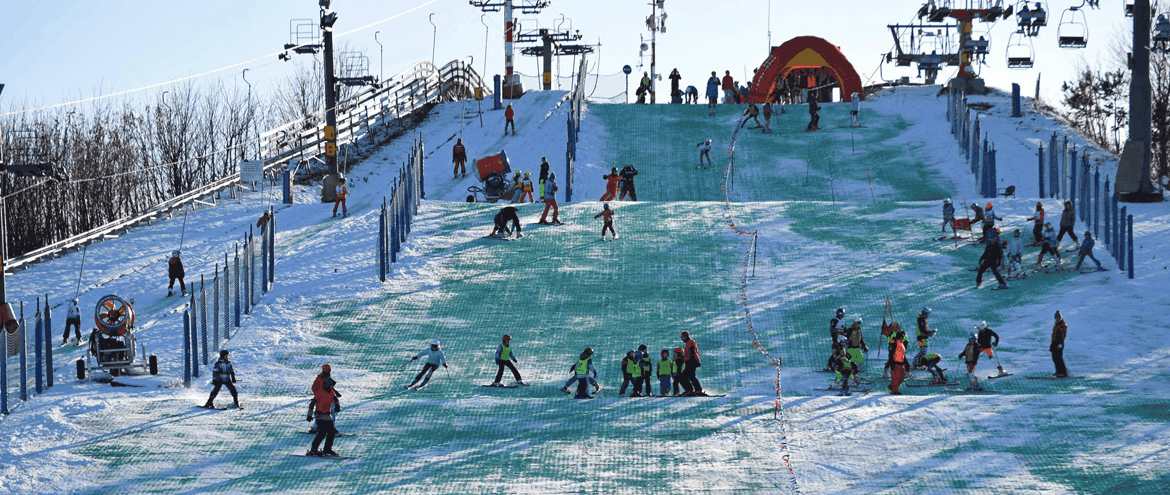 Photo source: Aktywna Warszawa
Strap on the blades and enjoy skating on one of many ice skating rinks in Warsaw
Ice rinks in the Old Town and next to the Palace of Culture are free. There is a rink in Ursynów that is open 24/7, including all public holidays! You will find out more in our post listing ice rinks in Warsaw – locations, opening hours, photos.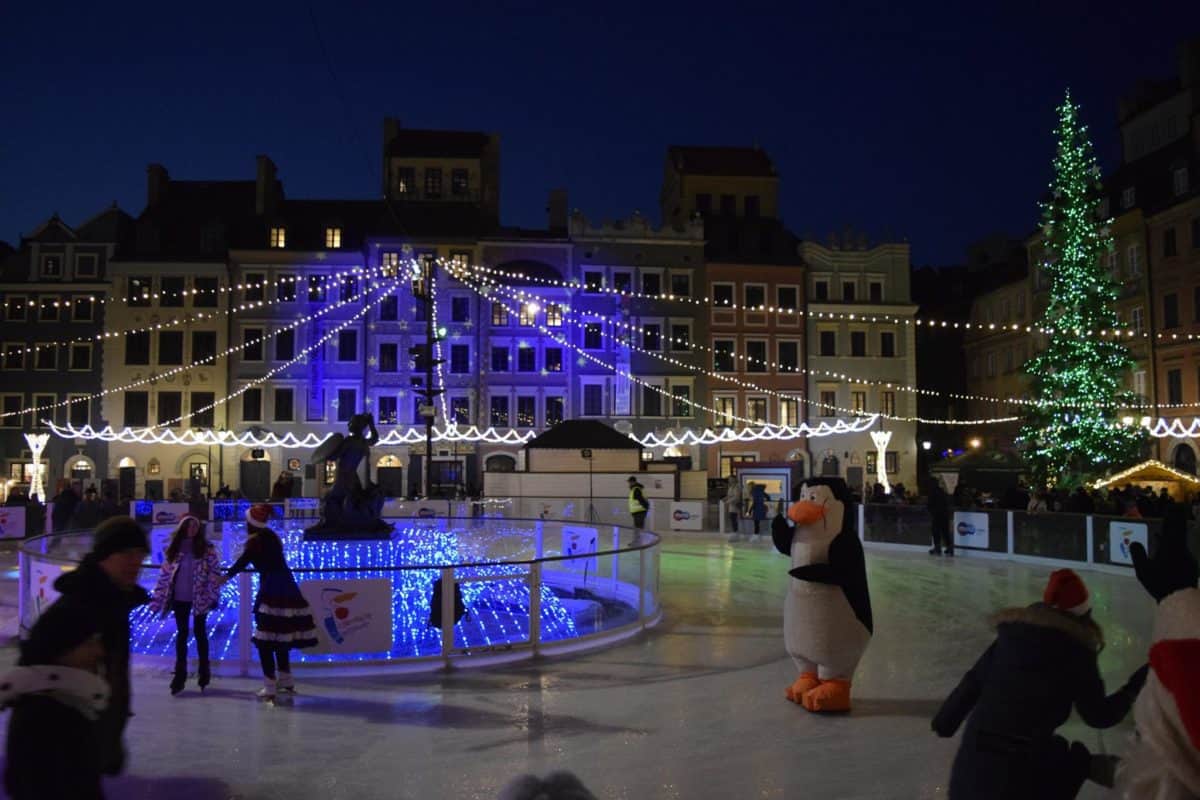 Photo source: Aktywna Warszawa
Łazienki Royal Garden is beautiful each season, including winter – peaceful walk, museums, festive illuminations after dark.
It's the best place in the center of Warsaw to have a blissful walk (yes, during weekends it gets crowded in the heart of the park – next to the Palace on the Isle but the park is huge so you can always find a quiet alley). When it gets cold you can visit one of the museums in Łazienki. And in the evening, until 9 pm, you can admire beautiful illuminations in the park – at Chinese Avenue (Aleja Chińska), from Agrykola Street entrance to Gagarina Street entrance (until February 23, 2020). Our tips in English on visiting Łazienki Garden.
Photo source: Łazienki Królewskie, Kids in the City
Check out a new illumination festival this winter in Warsaw – The Chinese Light Festival
Location: Fort Bema, Waldorffa 34 Street (Bemowo), 4 pm – 10 pm, online tickets (children up to 4 free entrance). More in English about the event. Facebook event in Polish. The Festival runs until February 16, 2020.
Photo source: Chiński Festiwal Światła
How about a romantic walk? Discover the illuminated Rose Garden – a new addition to "The Royal Garden of Light" – the illuminations outdoor exhibition in the Wilanów Palace Garden
Location: Wilanów Garden, Stanisława Kostki Potockiego 10/16 Street, 4 pm – 9 pm, online tickets (children up to 7 free entrance). Mappings (illumination, picture, and sound) on the Palace façade on Saturdays and Sundays at 6.30 pm, 7.30 pm, 8.30 pm. Our tips in English about the illuminations festival and on visiting the Wilanów Palace Museum and Park. The Exhibition runs until February 23, 2020.
Photo source: Muzeum Pałacu Króla Jana III w Wilanowie, Kids in the City
Visit Multimedia Fountain Park – during wintertime, there are light and music shows on Fridays, Saturdays, and Sundays
Location: Skwer Dywizji Pancernej (the area between the Old Town and Vistula), free entrance. The holiday illuminations at Fountain Park are on every day from 3.30 pm. 15-minutes shows with music every Friday, Saturday, Sunday until January 31, 2020: 4 pm, 5 pm, 6 pm. Our tips in English.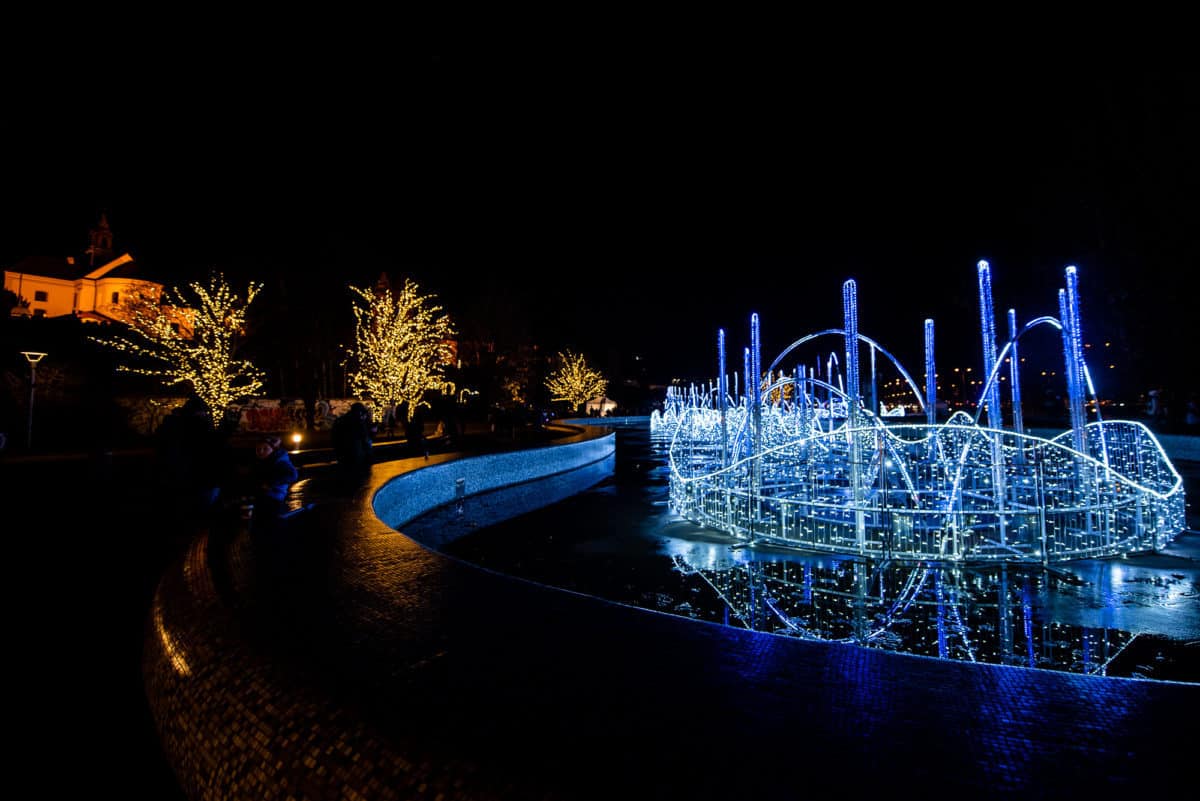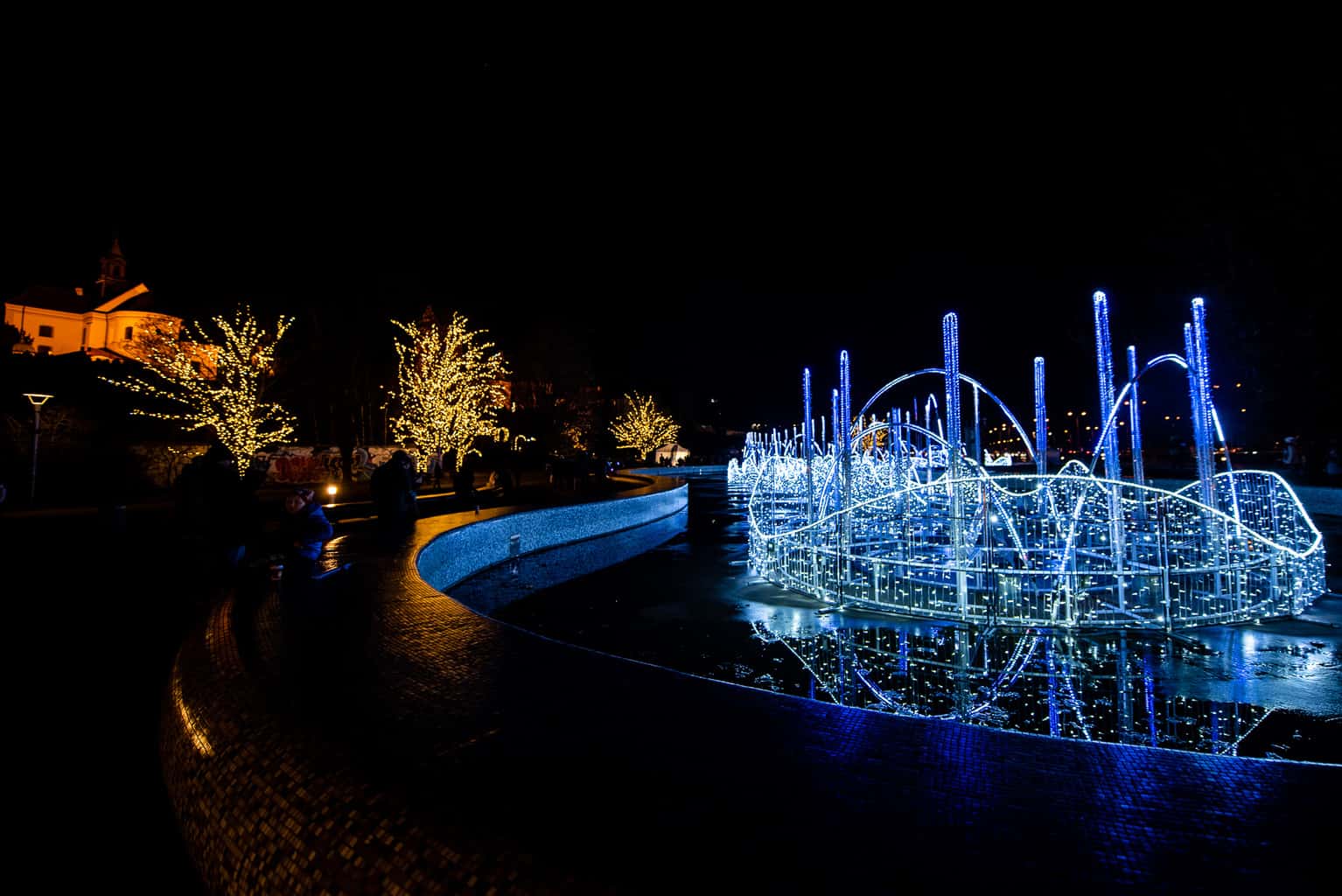 Photo source: www.park-fontann.pl
Have a walk and admire holiday lights, Christmas tree, decorations, and illumination around Warsaw (20 km of streets).
The lights are switched starting from dusk, from around 3.30 pm. The main attractions focus on "The Royal Route" – Castle Square/Plac Zamkowy (including the Christmas tree), Krakowskie Przedmieście Street, Nowy Świat Street, Trzech Krzyży Square, Aleje Ujazdowskie Street to Belweder next to the Royal Łazienki Garden. Other locations include The Old Town, Aleje Jerozolimskie Street (from Warszawa Centralna Railway Station to Rondo Waszyngtona Roundabout and Poniatowskiego Bridge), Mokotowska Street, Bankowy Square, Marszałkowska Street (from Królewska Street to Konstytucji Square), Świętokrzyska Street (from ONZ Roundabout to Marszałkowska Street), Targowa Street, Solidarności Street (from Bankowy Square to Wileński Square, including Śląsko-Dąbrowski Bridge).
Photo source: Kids in the City
And when the weather is really bad… Ideas for things to do in Warsaw "under the roof"
Warsaw offers dozens of museums – perfect to hide from the cold and to learn something:) You can discover dinosaurs in Warsaw, admire dollhouses, learn about how Warsaw looked like before 1939, tour the exhibition of Korean art or Polish design. Click here to find your museum of choice in Warsaw. Another indoor option for both children and adults – Copernicus Science Center (Centrum Kopernika) – great fun for the whole family – for toddlers who can play in the Buzzz! gallery (a separated playing area dedicated to kids up to 5 years old) as well as for teenagers and parents. To make sure you enter and to skip the line – the best option is to buy tickets online. And next to the Kopernik – one of the most modern planetariums in Europe. The Planetarium screens films for kids 3+ and adults. Most of the screenings can also be viewed in the English audio version with headphones (and some in Russian).
Photo source: the City of Warsaw, Muzeum Domków dla Lalek, Kids in the City
---
As a parent your free time is precious, and Kids in the City wants to help you make the most of it. Every Thursday you'll receive a hand-picked selection of family-friendly activities in Warsaw for the upcoming weekend.
Subscribe to our weekly newsletter for tips on what's happening around Warsaw: