What's on in Poland in May: weather, changes in nature, holidays, celebrations, new lockdown regulations 
Our Partner of the Month
Sign up for Akademeia's Online Recruitment Weekend for Years 9, 10 and 12 (27-28 June). Akademeia High School is an international boarding school in Warsaw offering a British curriculum of IGCSEs and A Levels. The school offers young people a combination of academic excellence and individual pastoral care to provide the finest preparation for life both at university and afterwards.
Akademeia is recruiting candidates for 2020-2021 academic year for Years 9, 10 & 12. Please register or contact our Admissions Team by email at: admissions@akademeia.edu.pl or phone: +48 22 299 87 80.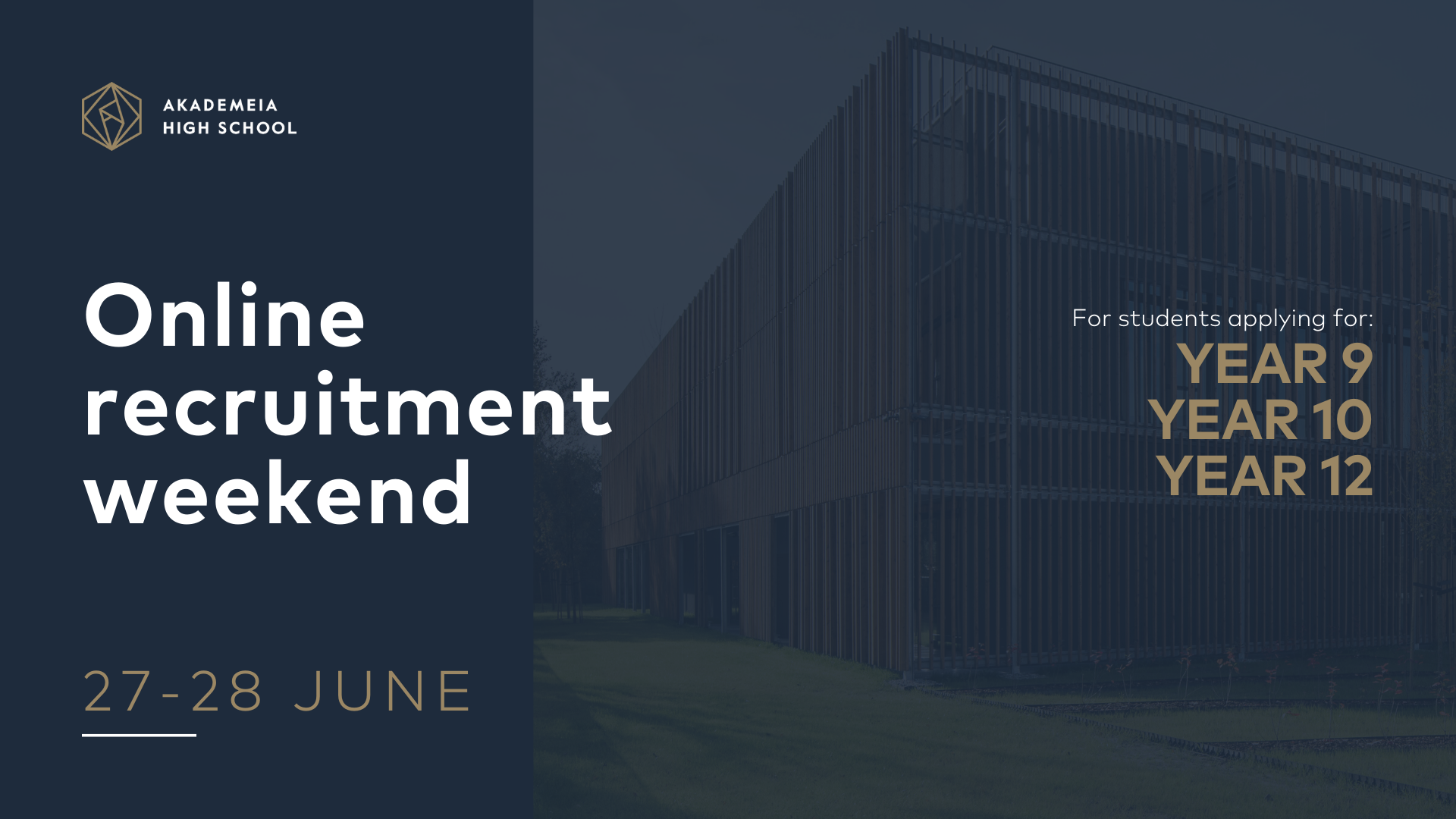 Weather in Poland in May
May in Poland is usually warm and reasonably dry. Sunny weather can event turn hot. The average monthly temperature in May in Poland is 13,7°C / 56,7°F, and the average monthly rainfall level is 62,1 mm.
The name of the month (maj) comes from the Latin name Maius. May and March are the only months whose Polish names derive from Latin. Polish names of the remaining months have Slavic roots.
Read more about the weather and changes in nature in Poland in spring.
What's new in nature in Poland in May
Lilac (bez) is a queen among spring flowers that bloom in May in Poland. In Poland, the most common are purple and white lilacs. It smells awesome but unfortunately, it is very fragile and withers quickly in the home vase. Lilac came to Poland from Turkey through the Balkan Peninsula. For years, an essential part of Polish rural gardens. Blooming usually lasts only up to two weeks so hurry to admire lilac!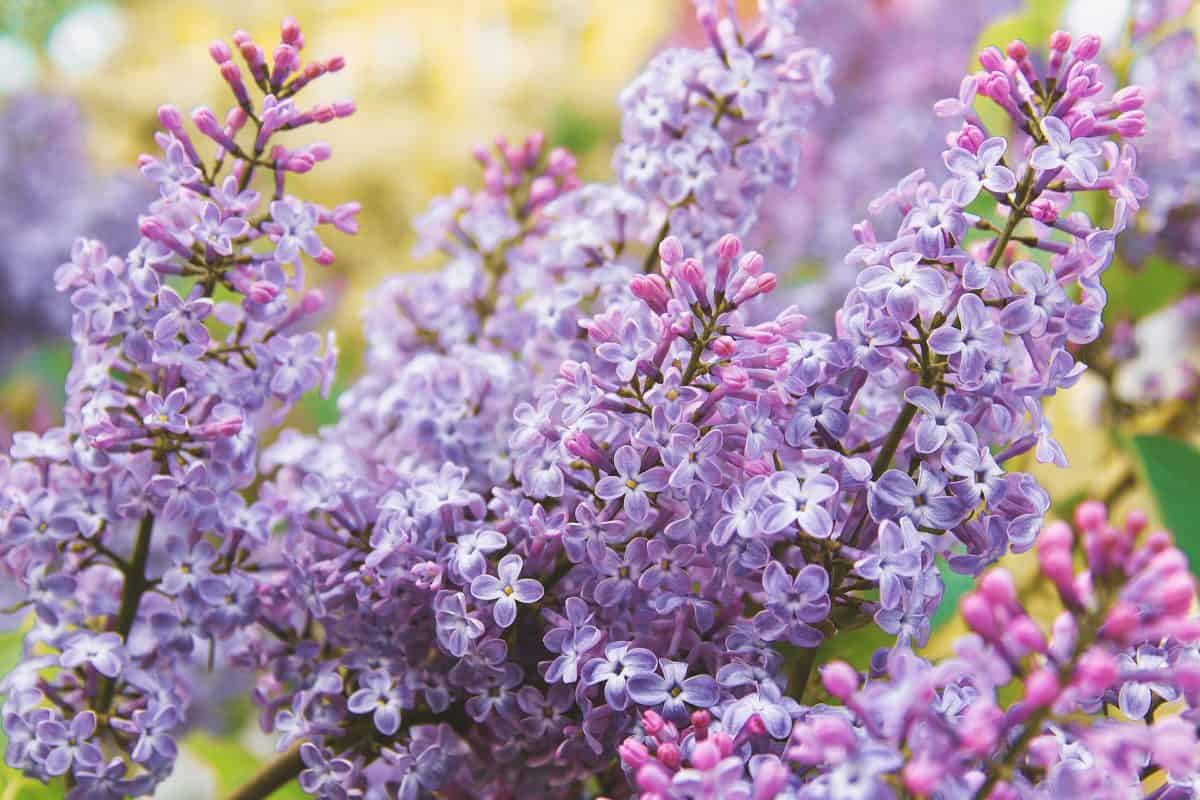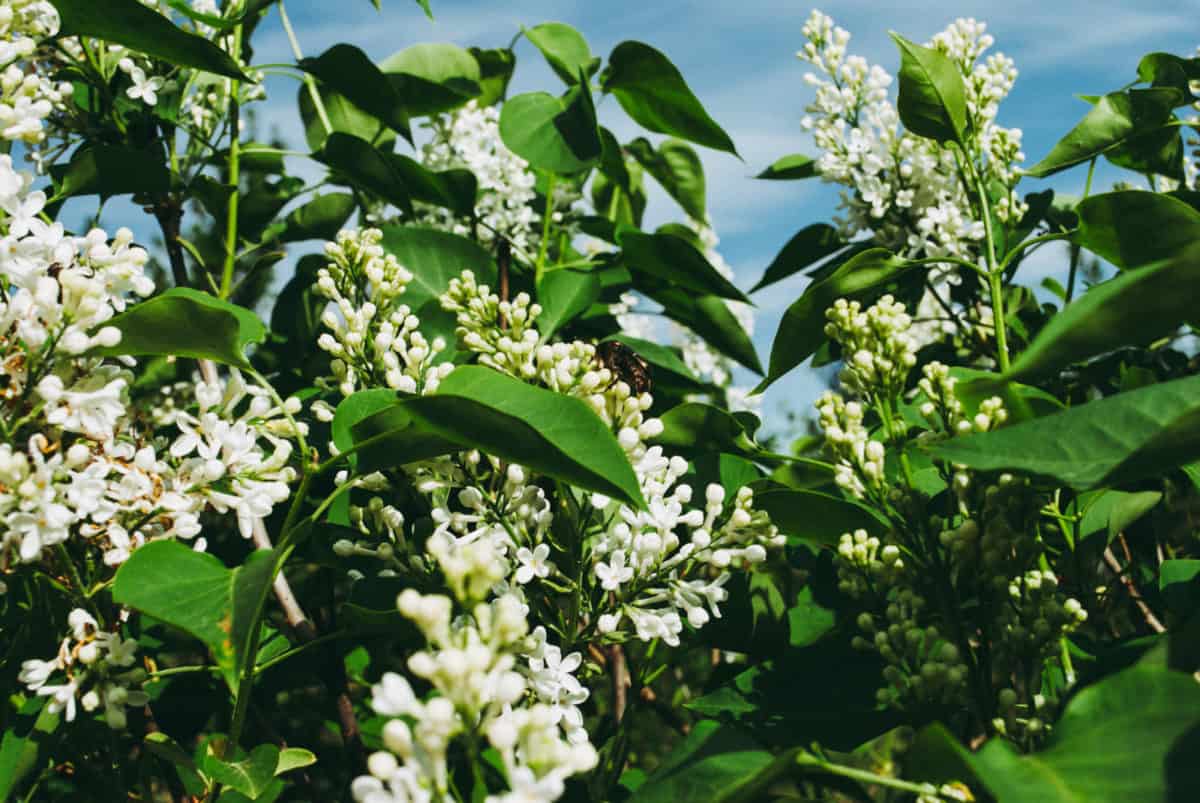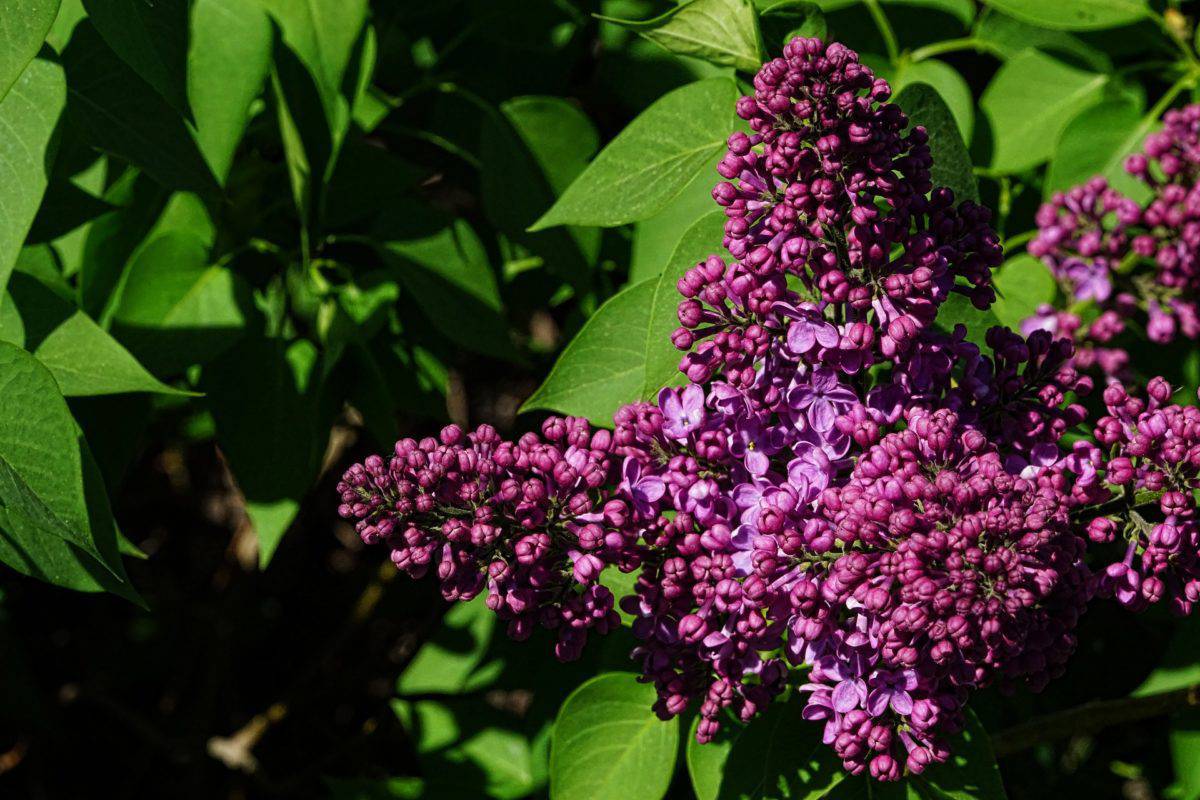 Poland in May turns into an orchard full of blooming fruit trees. It's the time when fruit trees are in fool bloom. Wonderful sakura cherries receive special admiration in Japan, they are the symbol of Japan. In Poland, in the spring, pear, apple, cherry, plum trees bloom. Apple trees, however, dominate in Poland, with their white, slightly pinkish flowers. May also means the start of a busy season for bees!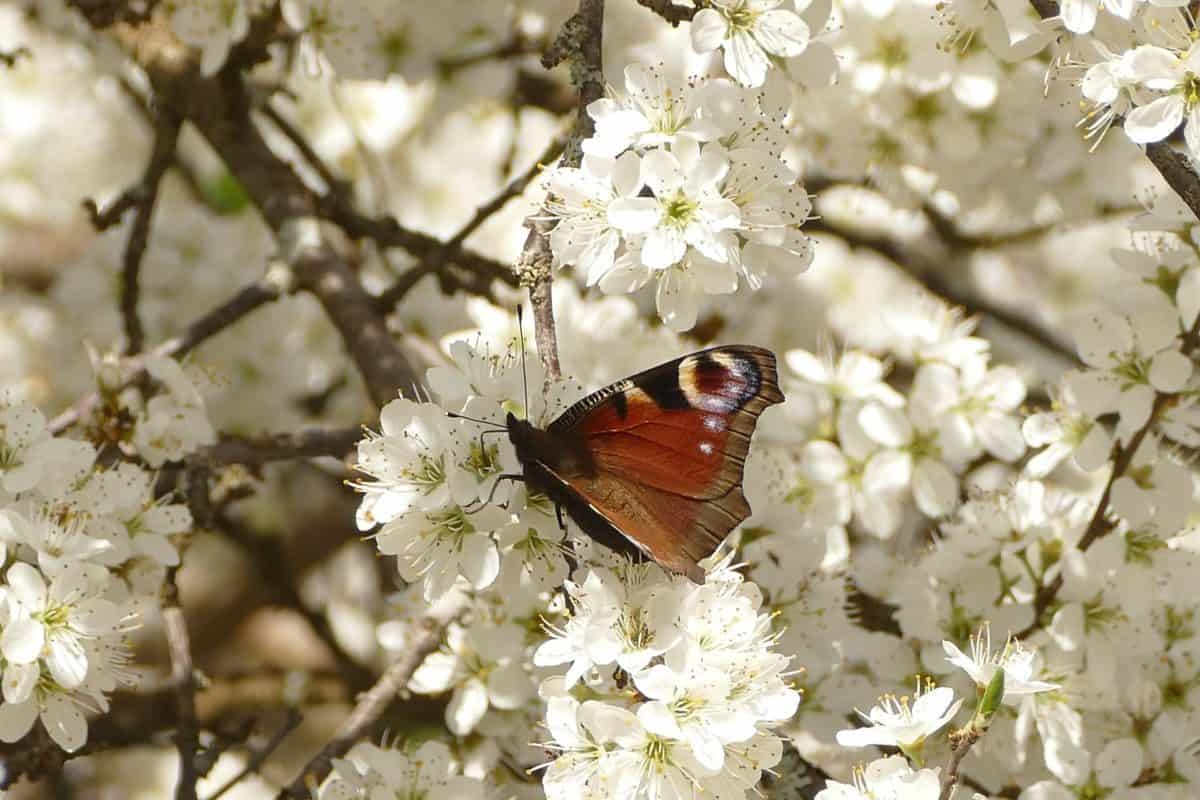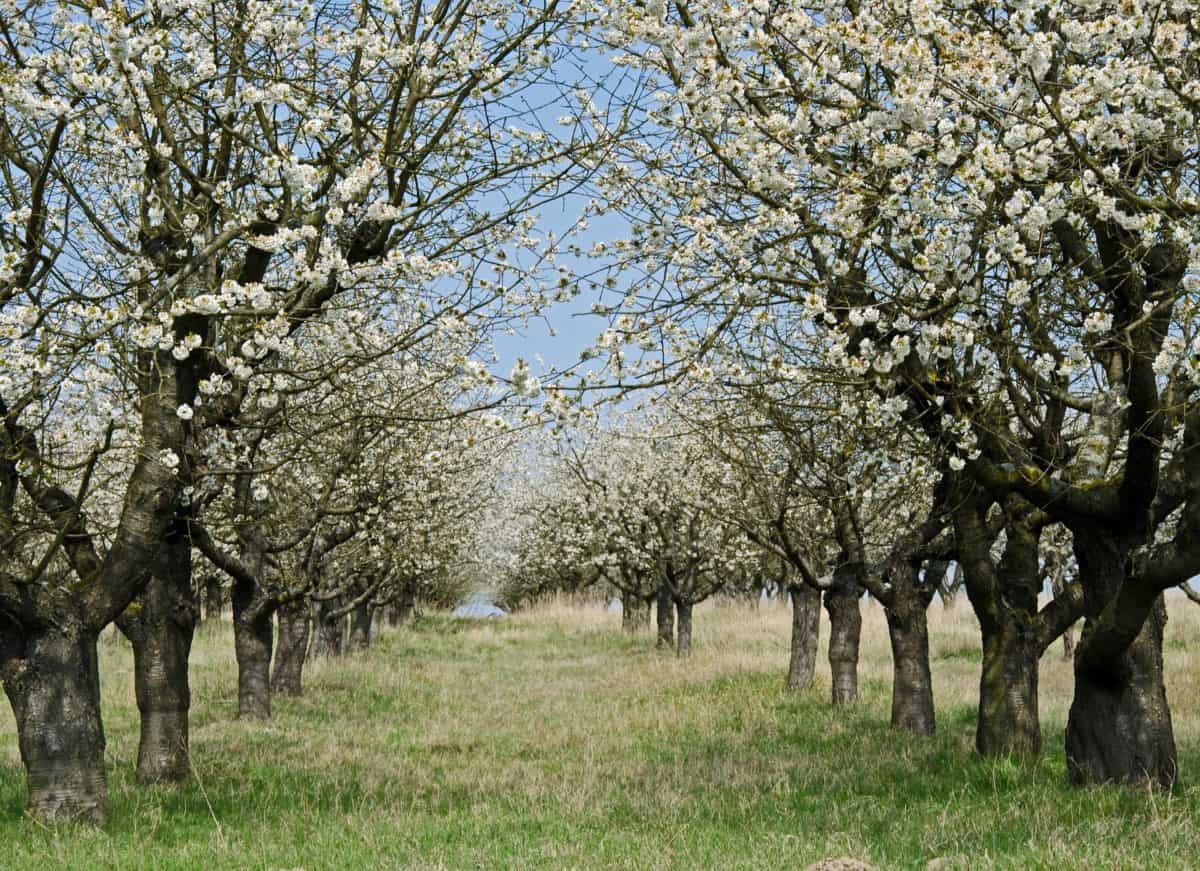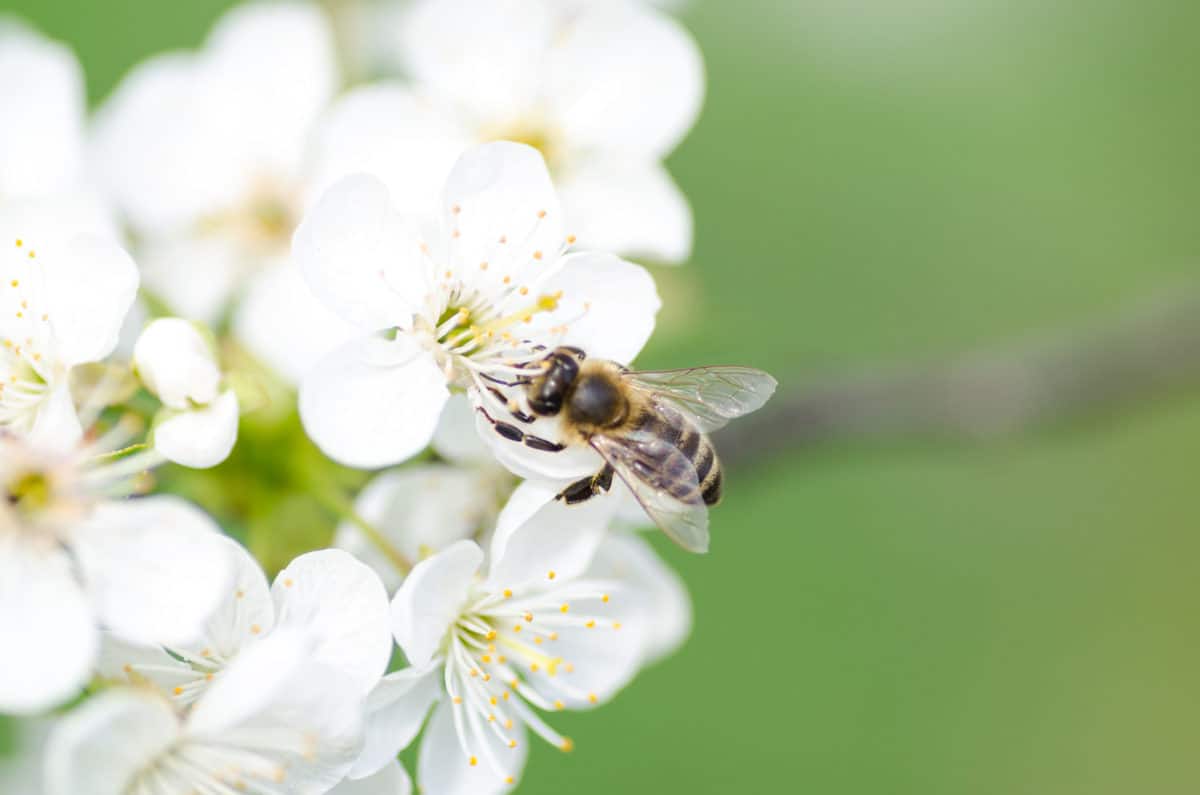 You can't miss pinkish-white cone-shaped flowers of chestnuts (kasztan / kasztanowiec) that have become a symbol of high-school final exams in Poland that take place in May (this year exceptionally in June).
In Poland, chestnuts grow mainly in parks and along roads. It is a huge tree – in Poland, the largest chestnut trees reach about 30 m in height and about 600 cm in the circumference of the trunk. The oldest chestnut in Poland grows in the Wielkopolskie Province and is over 200 years old!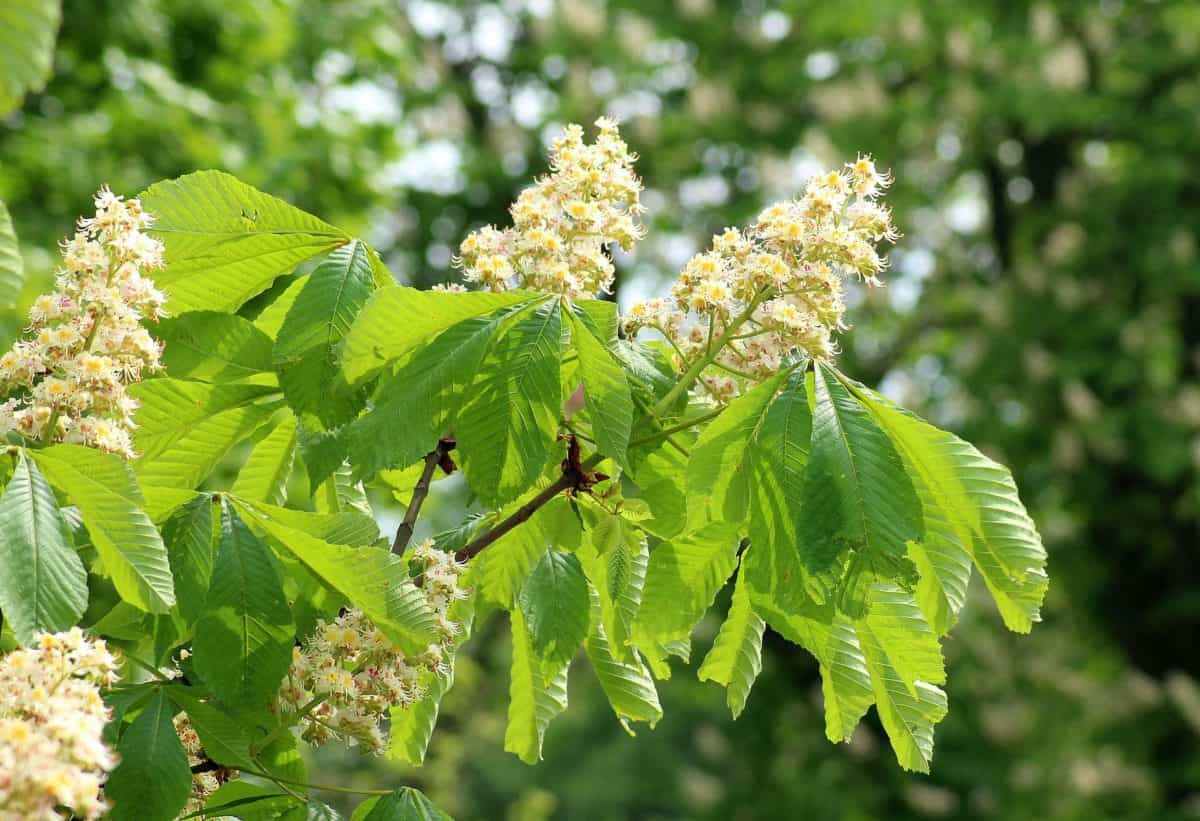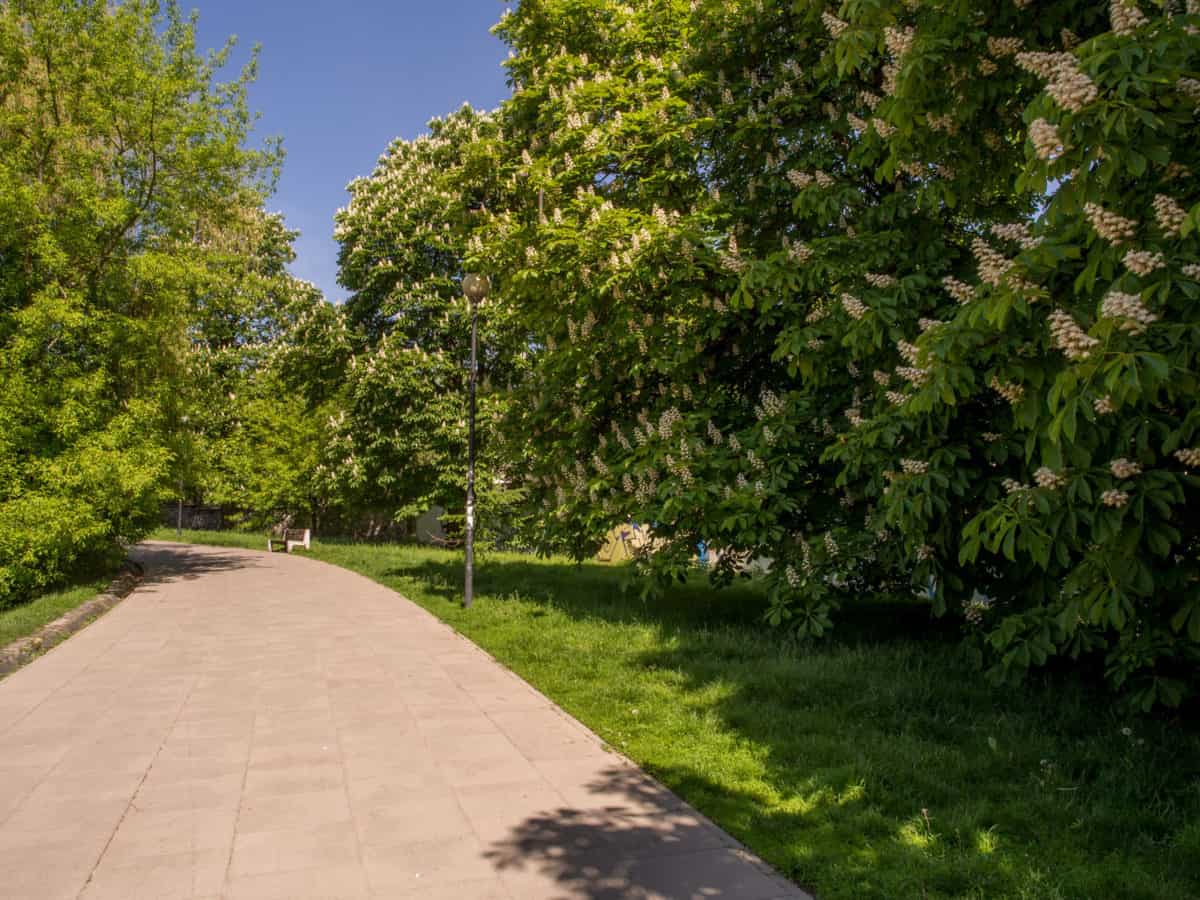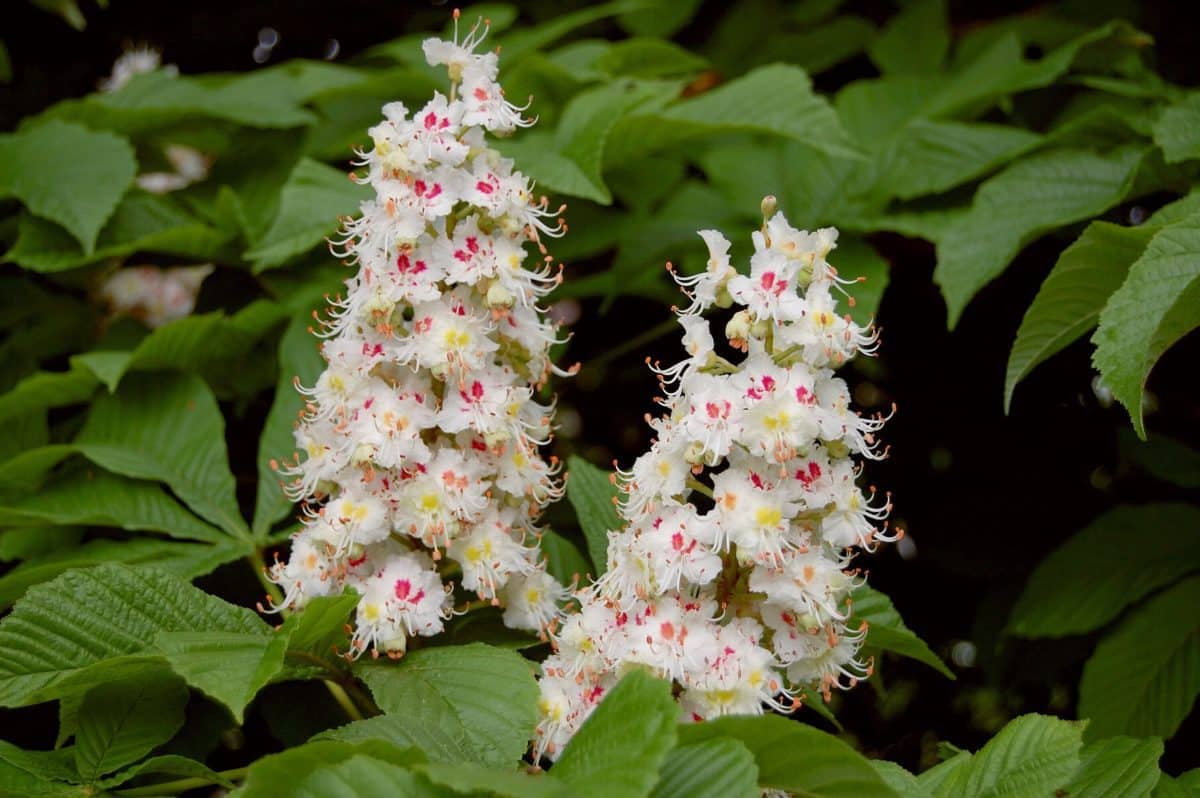 Read more about the weather and changes in nature in Poland in spring.
Sunday trade ban in Poland in May 2020
In May 2020, all Sundays are trade ban Sundays. The next shopping Sunday in Poland is June 28, 2020. Click here to read our post about shopping Sundays in Poland in 2020. Read our post with the list of online stores in Poland delivering groceries to home.
Holidays, observances & celebrations in Poland in May 2020
Labor Day
Bank/public holiday in Poland. Stores are closed. Only some smaller local convenience stores can be open. Stores at gas stations are open every day, 24 h. Usually, in Warsaw and other major cities in Poland, there are political marches to promote workers rights, however, this year due to the COVID-19 lockdown in Poland, all events are prohibited.
Flag Day
Working day (Saturday in 2020). Stores are open. It's a relatively new holiday in Poland (introduced in 2004). You can notice Polish flags in some private windows and balconies as well as displayed in public institutions buildings.
Constitution Day
Bank/public holiday in Poland. The May 3rd Constitution was passed in 1791 and is claimed to be the first written constitution in Europe and second one in the world (after the American one). Usually, the Constitution Day is celebrated with speeches, military parades, picnics, however, this year due to the COVID-19 lockdown in Poland, all events are prohibited.
Mother's Day
It is a day when you call your mum, send her a card, flowers or other gifts. Father's Day in Poland is celebrated on June 23.
Whit Sunday / Pentecost / Zielone Świątki
Bank/public holiday in Poland (always on Sunday anyway). The Day of Descent of the Holy Spirit – Zielone Świątki (Green Holidays). In Poland, some people decorate their homes with branches with green leaves.
COVID-19 regulations and restrictions in Poland
Reopening from May 13: 
Restaurants, bars, cafes, food courts in shopping centers.
Hairdressing salons.
Beauty salons.
Schools, kindergartens, nurseries, universities
Reopening (from May 25) of primary schools (szkoła podstawowa) for children of grades 1-3. Care will be provided for children whose parents decide for their children to go to school (in Polish: świetlica). Depending on the situation in a given school, the headmaster will decide whether the particular school will continue online education or will go back to regular classes at school.
Schools and universities remain closed at least until May 24.
Nurseries and kindergartens may be opened from May 6.
Border control and closure of Polish borders for foreigners extended to June 12
Closure of borders. The list of people who can enter Poland includes:
Polish citizens
Foreigners who are spouses of Polish nationals
Foreigners who are children of Polish nationals
Holders of a Pole's Card (Karta Polaka)
Diplomats and their families
Foreigners who hold the right to permanent or temporary stay in Poland
Foreigners who have a valid work permit
In particularly justified cases, the province/voivodship governor (wojewoda) may grant a foreigner permission to enter Poland.
Changes in COVID restrictions in Poland from May 4 
Hotels are opened 
Hotels are opened.
Shopping centers and construction stores are opened.
Sports facilities are opened.
The ban on libraries and museums is lifted.
The ban on medical rehabilitation is lifted.
Suspension of air transport in Poland 
International and domestic passenger air transport remains suspended until May 23.
All LOT Polish Airlines passenger flights (domestic and international) scheduled until May 31 inclusive are canceled.
Find out more in our post with daily updates on coronavirus regulations and restrictions in Poland.
Subscribe to our monthly newsletters in English to explore Poland and to learn about Poland! Once a month you will receive a Newsletter: 'Explore Poland with Kids'. You will find there featured family-friendly destinations in Poland, handpicked events in selected Polish cities (that may inspire you for a family city break in Poland), dates to remember and things to do in Poland in a given month: