Poland in March: tips for making the most of your spring in Poland
Our Partner of the Month: Akademeia High School
Sign up for Online Recruitment Weekend! 
Online Recruitment Weekend on 20-21 March 2021 is open to students applying for Years 9 and 12.
Our admissions process was created with the aim of uncovering the academic knowledge and talents held by each individual student. Through the assessment process, we can better understand how these talents may be developed, enriched, and employed in propelling students along the educational pathway to which they are most suited.
Learn more and register!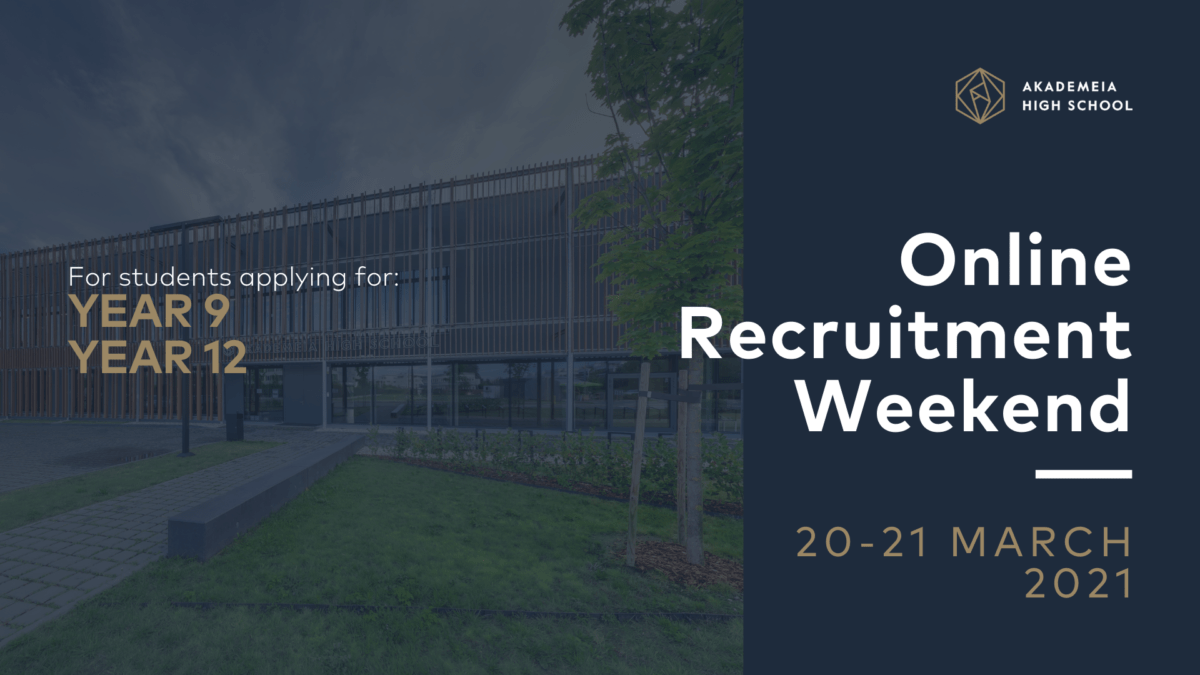 Things to do in Poland in March: re-opened science museums, castles to visit, zoos
Most of the tourists attractions in Poland re-opened in February or earlier. Find out more in our posts and find something interesting for yourself:
Where to ski in Poland
Ski slopes in Poland have been reopened since mid-February. With as much snowfall as this year, skiing in Poland is also possible in March (although technically spring starts in March). Most of the slopes have ski, snowboard, and helmet rentals so you don't need to invest in ski equipment, e.g. if you want to learn skiing and see if you like the sport. On the websites of the slopes you will usually find contacts to ski schools. It's worth calling in advance and booking a lesson with an instructor in advance.
We have compiled information about local small ski resorts within a relatively short distance from the biggest cities in Poland. They are perfect for children and adults who want to learn skiing or if you want to have a weekend ski break in Poland.
The post covers also some of the most popular ski resorts in Poland for those who are looking for more advanced ski runs.
Our post Skiing in Poland includes information about the ski slopes in the area of Zakopane, Poznań, Warsaw, Tri-City: Gdańsk, Gdynia, Sopot, Wrocław, Katowice, Łódź, and Kraków.
Weather in Poland in March
Although March is technically the beginning of spring (the astronomical first day of spring falls on March 20), it's usually still cold in Poland and the weather changes often – one week you feel as if spring is just around the corner, and next week there is snow and frost. You can have all kinds of weather in March in Poland. There is an old Polish proverb that says 'W marcu jak w garncu', meaning 'March is like a pot' (we can have anything).
Average monthly temperature in March in Poland is 3,2°C / 37.8°F, average monthly rainfall level is 37,5 mm (the third lowest after February and April).
Read more about the weather and changes in nature in Poland in spring.
Time change in Poland in March
Time change (zmiana czasu), March 28, 2021
On Sunday, March 28 2021 at 02:00 am clocks are turned forward 1 hour to 03:00 am. The European Union lawmakers decided to end the twice-a-year (March and October) custom of time changes throughout the European Union, leaving member states the freedom to decide their standard time. The national governments have yet to take a stance – the coronavirus pandemic has pushed the issue of changing the time into the background.
The next time change in Poland – October 31, 2021.
Click here to learn more about time change in Poland.
Shopping Sunday and trade ban Sundays in Poland in March 2021
In March 2021, there is one shopping Sunday in Poland: March 28. March 7, 14, and 21 are trade ban Sundays in Poland.  Click here to read our post about shopping Sundays in Poland in 2021.
Dates to remember in Poland in March 2021
March is one of the few months when there is no public/bank holiday in Poland (in 2021, Easter holidays fall on April 4-5).
Women's Day (Dzień Kobiet)
The tradition of Women's Day is not as popular as during communism time in Poland, but still, women usually get flowers or other gifts.
Men's Day (Dzień Mężczyzny)
In Poland, Boy's Day and Men's Day are celebrated – Boy's Day (September 30) is a much more popular holiday than Men's Day.
St. Patrick's Day (Dzień Świętego Patryka)
Poland also celebrates St. Patrick's Day – people wear green, there are parades, festivals, concerts.
Truant's Day / Skip Day (Dzień Wagarowicza)
The first day of spring (in 2021, the first day of astronomical spring falls on March 20). The old Polish folk tradition of the first day of spring is to drown Marzanna (a straw figure of a woman symbolizing winter) in the nearest river (nowadays mostly in rural areas and by children at schools). For children, the first day of spring is a Truant's Day / Skip Day (Dzień Wagarowicza). Some students skip classes but usually, it's just a special fun day at school – students dress up in a funny way, schools organize competitions and games, there are no tests on this day. Click here to read more about the weather in Poland in spring.
Time change (zmiana czasu)
On Sunday, March 28 2021 at 02:00 am clocks are turned forward 1 hour to 03:00 am. Click here to learn more about time change in Poland.
Palm Sunday (Niedziela Palmowa)
It starts the Easter celebrations. There are processions around the church to commemorate the day Jesus entered Jerusalem. People bring "palms" (palmy wielkanocne) made of paper flowers, dried flowers, and twigs. Click here to learn more about Easter traditions in Poland.
Read more about public holidays and dates to remember in Poland in spring 2021.
Things you can't miss in Poland in March
Take a walk to the park in search of the first signs of spring
Nature starts slowly to come back to life in March. You may notice first flowers blooming: white snowdrops (przebiśnieg) and yellow, white or purple crocuses (krokus). Another symbol of early spring in Poland – willow twigs with buds (bazie). You may notice them in almost every park in Poland or buy a willow twigs bunch at any florist or shopping market.
Willow twigs (bazie)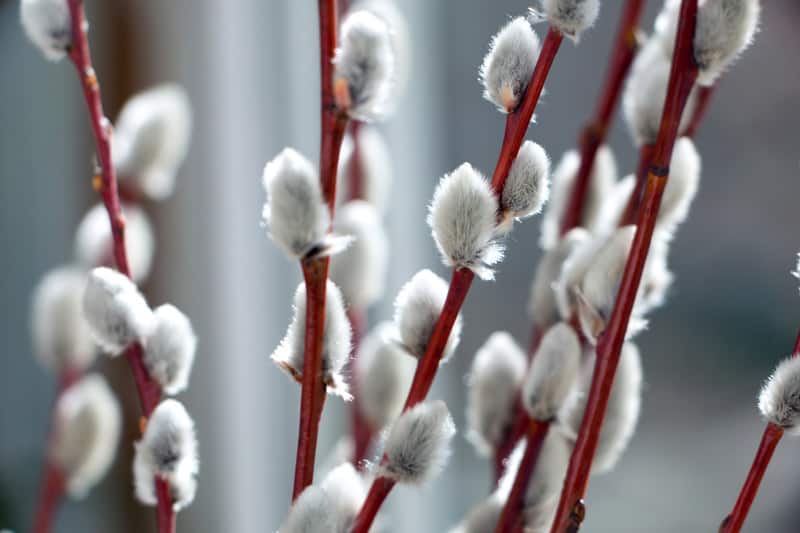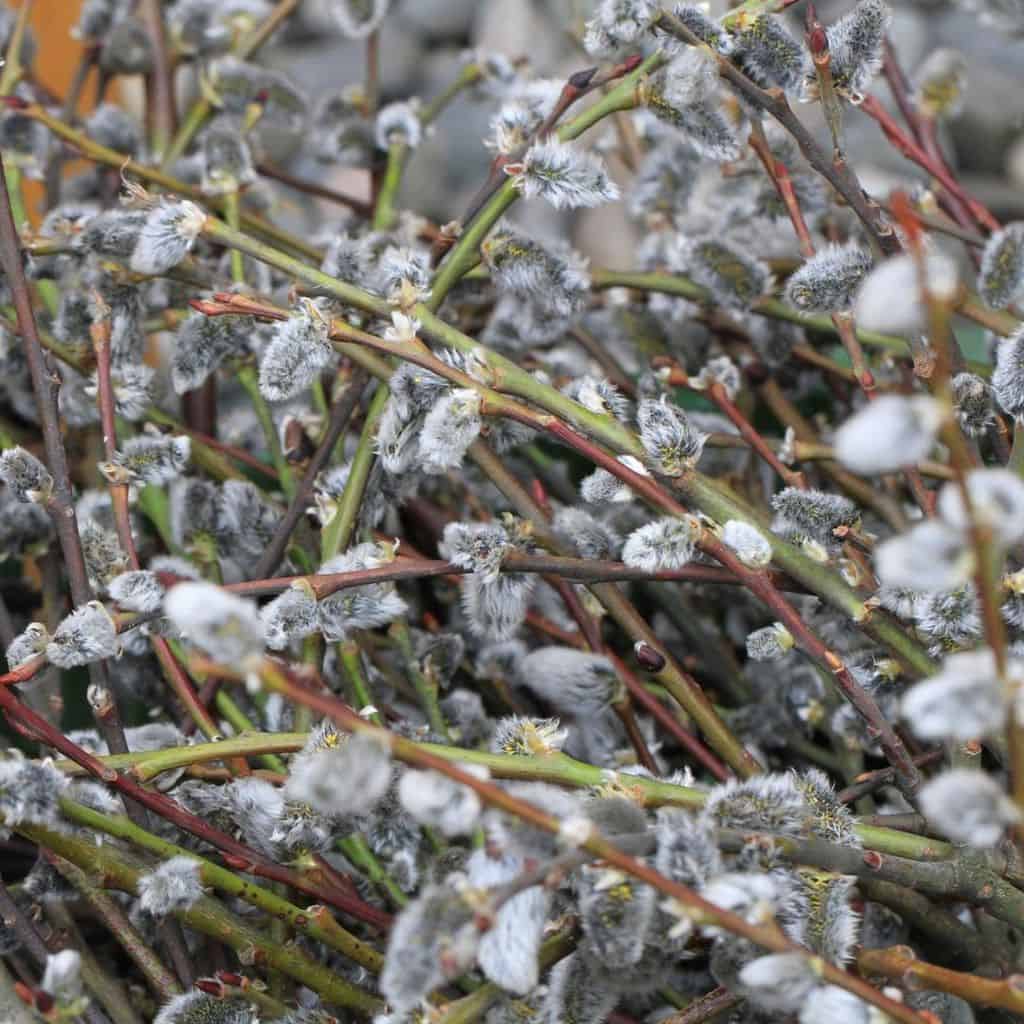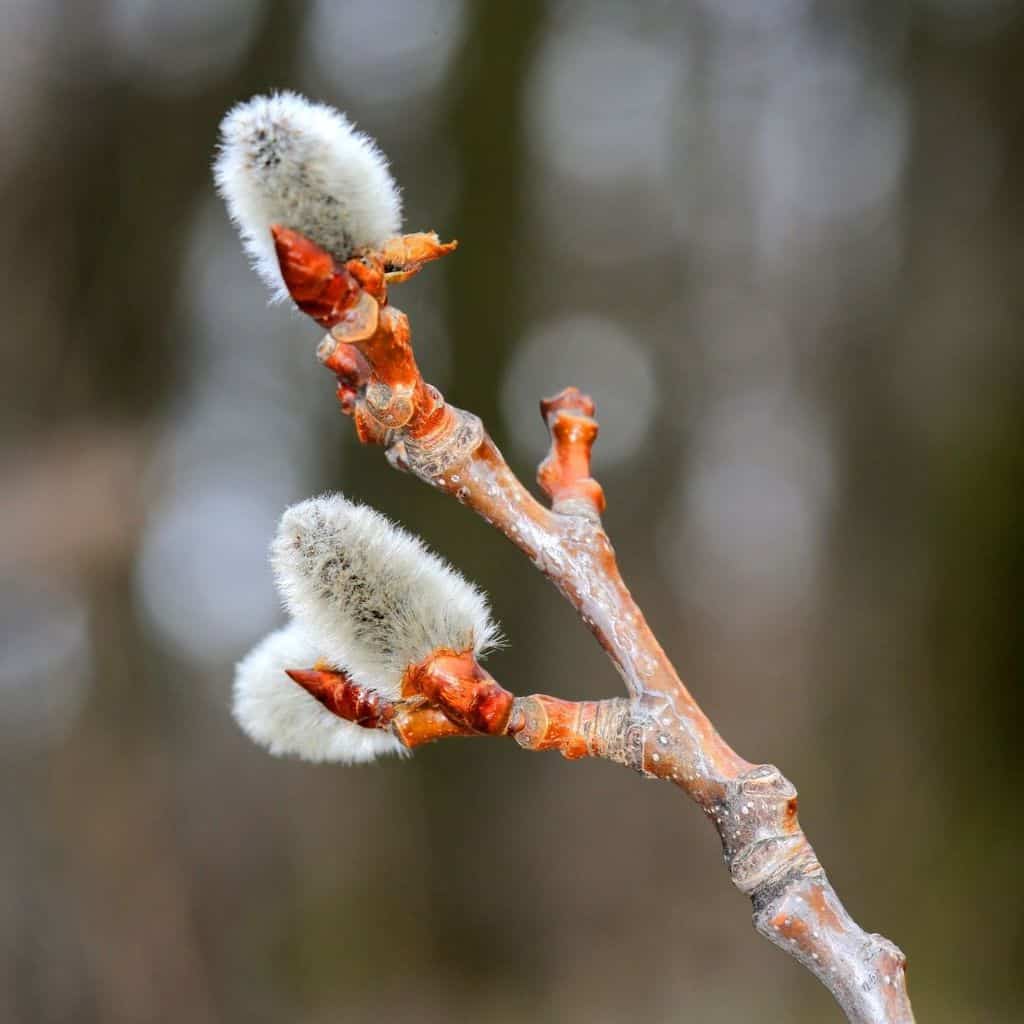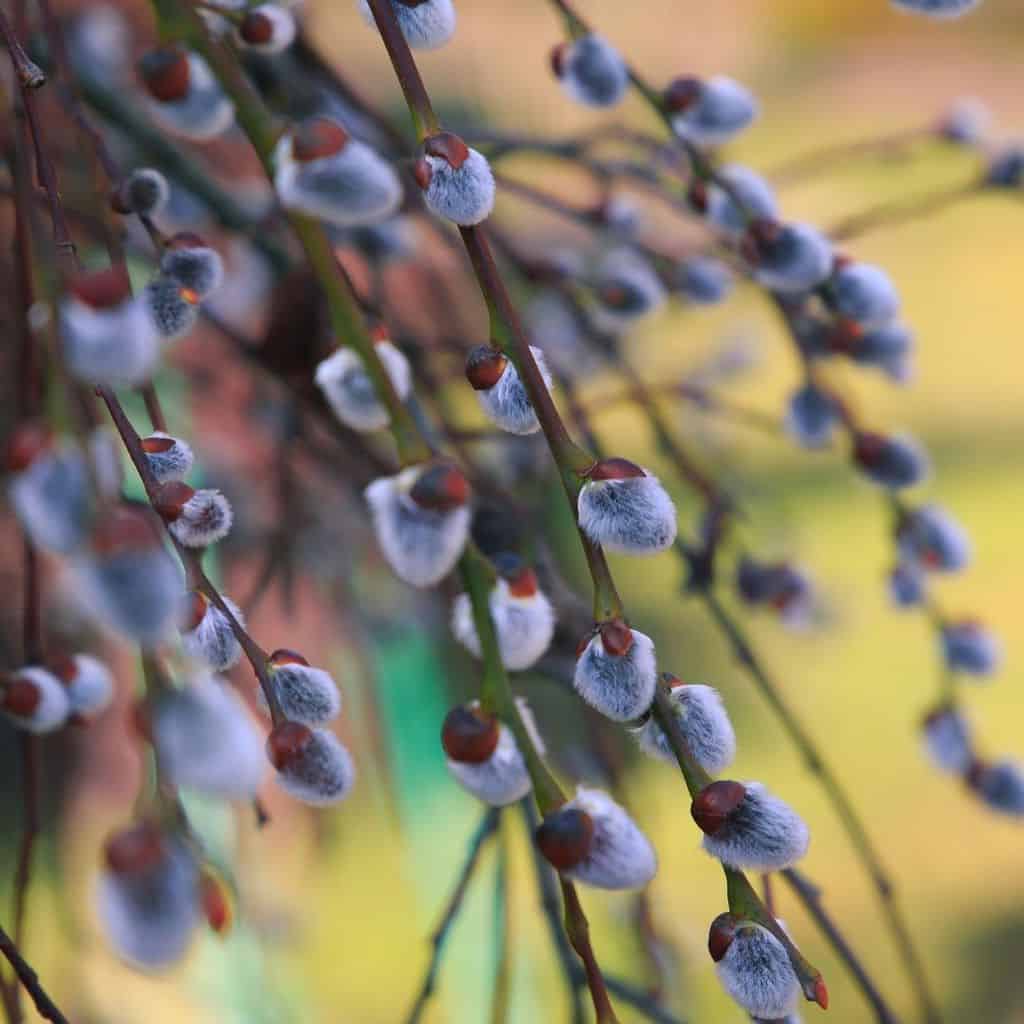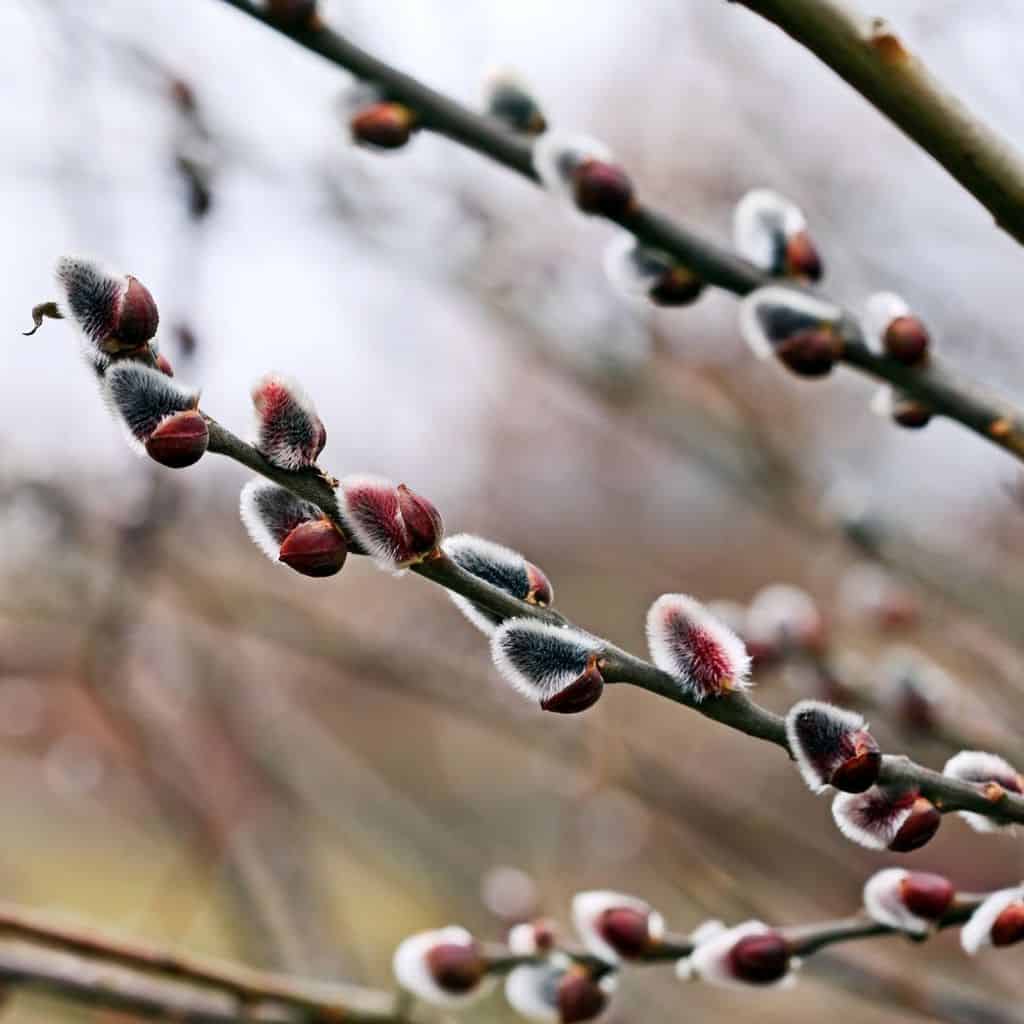 Snowdrops (przebiśniegi)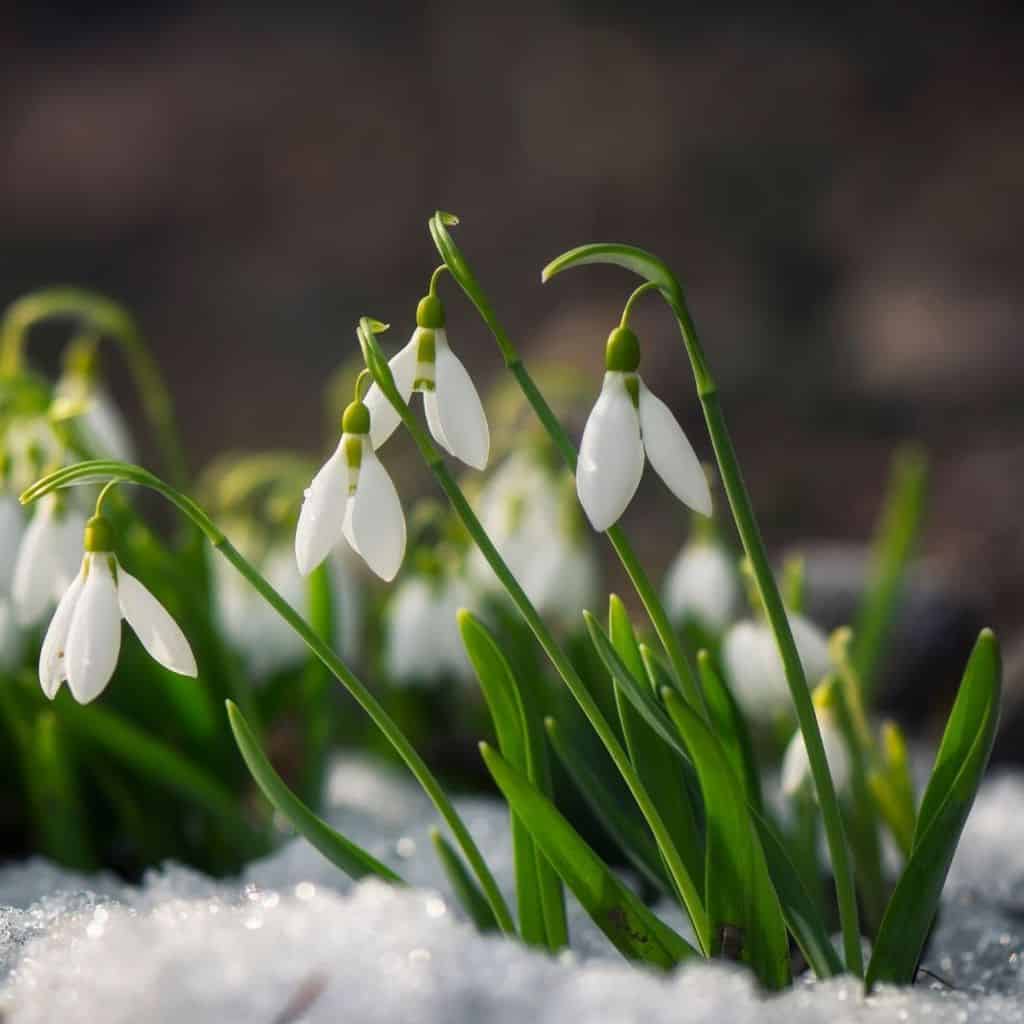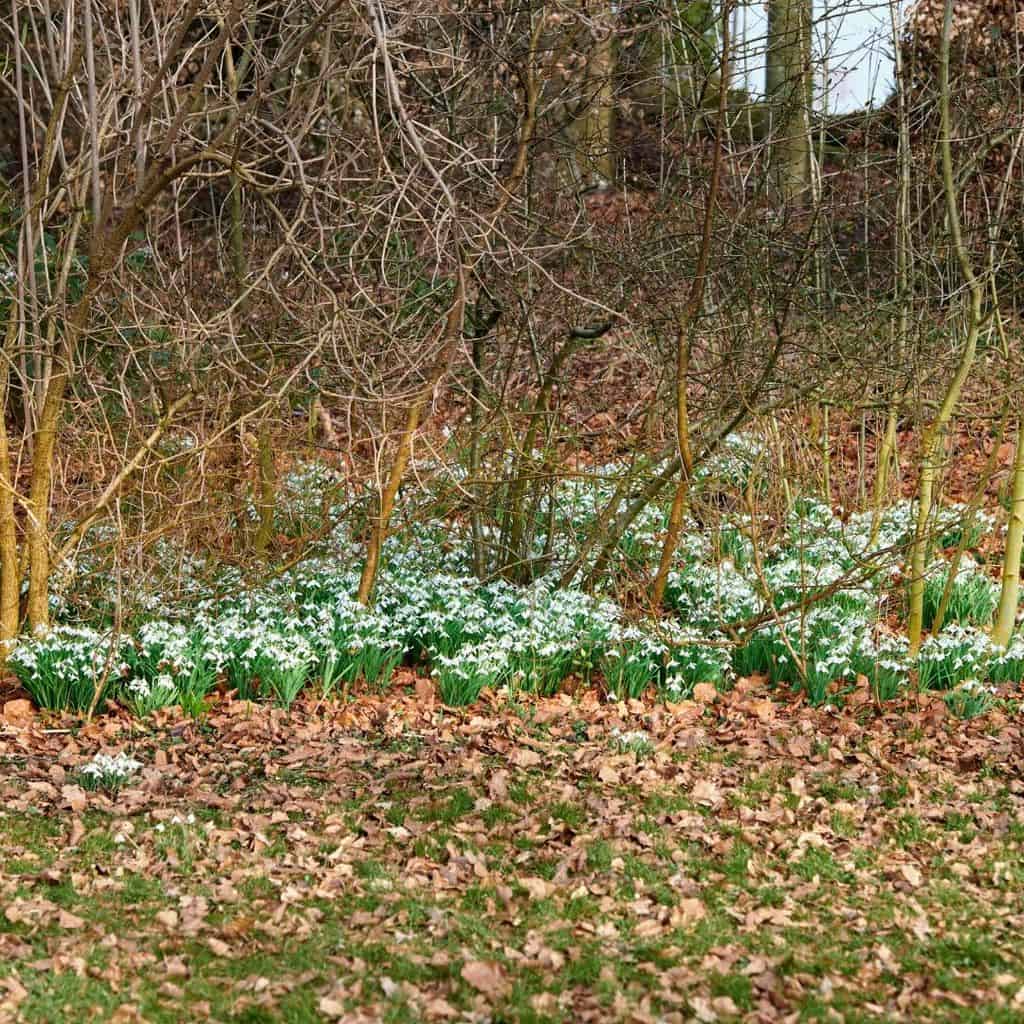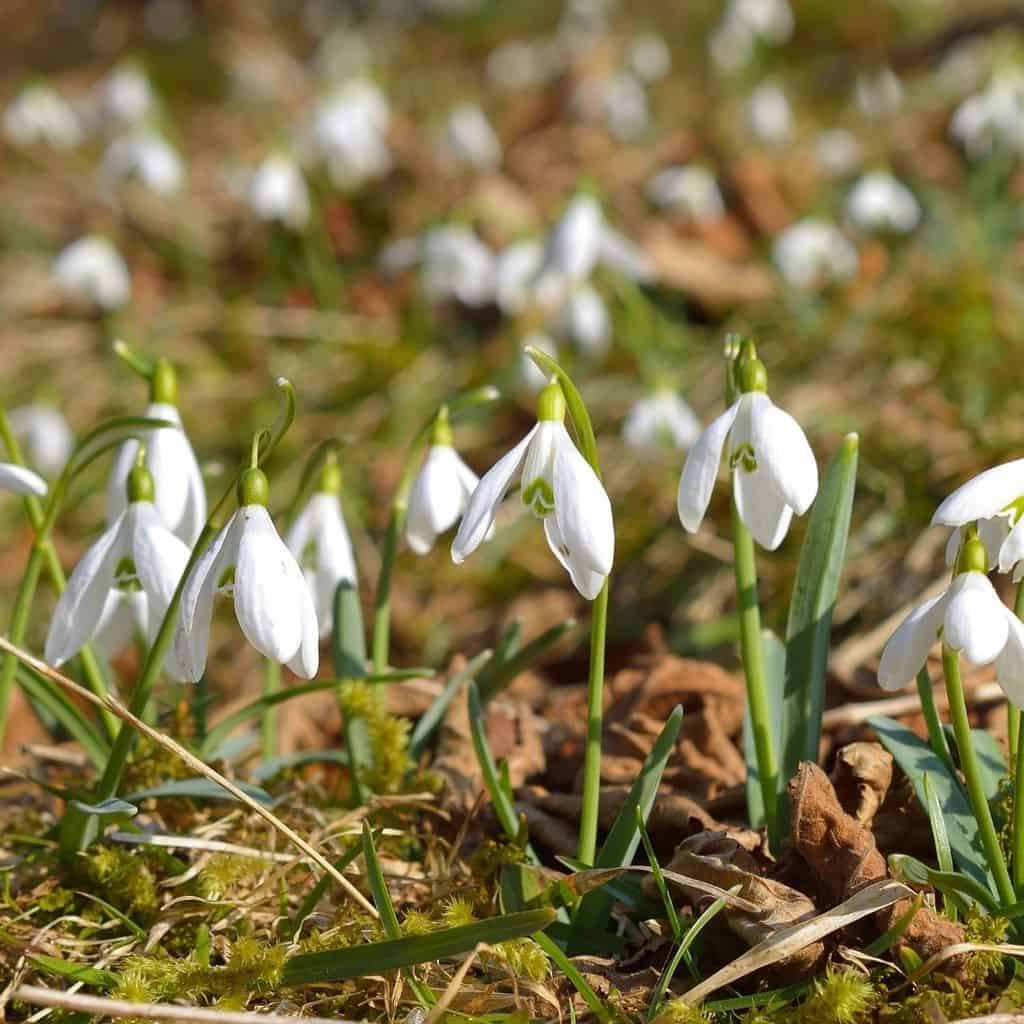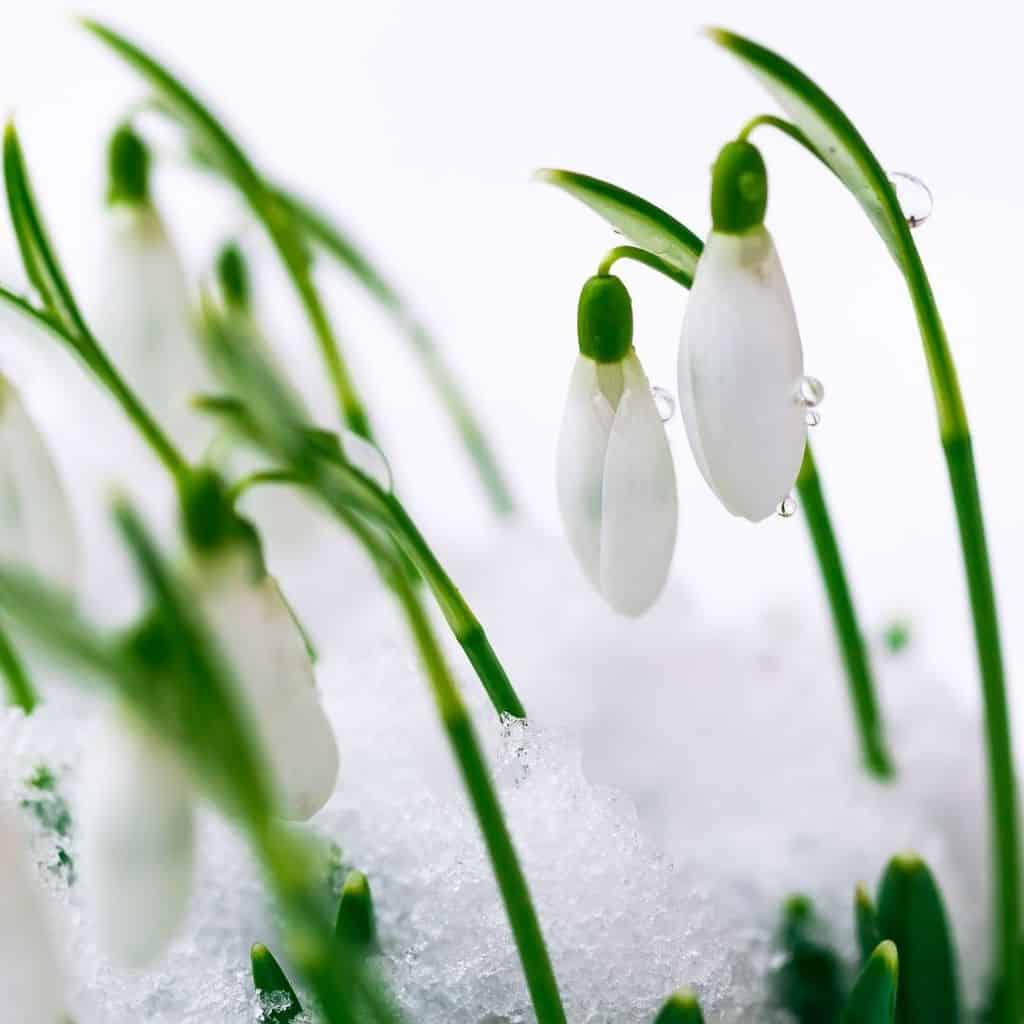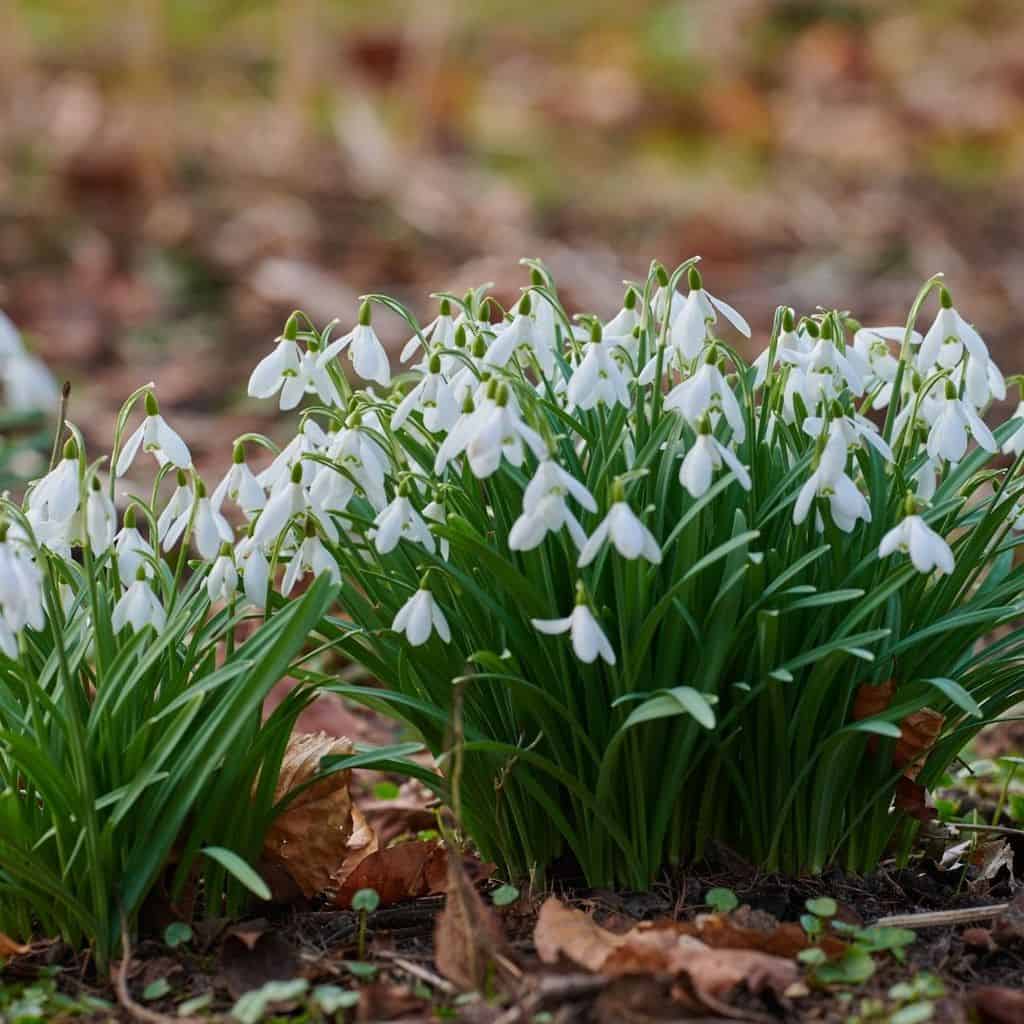 Crocuses (krokusy)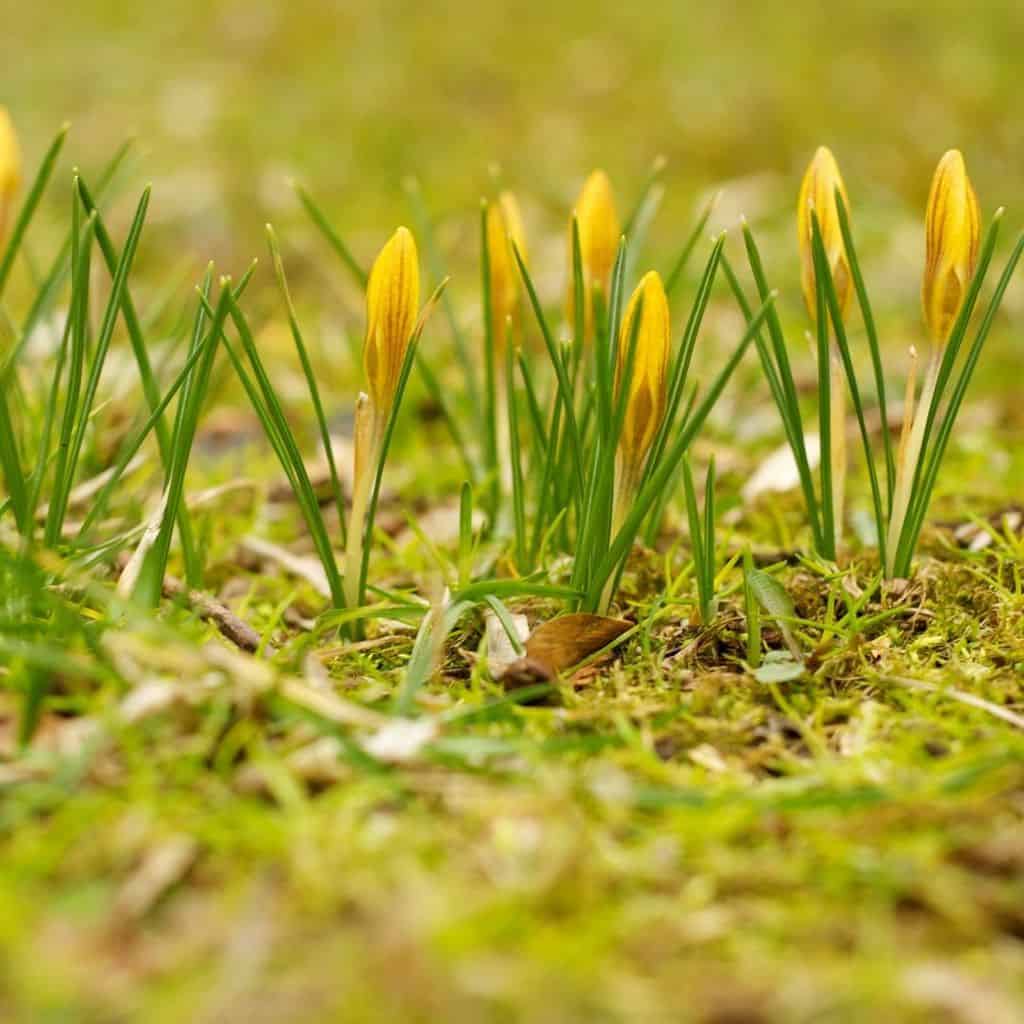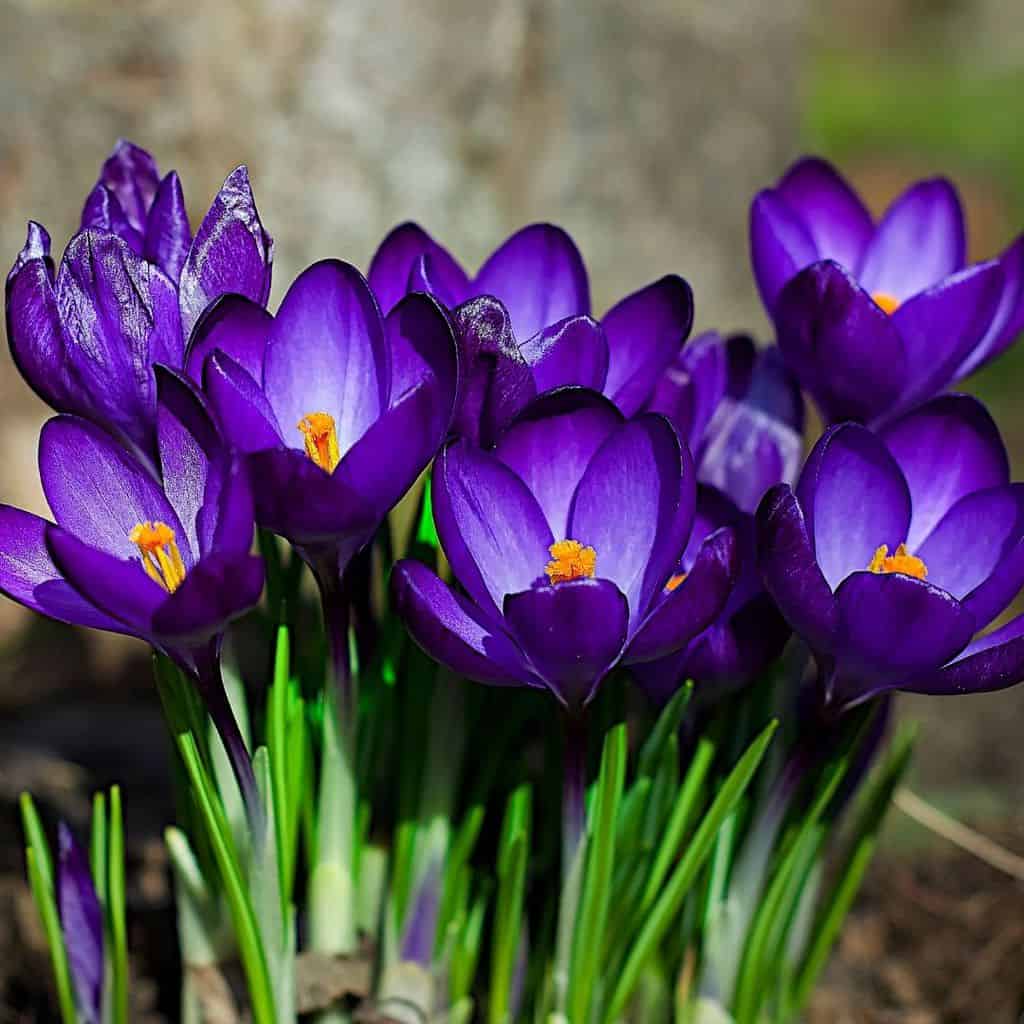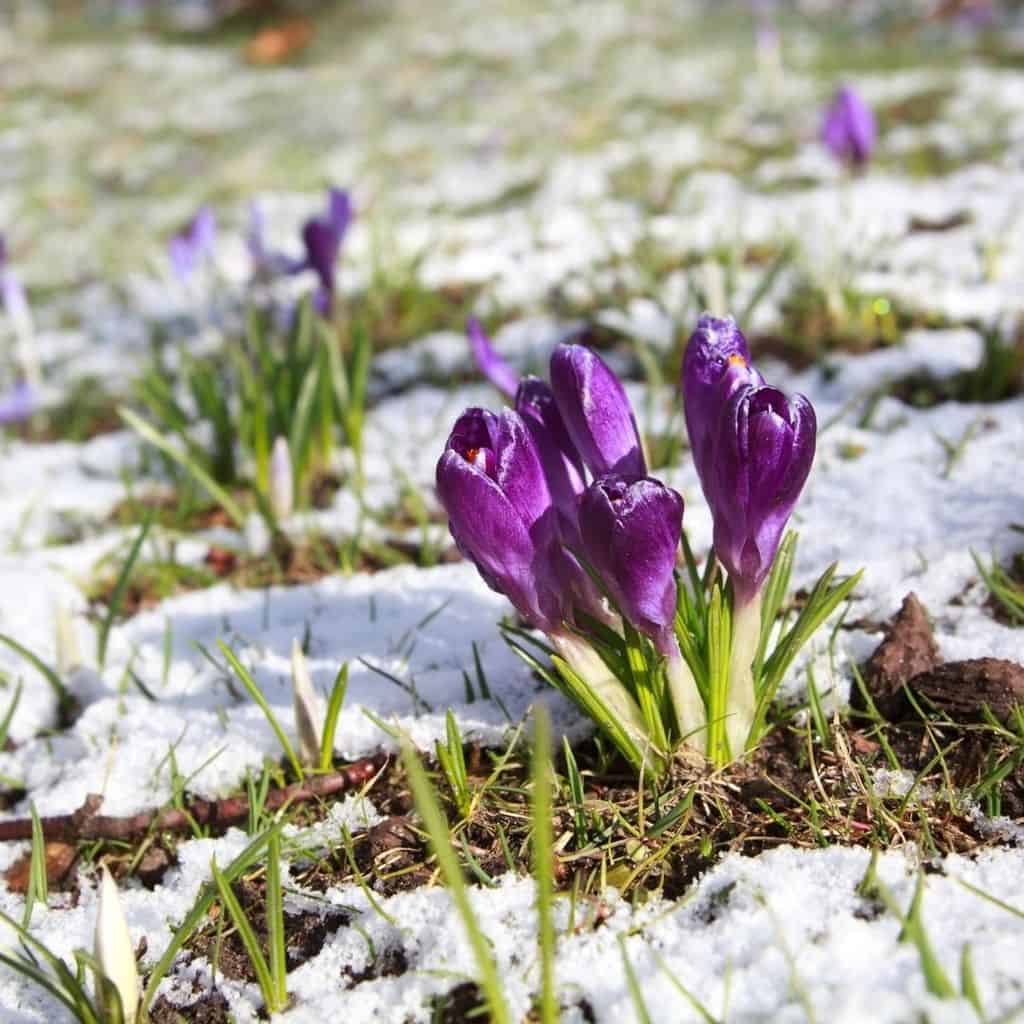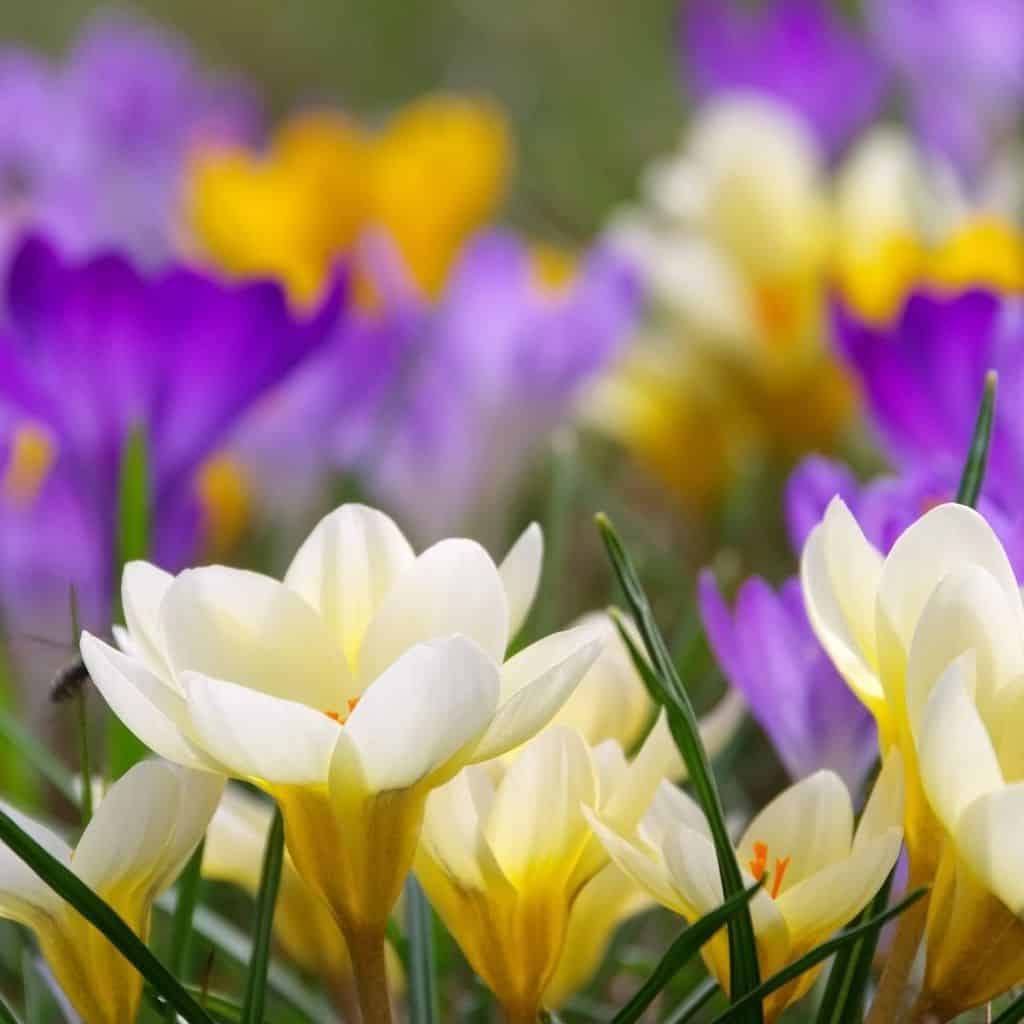 Remember an important Polish word of the spring glossary – nowalijki
After months of winter vegetables, spring in Poland welcomes us with the first fresh local treasures. In Polish, they have a special name – nowalijki – bringing something new; early vegetables. Nowalijka (singular) means young vegetable available for sale in spring for the first time.
Currently in Poland, if you fancy a radish or tomato in the middle of winter – no problem, you can buy fresh tomatoes imported, for example, from Italy. But not so long ago, during the communist era, before 1989, only local products were available in Poland (by the way, now all over the world we are trying to return to eating mainly local vegetables and fruit). You can imagine what the joy it was to see the first fresh green vegetables (nowalijki) after eating winter root vegetables and frozen or canned veggies for months!
Now, Polish greenhouse vegetables are available from March, while Polish vegetables grown in the field are available for sale at the turn of May and June. Polish nowalijki include, among others, lettuce, radishes, young carrots, chives, watercress, parsley.
Don't miss them! Some of the vegetables come and go quickly, so make the most of them while they last.
Our post Spring vegetables in Poland includes info about 6 springtime vegetables you must try while they are in season in Poland: sorrel (szczaw), kohlrabi / cabbage turnip (kalarepa or kalarepka), rhubarb (rabarbar), cress (rzeżucha), botwina beetroot, asparagus (szparagi).
This is what classic Polish sandwiches with spring vegetables (nowalijki) look like: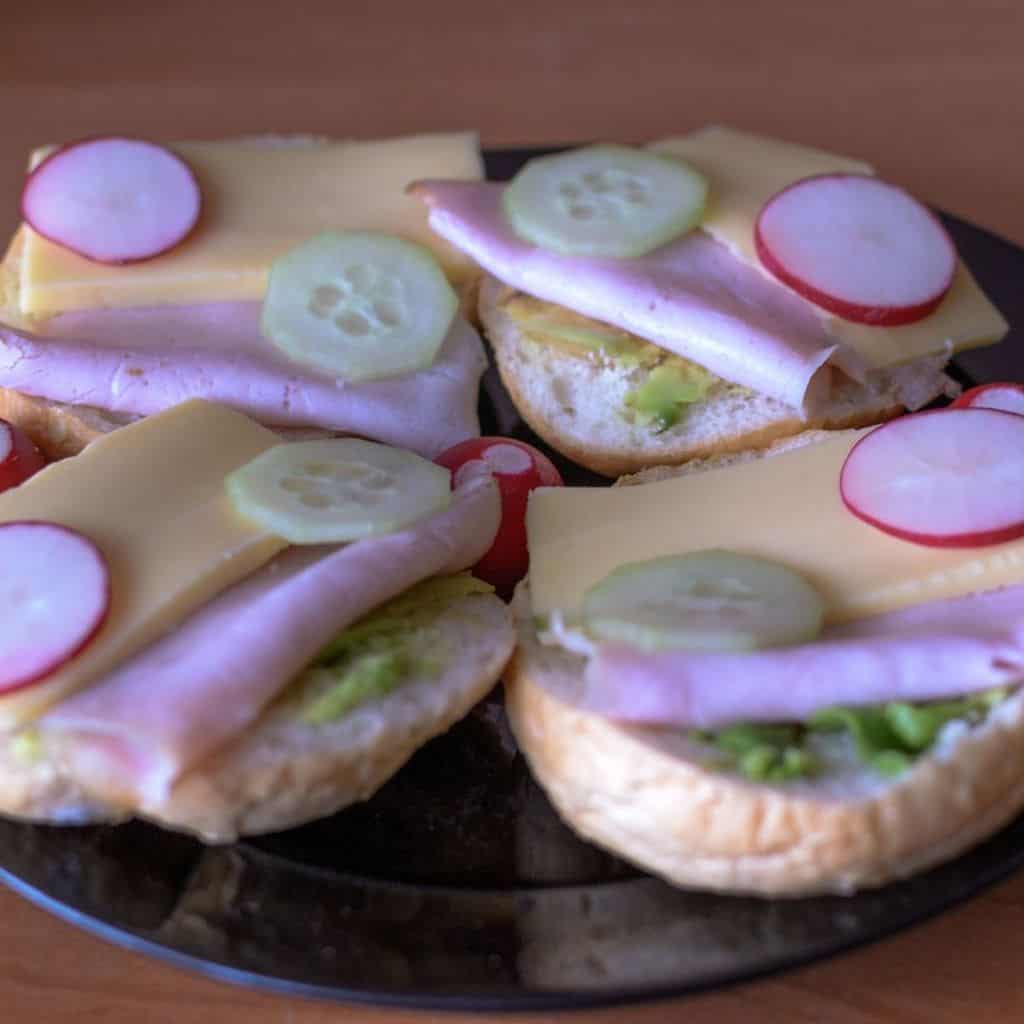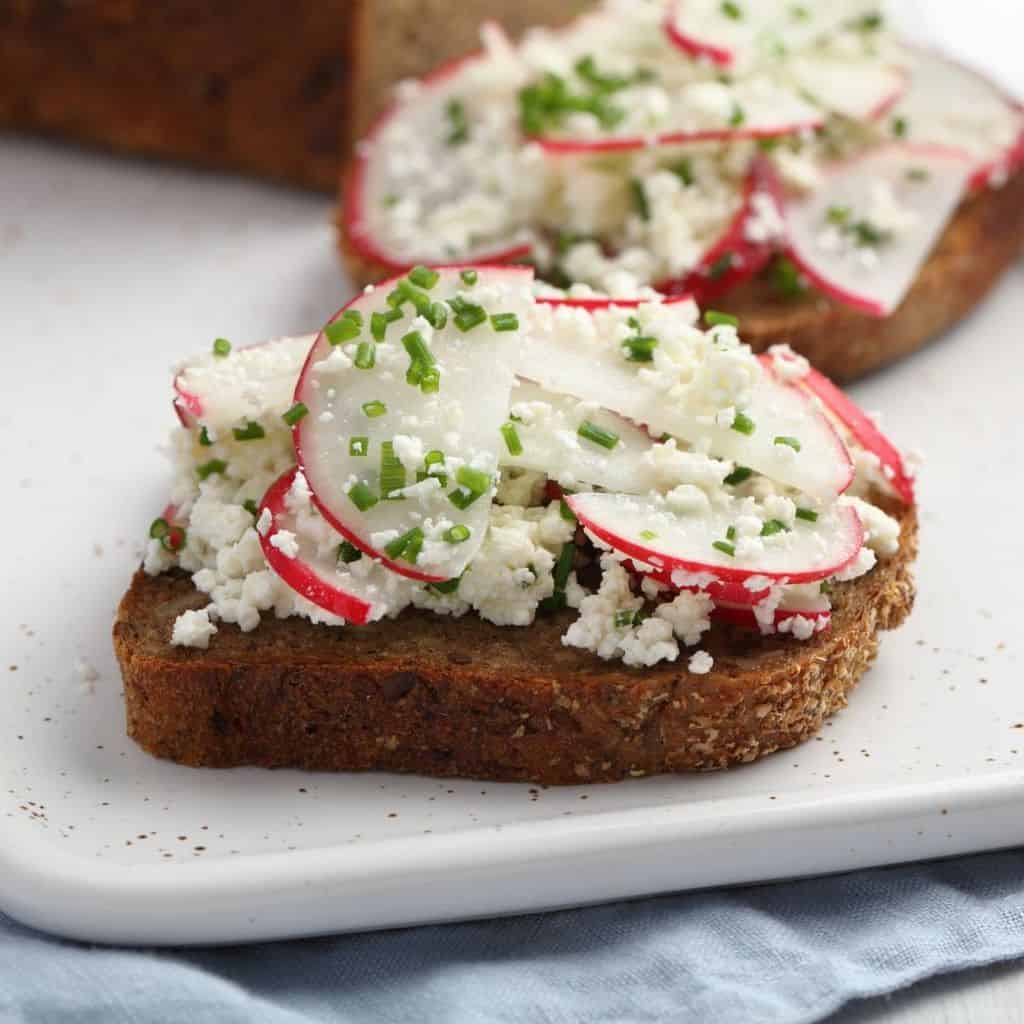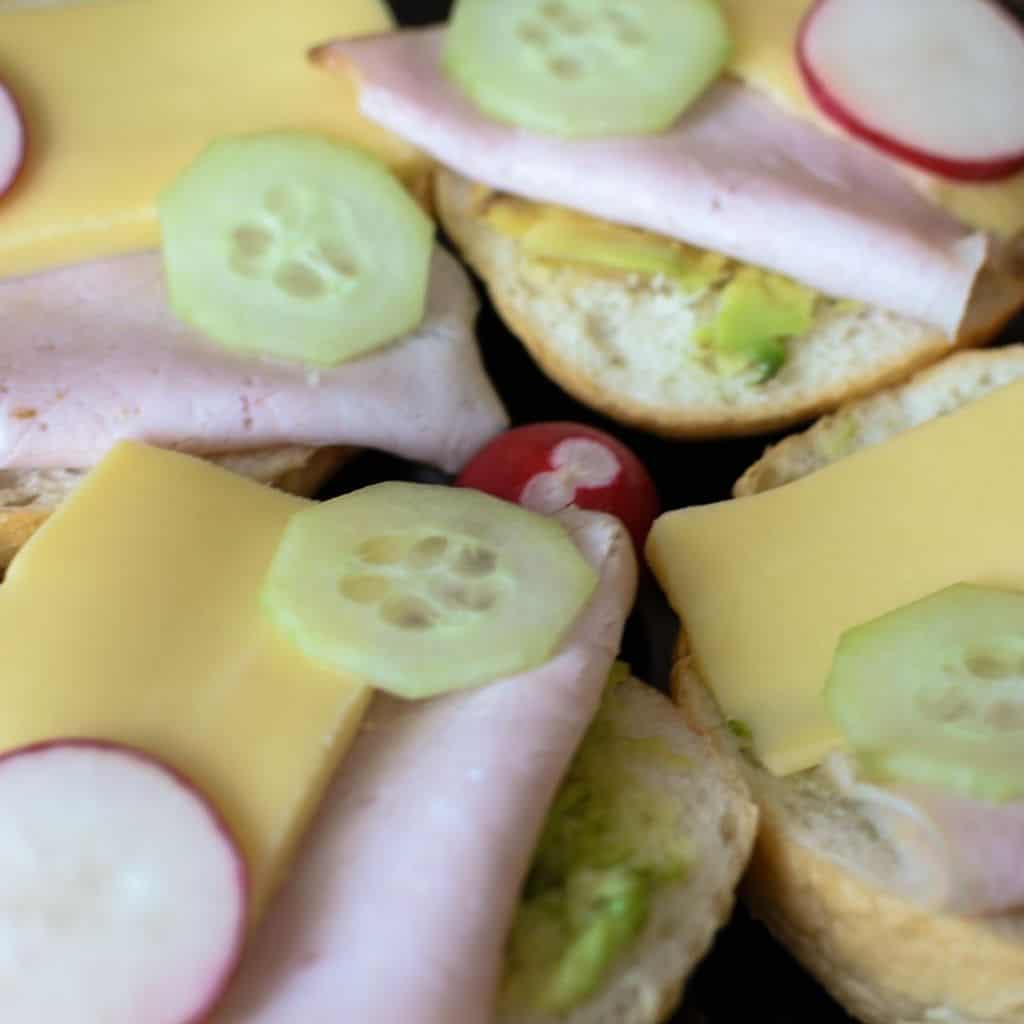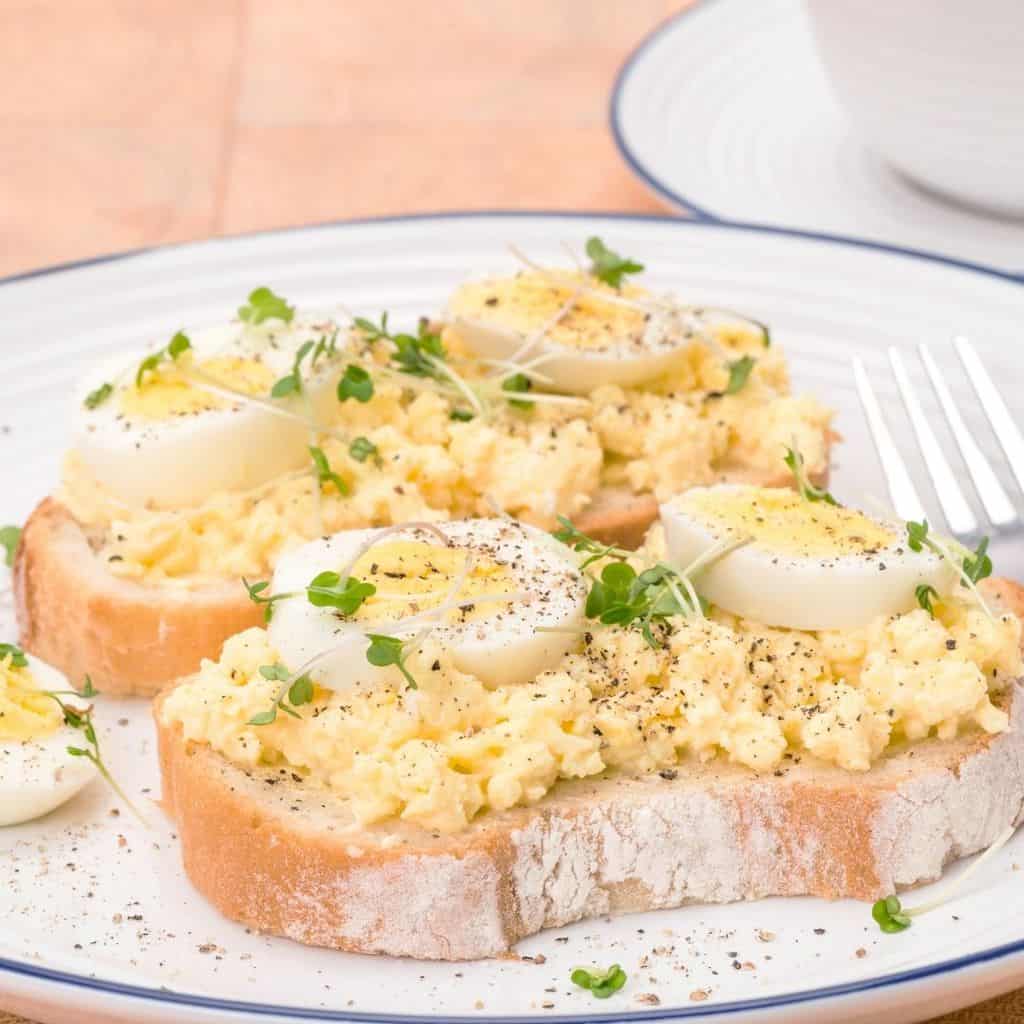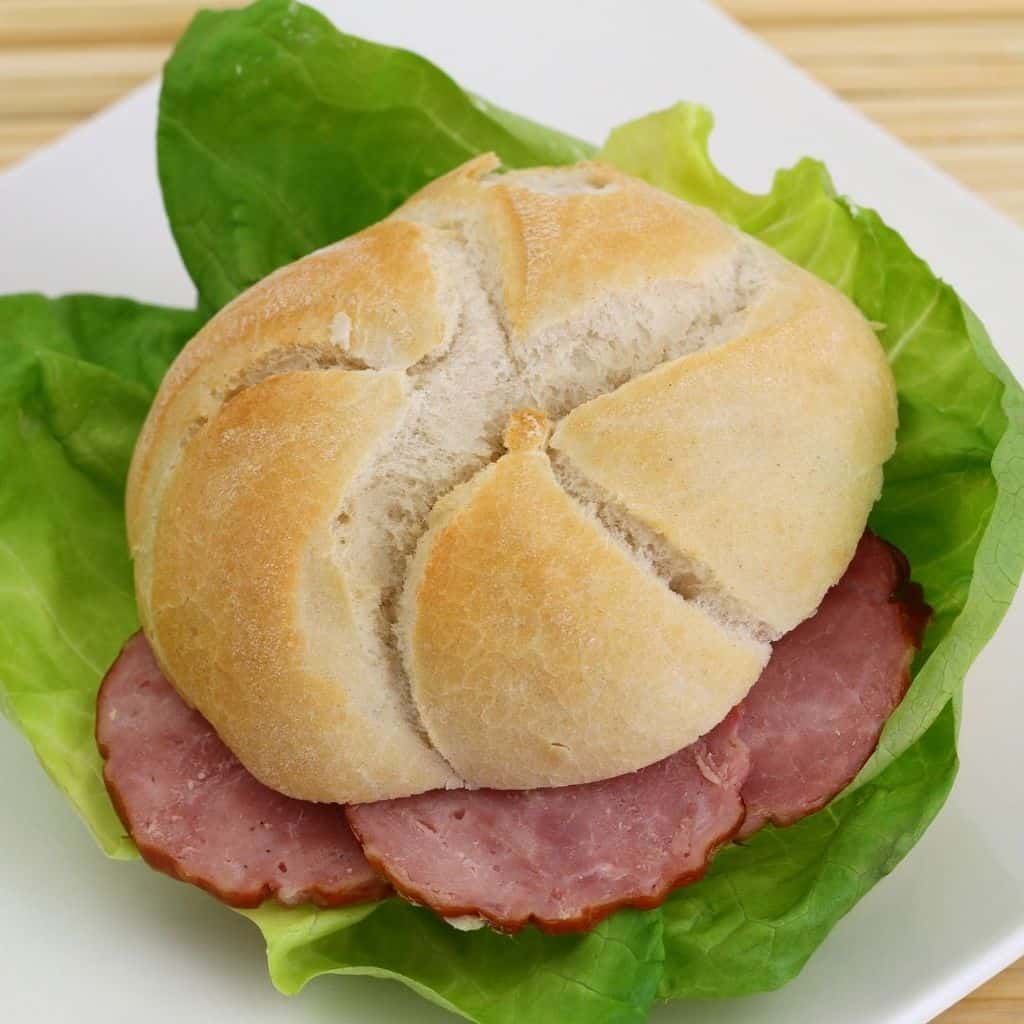 Colorful tradition – Easter palms
The Easter "palm" is a symbolic twig prepared before Easter in memory of Jesus' entry into Jerusalem. The palms are blessed in churches during the celebration of Palm Sunday (Niedziela Palmowa, in 2021, Palm Sunday falls on March 28).
Polish palms are long bunches made of young tree twigs, herbs, and flowers. Traditionally, they should include willow twigs – a symbol of life and resurrection – the first green signs of spring in Poland. The palms are also decorated with ribbons and dried or artificial flowers.
Different regions of Poland have different techniques and patterns of making Easter palms. Competitions for the most beautiful and largest palms are held every year.
Click here to read our post about Easter traditions in Poland that kids and adults will love.
The pictures below show traditional Polish Easter palms in Kraków.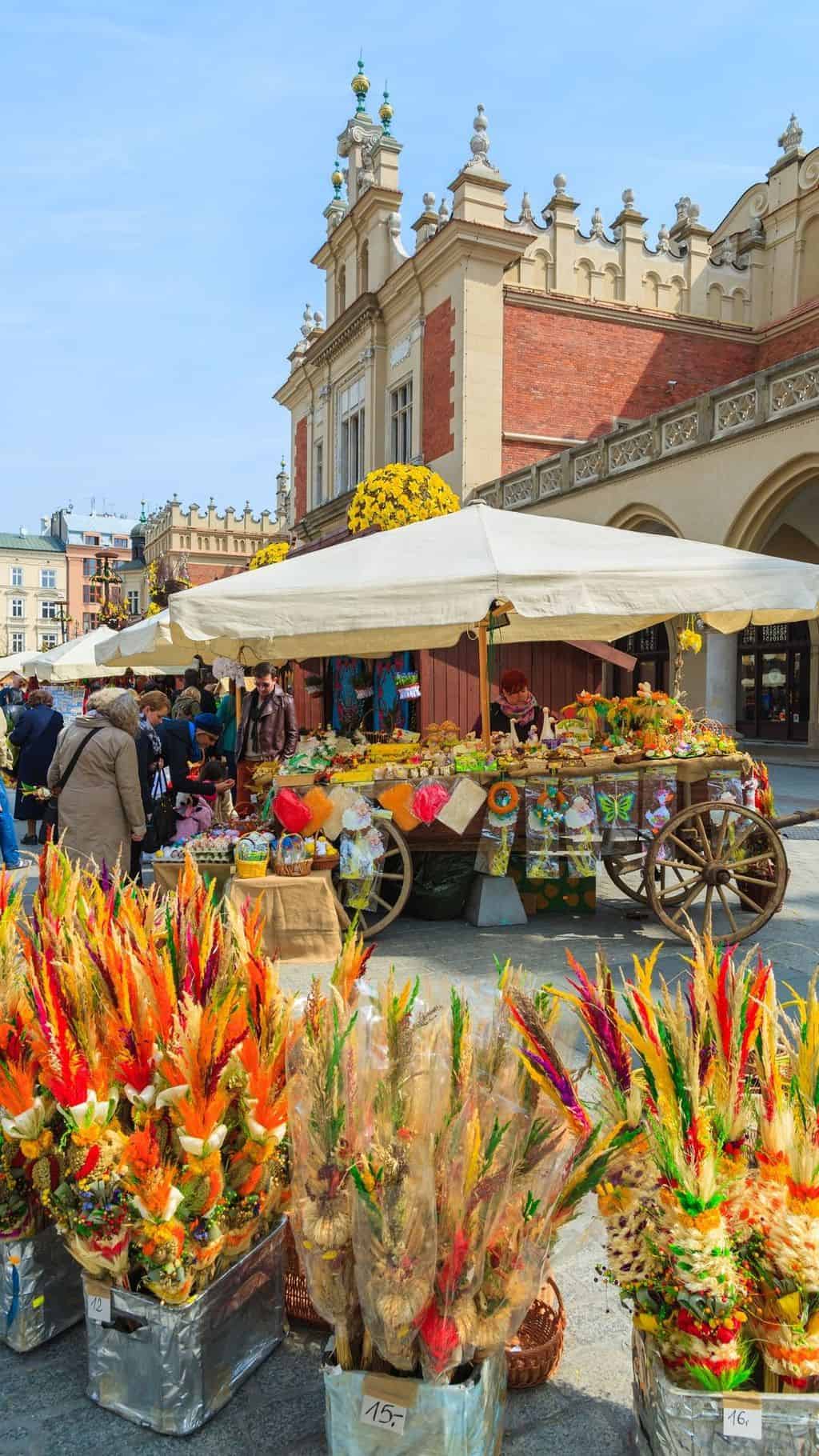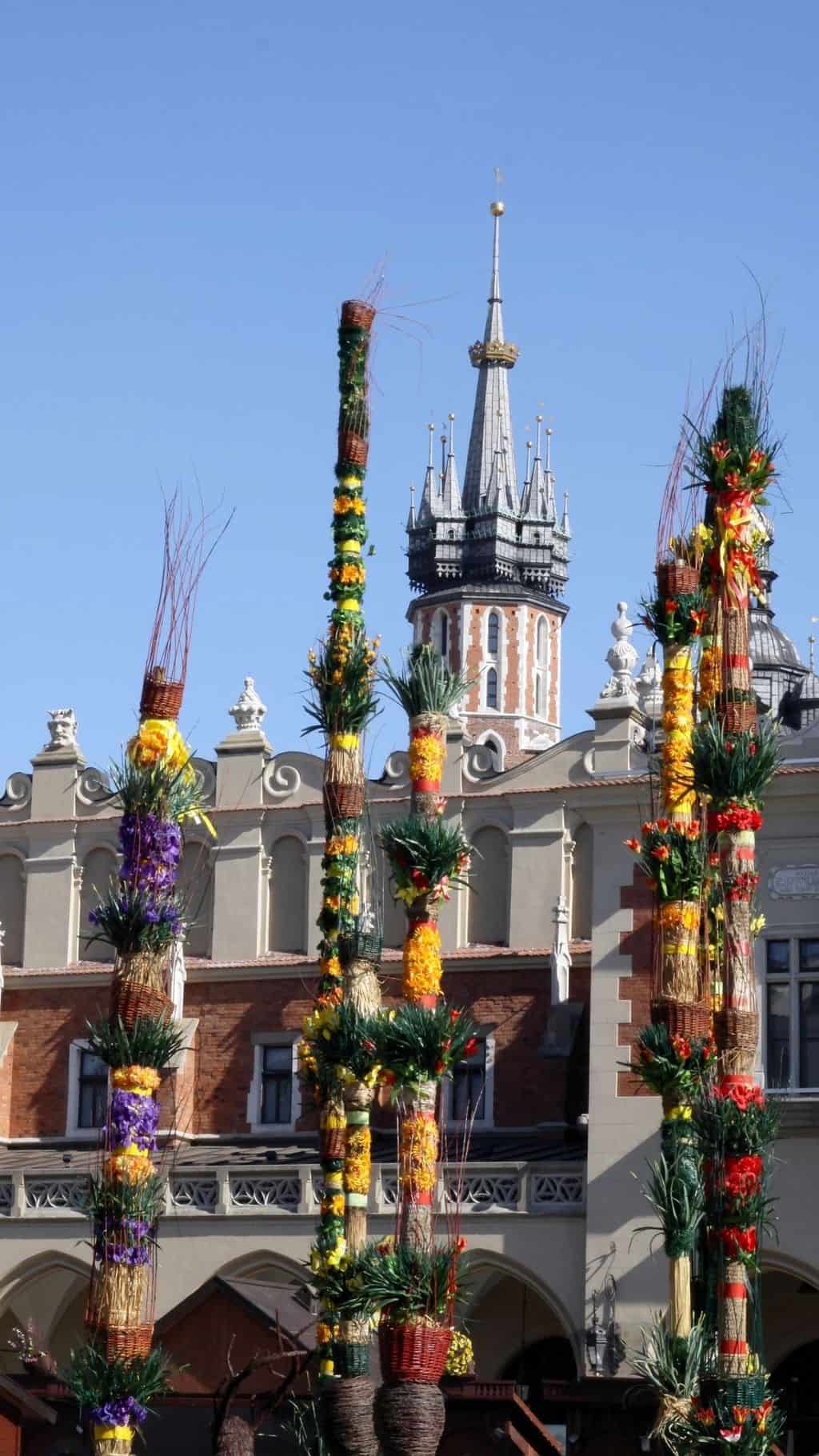 Covid restrictions & regulations in Poland in March
Changes in restrictions in Poland announced on February 24, 2021
Tougher restrictions in the Warmian-Masurian Voivodeship from February 27: closing of schools (grades 1-3), shopping malls, hotels, swimming pools, cinemas, theaters, museums.
From February 27, the obligation to undergo quarantine after arriving in Poland from the Czech Republic or Slovakia is introduced. Excluding those vaccinated with two doses of the vaccine or who tested negative. The test must be performed before crossing the border. It is valid for 48 hours from the moment of receiving the result.
From February 27, the obligation to cover the mouth and nose only with a mask. Scarves, headscarves, bandanas, helmets cannot be used.
Extension of the remaining restrictions until March 14 (except for the Warmińsko-Mazurskie Voivodeship). Click here to read more in our post about the current restrictions in Poland.
Find out more in our posts to stay up to date:
The current status of covid vaccination in Poland
There are currently 3 COVID-19 vaccines in Poland: Pfizer, Moderna, and Astra Zeneca. The Astra Zeneca vaccine can be administered in Poland only to people up to 65 years of age, so for example, teachers or uniformed services can be vaccinated with it at the moment. Johnson & Johnson vaccine has been submitted for approval in the European Union. The decision of the European Medicines Agency could be taken already in mid-March. The European Union has already ordered 200 million doses of this vaccine, the contract also includes the option of buying another 200 million doses.
About three million people will be vaccinated in Poland by the end of March.
Currently, medical workers, residents of social welfare homes, seniors 70+, and teachers are vaccinated in Poland.
Vaccination schedule for March:

March 7 – end of teachers' vaccinations.
From March 7 – vaccination of medical staff who, for various reasons, have not yet been vaccinated.
From March 15 – vaccination of chronically ill people, approximately 70,000 people are qualified (e.g. cancer patients currently under treatment). Vaccination of this group will take about 1 week (it will be vaccinated with Pfizer and Moderna vaccines).
From March 22 – vaccination of uniformed services and people aged 60-65 (with the Astra Zeneca vaccine). Registration for these people will start in early March.

Foreigners who reside in Poland (persons with the right to permanent or temporary residence) are vaccinated in accordance with the vaccination schedule in Poland. The same schedule applies to foreigners as to Poles.
Click here to read more in our post on the covid vaccine in Poland (including schedule, info for foreigners living in Poland, the order of coronavirus vaccinations, updates, application & registration process, privileges for the vaccinated person).
Subscribe to our monthly newsletters in English to explore Poland and to learn about Poland! Once a month you will receive a Newsletter: 'Explore Poland with Kids'. You will find there family-friendly destinations in Poland – beautiful places in Poland worth visiting with children – from city break destinations to hiking in the mountains (lots of practical tips!); things you can't miss in Poland in a given month; dates to remember, holidays, observances in Poland in a given month so you can mark your calendars accordingly.
Click on the photos below to read other posts: