Poland in December: tips for making the most of your winter in Poland
Our Partner of the Month
Akademeia High School Scholarships 2021/22
. We invite to apply all self-motivated, hardworking young scholars with ambition as well as students, achieving outstanding learning results. The deadline for submitting online applications is Sunday, 28th February 2021. Tell us about your outstanding learning results, your accomplishments in competitions organised by boards of education and science Olympiads, or any other successes from within both academic and non-academic fields (visual art, music, dance, sport, etc.).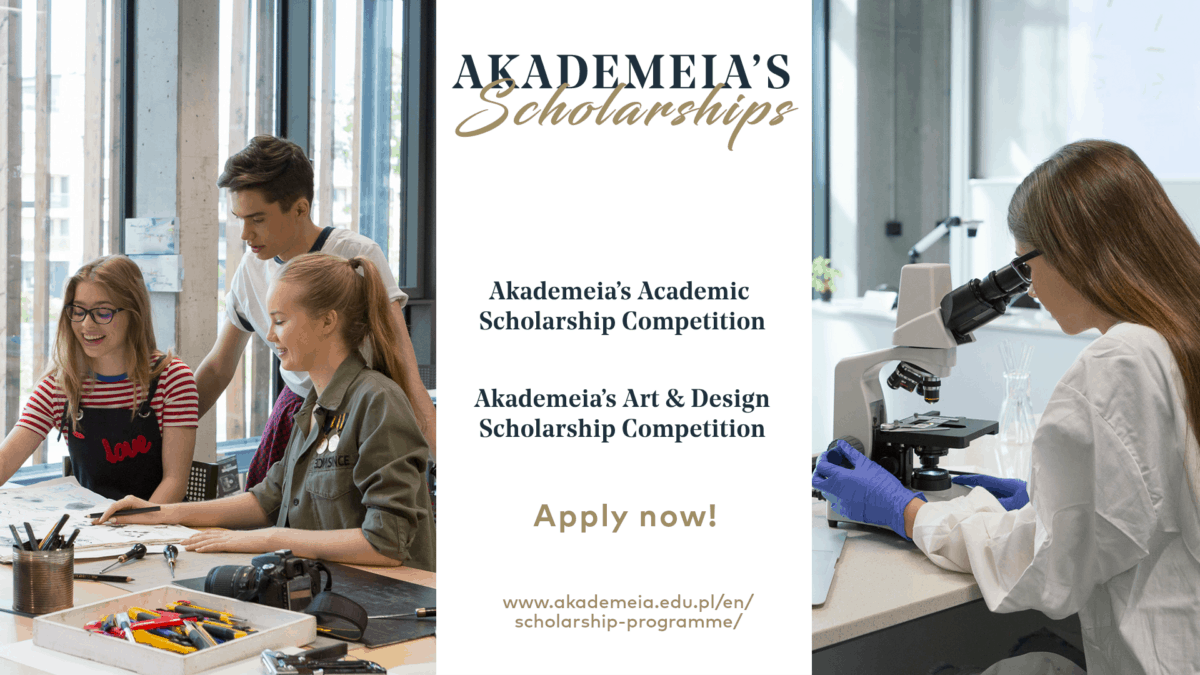 Weather in Poland in December
In 2020, astronomical winter begins on December 21 with the winter solstice – it's the day with the fewest hours of sunlight in Poland in the whole year. On a positive note – starting from December 22, the days in Poland get longer and the nights shorter. The length of the day goes from 7 hours 42 min. on December 22 to 10 hours 50 min. at the end of February.
Winter in Poland is cold and usually snowy. To stay cozy in cold weather in Poland, you will need a hat, coat, scarf, gloves, and winter boots. The lowest temperature is recorded in eastern and southern Poland. Remember that the temperature in the wintertime in Poland drops significantly at night!
The weather during the winter in Poland differs. Usually, the temperature is around freezing or a few degrees below, but it happens that the temperature drops below -20 °C (-4 °F). Recent years have seen an increase in average winter temperatures compared to previous years. Trends also indicate that we can start getting used to relatively warmer December in Poland and winter shifting for the period from January to March.
Because of Christmas and New Year's Eve, December is a favorite month of many people in Poland. The name of the month – grudzień – comes from the Polish word gruda, meaning frozen ground. The average temperature in December in Poland drops below zero: -0,16°C / 32°F. The average rainfall level in December in Poland is 38 mm (similar level to March and April). Sunset on December 1: 3.27 pm, December 31: 3.32 pm.
Public holidays and dates to remember in Poland in December 2020
St. Nicholas' Day (Mikołajki)
The name Mikołajki comes from Mikołaj (Polish for Nicholas), meaning little Nicholas. Children usually receive little treats – candies or toys. One of the traditions is to hide treats in shoes. Children should clean them the night before and the next morning (on Mikołajki day) they would find inside their shoe a small surprise.
The beginning of astronomical winter
The shortest day of the year.
Christmas Eve (Wigilia)
Christmas Eve is not a public holiday in Poland. However, most shops and businesses are open no longer than 2 pm. Christmas Eve Dinner – kolacja wigilijna – is the most important Christmas celebration in Poland. Click here to learn more about Christmas traditions and celebrations in Poland. The Christmas Eve traditions include waiting for a first star, the Christmas wafer (opłatek), 12 meat-free courses, an extra seat for an unexpected guest, hay under the tablecloth, a special midnight mass (pasterka).
Christmas Day (Boże Narodzenie)
A public holiday in Poland. Stores, malls, shopping centers, public institutions, schools are CLOSED. People in Poland usually visit family and friends to celebrate together, they go to church, sing carols (kolędy), spend long hours at the table. Find out more about Christmas traditions and celebrations in Poland.
Second Day of Christmas (Drugi Dzień Świąt Bożego Narodzenia)
A public holiday in Poland. Stores, malls, shopping centers, public institutions, schools are CLOSED.
New Year's Eve / St. Silvestre's Day (Sylwester) 
Start of the carnival season in Poland. People usually go out to parties and balls. At midnight or even before, fireworks shows start, arranged by the city authorities but also outside of apartments, in parks, playgrounds, etc. Stores are usually open no longer than 5-6 pm. Due to the covid pandemic, it is forbidden to leave the house on New Year's Eve from 7 pm on December 31 to 6 am on January 1.
 Shopping Sundays in Poland in December 2020
In December 2020, there are THREE shopping Sundays in Poland: December 6, December 13, and December 20. On December 2, the Polish parliament adopted a new law introducing an additional trading Sunday on December 6. You can learn more about Sunday trade ban in Poland in our post: shopping Sundays in Poland in 2020 and 2021. Since our readers are asking about online stores offering home deliveries we have prepared a post with the a of online stores in Poland delivering groceries to home.
Where to buy a Christmas tree in Poland and the most popular real Christmas trees you can buy in Poland
In December, you can buy a Christmas tree in Poland on a street corner – pop-up tree lots appear overnight on street corners or in front of shops. There's no standard pricing so if you like you can bargain a bit about the price;)
Major supermarkets and home improvement stores in Poland typically set up their live Christmas trees either in the garden section or in the parking lot. You can also buy a tree from your local garden center.
They will cut the stem of the tree you pick, net it and help you secure it to the top of your car if needed. You can buy a cut tree, a potted tree (grown in a field, dug up, and placed in a pot) or if you know that the Christmas tree will later go to your garden, you can buy a "rooted" tree (choinka ukorzeniona) – a pot grown tree (which has been planted in a container as a seedling).
In major cities in Poland, you can buy real Christmas trees online, type in google: choinka dostawa do domu and the name of your city.
A glossary of terms useful when buying a Christmas tree: choinka – a Christmas tree, w doniczce – potted, obsadzanie – putting a real Christmas tree in the stand, stojak – stand, lampki – lights, bombki – Christmas baubles.
The most popular real Christmas trees you can buy in Poland include: the Norway Spruce (świerk pospolity), the Blue Spruce or Colorado Spruce (świerk srebrny or świerk kłujący), the Caucasian Fir or Nordmann Fir (jodła kaukaska).
The Norway Spruce (świerk pospolity) is the only species of spruce that grows naturally in Poland and is the traditional Christmas tree (although recently overtaken by no needle drop fir). Spruce is completely resistant to low temperatures, which makes it, apart from Scots pine, the most common coniferous tree in Poland. It's a quick-growing species so usually, the spruce is a bit cheaper than the fir. It has a rich green color and a stronger festive aroma compared to fir. When placed in a room, Norway spruce gives off a wonderful fragrance that many people think of as a forest and Christmas. If you value the fragrance of the tree you should go for the Norway Spruce. Compared to the Caucasian Fir, the spruce drops its needles faster so it's important to keep the tree well-watered every day and located away from the radiator and other sources of heat.
The Blue Spruce or Colorado Spruce (świerk srebrny or świerk kłujący) is a silver variety of spruce. Due to its easy cultivation in Poland and availability, as well as its dense needles, it is a species often chosen for the Christmas tree in Poland.
The Caucasian Fir or Nordmann Fir (jodła kaukaska) is an increasingly popular Christmas tree in Poland – it's a low-maintenance tree (the best option for those who want to put up their Christmas tree as soon as possible and not wait the last minute to start decorating). The fir Christmas tree does not drop needles (unlike spruce trees) but dries them over time and keeps them long after Christmas is over. You don't need to worry about vacuuming during the holidays;) Its needles are soft and rounded so in general, the fir is more child and pet-friendly. It is usually more expensive than spruce and doesn't have any fragrance. Last but not least, the Caucasian Fir has a wide base to accommodate lots of presents…;)
Things you can't miss in Poland in December
Hide the candy in the shoe of the person you live with