Summertime in Poland is rich in seasonal fruits. Don't miss super-nutritious bilberries, juicy cherries, tart rhubarb, knockout gooseberries or unique wild strawberries!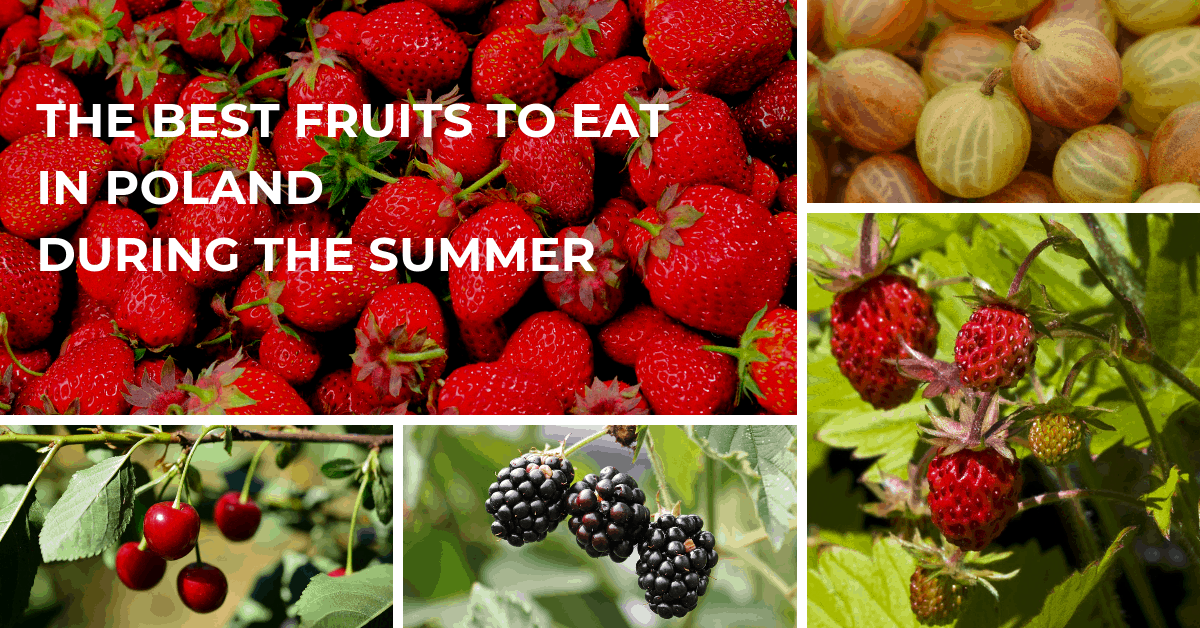 Wild strawberries, woodland strawberries (poziomki)
Wild strawberries in Poland grow in open fields, forests, meadows. They look like tiny strawberries, are extremely delicate and rare. Their taste and aroma are exceptional. In the past, when many children in Poland spent their summer holidays in the countryside, kids used to put strawberries on dry blades and offered them to their mothers and grandmothers. You don't have to go to the forest for wild strawberries anymore. For severs years, you can buy them at local bazaars – they are sold in small boxes and are usually quite expensive (especially compared to regular strawberries).
Rhubarb (rabarbar)
The rhubarb season in Poland begins in late April. Although the plant grows throughout the spring and summer, it's recommended to buy it by mid-June. Rhubarb (actually a vegetable) is one of the first plants that grows in the open air (not in the greenhouses or plastic tunnels) in late spring and early summer in Poland (before strawberries!). Rhubarb is known for its sour taste (it's rarely eaten raw) and it's usually cooked with sugar (only thick stalks, not leaves). Rhubarb bun with crumble (drożdżówka z rabarbarem), pies, tarts, are very popular in Poland early summer. Rhubarb drink / kompot rabarbarowy (peel some of the skin, cut, add water and sugar and boil; serve chilled) was a number one summer drink for every Polish kid back in the times when sodas and juices were not popular or available in Poland.
Strawberries (truskawki)
Strawberries do not require any special presentation;) They are available in Poland during summer time in bulks. People eat them raw, with sour cream, sugar, whipped cream, cooked (kompot drink), strawberry pies, strawberry jelly, meringue with strawberries. Strawberry smoothie (koktajl truskawkowy) is a highlight of every summer (in Poland, traditionally prepared with kefir – a fermented milk drink full of probiotics).
Some strawberry species in Poland are entered into the register of Protected Geographical Indications, for example, truskawka kaszubska (from Kaszuby – the Kashubian District in Pomorskie Voivodeship) which is famous of larger sugar content in fruit (which makes it a perfect strawberry to prepare jams).
There is a long tradition in Poland to sell strawberries in a special punnet (a fruit basket made of woodchips, about 2 kg of strawberries) called in Polish łubianka or kobiałka. Punnet is one of the pioneers of fruit reusable containers in Poland. It's obvious to Poles that when they go strawberry shopping they take their kobiałka from home.
Sweet cherries (czereśnie)
Summertime in Poland is flooding us with a variety of cherry species (we call them sweet cherries to distinguish them from sour cherries – wiśnie). At the Polish stores, you can find red, dark red, pinkish, yellow cherries – all sweet and delicious.
Sour cherries (wiśnie)
Sour cherries, do not confuse with sweet cherries (czereśnie)! Sour cherries are usually smaller, darker and are sold without petioles. Sour cherry is one of the Polish superfoods with the large content of antioxidants. But the main difference with sweet cherries? They are tart, more acidic. You can eat them raw, they are an excellent addition to pies, buns and other pastries, and sour cherry jam is a hit. Sure thing, the Polish people make a kompot drink of them. Poles go event one step further with sour cherries – they cook sour cherry… soup! Sour cherry soup is a sweet soup served chilled, sometimes with the addition of pasta. Kids love it.
Bilberries (jagody)
Bilberries grow on low shrubs in the Polish forests. Compared to highbush (American) blueberry (called in Polish borówka amerykańska), they are smaller, darker, and bilberry stains on clothes are practically indelible. In most of Poland, bilberry is called jagoda, in Karków area it's called borówka. You can have them raw, with sugar or cream / yoghurt, it's an irreplaceable summer addition to cakes. Try bilberry smoothie or bilberry jam – yummy!, pycha! Another summer treat: bilberry yeast bun – jagodzianka. You will buy it in July and August in every Polish bakery and cake shop. 
Raspberries (maliny)
Raspberries are popular in many countries all over the world, also in Poland you can find tones of them in your local store in July and August. Both kids and adults just love them. They make excellent jams and jellies.
Gooseberries (agrest)
In Poland, you can buy two types of gooseberry in the summer – green and red. It's very difficult to describe the taste of gooseberry. If you try it for the first time in your life, start with more ripe and soft ones. Green gooseberry is delicious but can be very tart! As it usually is with sour fruits, gooseberries are full of nutrients. You can eat the berries straight from the bush (be careful, they have thorns). Many Polish people have them in their gardens and allotments (działki).
Red, black, white currants (porzeczki)
In July and August in Poland, you can treat yourself with red (czerwona porzeczka), black (czarna porzeczka) or white (biała porzeczka) currants. Their taste differ, all of them are rather sour (red currant the most!). Polish producers of currants advertise that black currants contain 3 times more vitamin C than lemons.
Brambles (jeżyny)
Brambles – another superfood you can find in Poland – are delicious forest berries that will perfectly decorate every summer dessert. Sometimes they are sweet, sometimes sour. You can pick them in Polish forests (be careful, the shrubs have thorns!) and buy at every store during summertime in Poland.
Click on the photos below to read other posts:
Learn more about summertime vegetables you must try while they are in season in Poland.