Schools and families during the coronavirus pandemic: challenges of online education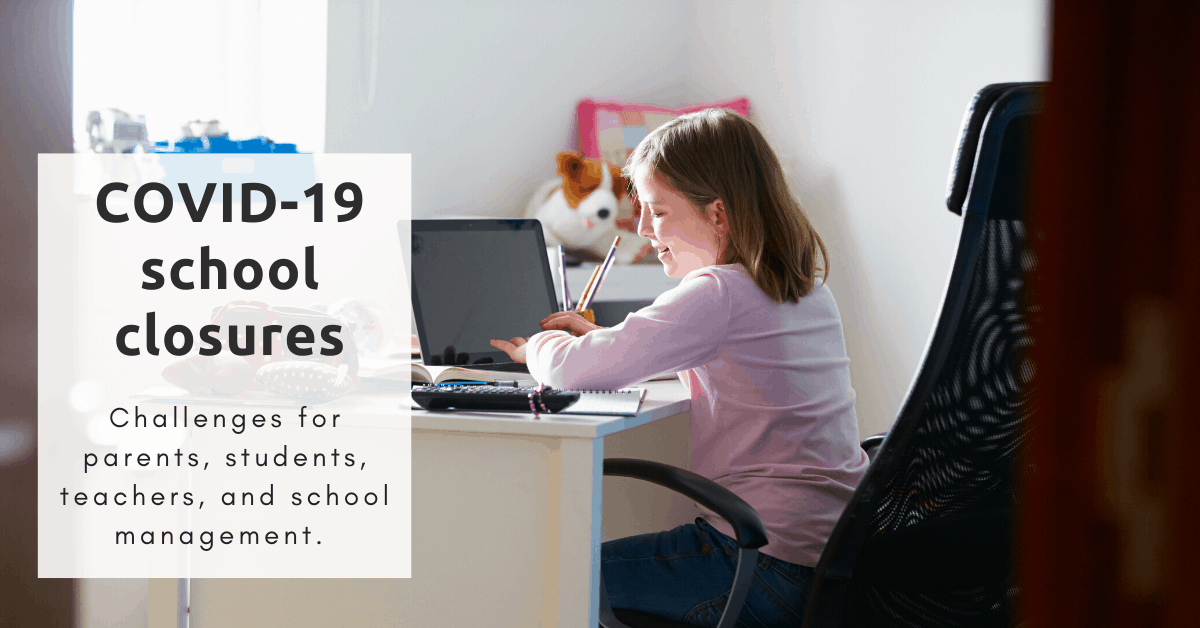 Schools across Poland are closed and have moved to online education. They are offering virtual classrooms where students can attend live classes, videos prepared by the teachers or assignments for students to do at home.
The world has never seen this many children out of school at the same time and the COVID-19 school closures present numerous challenges and concerns. They affect all sides of the educational process – students, parents, school administration, and teachers. And since this is an unprecedented emergency, it requires extraordinary efforts and extraordinary empathy to achieve mutual understanding. For the sake of our future. For the sake of our kids.
There are many questions and concerns to be addressed:
What's a parent's view of school closures?

What challenges do schools face today? 

How do teachers deal with this situation? 

And finally – what will this unprecedented situation teach us?
Below you will find some thoughts and observations regarding today's educational situation. To end on a positive note, the article concludes with comments from the leaders of international schools in Warsaw about the positives resulting from school closures which will have an impact on the future of education.
School closure from a family perspective
Meet the Warsaw family with three children, staying at home since March 12. The oldest of them – 15-year-old Adam – starts his (home) school day at 8.15 am. He logs in to an online platform and connects to the first class this morning according to his regular school agenda. He's busy most of the day. Virtual distant learning is not so distant for him – Adam is in his element with everything going online – meetings, tests, projects, social interactions.
Meanwhile, his 6-year-old sister Natalie gets up around 7 am, falling asleep no sooner than at 9 pm. 14 (f-o-u-r-t-e-e-n) hours to play/to be entertained by her parents… Hurray! Natalie has a 1-hour online meeting/class twice a day. She is thrilled to see her teachers and friends on the screen. As soon as the online session ends, Natalie approaches her working-from-home parents asking one of two questions: I'm bored, what's next? What do we have for lunch today?
Enter the youngest sibling – a 2-year-old Lucas. A few months ago he started going to a preschool. The adjustment period was not easy. But finally – thanks to the cooperation of parents and teachers who put their heart and soul into it – little Lucas got used to and liked his preschool and the new routine. Now Lucas is back at home.
This is how school closure looks from a family perspective – the younger the child, the more difficult the situation for parents. The main concern and challenge are how to facilitate distance learning with small children and work from home at the same time?
And how does it look from the point of view of schools and teachers?
Schools – just like the parents – got no notice, no prep time. In just a few working days schools went from full operations to the cancelation of events and after school activities, and eventually to complete closure. The children are still at school on Wednesday and the next day the school management is told to "continue education" but online… We can only imagine the pressure and a sense of urgency.
Online teaching takes time, preparation, planning. Transitioning to online schools cannot happen overnight. And for sure it can happen only with strong support from the parents and their confidence in schools. What we face now it's remote teaching in an emergency situation. It's difficult to embrace for parents who are stressed and overwhelmed by the current situation (at home with kids, trying to do some – any – work!). The expectations (of all parties! teachers' expectations for their students, parents for schools, schools for teachers) should be adopted to these unprecedented circumstances.
Teachers are facing their own personal challenges too. They have been expected to transfer decades-old practices to digital. Overnight. They are often working from home, conducting online classes with their own little children running around, sharing devices with other family members. The least we can do is to support them showing empathy and understanding when things don't go according to plan.
On a positive note…
After a few weeks of online education, don't we all have a growing feeling that technology can't replace teachers and human interaction? Learning has always been a social process and it will not be 100% replaced with online tools. When schools finally return to normality, they will not be the same. After this unprecedented experience (online tools crash course!) teachers will implement in the future more technology into their classrooms, which will bring positive impact for all parties – school leaders, teachers, parents, and last but not least – for the students. The technology shift is inevitable and now it's going fast forward.
Additionally, those teachers (and parents) who have been more resistant to incorporating technology into everyday school life, have been surprised by what can be achieved (given the circumstances) with online tools and how effective they can be.
Lessons learned from COVID-19 school closures? Appreciation for the teachers, human connection and what's happening in the classroom. Awareness and acceptance that schools of the future will rely more and more on technology and e-tools.
We've asked the leaders of international schools in Warsaw about the positives resulting from the current situation which will be significant in the future:
"Our strategy has been and remains to keep Akademeia High School running as close to normal as possible via online teaching and learning. Our teachers have been adapting quickly and creatively to the virtual classroom. It has been inspiring and heartwarming to see our students and teachers rally together to create an effective virtual learning environment and new platforms to exchange ideas. We have continued to nurture and develop our school community through online assemblies, mentoring hours and a number of new initiatives; from a poetry club, through baking and cooking classes, yoga sessions and student run clubs."
Mark Moore, Headmaster, Akademeia High School. More about their switch to virtual learning.
"In a broader sense, the move to virtual school has truly awakened us to what is possible. The debate about whether a virtual school is viable has been set aside. It has to work and is working for the majority of our families. For ASW, we continue to demonstrate that learning never stops. Parents are learning new skills for helping to partner in encouraging and overseeing learning. They have much more connection to the challenges their children face in schooling and this insight will carry into our return to regular school. Many things have forced us to develop new skills and all of these will come back to school someday, augmenting our lives and building new habits that will enhance what was already a solid core of engagement and empowerment at ASW!"
Jon Zurfluh, Director, American School of Warsaw. More about their switch to virtual learning.
"Many positives! We were very well placed to learn from our sister Nord Anglia Education schools in South East Asia and China many of whom had been closed since late January. Our plan for our Virtual School Experience began being formulated in early February and throughout February and early March we ensured our IT systems and platforms we used we ready. We trained staff, issued staff with extra hardware as needed, purchased extra software and learning platform extras as well as preparing our students for the inevitable closure. What we have seen in our first two weeks of our Virtual School Experience is a significant evolution of both our staff and our students' IT skills and knowledge."
Alun Yorath, Principal, The British School Warsaw. More about their switch to virtual learning.
"In our school, we have been introduced to an online platform (Microsoft Teams) that we will certainly be able to utilise in the future. In a majority of cases, teachers and students are happy with the functionality of the platform and the ways in which they have still been able to connect with one another. In the future, we may still be able to utilise this platform to conduct staff meetings for staff who are unable to attend in person as well as provide work for students who are unable to be at school for an extended period of time because of illness."
Joanna Rechnio-Haciuk, Preschool Principal, The Canadian School of Warsaw. More about their switch to virtual learning.
"We reorganized traditional teaching versus online teaching within 48 hours so all nursery, preschool and primary started all online classes on March 16th at 8 am – the day when schools locked down in Poland. Since the foundation of the school we have had a very clear educational project and mission. These are demanding trilingual education standards from the very beginning (nursery) through preschool and primary. What we see is that the crisis makes the team (teachers, students, and parents) of those who believe and support the values of trilingual demanding education even stronger."
Anna Maliszewska, School Founder, International Trilingual School of Warsaw. More about their switch to virtual learning.
"With the announcement of the closure of all schools in Poland, the biggest challenge for us was to implement simple and effective communication procedures between our teams (our offices and teaching staff) and our students and their parents, but also internally between our teams themselves. The most important thing for us was to make sure that nobody would feel isolated, neither our students, nor our staff. Our teams strived to answer families' needs as best as they could in order to adjust their teaching. Parents indeed play a key part in this new scheme. Online communication will remain the key. Also, all the new pedagogical and teaching engineering which has been displayed by our teaching staff in those specific times will bring up new practices in the long term. "
Frédéric Bizot, School Principal, Lycée Français de Varsovie. More about their switch to virtual learning.
"Monnet International School has immediately moved to teach remotely. Within four days, the entire school was connected to one Microsoft Teams platform. We will continue to use the Microsoft Teams platform after the coronavirus pandemic ends. Perhaps we will also organize some of the meetings of teachers and meetings with parents remotely, especially in winter, when traffic jams in Warsaw are a real nightmare. We will also partially transfer the school promotion and meetings for the candidates to the "cloud". This will enable us to contact the candidates more often and more fully."
Hanna Buśkiewicz-Piskorska, Director, Monnet International School. More about their switch to virtual learning.
"Online teaching is allowing us to assess and evaluate children in such a way as to really help find their strengths and weaknesses. Online teaching also allows teachers a bit more time to work with those students who are struggling AND those who are on a higher level (i.e. assigning more challenging work or projects). It is also challenging teachers to think differently about how they approach their classroom lessons and management, perhaps leading to more creative and in-depth learning opportunities. And finally, it is giving schools an opportunity to re-evaluate curricula and resources that are provided or not provided for the whole learning process."
Kamila Wilczyńska, Headteacher, Polish British Academy of Warsaw. More about their switch to virtual learning.
"It has helped to show how adaptable we are with the use of online resources and how creative our teachers have been in using technology to teach their students. It also showed us how well loved our teachers are and how much students miss being able to engage with them in the classroom environment. As the situation continues, we know that we have created a solid foundation for our Online Learning."
Gary Lycett, Head of Admissions, Thames British School Warsaw. More about their switch to virtual learning.