Winter in Poland: 4 public holidays, 3 shopping Sundays, winter school break. Observances and celebrations in Poland in December, January & February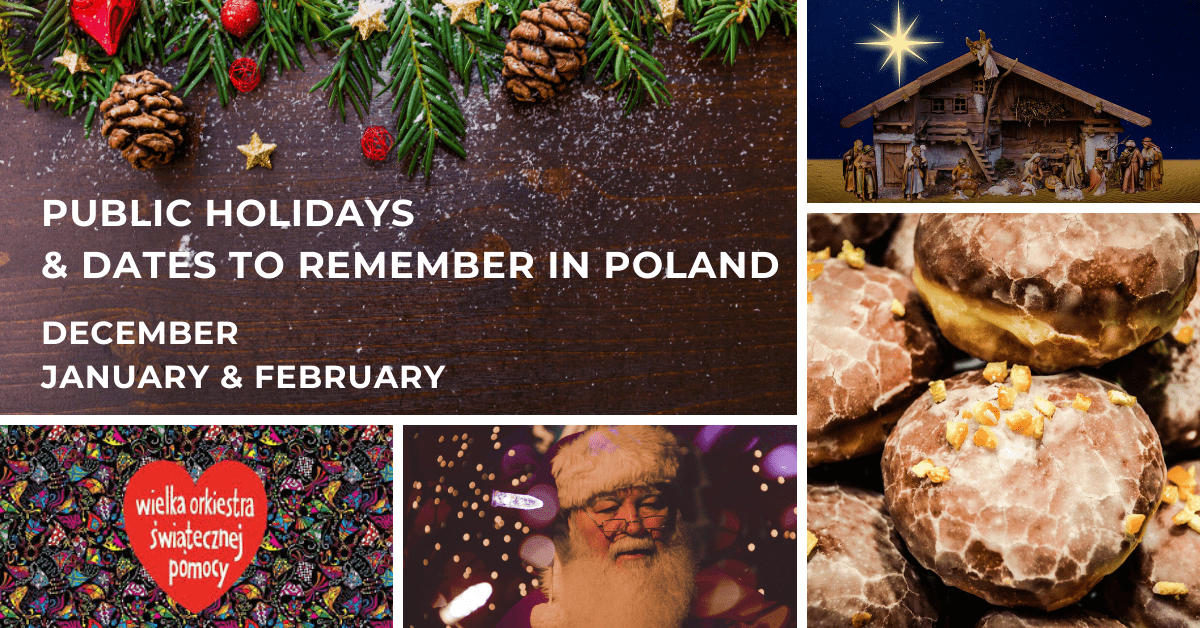 Shopping Sundays in Poland in December 2020, January & February 2021
December 6, December 13, December 20, and January 31, 2021. There is a bill on additional trading Sunday – December 6. On December 2, the Polish parliament adopted a new law introducing an additional trading Sunday on December 6. You can learn more about Sunday trade ban in Poland in our post: shopping Sundays in Poland in 2020 and 2021. There is no shopping Sunday in Poland in February. The next shopping Sunday will be on March 28, 2021.
Public holidays and celebrations in Poland in the wintertime
St. Nicholas' Day (Mikołajki)
The name Mikołajki comes from Mikołaj (Polish for Nicholas), meaning little Nicholas. On the night of December 5-6, small gifts are secretly given to children while they are sleeping (little treats – toys but most of all sweets). One of the traditions is to hide treats in shoes. Children should clean them the night before and the next morning (on Mikołajki day) they would find inside their shoe a small surprise. Chocolate Santas are most often such a gift – they can be bought in Polish stores already at the end of November. In Polish schools on December 6 there is a custom of exchanging small gifts between students. Children decide in advance the amount for which they will buy a gift and draw a person from the class to be given a gift.
The beginning of astronomical winter
The shortest day of the year.
Christmas Eve (Wigilia)
Christmas Eve is not a public holiday in Poland. However, most shops and businesses are open no longer than 2 pm. Christmas Eve Dinner – kolacja wigilijna – is the most important Christmas celebration in Poland. Click here to learn more about Christmas traditions and celebrations in Poland. The Christmas Eve traditions include waiting for a first star, the Christmas wafer (opłatek), 12 meat-free courses, an extra seat for an unexpected guest, hay under the tablecloth, a special midnight mass (pasterka).
Christmas Day (Boże Narodzenie)
A public holiday in Poland. Stores, malls, shopping centers, public institutions, schools are CLOSED. People in Poland usually visit family and friends to celebrate together, they go to church, sing carols (kolędy), spend long hours at the table. Find out more about Christmas traditions and celebrations in Poland.
Second Day of Christmas (Drugi Dzień Świąt Bożego Narodzenia)
A public holiday in Poland. Stores, malls, shopping centers, public institutions, schools are CLOSED.
New Year's Eve / St. Silvestre's Day (Sylwester) 
Start of the carnival season in Poland. People usually go out to parties and balls. At midnight or even before, fireworks shows start, arranged by the city authorities but also outside of apartments, in parks, playgrounds, etc. Stores are usually open no longer than 5-6 pm.
New Year's Day (Nowy Rok)
A public holiday in Poland – stores, malls, shopping centers are closed, only some smaller local convenience stores can be open (eg. Żabka). You can do basic shopping at gas stations.
Epiphany / The Three Wise Kings (Trzech Króli)   
A public holiday in Poland, stores are closed. Christian holiday commemorating the three wise kings' visit to infant Jesus. In Warsaw and other big cities, there are street parades. There is a tradition in Poland to write with chalk brought from the church above the entrance of your home: K+M+B (or C+M+B). The letters have two meanings: they represent the initials of Caspar, Melchior, and Balthazar (Kacper, Melchior, Baltazar); it's also the abbreviation of the Latin phrase Christus mansionem benedicat (May Christ bless this house).
Grandmother's Day & Grandfather's Day (Dzień Babci & Dzień Dziadka)
People visit or call their grandparents to honor them. In kindergartens, there are usually events for grandparents.
Great Orchestra of Christmas Charity, 29th Grand Finale (Wielka Orkiestra Świątecznej Pomocy)
The biggest charity event in Poland. 2021 winter fundraiser will be held to raise funds to support pediatric laryngology, otorhinolaryngology, and head diagnostics. Many concerts, shows and other events all over Poland. Volunteers (including many children) collect money on the streets giving away to all donors red stickers in the shape of a heart. The Foundation's website in English. Due to the new coronavirus restrictions in Poland, the event has been moved from January 10 to January 31.
Fat Thursday (Tłusty Czwartek)
The last Thursday before the Lent starts (it's similar to Mardi Gras or Fat Tuesday celebrations), in Poland it's a donut / pączek day. In the morning, you can notice long lines in front of bakeries and cafes all over Poland. People all day long eat pączki (donuts filled with fruit jam) or faworki (French dough pastry served with powdered sugar) at schools, at work, at home. There are contests for the best pastry stores in the city and some families have pączek eating competition – who will eat the most donuts on Fat Thursday.
Valentine's Day (Walentynki)
It's a relatively new celebration in Poland (not observed in Poland during communism time before 1989), becoming more and more popular. All restaurants are usually full, you need to book your table in advance;) School kids are making Valentine's Day cards and couples remember to make a nice surprise.
Last day of the carnival, Śledzik (herring night), Ostatki (last days of carnival, Shrovetide Tuesday)
The last chance to party (typically with drinking and music) before the start of Lent (which doesn't mean there are no parties during Lent in Poland, just not as many). The party / dinner is called in Polish Śledzik (little herring) – during old-fashioned Polish parties, it was a popular appetizer washed down with alcohol.
Ash Wednesday (Środa Popielcowa, Popielec)
The first day of Lent. People go to churches where priests put ashes (made from palm branches blessed on the previous year Palm Sunday) on people's foreheads saying 'Remember that you are dust and to dust you shall return' ('Z prochu powstałeś i w proch się obrócisz'). It is a tradition among the Roman Catholics in Poland to avoid meat, alcohol, sweets, and snacks on that day.
Winter school break in Poland
The school year in Poland is divided into 2 terms: the first/winter term (pierwszy semestr) and the second/summer term (drugi semestr). While the first and last days of school are set the same for all of Poland (the last day of school in Poland in 2021: June 25), the winter break (ferie zimowe) times differ for each Polish province/voivodship.
Due to the coronavirus pandemic, the government has decided that in 2021, winter break throughout Poland will be in the same 2-week period: January 4-17, 2021.
Subscribe to our monthly newsletters in English to explore Poland and to learn about Poland! Once a month you will receive a Newsletter: 'Explore Poland with Kids'. You will find there featured family-friendly destinations in Poland, handpicked events in selected Polish cities (that may inspire you for a family city break in Poland), dates to remember and things to do in Poland in a given month:
Click on the photos below to read our other posts: