November 1 in Warsaw – essential info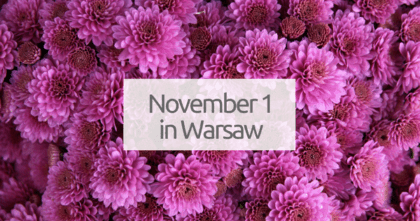 All Saints' Day (Wszystkich Świętych) 
It's a bank holiday in Poland. People visit cemeteries (often they travel long distances, there is in general increased traffic, especially close to the biggest cemeteries – click here to see on a Google map in which areas in Warsaw you can expect heavy traffic). They light candles and lay flowers (chrysanthemums like on the background picture above) on the graves of their family and friends (this is a religious holiday but in Poland it is observed by many people, religious and not).
In Warsaw, you may want to visit the Powązki cemetery in the evening when it's dark outside, it's really exceptional this time of year with so many candles (probably not on November 1, but the following week when it's not so crowded). It's located in Ochota district (between Klif and Arkadia shopping centers).
Shopping 
Stores, malls, shopping centers are closed. Only some smaller local convenience stores can be open (eg. Żabka or Freshmarket). You can do basic shopping at gas stations.
What to do in Warsaw on November 1 
It's one of these days in Poland (in addition to December 25 and Easter Monday) that all the public institutions – museums, galleries – are closed. The only exception is…
Warsaw Zoo
Location: Ratuszowa 1/3 Street (Praga). Warsaw Zoo is open EVERY DAY (including bank holidays). Click here to read Kids in the City Warsaw Zoo Guidebook in English (How to get there by public transport? How to get there by car? Where to look for a parking spot? Tickets. How to skip the line? Opening hours. Key facts and numbers. Zoo map and main attractions. Lunch, coffee, snacks in Warsaw zoo. Attractions for kids. The Żabiński villa. Feeding times. Where to hide from the rain. Handicapped access. Warsaw zoo rules. Infrastructure changes expected in 2017).
The other option is going to the movies. Click here to find showtimes in Warsaw on November 1 (repertuar kin).
Restaurants open in Warsaw on November 1
Public transport & parking zone in Warsaw
Some of the streets near the cemeteries will be closed for private cars traffic. Click here to read more (in Polish) – the list of closed streets, maps
Warsaw Paid Parking Zone: free on Wednesday, November 1
Trams: Saturday timetable
Metro 1: 8 am – 10 am and 6 pm – 8 pm every 3 minutes and 20 seconds. 10 am – 6 pm every 3 minutes. Other times – Saturday timetable (no night services)
Metro 2: 10 am – 6 pm every 5 minutes. Other times – Saturday timetable (no night services)