Saul Simpson, forest school leader at Pines Forest School, on why it's important to get outdoors and allow your child the freedom to move around independently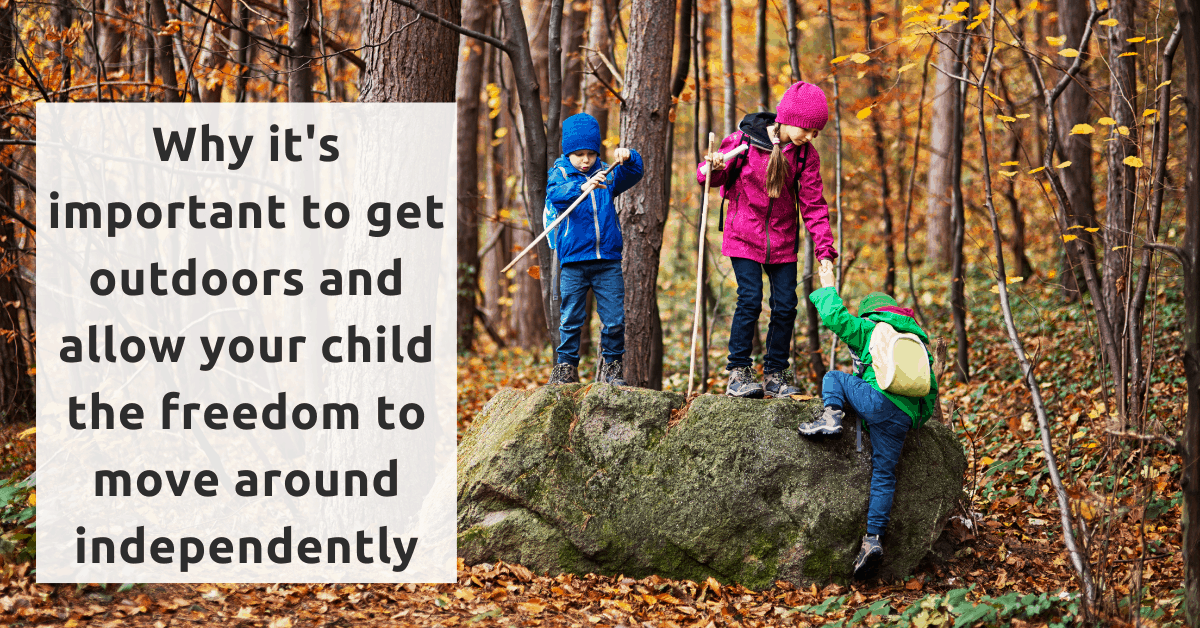 So much of our lives are governed by deadlines and set activity. The pace in which we live our lives now leaves very little time for us, and more importantly our children, to cavort in unstructured experiences. My youth, like most, was spent outdoors finding new games, adventures and activities; all as long as we were home by dark. This unregulated time for 'play' is now becoming lost to long school days, after school clubs and weekend activities that can, at times, drain a child of their independence and creativity.
Whilst often looked upon as a fruitless activity, 'play' is an incredibly important aspect to children's cognitive, physical, social and emotional development. The independence, resistance, creativity and confidence that comes with these experiences cannot be recreated with organised activities. Having the opportunity to emulate what you see, without the constant correcting and input associated with organised activities, allows an individual to make small mistakes and problem solve: learning where they are going wrong.
Just like learning to ride a bike, children must learn that in life, falling is part of the process.
Like everything, the balance between structured and unstructured activities is key. By no means should you unsubscribe from your children's favourite organised activities, but recognising and finding time for more independent 'play' is vital. The rise in popularity of Montessori schools, Scandinavian style schools and Democratic schools over the last few years demonstrates a growing understanding that empowering children to make their own decisions is key to their development. Allowing children the freedom to make educated, calculated risks increases confidence and positive decision making, whilst promoting resilience, independence, bravery and helps with overcoming fears and anxieties.
As a child, how often did you ride a bike down a steep hill, or climb a tree one branch higher than you had ever before? It is these moments, these decisions and consequences that shape a person, while learning valuable lessons along the way. It is these same experiences and lessons that will prevent children from taking dangerous risks as they get older. Once again the balance is key. Getting outside with your children, giving them the freedom to interact with the natural world around them can be much more relaxing than it sounds. Poland is home to some of the world's most beautiful forests and natural spaces. We have listed some of our favourite weekend activities below.
Forest walks with a flask of tea and magnifying glass. You don't have to be an expert to enjoy the beautiful flora and fauna in the forest. This time of year is especially beautiful as the frost builds and the leaves fall.
Hang a hammock and read a book. Children during our sessions often take a book and read in our hammocks. They enjoy the calm of the forest and the moments of peace.
Build something. Simple bird houses, bug hotels and bird feeders are easy to put together and will give your children a great sense of achievement. Building from scratch or via a precut set.
Preparing a hot drink over a fire. Many forests around Poland have special areas for making fires. Making a small fire or even using something more complex like a Storm Kettle is a great way to learn with your child.
Simply, getting outdoors and allowing your child the freedom to move around independently, to pick up sticks and leaves, to get their hands dirty and climb a tree! Allowing children the independence to deal with challenging situations allows them to learn by experience.
Over the many years we have worked with children in this environment, I can honestly say that our favourite aspect is watching them grow in confidence and independence.
About the Author
Saul Simpson, Pines Forest School
Hailing from Manchester, England Saul has worked across the North West of England specialising in outdoor learning and sport, working with children and young adults with and without special educational needs. He qualified as a Level 3 OCN Forest Leader having spent time travelling North America, working closely with National Park rangers in south and central Canada. He completed his level 3 through the renowned 'Earthcraft UK'.
Since arriving in Poland he has worked closely with bilingual children, set up and run a Forest School (Pines Forest School) and delivered various trainings across the board.
Subscribe to our monthly newsletters in English to learn about Poland! Once a month you will receive a Newsletter: 'Explore Poland with Kids'. You will find there family-friendly destinations in Poland – beautiful places in Poland worth visiting with children – from city break destinations to hiking in the mountains (lots of practical tips!); things you can't miss in Poland in a given month; dates to remember, holidays, observances in Poland in a given month so you can mark your calendars accordingly: