Summer 2019 in Poland: 3 bank holidays, observances & celebrations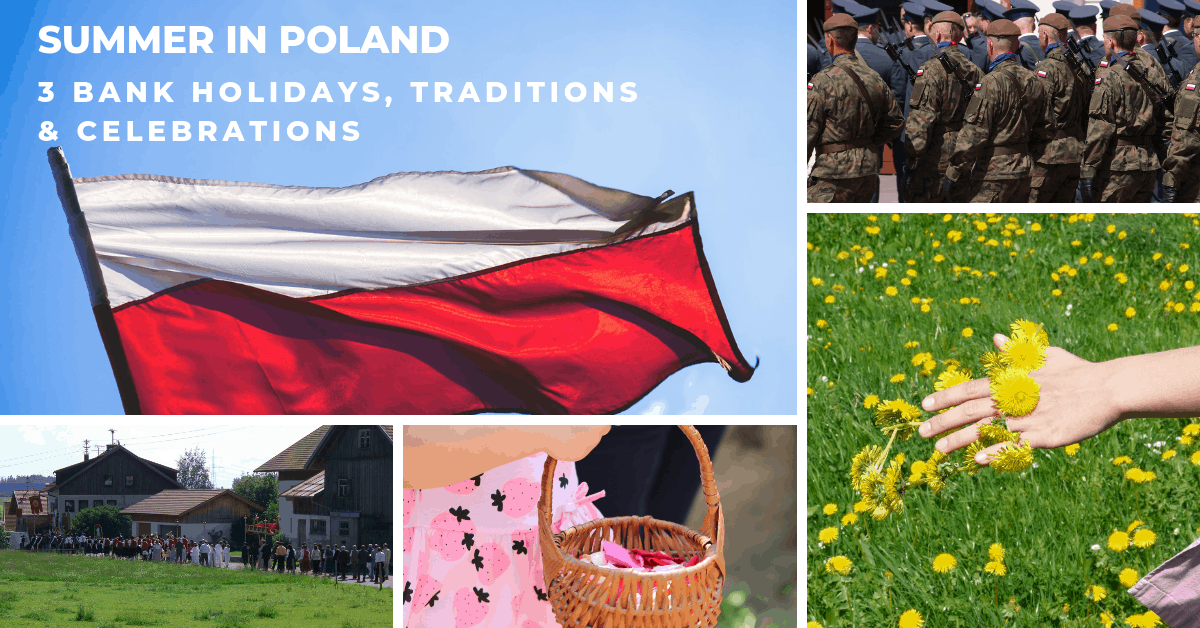 Children's Day 
Kids receive gifts. Schools and kindergartens host special events for kids – picnics, concerts, games, sports competitions, etc. There are many events for children organized all over Poland by the city authorities, institutions, theaters, restaurants.
Whit Sunday / Pentecost / Zielone Świątki
Bank holiday in Poland (always on Sunday anyway), stores will be closed. The Day of Descent of the Holy Spirit – Zielone Świątki (Green Holidays). In Poland, some people decorate their homes with branches with green leaves.
End of the school year in Polish schools
The last day of the school year is celebrated with speeches, concerts, shows. Teachers get flowers. Parents of younger kids usually take a day or a few hours off to participate in the ceremonies. In 2019, the school year will resume on September 2.
Corpus Christi / Boże Ciało
Bank holiday in Poland. Stores, malls, shopping centers are closed. Only some smaller local convenience stores can be open and stores at gas stations. The Catholic church organizes in each parish huge outdoor procession (in many places in Poland traffic is stopped during the processions). The procession stops at four altars temporary built on the streets. Girls dressed in white scatter flower petals. The altars are decorated with birch-tree twigs which can be later taken home and are kept the whole year to protect a family.
The astronomical first day of summer
Meteorologically speaking, summer begins on June 22. The beginning of astronomical summer is also the longest day of the year. The sun will rise at 4.14 am and the sunset will start at 9 pm.
St. John's Night / Wreaths (Noc Świętojańska / Wianki)
The holiday has a pagan background (a pagan name is Sobótka meaning fire). Nowadays, it is mostly the opportunity to celebrate midsummer with various festivities, including concerts, singing songs, bonfire jumping. Women wear wildflower wreaths that later are thrown into river or pond.
Father's Day
It's not as loudly celebrated as Mother's Day, however, each mother makes sure that children at least hug their father;)
Warsaw Uprising Remembrance Day (Dzień Pamięci Powstania Warszawskiego)
The anniversary of the outbreak of the Warsaw Uprising in 1944 against the Nazis. At precisely 5 pm all the Warsaw city sirens sound and lots of cars and pedestrians stop to commemorate and contemplate people who died in 1944.
Polish Army Day 
Bank holiday in Poland. Polish Army Day is marking the 1920 breakthrough battle called Cud nad Wisłą (the Miracle on the Vistula river) between the Poles under Marshal Piłsudski and the Bolsheviks. The main celebrations are held at Pilsudski Square (Plac Piłsudskiego), including parades and the president speech. August 15 marks also the Assumption of Mary celebrations in Poland which focus on The Sanctuary of Jasna Góra in Częstochowa – on August 15 a pilgrimage (pielgrzymka) destination for many people walking hundreds of kilometers for days from all over Poland. Stores, malls, shopping centers closed, only some smaller local convenience stores can be open (eg. Żabka). You can do basic shopping at gas stations (24h).
Click on the photos below to read other posts: