September, October & November in Poland: from golden leaves to shorter days, from a variety of healthy seasonal foods to slow preparation for the cold season
For many people autumn in Poland is associated with a drastic change in weather – rain, cold, and early sunset. For others, it's their favorite time of the year in Poland – neither too cold nor too hot and ideal for walking and admiring fall foliage. Nature's signs of autumn in Poland include changes in the landscape – trees are full of vibrant colors of orange, yellow, brown, and red. The leaves begin to drop off, giving children a chance to play in the leaf piles or collect and dry colorful leaves. This time in Poland is called poetically 'Golden Polish Autumn' (Złota Polska Jesień). Be sure to visit a park in any city in Poland in autumn (and take your camera!) – nature will delight you with a unique palette of intense colors.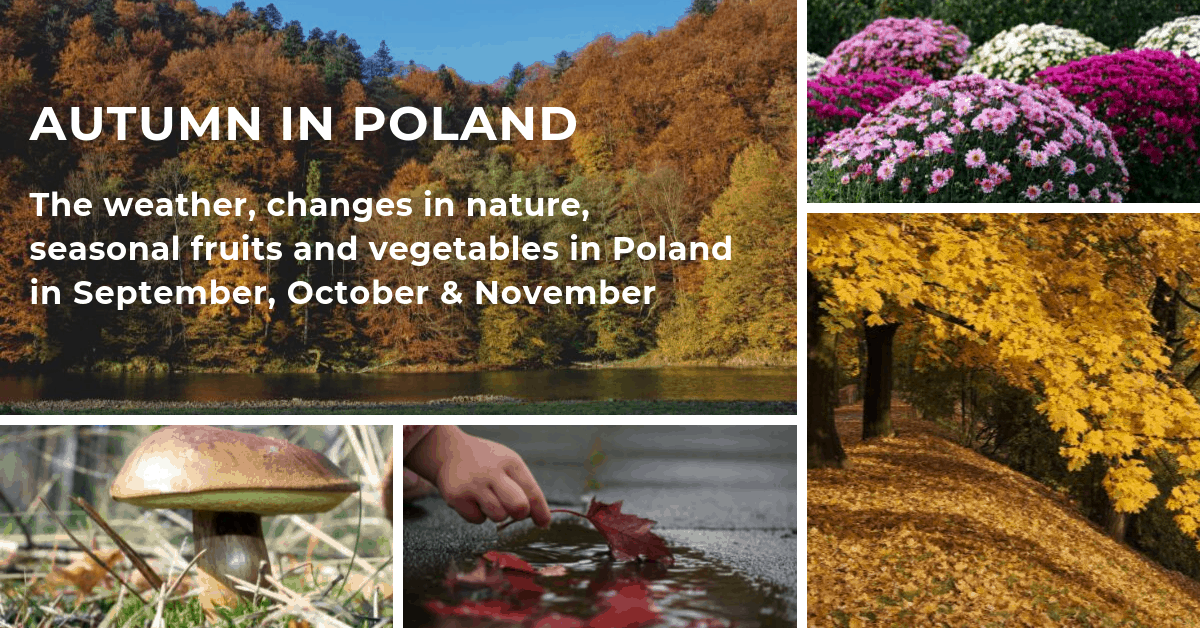 The astronomical (the autumnal equinox – the sun is directly over the equator) first day of autumn in Poland in 2020 falls on September 22 and the meteorological first day of autumn on September 23. The day in Poland gets shorter and the night longer until the winter solstice on December 21 – the day with the fewest hours of sunlight in Poland in the whole year.
Weather and nature in Poland in September
September marks the end of summer in Poland. Technically, the summer season lasts until September 23 but September in Poland is considered as an autumn month. After all, it's the month with the first day of school at Polish schools (in 2020: Tuesday, September 1).
The average temperature in September in Poland is 14°C / 57°F (just like in May). The average rainfall level in September in Poland is 53 mm (for comparison, July has the highest average rainfall in Poland: 89 mm, and February the lowest: 31 mm).
When it comes to nature, September in Poland is rich in colors, nutritious seasonal vegetables and fruits, and as a bridge from summer to autumn, September gives slow time to plants, animals, and people to adjust and prepare for harsh and demanding wintertime in Poland.
Birds migration begins in the autumn in Poland. As early as September, you can see in the Polish skies the characteristic V-shaped flight formation of wild geese or cranes (the V shape in Poland is called klucz – a key).
September in Poland is a time of harvesting the crops (called in Polish wykopki), mainly potatoes, carrots, and beets and apple picking. The king of fruits in September in Poland is the apple. Apple trees everywhere in Poland in September are heavy with juicy apples of many varieties. Other seasonal fruits in September in Poland include plums, pears, and fresh cranberries. A whole bunch of vegetables that were available in August is still on sale (eg. beans, zucchini, peppers, carrots, parsley, onion, beetroots). Don't miss the season for fresh sunflower seeds in Poland (it lasts until the end of September). In September, you can also buy fresh walnuts and hazelnuts on Polish vegetable stalls. They offer also various species of mushrooms – available fresh only in autumn! Polish names of the most popular mushrooms include: borowiki, koźlarze, maślaki, kurki, podgrzybki, gąski, kanie, opieńki.
Polish gardens are still in bloom in September, the most popular autumn flowers include asters (aster is a floral symbol of autumn in Poland), chrysanthemums, roses, sunflowers. Visit forests in Poland in September to admire colorful heather/calluna flowers (you can also buy them at the florist). The Polish name of September (wrzesień) comes from the heathers (wrzosy).
End of September is the time of the year in Poland when kids go chestnuts-hunting in the parks. Later, at kindergartens or schools, they create fantastic figures with chestnuts (the majority of chestnuts in Poland are not edible!) and acorns (oak nuts) or beautiful rowanberry necklaces. Chestnuts (kasztany), acorns (żołędzie), colorful autumn leaves, and rowan red berries (jarzębina) are perfect materials for arts and crafts activities for children (and adults…). Autumn in Poland is friendly to anyone who loves DIY natural projects!
Weather and nature in Poland in October
The weather in Poland in October differs each year and is difficult to predict – one day you can enjoy sunny weather and the other it's cold and rainy (there are no frosts that can occur in Poland in November). The average temperature in October in Poland is 9°C / 48°F (just like in April). The average rainfall level in Poland in October is 46 mm (lower than in September). The Polish name for October – październik (quite a tongue twister, isn't it?) comes from the word paździerze meaning the dry stalks of flax.
In October, days in Poland get noticeably shorter and in this transition month, you can be surprised how early the sun goes down in the evening. The length of the day goes from 11 hours 35 min. on October 1 to 9 hours 39 min. on October 31. Besides, changing time mixes things up. Mark your calendars with October 25, 2020 – time change in Poland. At 03:00 am clocks are turned backward 1 hour to 02:00 am (read more about dates to remember in Poland in autumn). Sunrise on October 1 will be at 6.37 am, sunset at 6.13 pm. Sunrise on October 31 will be at 6.30 am, sunset at 4.08 pm (data for Warsaw).
October gives us the last chance to admire fall foliage in Poland or collect with kids chestnuts and acorns. In late October, the leaves wither and fall of the trees. Do not delay – use every day with nice weather for walks, to delight in the last days of 'Golden Polish Autumn', and to charge your body batteries before winter.
As nature gets ready for the wintertime, it's also time for us to fill pantries and make the most of the last fresh local products. Vegetable stalls in Poland in October still offer various species of forest mushrooms, however, there are usually fewer of them than in September. Polish seasonal fruits are almost gone compared to summer, but you can still enjoy local apples, pears, and plums. The Polish grapes are fully ripe already. You can experiment with rare and nutrient-rich Polish fruits available in October: quince (pigwa), rosehip (dzika róża), cranberry (żurawina) or hawthorn berry (głóg). 
In October, the harvest of potatoes, carrots, parsley, beets, and celery ends in Poland. Pumpkin takes over and becomes the queen of October! Until recently, pumpkin was not popular in Poland. It was grown mainly in home gardens, used for pumpkin in vinegar preserves or their dried seeds (as a snack). However, a dozen or so years ago Poles finally fell in love with pumpkin and pumpkin dishes entered the menu of Polish families – the most popular of them include soups (typical for Poland!) and cakes.
Weather and nature in Poland in November
The average temperature in November in Poland is 4°C / 39°F (a bit warmer than in March). The average rainfall level in Poland in November is 41 mm. November is the coldest of autumn months in Poland, but also the least rainy compared to September and October. However, November is considered by many as the rainiest time in Poland (probably, it's because of the combination of rain, cold weather, and wind). The length of the day drops from 9 hours 34 min. on November 1 to 8 hours 38 min. on November 30. Sunrise on November 1, 2019 will be at 6.32 am, sunset at 4.06 pm. Sunrise on November 30 will be at 7.21 am, sunset at 3.27 pm (data for Warsaw).
Nature falls asleep to survive the winter. The last gold and red leaves fall from the trees (the Polish name of the month  – listopad – means the falling leaves), it turns gray and gloomy, in the morning – frost, in the evening – rain. Nothing but snuggle comfortably at home with a steaming cup of tea (a Polish way). On the other hand, November in Poland offers two so-called 'long weekends' (called in Polish długi weekend – when a public holiday / non-working day falls close to a weekend and people usually take an additional day or two off). In 2020, November 1 falls on Sunday and November 11 falls on Wednesday (read more about public holidays and dates to remember in Poland in autumn). The perfect excuse for a city break in Poland! Why not visiting Wrocław, Poznań, Toruń or Warsaw in November?
November is quite a nostalgic time in Poland due to the mostly grey weather and the very important holiday in Polish tradition – All Saints' Day (Wszystkich Świętych) also called in Poland the Day of the Dead (Święto Zmarłych). People often travel all over Poland to their home towns and en masse visit cemeteries to light candles and lay flowers on the graves of their family and friends. Cemeteries look exceptional this time of year in Poland (especially in the afternoon and in the evening when it's dark outside) with literally thousands of candles.  
The local market places in Poland in November are full of chrysanthemums sold in pots. Chrysanthemums are the flowers people typically take to the cemeteries so unfortunately, it's risky in Poland to present these beautiful flowers as a gift.
You probably don't expect any fresh veggies in Poland in November. There is one super-nutrition exception! November is the perfect time to eat brussels sprouts in Poland – the best-tasting sprouts are harvested after a few touches of frost. I don't know how it is in your family, but in Poland, brussels sprouts don't have a good reputation, especially among children. They are one of 'top yucky foods' that kids refuse to eat before they even try them. So November in Poland is this time of the year that you have a chance to convince your family that it's worth eating brussels sprouts – one of the world's healthiest foods.
It's true that during rainy days children indeed get bored. But it is also undeniable that kids love rain if we let them get dirty. So dress appropriately for the weather, brace yourself and your patience and run through the crunching leaves! Explore muddy puddles! Squeeze from November as much as possible.
Temperature and rainfall information source: Climate Change Knowledge Portal, sdwebx.worldbank.org, data for 1991-2016.
Subscribe to our monthly newsletters in English to explore Poland and to learn about Poland! Once a month you will receive a Newsletter: 'Explore Poland with Kids'. You will find there featured family-friendly destinations in Poland, handpicked events in selected Polish cities (that may inspire you for a family city break in Poland), dates to remember and things to do in Poland in a given month: